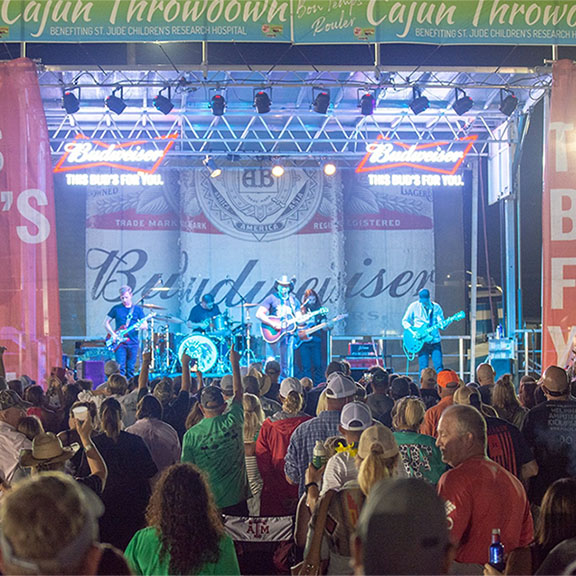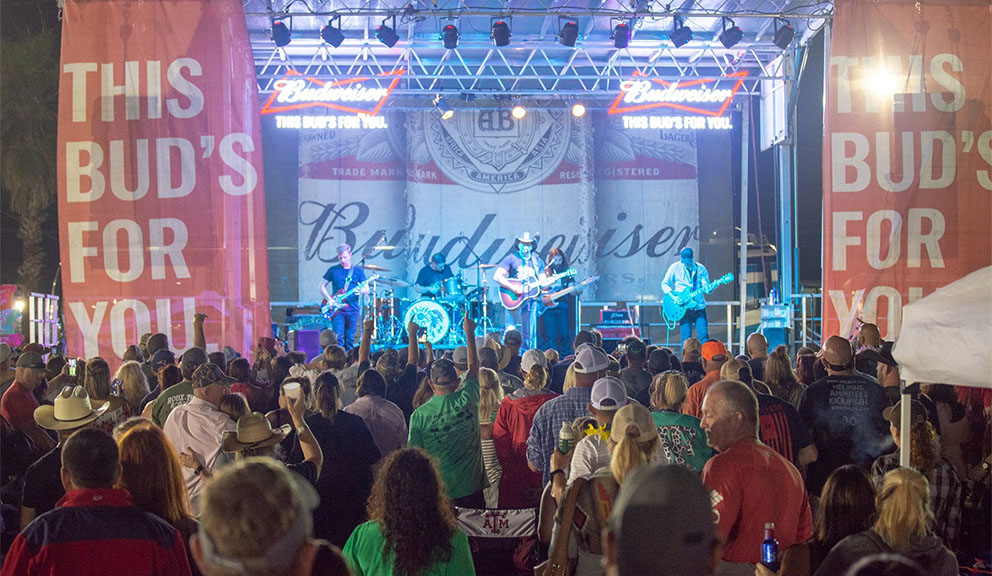 Bon Temps Rouler Cajun Throwdown
Food, Fun & Music - March 27-28





---
I love living on Galveston Island, but I do miss the music and flavors of South Louisiana.  I get home as often as possible for my fill of crawfish etouffee and fiddle playing. So, when Louisiana comes to me, life is good!
The Bon Temps Rouler Cajun Throwdown, March 27-28, has all the right things – an all you can eat crawfish cook-off, crawfish races, a beauty pageant, and good music.  OK, great music. Wayne Toups and Frank Foster are headlining, but look who else is coming!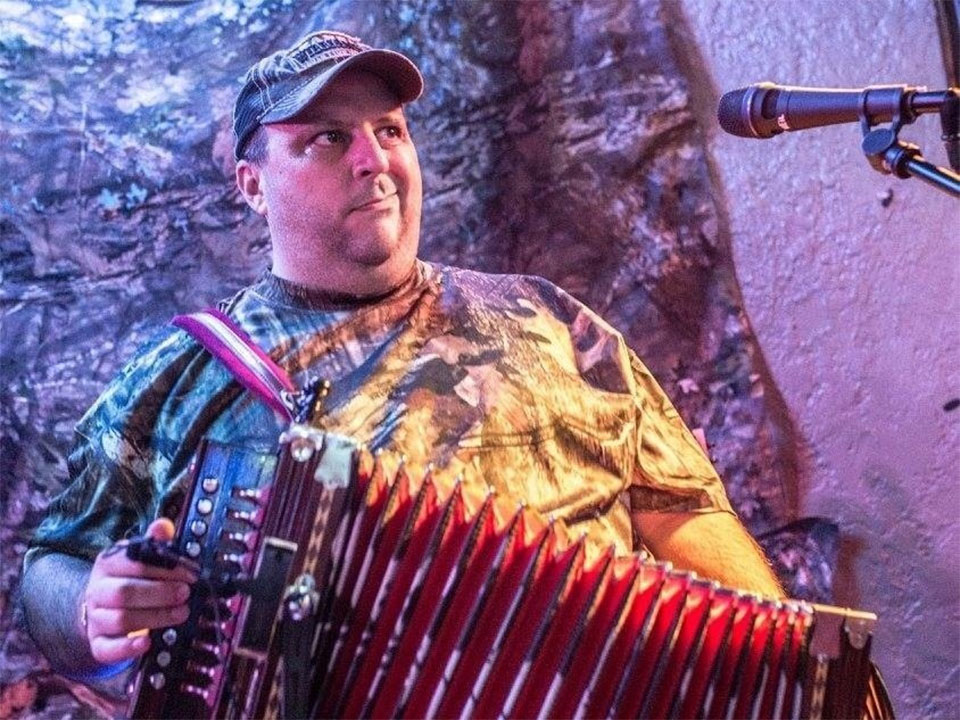 Tommy Kib
Friday, March 27, 4:00pm – 5:00pm
Tommy Kib(odeaux) is a Crazy Cajun boy that grew up halfway between Bayou Quoi de Tortue and the world Famous Florence (Water Foul Hunting) Club, in "downtown" Gueydan, LA. Most of his childhood was spent within walking distance of International Duck Festival grounds. Music was always playing in the soundtrack of Tommy's life. Whether it was his Maw Maw SnowWhite stacking up several LP's on the record player in the big console letting it play most of the day as she cooked from scratch, tended the garden, or made quilts for various causes, with all the cousins running around, or riding along with his Dad ("Green Sprout" on the CB) in his pickup or big rig. When riding with Green Sprout, if the heads weren't bobbin' he'd take to turn knobbin..
The goal of Tommy Kib's music in its most simple form is to make 'em dance, teach them a thing or two about South Louisiana and make sure that everyone there passed a good time!
Read More, Buy Tickets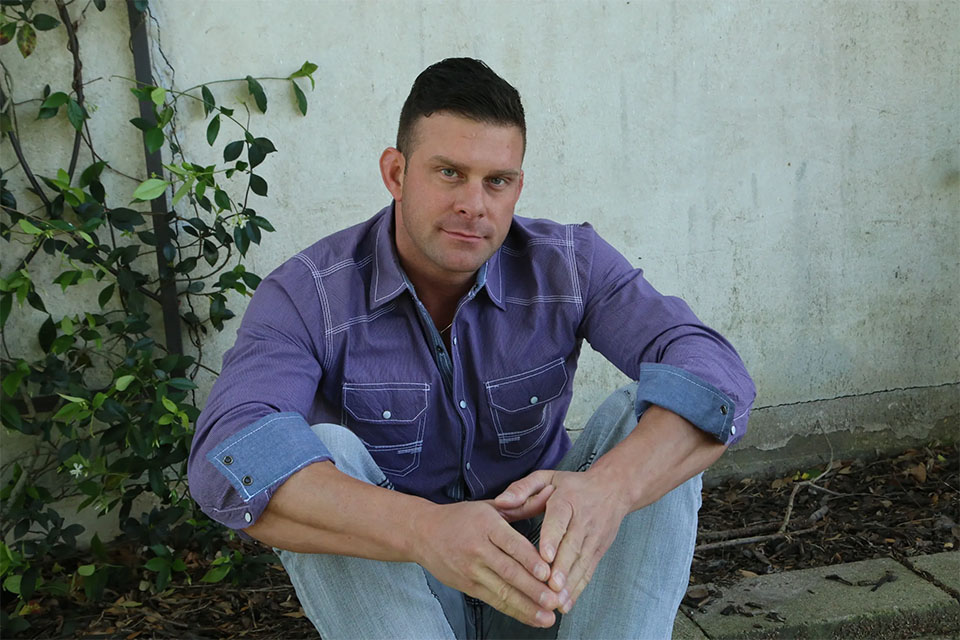 David Joel
Friday, March 27, 5:15 pm – 6:45 pm
Bou Boy'z Entertainer, David Joel has recently released his second, self-titled album from which he launched his first radio single, "You Only Live Once", and broke top 40 on Texas Regional radio charts after 23 weeks on the chart! His second single "Texas You're All I Need" also broke top 40 on the Texas charts in 2018. His single "Wonder Woman" is currently charting, and is also nominated for Music Video of the Year by TRR.
David Joel was raised in Beaumont, TX and first picked up a guitar at the age of 9. With hard work, persistence, and a little divine intervention, David has launched his music career. Having played fairs and festivals, clubs, bars, restaurants and casinos, David's musical talents, high energy and friendly outgoing personality keep his audiences entertained and kicking up their heels. The good-looking country rocker will never fail to get the party started and keep it going all night.
Read More, Buy Tickets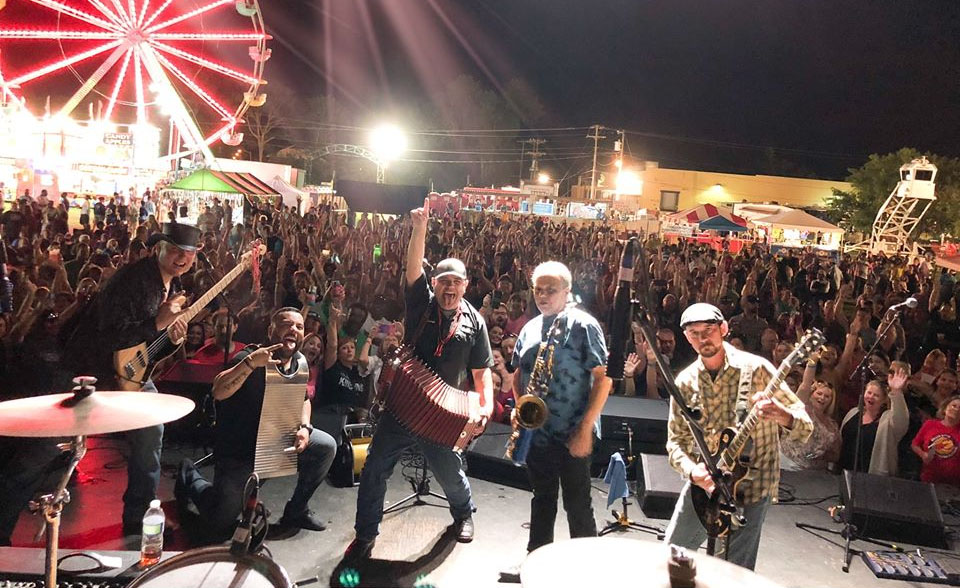 Travis Matte
Friday, March 27, 7:00 pm – 8:30 pm
A local Louisiana band with much different flair! This band is upbeat and a rising "party crowd" pleaser! Louisiana and abroad can't get enough of the high energy this band demonstrates on stage. With many original favorites along with all those beloved "old school" tunes, Travis Matte and the Kingpins are sure to entertain any music lover or anyone looking to have a good time!
Travis Matte's experience playing fiddle with local Louisiana class acts such as Sheryl Cormier, Belton Richard, Wayne Toups, Blaine Roy, Jason Frey and many others, fueled his passion for music and helped earn him numerous awards from the Cajun French Music Association including four "Fiddler of the Year" titles. Travis eventually set out to learn and play the accordion in 2000 and shortly after formed his own band, Travis Matte & the Zydeco Kingpins.
Read More, Buy Tickets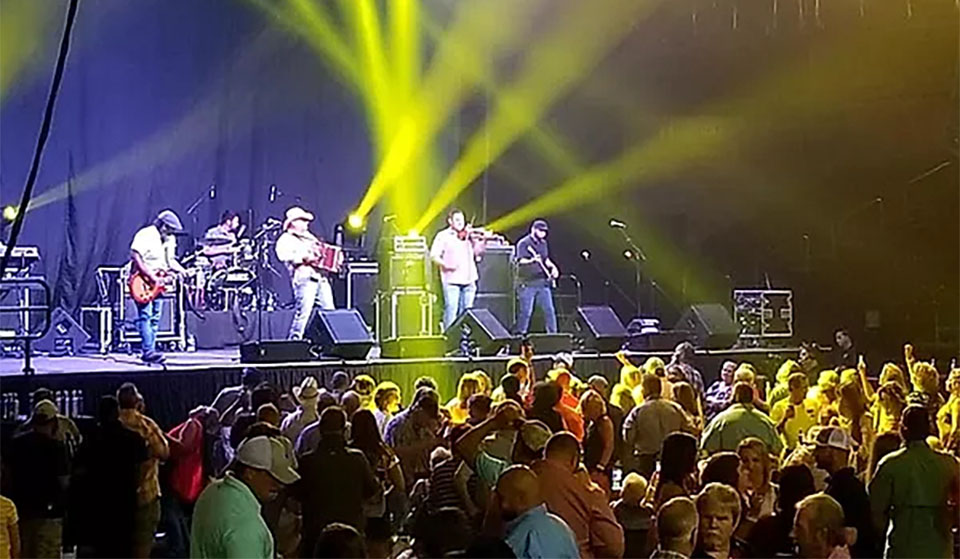 Jamie Bergeron
Friday, March 27, 8:45 pm – 10:15 pm
From their humble beginnings in 2000, Jamie Bergeron & the kickin' cajuns have become one of south Louisiana's most popular musical acts, having been awarded the Times of Acadiana's Best Cajun/Zydeco Band, an incredible 16 years in a row. In 2003, he released his 2nd CD, SQUEEZEVILLE and with the song "Shake It Shake It Baby" quickly established his own unique & recognizable sound. The band continues to create a catalog of music, releasing 5 more CDs and appear regularly at festivals and music venues along the Gulf Coast.
Beyond performing, Jamie is a huge music fan and he's had success covering songs ranging from 80s MTV star, Timmy T's "One More Try" to Van Morrison's "Someone Lime You"; Even his remake of "The Cajun Rap Song"has become a crowd favorite.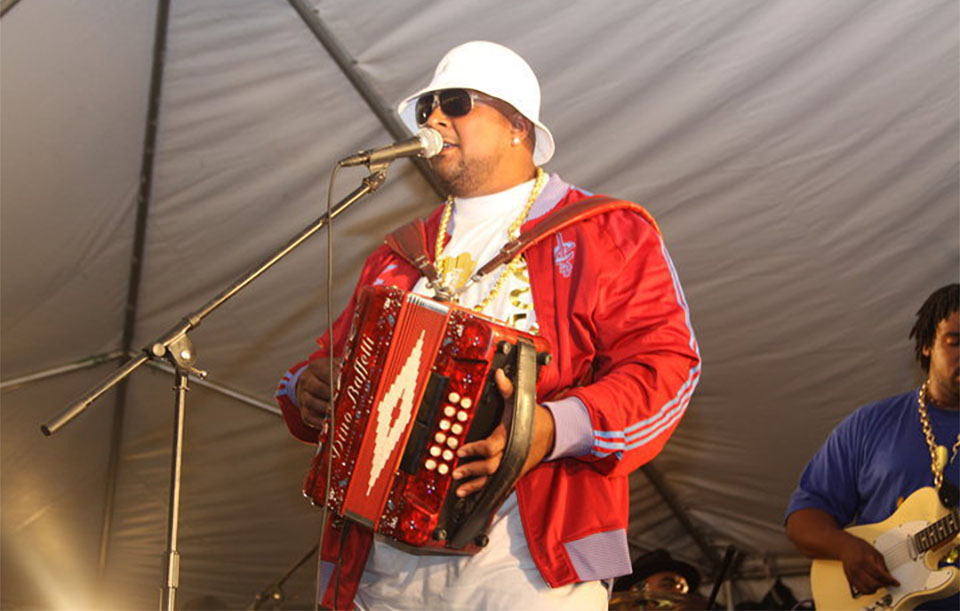 Keith Frank
Friday, March 27, 10:30 pm – 12:00 am
The people of SW Louisiana and SE Texas who love to dance are very particular about what they like. The dance floor has to be just right, the club must have the right mix of people, even the drinks must have a certain "flavor." And more often than not, they have to be dancing to the sound of Keith Frank.
Since the formation of his own band nearly 20 years ago, Keith Frank has followed the path laid out by Zydeco's forefathers, staying true to his Creole Culture, but still broadening the horizons of the music. The resulting sound, while 100% zydeco, melds zydeco's sound with the best of other music forms, including R&B, Soul, Pop, Rock, and even a little Hip-Hop. This unique blend brings out a varied crowd. However, whether they be young or old, big or small, black or white, one things is guaranteed: KEITH FRANK IS GONNA MAKE THEM SWEAT!!!
Read More, Buy Tickets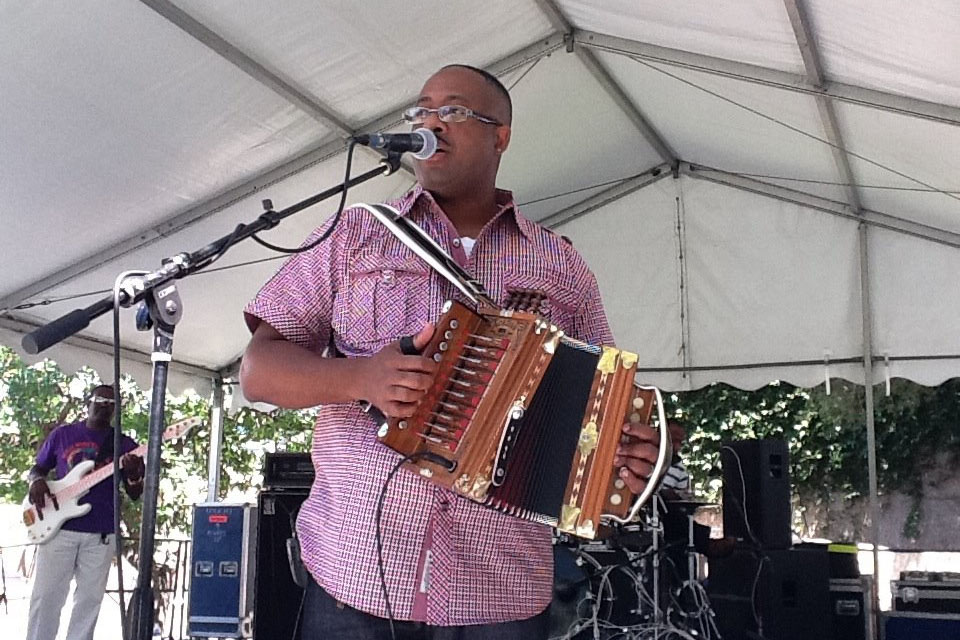 Curtis Poullard
Saturday, March 28, 11:00 am – 12:30 pm
Born in Baytown and raised in Barrett Station, Texas. Curtis plays both traditional and nouveau zydeco and belongs to a family music tradition that keeps your foot stomping, head bopping and heart jumping.
He spent his childhood summers with family in Ville Platte,LA. At the age of 15 Curtis received his first accordion. He learned all that he can, soaking up the sound from family, friends and musical heroes such as Clifton Chenier, Rocking Dopsie, BooZoo Chavis, Beau Jocque and John Delafose. Curtis also plays drums, rubboard, and lead guitar and is currently working on the bass. Since 2000 he has been the leader of The Creole Zydeco Band.
Read More, Buy Tickets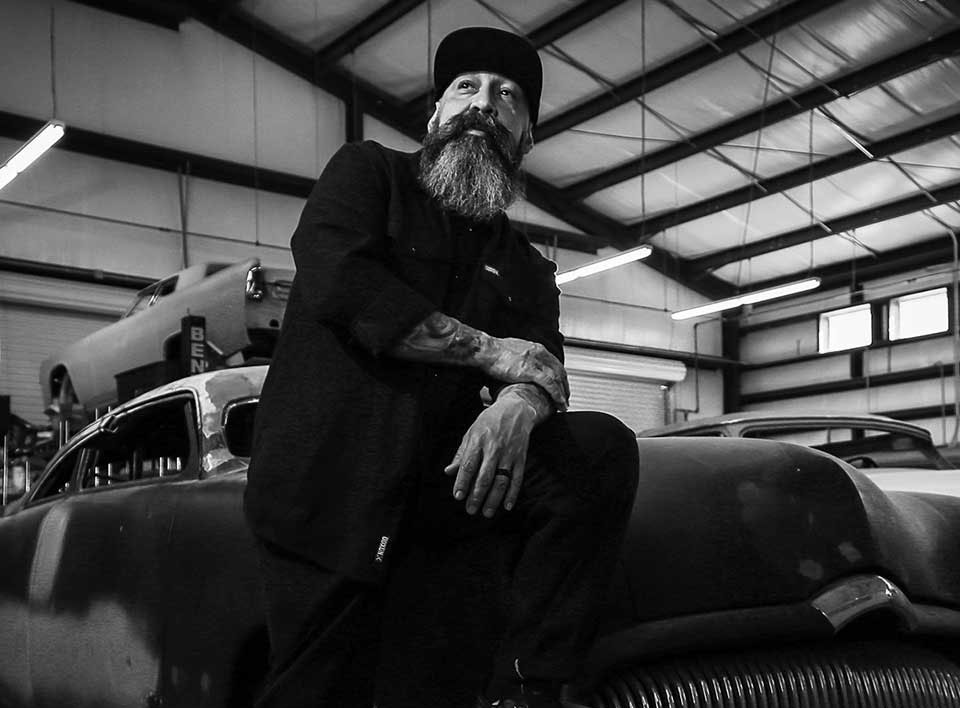 Art Tigerina
Saturday, March 28, 1:00 pm – 2:30 pm
Art Tigerina, originally from Bryan/College Station, Texas, is an energetic and soulful vocalist who has entertained thousands in a span of 3 decades. Tigerina remembers his first musical influences coming from his dad, Trinidad Tigerina and brothers who were always in bands and playing music. He also recalls the truck stop his mom worked in, where out of necessity; he'd accompany her to work. "I remember late at night hearing all the old country songs on the juke box- I didn't realize it then, but those songs shaped my taste in and longing for playing music."
Art is an incredible showman and vocalist and with his new band, The Art Tigerina Band, he has had a very successful solo career. Art released his first solo album in late 2017 titled "De Mi No Te Olvidaras." We anticipate it is one you will indeed not forget. In 2018, Art was awarded "TMA's Male Vocalist of the Year," a well-deserved honor he will always be grateful for and proud of.
Read More, Buy Tickets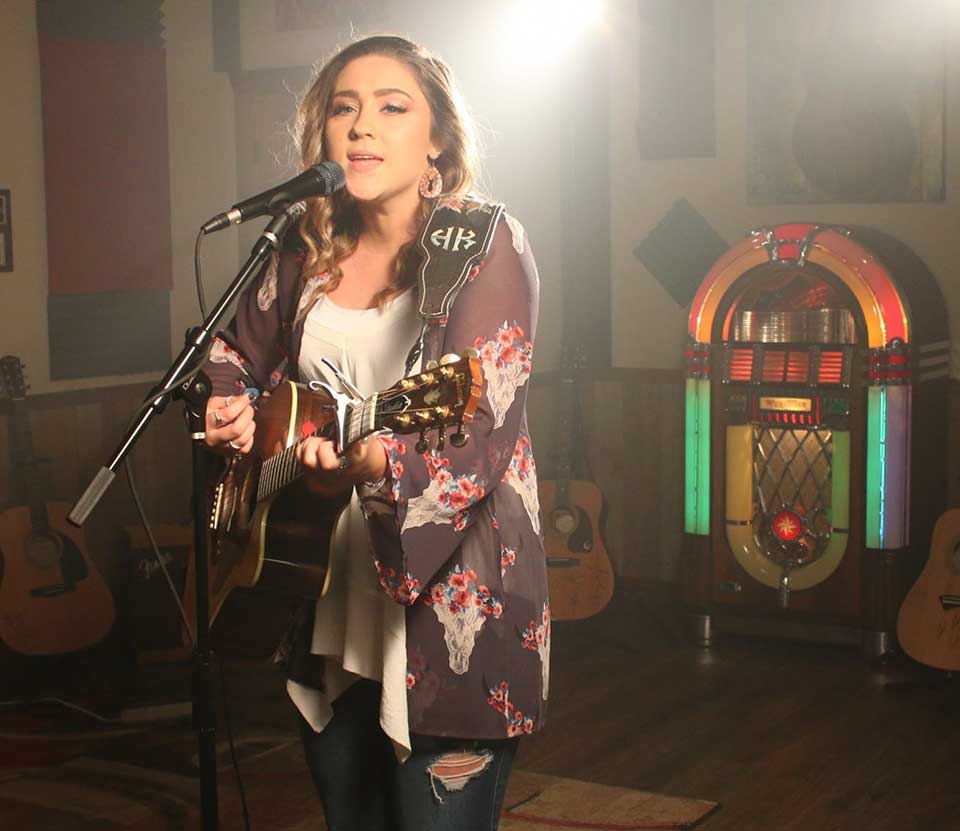 Hannah Kay
Saturday, March 28, 3:00 pm – 4:00 pm
Hannah started writing songs at the age of eight after her father taught her to play guitar. By 15, she was making $1,200 a month busking around her hometown. She spent all her hard-earned money on vocal lessons and was named Texas Female Artist of the Year by CMA of Texas. Recently, one of the songs from her newly released EP made the Texas regional music charts. Hannah currently performs 10 shows a month with her band, the Hannah Kay Band, and travels back and forth to Nashville for songwriting.
Read More, Buy Tickets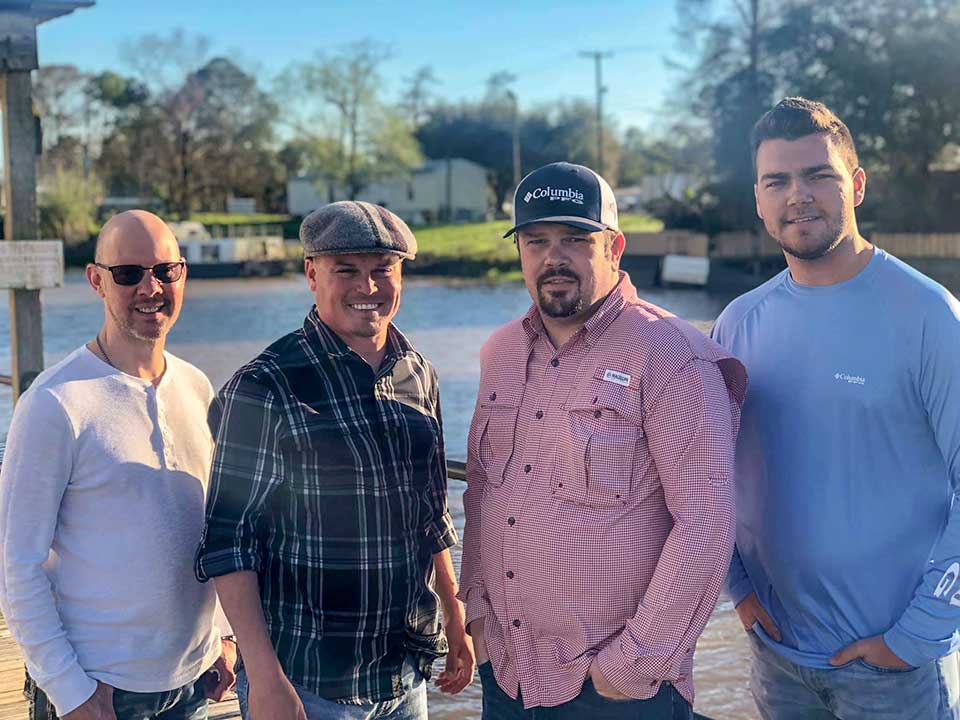 Ryan Foret
Saturday, March 28, 4:30 pm – 6:00 pm
Ryan Foret's rise to Swamp Pop stardom did not happen overnight. Early in life Ryan was exposed to the music of Otis Redding, Jimmy Clanton, Fats Domino and many others. Growing up in the Foret household provided the nurturing a future Swamp Pop legend would need to embark on the journey that has led to Ryan's current success.
1992 saw the birth of "Foret Tradition" Ryan, accompanied by his younger brother Brandon Foret began to play local New Orleans Westbank dancehalls, also frequented by Ryan's uncle, Wayne Foret, and Ryan's cousin Aaron Foret. Fast forward several years to August of 2005. Like many in the Greater New Orleans area, Foret Tradition and Ryan Foret would go through Hurricane Katrina. The devastation would cripple the Westbank music scene and in order to continue to pursue his dream, he would need to branch out. He hit the ground running, and before long "Foret Tradition" was playing from Lake Charles to Slidell.
2020 will see "The Tradition Lives On" with a full schedule of shows. Ryan launched his entertainment company Bayou Soul Entertainment. At the helm of Bayou Soul, Ryan has kept Swamp Pop Music alive, not only by recording it himself, but allowing others to do it too by financing several other Artists to date. His Annual Summer, Thanksgiving, and Christmas Bashes are the talk of their respective cities all year long. The Tradition Lives on not only in the Foret Family, but in a new era of Swamp Pop.
Read More, Buy Tickets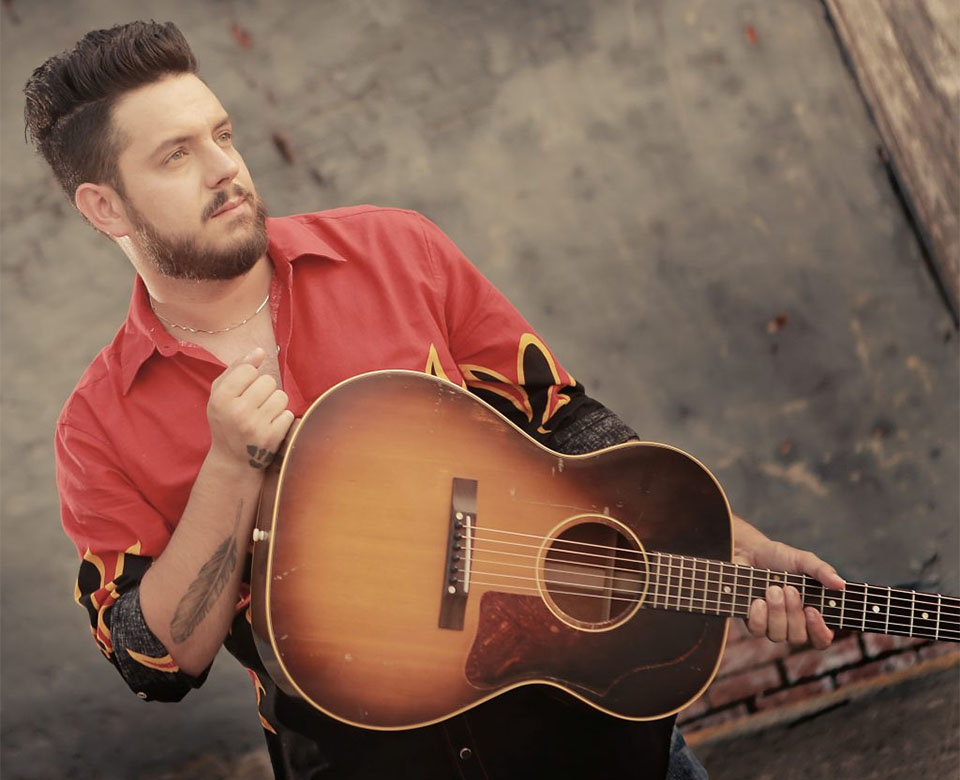 Dustin Sonnier
Saturday, March 28, 6:30 pm – 8:00 pm
Dustin Sonnier is an American country music singer / songwriter from the small community of Vatican, LA. At the age of 13, he picked up the guitar and joined a Christian country band. You might have heard one or all of his single releases, which have all charted in Texas and Louisiana Radio: "Whiskey Makes Her Miss Me", "People Like Me", "Drinkin' Alone", or "Neither Do I".
In April 2016, his single "Whiskey Makes Her Miss Me" debuted on the Texas Radio Report. In two short months, the single continued to climb the charts, and had more than 60,000 views on You-Tube and became a honky-tonk anthem across Texas and Louisiana.
Read More, Buy Tickets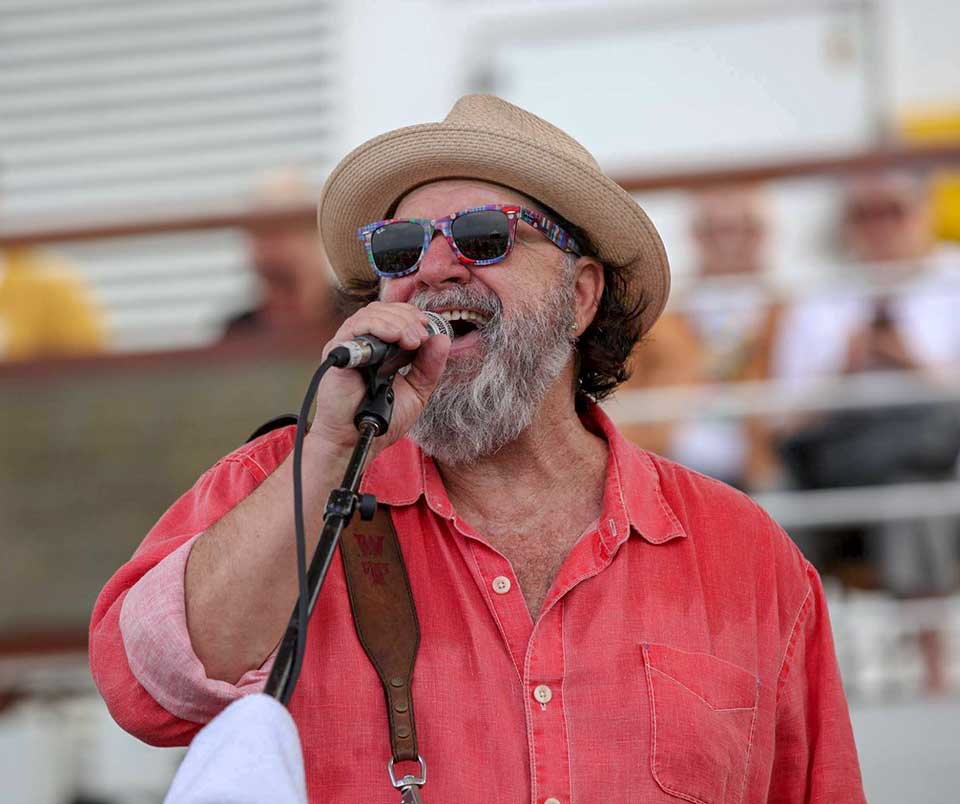 Wayne Toups
Saturday, March 28, 8:30 pm – 10:00 pm
You can add another nickname to the music man they call "Le Boss." High-energy showman Wayne Toups has long been dubbed "The Cajun Springsteen," but now you can add the title "Grammy Award Winner" to his name. Wayne was honored with his first Grammy Award. His CD The Band Courtbouillon announced as Best Regional Roots Music Album at the prestigious ceremony. "It was my first nomination and my first win," adds the Louisiana music maker with a grin. "I'm batting 1,000." The Grammy Award caps a wave of recent career highs for Wayne Toups.
He mixes Cajun sounds with the rhythms of zydeco, adding elements of soul music and Southern rock. He calls the revved-up result "ZyDecajun," and his electrifying group, "a Cajun fusion band with a rock 'n' roll attitude." He has recorded more than a dozen albums and toured to more than 20 countries. His songs have been heard on such film soundtracks as Steel Magnolias and Dirty Rice.
Read More, Buy Tickets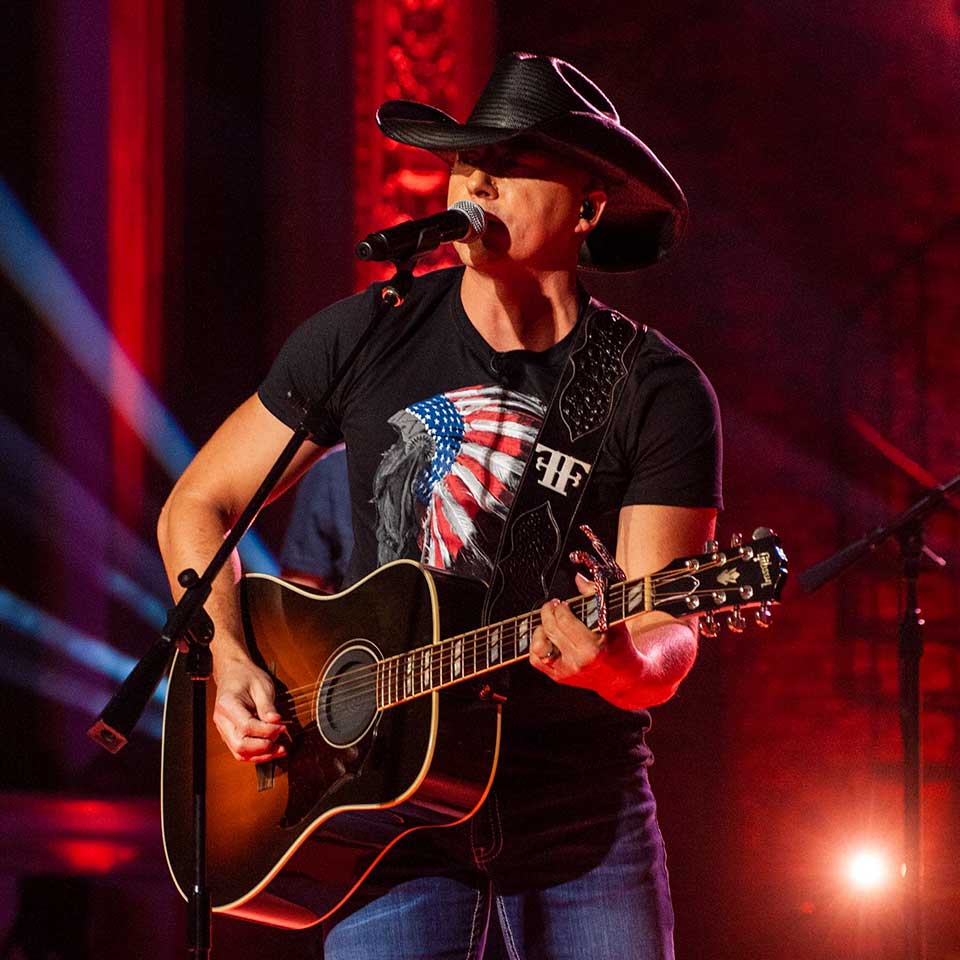 Frank Foster
Saturday, March 28, 10:30 pm –  12:00 am
Frank Foster embodies musical independence at its highest level. He not only has taken the road less traveled, but the road almost never traveled. Acting as his own record label, management, booking agency and publishing company, he has managed to find success that some major label artist may never find.  This rural Louisiana native and former oilfield man has taken his songs from the campfire to the coliseum seemingly overnight, all the while gaining a following of fans whose loyalty is unmatched.
He's a singer, a songwriter and his own boss.  He refuses to let anyone water down his kind of country music.  If he lives it, he writes it; if he writes it, he sings it; if he sings it, he believes it. Frank Foster is a true original.
Read More, Buy Tickets
If all of that music is not enough, there's another favorite…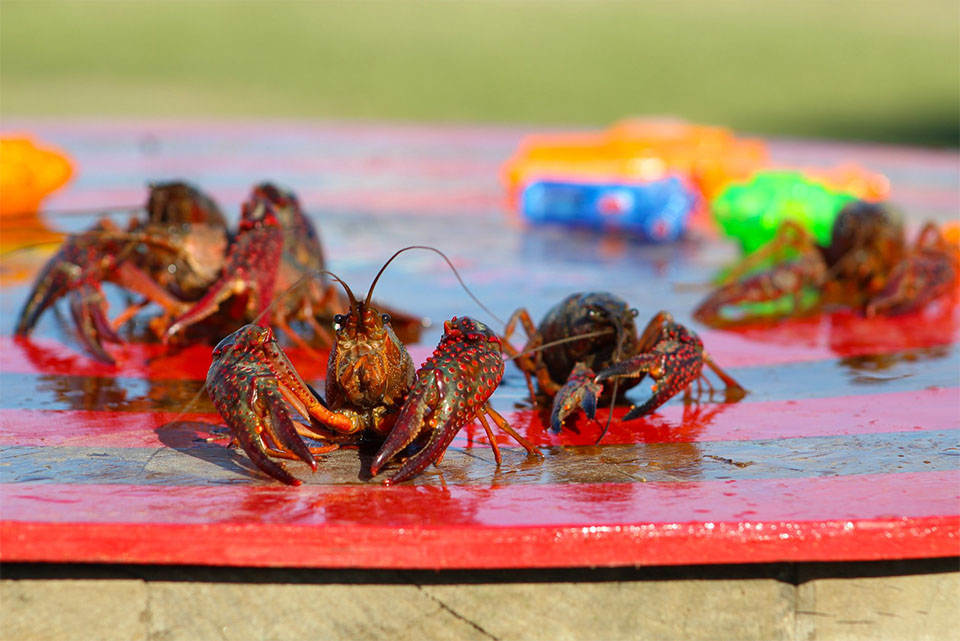 Crawfish Racing Throwdown
Saturday, March 28, 4:00 pm
This is a favorite for the kids. With the help of a water gun, crawfish are guided out of the bulls eye.  Whoever has the winning crawfish wins a coveted Pirogue on a Pole.
There are other fun contest like the Crawfish Eating Throwdown and don't forget the all-you-can-eat Crawfish Cook-off.
It's gonna be a good time, yeah! I grew up in Iberia Parish, Louisiana on the banks of Bayou Teche.  I know.
Lee Roane has worked on the Galveston.com website since 1994. He is interested in history and birding but will write about anything if he thinks it will help someone enjoy the island.