How to Fish in Galveston
FAQ
---
Planning on making a trip to Galveston to go fishing? There are specific guidelines you must follow to avoid any trouble. Thankfully, we have conveniently compiled all the information you may need to enjoy your fishing without any hassle.
Fishing License
It is required that you have a Texas Fishing License to fish in Galveston, TX. There are various places on the island for you to purchase these, such as Academy and Walmart. Also, temporary fishing licenses are included with your entry to Galveston Island State Park.
Where to Fish – Gulf of Mexico
Along the Seawall, you can simply walk out to one of the rock groins and cast a line into the Gulf of Mexico. You can't fish from the shore, as people may be swimming; you could easily hook a swimsuit or person.
At the far end of East Beach, you can fish from the South Jetty. But, elsewhere on East Beach and Stewart Beach, its prohibited. Again, you don't want to reel in a person.
There are also two fishing piers along the Seawall that you can pay to get on: one at 61st Street and another at 91st Street. Here, you can rent tackle and buy bait and supplies, and one even has a great restaurant and patio.
West of the Seawall, there's about 20 more miles of beach, which are mostly unregulated regarding fishing. Just pay attention to signage and be aware of your surroundings.
Typical Seawall catches include trout, croaker, sheepshead and flounder. An occasional mackerel or shark can also be pulled in.
Galveston Fishing Charters
There are a lot of charters that operate from the island, doing both bay and offshore trips. An offshore trip is usually an all-day event where you can catch red snapper and other sport-fish like mackerel, dorado, ling and shark. Some charters even offer tuna trips lasting 36 hours or more.
Fishing is regulated by the Texas Parks and Wildlife Department.  They define the number, size, when and where certain species can be fished.  You really don't want to get snagged for too many fish or one that's too big or small.  A link to their website and more information can be found on fishing guide.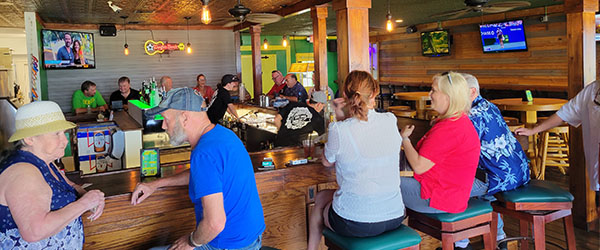 Lucky Lounge
Check out our new Seawall location. We are all here because we're not all there!
Visit Website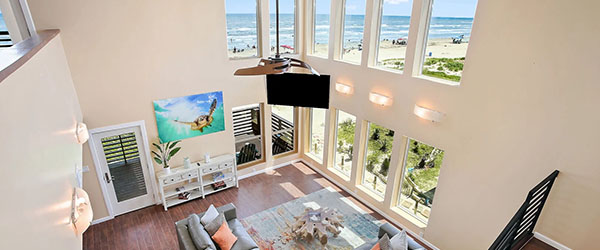 Soar Vacation Rental Services
Spanning east to west, Soar Vacation Rental Services is your local, award-winning rental company.
Visit Website
---
Galveston.com
Galveston.com & Company promotes local and area businesses via website design, online advertising services; and outdoor advertising via the Galveston Island Trolley. The company also supports a host of Galveston's most revered events and organizations.