W.K. Hebert & Co.
Rosenberg Treasure of the Month
---
During the month of January, Rosenberg Library will exhibit items related to W.K. Hebert & Company.  Established in 1919 by William Kendal Hebert, the firm provided funeral and burial services for the island's African-American community for more than six decades.
William Kendal Hebert was born in Beaumont, Texas in 1888. He was the only male in the first graduating class of Beaumont Colored High School. After earning a degree from Prairie View State Normal and Industrial College, Hebert worked as a mail carrier in Beaumont and later became a public school teacher for several years.
In search of a new career path, W.K. Hebert went to Ohio to complete a course at the Cincinnati College of Embalming. After receiving his license to practice embalming in 1911, he was hired to manage Adams-Jacobs Undertaking in Beaumont. An enterprising individual, Hebert was also involved in a variety of other businesses including insurance, real estate, groceries, and laundry service.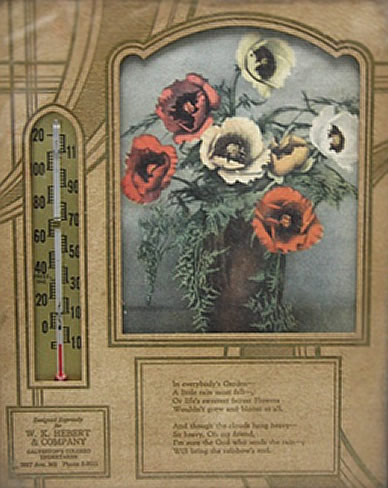 Promotional plaque with thermometer from W.K. Hebert & Company, ca. 1930s.
(Rosenberg Library Collection)
During the First World War, W.K. Hebert left Galveston to join the U.S. Army. C.S. Willis died a short time later, and their joint funeral business closed. Upon his honorable discharge from the military in 1919, Hebert opened W.K. Hebert & Company at 610 24th Street. His brother, Nando, joined the business and provided embalming services. Another brother, Lockie, maintained the company's vehicles.
In 1930, the business moved to 2827 Avenue M 1/2.  It continued to operate in this location for more than 50 years.  When W.K. Hebert died in 1958, Nando Hebert assumed ownership of the company and continued its operations until his own death in 1987.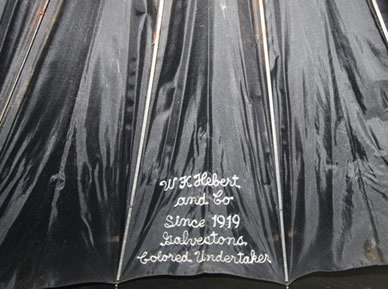 Embroidered section of undertaker's umbrella from Hebert & Company.
(Gift of Sharon Gillins )
In 1916, Hebert and a Galveston associate, C.S. Willis, opened Willis & Hebert Embalmers and Funeral Directors at 2401 Avenue E. The firm successfully served members of the African American community who were—at that time—only allowed burial at Potters Field or at Rosewood Cemetery. (Established in 1911, Rosewood Cemetery was a burial ground exclusively for African American residents of Galveston. It was located behind the Seawall between 61st Street and 63rd Street.)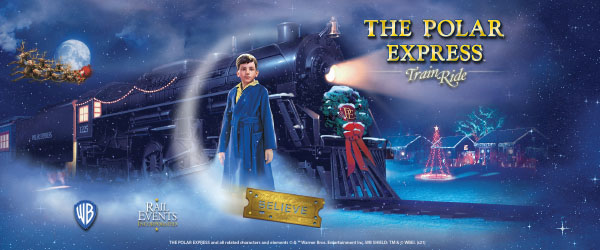 Galveston Railroad Museum
Tickets are now on sale for the return of the Magical Polar Express Experience in the heart of downtown. Departing daily Nov. 11 to Dec. 23.
Purchase Tickets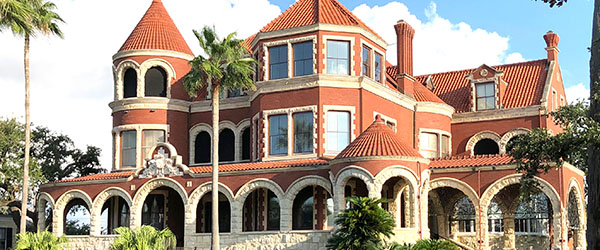 1895 Moody Mansion
Open for tours daily. Where Galveston history comes to life.
Visit Website
---
Rosenberg Library has offered over a century of community service to the Galveston area, and is the oldest public library in Texas in continuous operation. The building itself was dedicated on June 22, 1904, the birthday of its patron, Henry Rosenberg. The Moody Memorial Wing opened in 1971, more than doubling the floor space and allowing for a children's library, a history center, several galleries to showcase museum collections, and later, a computer lab. The Library accepted its first museum piece shortly after it opened in 1904. Since then, thousands of rare and interesting objects from around the world have been added to the collection. Each month they display a "Treasure of the Month". Learn more by visiting the
Rosenberg Library
page and the
Gifts of Henry Rosenberg
section.