Galveston's Railroad Depots
Rosenberg Treasure of the Month
---
In 1876, Galveston's first railroad depot was built at the corner of Avenue A and 23rd Street.  The simple, one-story structure was operated by the Galveston, Henderson, and Houston Railroad.  The G. H. & H. was chartered in 1853 to build a rail line connecting Galveston to Henderson, Texas through Houston.  For many years, it was the island's only rail connection to the mainland.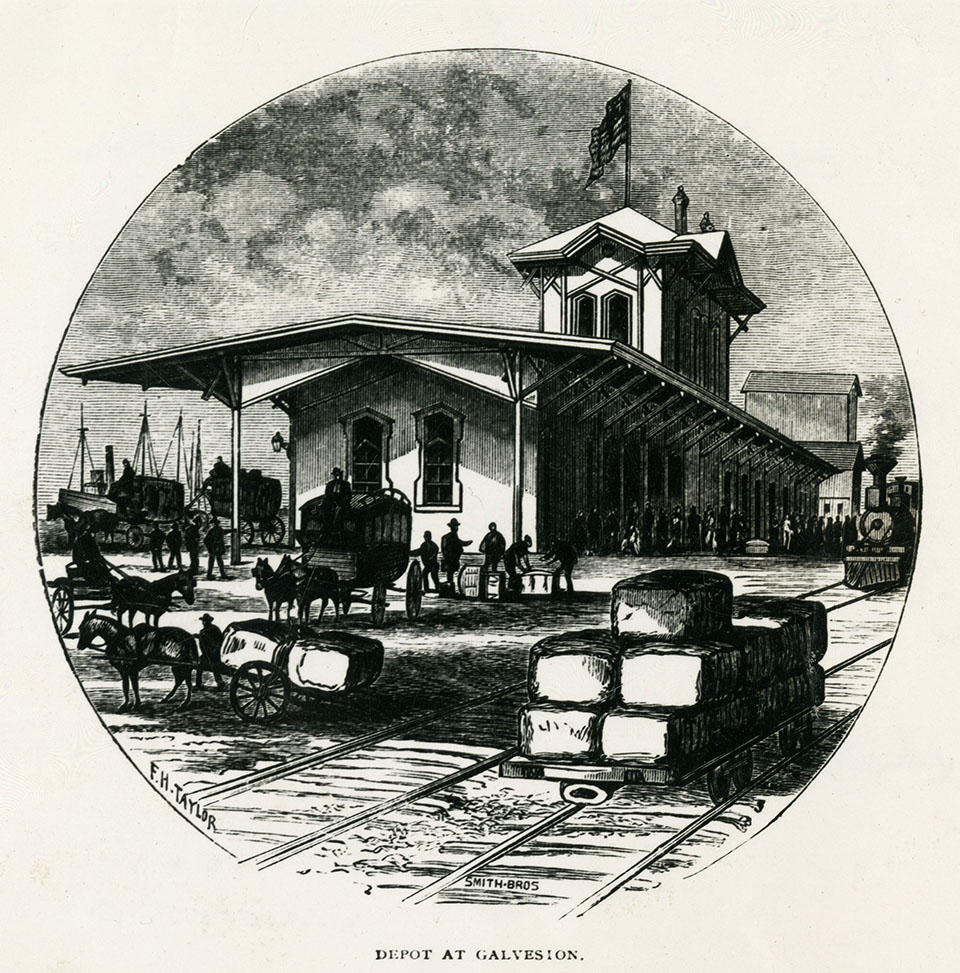 | | | |
| --- | --- | --- |
| 1876 railroad depot at Avenue A and 23rd Street | | Rosenberg Library |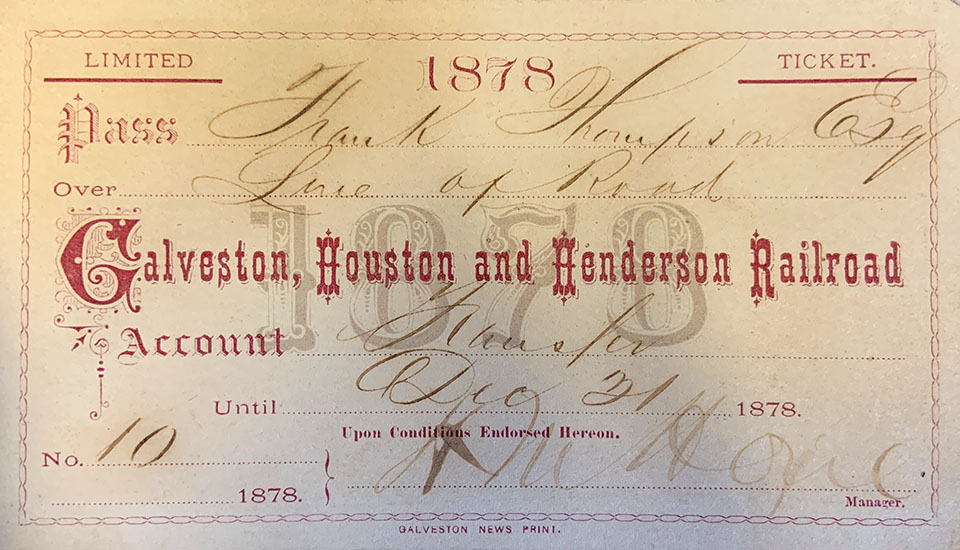 | | | |
| --- | --- | --- |
| 1878 passenger ticket for Galveston, Houston, and Henderson Railroad | | Rosenberg Library |
In 1873, a second rail line was chartered out of Galveston. The Gulf, Colorado, and Santa Fe Railroad also operated out of the G. H. & H. depot. However, G. C. & S. F. executives realized that the company needed a larger depot with space to accommodate its expanding operations.
In 1896, construction began on a new Union Depot building at the corner of 25th Street and the Strand. The modern facility was designed to make a positive first impression on new visitors to the city. The four-story, red brick building was designed by Dallas architect A.J. Armstrong. The new depot was described as "one of the most complete and imposing of its kind in the Southwest," by the Galveston Daily News in February 1897.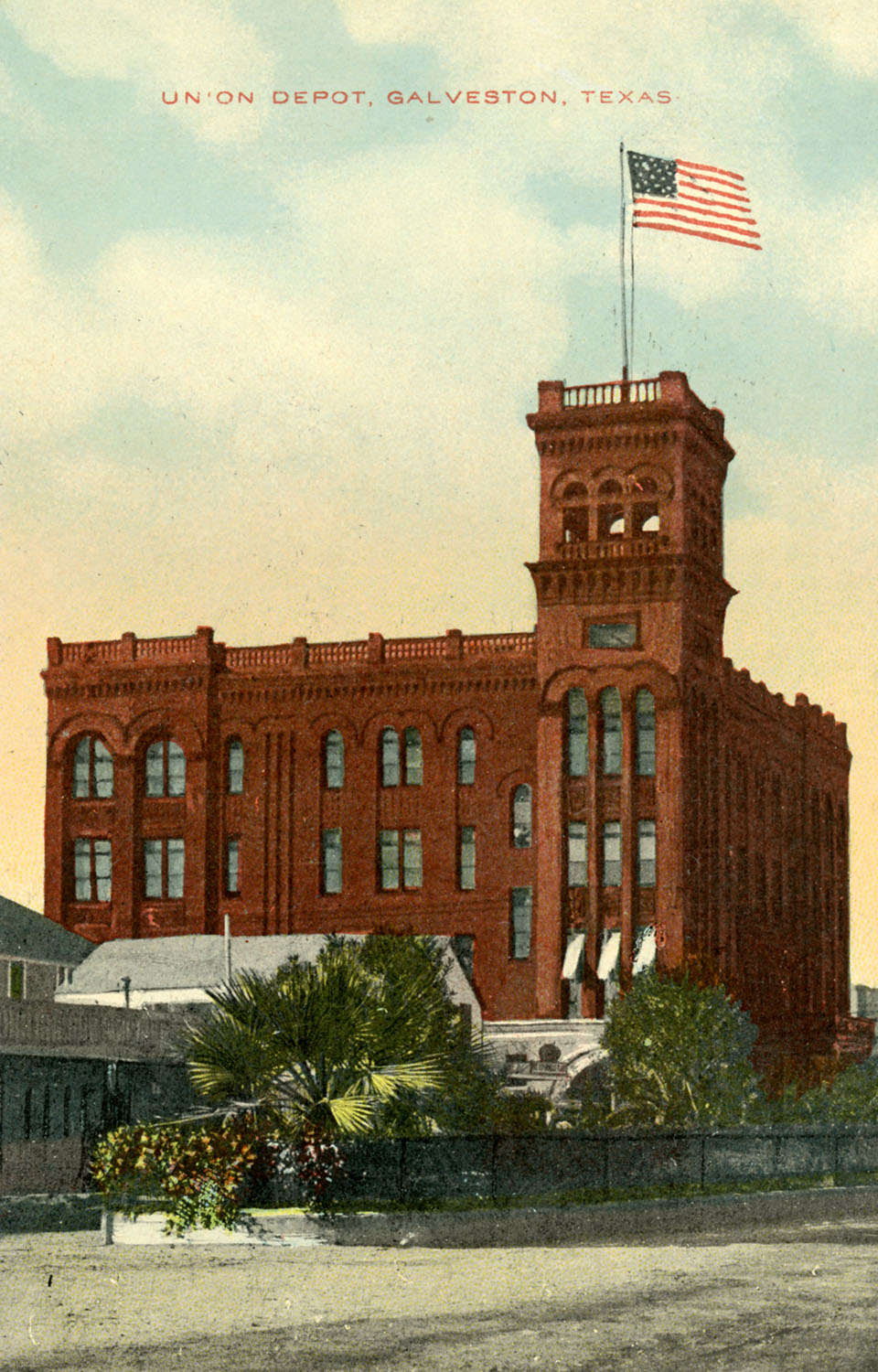 | | | |
| --- | --- | --- |
| Ca. 1910 postcard of the Union Depot, 25th and Strand | | Rosenberg Library |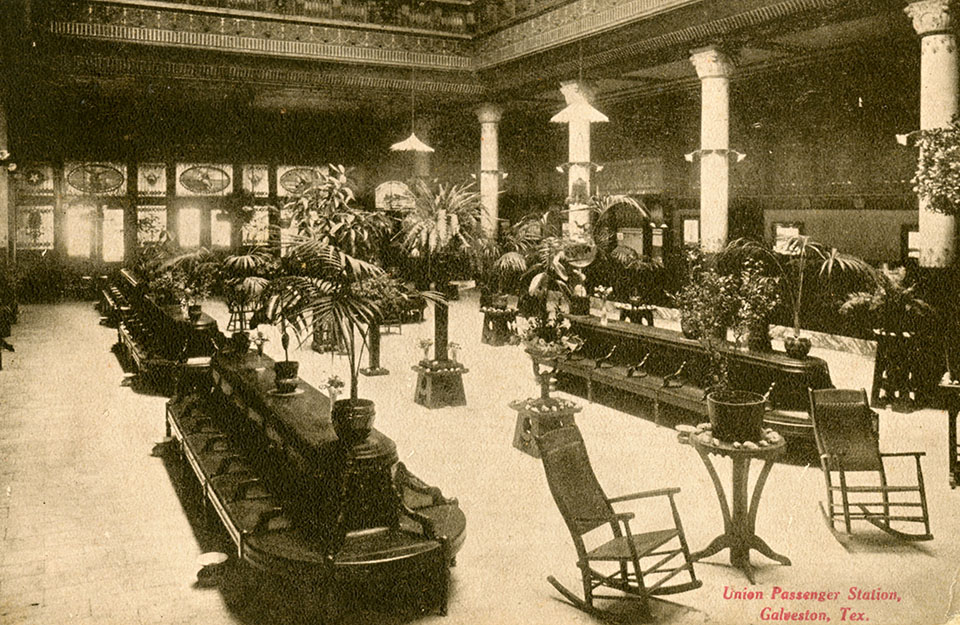 | | | |
| --- | --- | --- |
| Passenger waiting area at the Union Depot, ca. 1910. | | Rosenberg Library |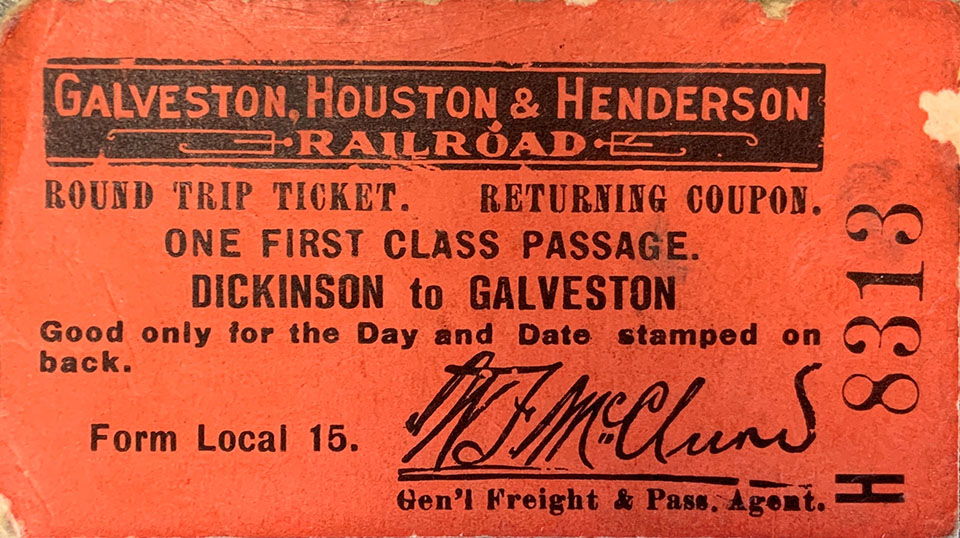 | | | |
| --- | --- | --- |
| 1914 passenger ticket for Galveston, Houston, and Henderson Railroad | | Rosenberg Library |
In 1914, the Santa Fe Railway added an eight-story office building next to the 1896 depot. The two structures were connected via a two-story annex in 1919.
The 1896 depot was razed in 1931 when construction of a new Santa Fe Station began. Although railroad operations closed during the late 1960s, the building still stands today. After being restored by the Moody Foundation during the 1980s, it was re-dedicated as the Shearn Moody Plaza office building. The Galveston Railroad Museum is headquartered on the first floor of the historic train station.
Rosenberg Library has offered over a century of community service to the Galveston area, and is the oldest public library in Texas in continuous operation. The building itself was dedicated on June 22, 1904, the birthday of its patron, Henry Rosenberg. The Moody Memorial Wing opened in 1971, more than doubling the floor space and allowing for a children's library, a history center, several galleries to showcase museum collections, and later, a computer lab. The Library accepted its first museum piece shortly after it opened in 1904. Since then, thousands of rare and interesting objects from around the world have been added to the collection. Each month they display a "Treasure of the Month". Learn more by visiting the
Rosenberg Library
page and the
Gifts of Henry Rosenberg
section.