Portrait of Isabella Dyer Kopperl
Rosenberg Treasure of the Month
---
Born in Baltimore, Maryland in 1835, Isabella Dyer moved to Galveston in 1846 to join relatives who had already settled on the island. In 1866, she married Moritz Kopperl, a successful Galveston businessman; the couple had two sons.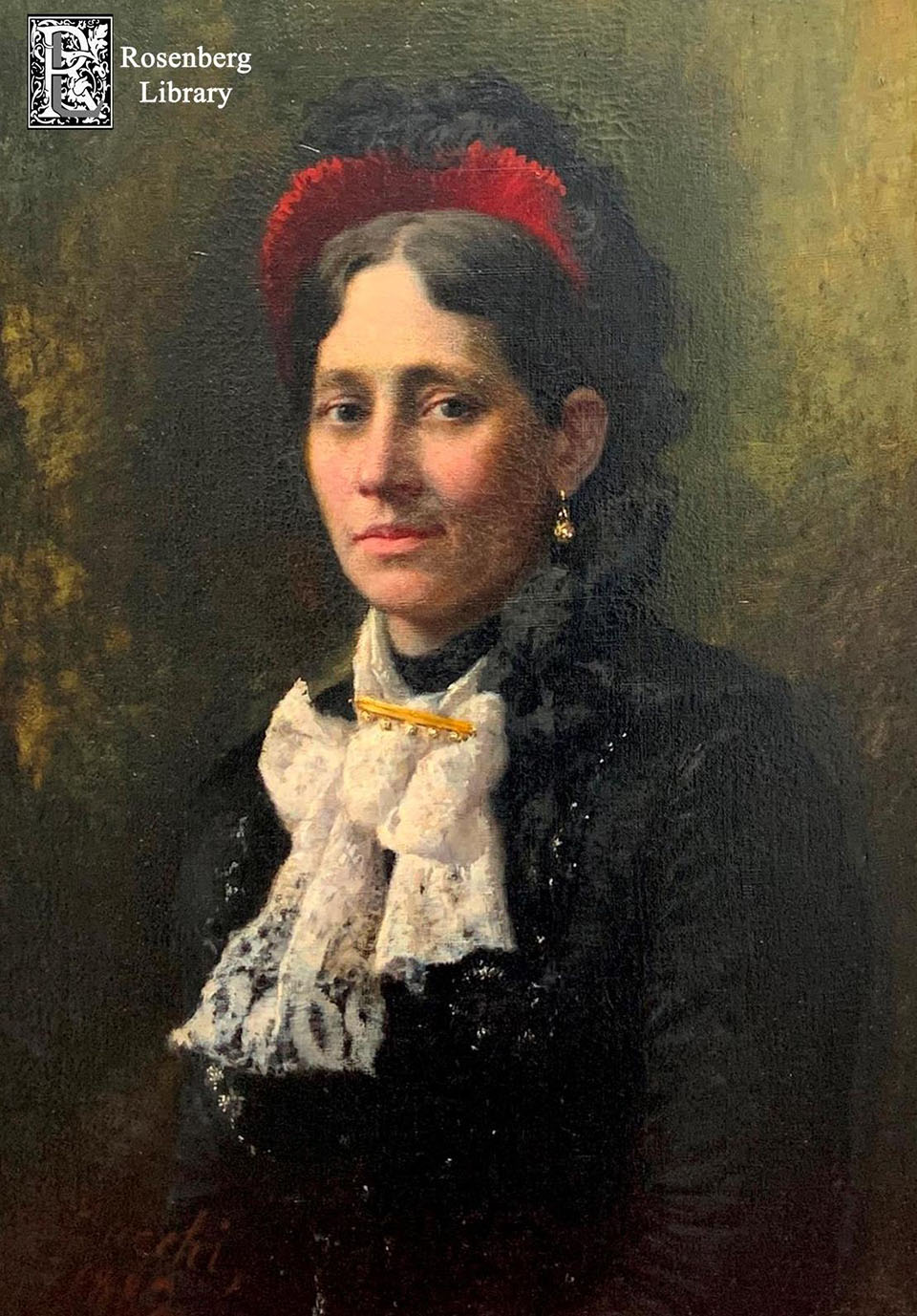 | | | |
| --- | --- | --- |
| Mortiz O. Kopperl donated this portrait of his grandmother, Isabella Dyer Kopperl, to Rosenberg Library in 1949. It was painted by Italian artist Ermocrate Bucchi in Milan in 1883. | | Rosenberg Library |
Isabella Kopperl dedicated much of her life to civic and charitable projects. During the 1880s, she served on the Board of Lady Managers for the Orphans Home and contributed money to establish an infirmary and a kindergarten at the orphanage.
She also served on the board for the Letitia Rosenberg Woman's Home and the Temple B'Nai Hebrew Ladies Benevolent Society. In 1901, she served on the first executive committee for the Women's Health Protective Association, a group of local women dedicated to city beautification and public health. After the 1900 storm decimated most of the island's landscape, the WHPA was formed to re-plant trees and flowers along city streets. The organization also established parks and playgrounds for local residents to enjoy.
Isabella Kopperl died May 12, 1902, after being injured in an automobile accident in Redlands, California. In 1903, the City of Galveston established the Isabella Kopperl Memorial Park in her honor. Located on 25th Street near The Strand, the small but attractively landscaped park was situated in front of the Union Depot train station. It was later relocated to the Broadway esplanade at 6th Street and was the site of one of President Franklin D. Roosevelt's public addresses during his May 11, 1937 visit to Galveston. In 1951, Broadway Avenue was widened, and the park was removed.
Rosenberg Library has offered over a century of community service to the Galveston area, and is the oldest public library in Texas in continuous operation. The building itself was dedicated on June 22, 1904, the birthday of its patron, Henry Rosenberg. The Moody Memorial Wing opened in 1971, more than doubling the floor space and allowing for a children's library, a history center, several galleries to showcase museum collections, and later, a computer lab. The Library accepted its first museum piece shortly after it opened in 1904. Since then, thousands of rare and interesting objects from around the world have been added to the collection. Each month they display a "Treasure of the Month". Learn more by visiting the
Rosenberg Library
page and the
Gifts of Henry Rosenberg
section.