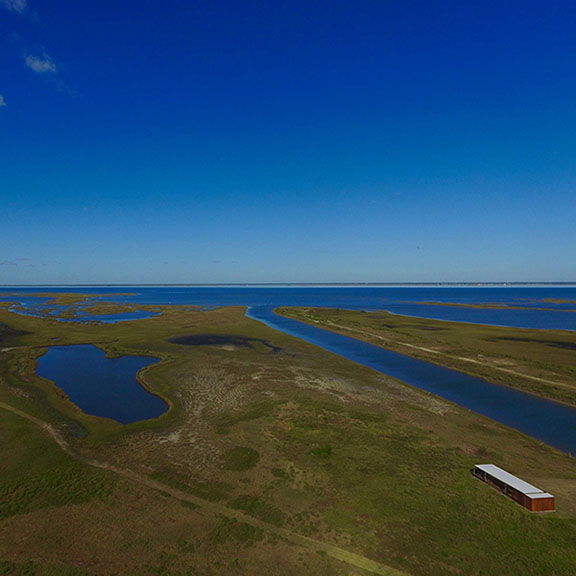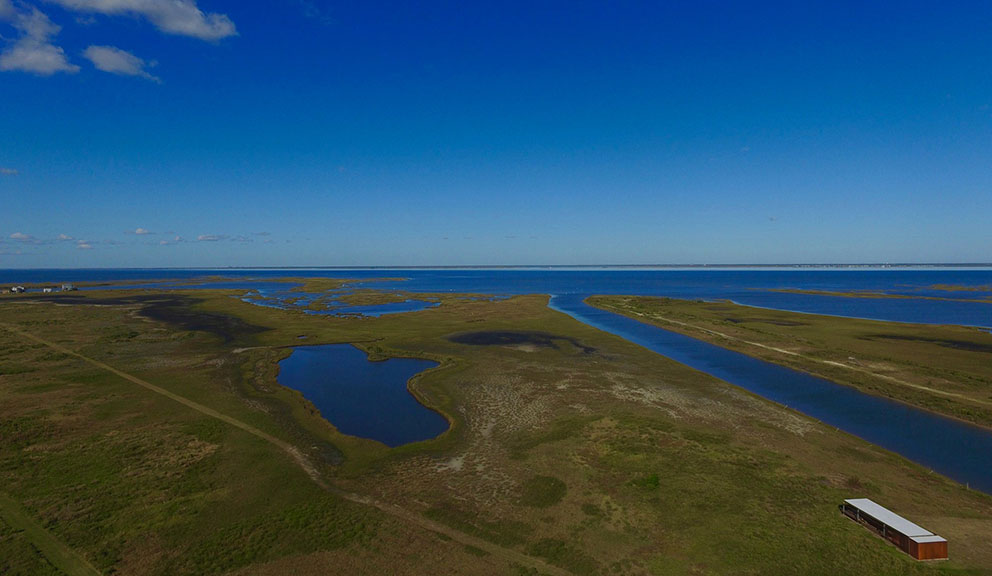 Help Save the Wilds of Galveston
Be One In A Million
---
Artist Boat is asking YOU and 1 million people to give $10 to protect and preserve 1,400 acres of wild lands on West Galveston Island.
Help Artist Boat raise $10 million dollars in the next two years to protect and finish the purchase of 1,400 acres of precious wetlands and endangered coastal prairies on the Texas coast. YOU can help finish this effort and Be One In A Million. YOU can help the Coastal Heritage Preserve grow again and save the homes of wildlife.
We are over halfway to our goal! We can't Slow Down Now!

We have saved 898 acres to date and are working on our next acquisition of 140 acres. The Anchor Bay Peninsula will be developed into 52 houses, displacing 697 species of wildlife if we don't raise the money to complete the purchase for permanent protection by February 2024. Every ten dollars YOU give leverages $10 in Conservation Grants.
Find Out More & Donate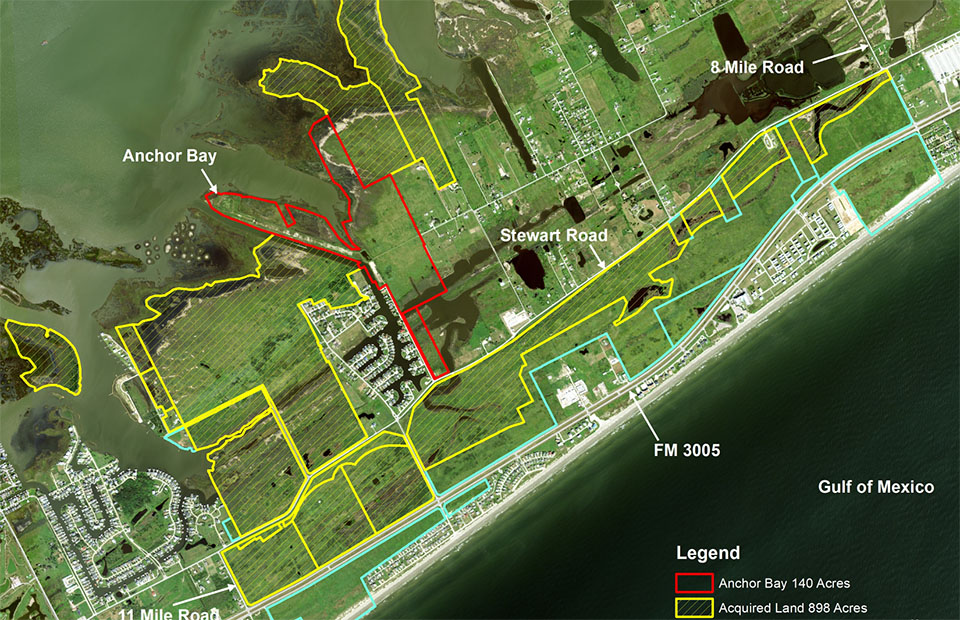 We are at risk of losing the Anchor Bay Peninsula – YOU can help now
This acquisition creates a contiguous living shoreline for the Coastal Heritage Preserve. Losing the Anchor Bay Peninsula destroys the viewshed and the ecosystem we, and many of you, have protected. YOU CAN HELP stop a development from being the middle of the Coastal Heritage Preserve. Artist Boat has raised $2.6 million to save Anchor Bay and there are 8 months left to raise the remaining $3.9 million. Every $10 you give provides matching dollars for grant applications and motivating other donors!
Will YOU Be One in a Million and give $10 to save this land? Will you make a difference for our wildlands?
Find Out More & Donate
More Details
Artist Boat is dedicated to promoting awareness and preservation of coastal margins and the marine environment through the disciplines of the sciences and the arts.
Artist Boat is requesting support toward the next phase of the Coastal Heritage Preserve full vision of 1,400 protected acres of contiguous bay-to-beach ecosystem complex found only on barrier islands. Currently encompassing 898 acres on west Galveston Island, the next goal is purchasing the remaining Anchor Bay land – 140 acres of coastal habitats fronting West Galveston Bay at Mentzel Bayou. This critical piece, in between two large sections of existing bayside Preserve acres, contains a peninsula at highest risk of development. Artist Boat has an option to purchase the whole for $6.5 million, by February 18, 2024. For this phase, Artist Boat has secured $2.6 M to date in grant awards ( 2 federal awards totaling $2,120,000, 1 state award totaling $115,000, 4 foundation awards totaling $422,000, and individuals totaling $45,000), and is continuing its Be One In A Million campaign to raise funds from the public for Anchor Bay gaining donations from thousands of individuals. Currently 40% of the funds are raised totaling $2.6 million of the required $6.5 million.
To date, Artist Boat has saved 898 acres with $17.7 million dollars in federal, state, foundation, and individual contributions protecting wetlands and coastal prairies and wildlife. Every dollar donated NOW will help unlock donations from state and federal grant sources, assist in motivating others to donate, and assure only success is the option. Your help is critical to the momentum needed to save this place.
This project will benefit numerous ecosystems, coastal-dependent and migratory bird species, and commercial and recreational estuarine-dependent fishery species, plus thousands of inner-city youth annually, by avoiding severe negative development impacts: fragmentation and filling of ecosystems; destruction of uninterrupted coastal habitat viewshed; destroying the peninsula's living shoreline by bulkheading; and producing large amounts of non-point source runoff pollution into adjacent protected wetlands.
This project will protect approximately 700 acres of land on the bay on west Galveston Island by adding 140 acres of land from former Chapeton Ranch. With 551.20 already conserved on the bay side of west Galveston Island this will finalize protecting 3+ miles of un-bulkheaded/contiguous estuarine wetlands and finalize preventing habitat fragmentation and degradation from the building of 52 canal homes on the peninsula in the middle of the Coastal Heritage Preserve.
Every donation from individuals will have tremendous impact for the campaign's public phase to save the Anchor Bay habitats, by acknowledging the land's critical value, by demonstrating the ability to leverage federal funds, by supporting protection of high dollar-value and high ecological-value land, and by reaching a 100% success in this next acquisition.
Conserving the 140 acres will bring the full protected area of the Coastal Heritage Preserve to 1,038 acres (approximately 700 acres of bay lands and 346 acres of interior freshwater wetlands and coastal prairies between 3005 and Stewart Road).
You will help protect approximately 11.5-acres of regularly flooded and 32.9-acres of irregularly estuarine emergent marsh habitat; 14.9-acres of regularly flooded and 2.4-acres of irregularly flooded estuarine salt flat habitat; 1.5-acres of temporarily flooded freshwater emergent marsh habitat; 5.2-acres of temporarily flooded freshwater emergent marsh diked/impounded; 0.5-acre of temporarily flooded freshwater scrub shrub.
The Coastal Heritage Preserve contains endangered coastal prairies, and this addition will conserve seventy-eight (77.6) acres of additional upland coastal prairie. The Preserve hosts currently five locations of endangered black rails that utilize the edges between the wetlands and prairies. It is certain this acreage will reveal more locations of black rails.
Find Out More & Donate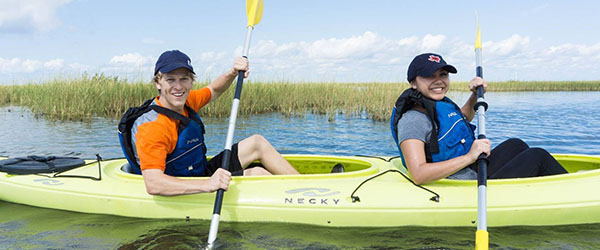 Artist Boat
Experience pristine Galveston wilderness like never before on an exclusive Eco-Art Kayak Adventure through the Coastal Heritage Preserve.
Register Today!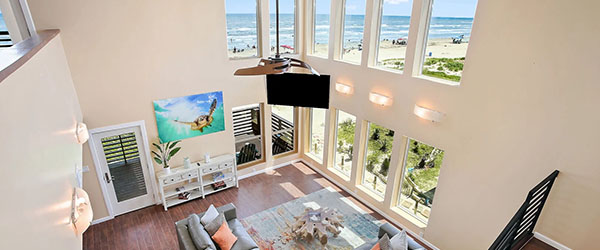 Soar Vacation Rental Services
Spanning east to west, Soar Vacation Rental Services is your local, award-winning rental company.
Visit Website
---
Artist Boat is a 501(c)(3) nonprofit dedicated to promoting awareness and preservation of the coastal margins and marine environment through the disciplines of the sciences and the arts. Artist Boat's Coastal Heritage Preserve currently encompasses a 810 acre conservation area on West Galveston Island. Artist Boat's goal is to preserve and restore 1,400 contiguous acres from beach to bay. The conservation area is one of the largest unfragmented, single-owner, undeveloped properties of its kind on Galveston Island.