Galveston: An Island of Firsts
---
When Cabeza de Vaca and crew washed ashore on Galveston Island in 1528, they were the first European settlers in what would become the state of Texas.  In 1685, French explorer La Salle visited the area and in 1817, pirate Jean Lafitte had a base on the island.  After Lafitte was sent sailing by the United States, ships of Europeans migrated to and through the island.
By the end of the 19th Century, The Strand was knows as "The Wall Street of the South".  In the process of building the city, many firsts in Texas occurred here.  You may have heard that we had the first post office, first opera house, and first customs house in Texas, but the list is long.  We've assembled a list of others and found some photos to help tell the story.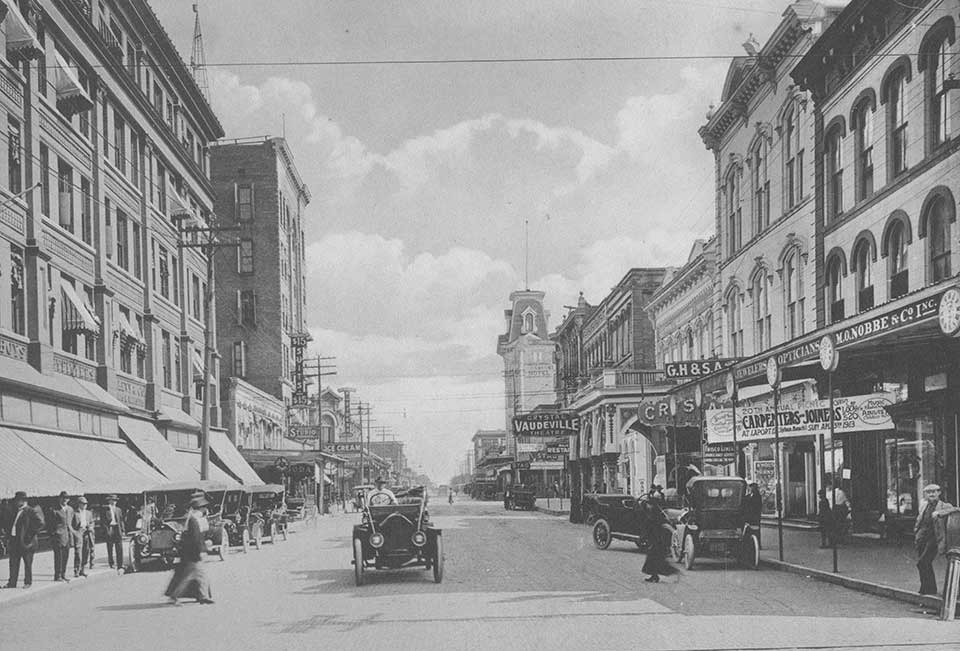 | | |
| --- | --- |
| Tremont & Market, Looking South | Image Courtesy, Rosenberg Library |
The Galveston Firsts include: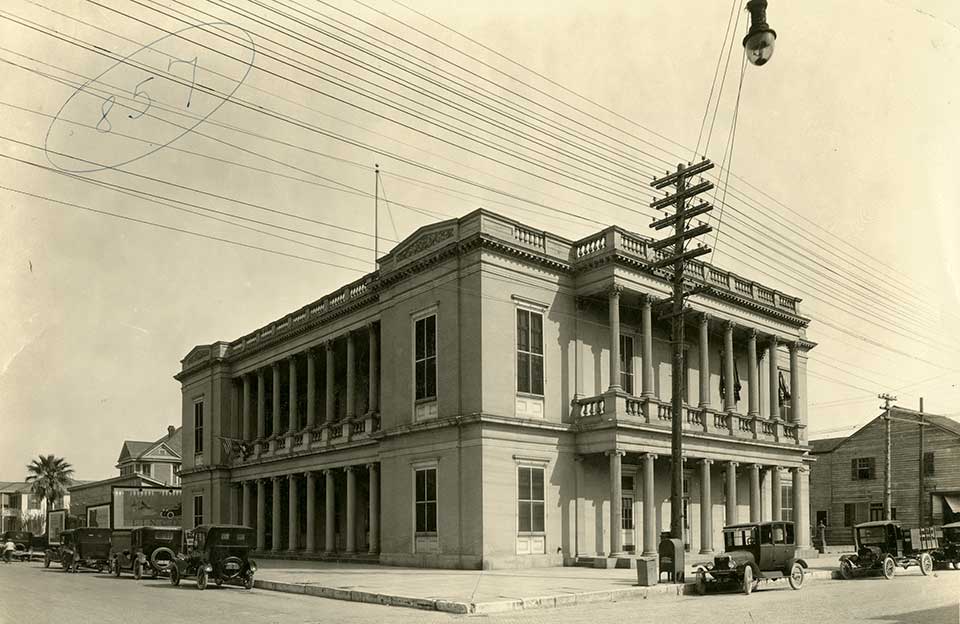 | | |
| --- | --- |
| U.S. Custom House, 1936 | Image Courtesy, Rosenberg Library |
First Customs House, 1858
The United States Custom House was originally planned by Ammi B. Young in 1857 but was completely redesigned by Charles B. Cluskey and erected in 1860-61. It houses the custom office, post office, and U.S. District Court. Its main structure of brick and iron survived the Great Fire of 1885 and subsequent hurricanes. The roof was replaced following the 1900 storm and again in 1961. At that time, also, the ironwork of the upper cornice and roof balustrade was duplicated in fiberglass material.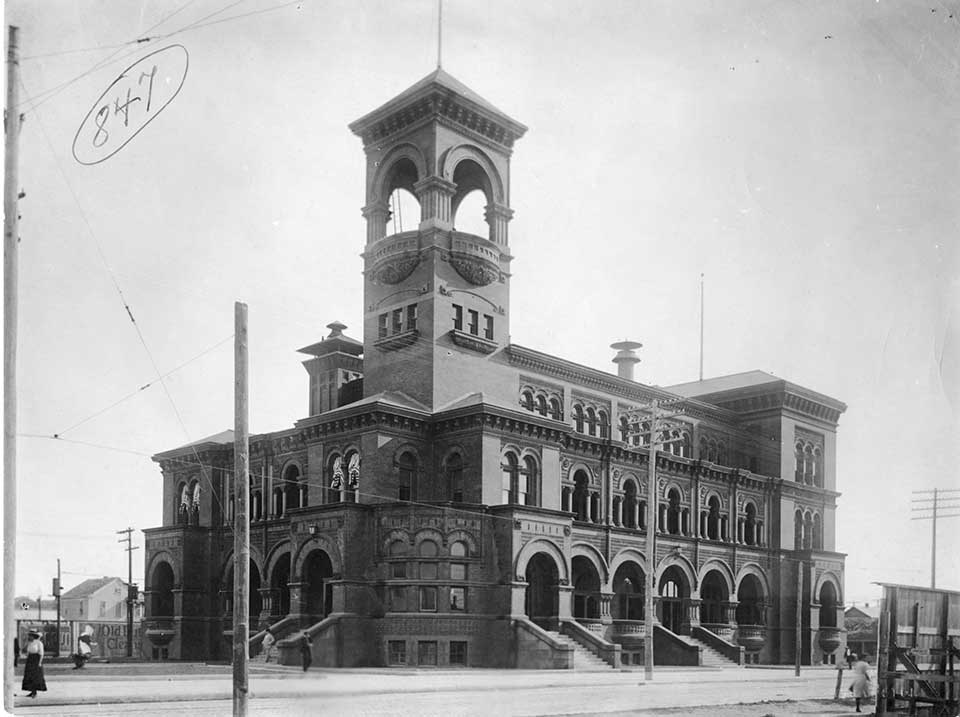 | | |
| --- | --- |
| United States Post Office and Custom House Building, 1894 | Image Courtesy, Rosenberg Library |
First Post Office, 1836
It is believed that Industry, Texas is home to the first Post Office in the state of Texas, however, Industry's Post Office is the first Post Office in Texas built west of Galveston Island.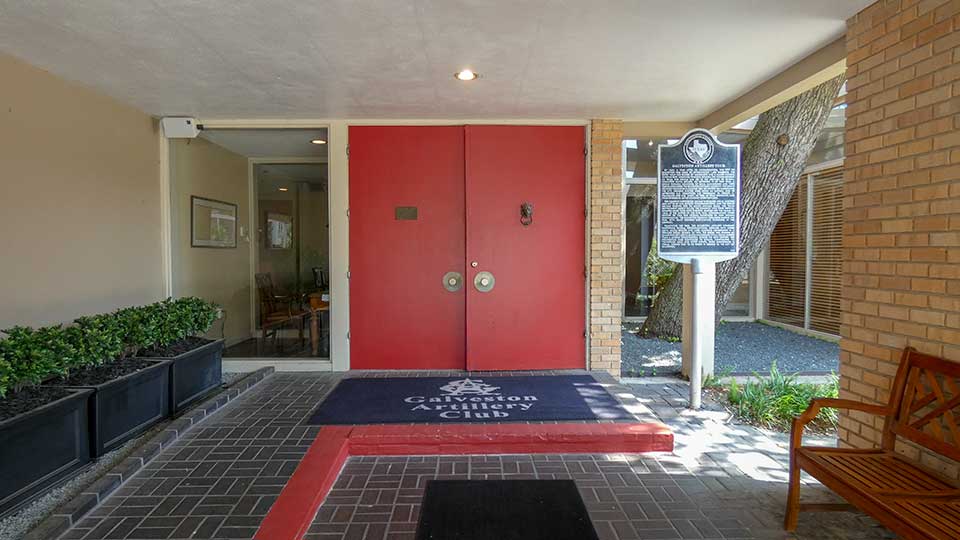 First Military Company, now the Galveston Artillery Club, 1841
Part of the Galveston Artillery Club historical marker reads:
"By 1840, a year after its incorporation, the city of Galveston was home to approximately 1,200 residents, the entry point for scores of immigrants and a major coastal shipping port. Ongoing tensions between the young Republic of Texas and Mexico had led to the creation of several volunteer militia groups. On September 13 of that year, a group primarily composed of local businessmen and their clerks organized the Galveston Artillery Company. The group received its charter in January 1841 to protect the harbor and the city. Members elected John Howe as captain, and he appointed A.C. Crawford, L.E. Nordman, W. Denny, C. Frankland, and E.O. Lynch, as well as four sergeants and four corporals, as the company's first officers."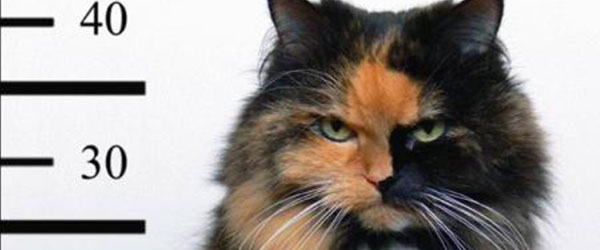 Gulf Coast Bail Bonds
When your run luck runs out, give us a call. We'll get you back on "Island Time" in no time.
Visit Website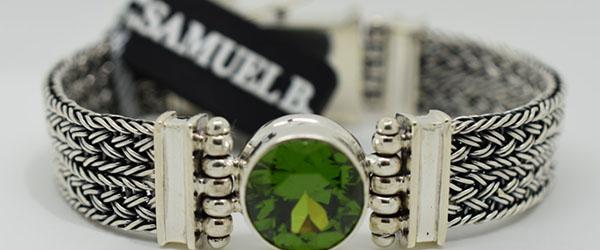 Island Silver
The Gulf Coast's Premier Sterling Silver Jewelry Store with thousand of .925 Sterling items in stock.
Visit Website
---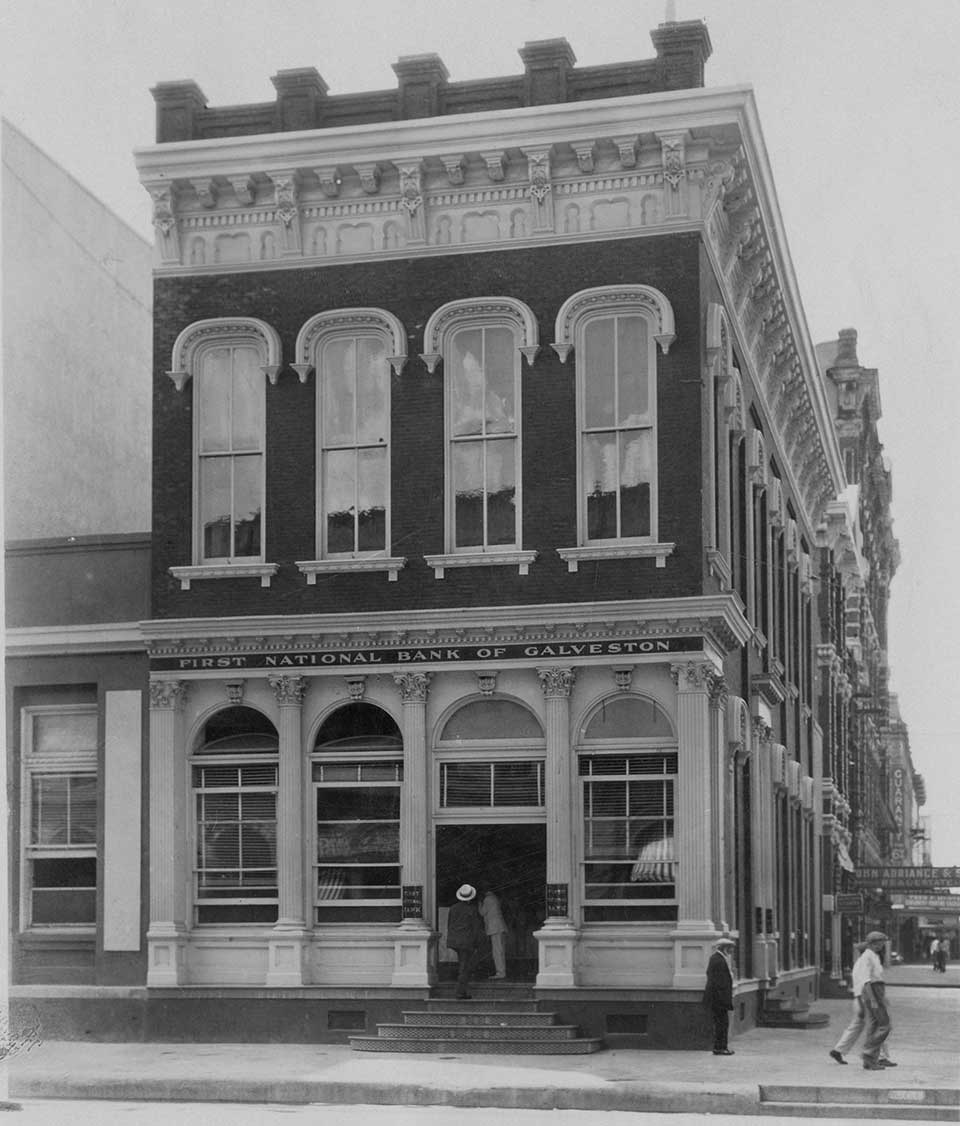 | | |
| --- | --- |
| First National Bank of Galveston, 1925 | Image Courtesy, Rosenberg Library |
First Bank Chartered under the National Bank Act, 1865
Part of the First National Bank of Galveston Historical Marker inscription:
"The First National Bank opened its doors on September 22, 1865. It was the first national bank in Texas operating under the National Bank Act of 1863 and the second chartered bank in the state. Throughout the latter part of the 19th century, it was also the most substantial bank in the State of Texas operated under a federal charter."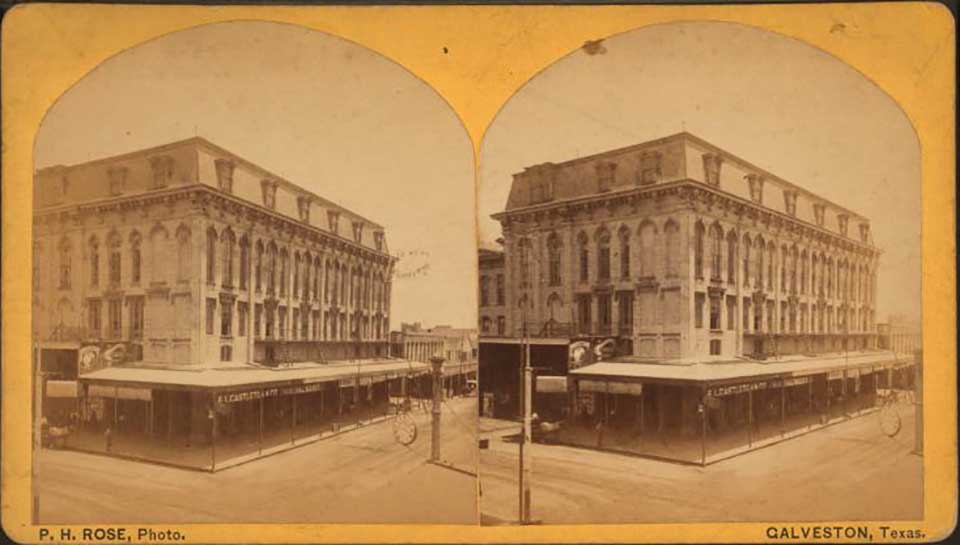 | | |
| --- | --- |
| Tremont Opera House, 1885 | Image Courtesy, New York Public Library |
First Opera House, 1870
The Tremont Opera House was built by Henry Greenwall on the corner of Tremont and Market Street. "The lower story was of iron, and the upper of brick, with iron lintels and sills. An elaborate cornice of galvanized iron and a French mansard roof were outwardly perhaps the most conspicuous features of the theatre. The grand entrance, twenty-five feet in width, was on Market street and led up to a spacious lobby (twenty-two feet by thirteen feet) on the second floor.) The auditorium exclusive the stage, took in an area of fifty-five feet eight inches by sixty-five feet. The stage, "in all its appointments an exact counterpart of Booth's in New York," extended the entire width of the building and was thirty-nine feet nine inches deep, with a proscenium arch forty-five feet in width… The drop curtain was the work of Signor Arrigoni, an Italian artist of European as well as American reputation." (Rice Digital Scholarship Archive, Gallegly, J. S., "The Tremont Opera House of Galveston: the First Years," accessed February 17, 2020, Courtesy of Rice University)
| | |
| --- | --- |
| Galveston News Building, 1900 | Image Courtesy, Rosenberg Library |
First Building Built Solely for a Newspaper, 1884
Designed by Nicholas J. Clayton as a modern French Renaissance style building construction began in 1883 and completed June 14, 1884 at a cost of $125,000. The Daily News is the oldest continuously published newspaper in Texas, and published its first edition April 11, 1842.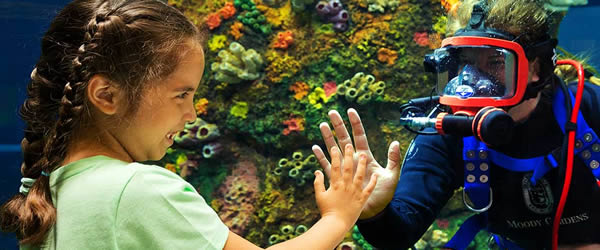 Moody Gardens
From the secrets of the rainforest to the ocean's depth, a world of wonder awaits.
Visit Website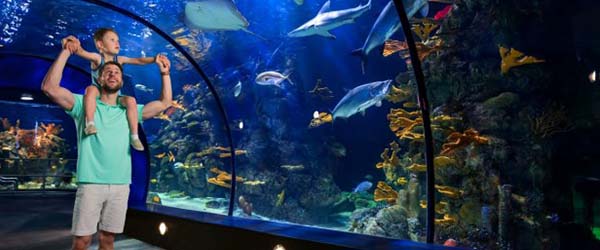 Moody Gardens Aquarium
Dive into the oceans of the world in a 15-million gallon aquarium teeming the creatures galore!
Visit Website
---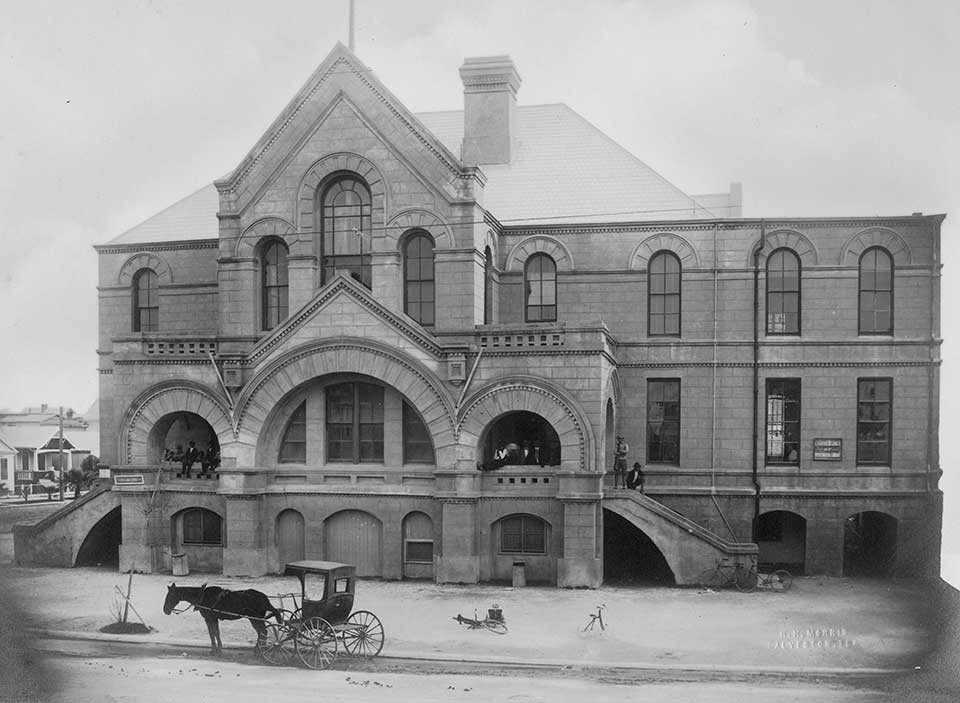 | | |
| --- | --- |
| Central High School, 1917 | Image Courtesy, Rosenberg Library |
First Colored High School, 1884
Established in 1885, Central High School was the first high school for African Americans in the state of Texas. The school was initially housed in a rented frame building near the corner of Avenue L and 16th Street. In 1893, the well-known Galveston architect Nicholas Clayton designed an attractive two-story brick building with multiple classrooms on the 2600 block of Avenue M. The original structure was later demolished, but the 1924 annex still stands and today is home to the Old Central Cultural Center.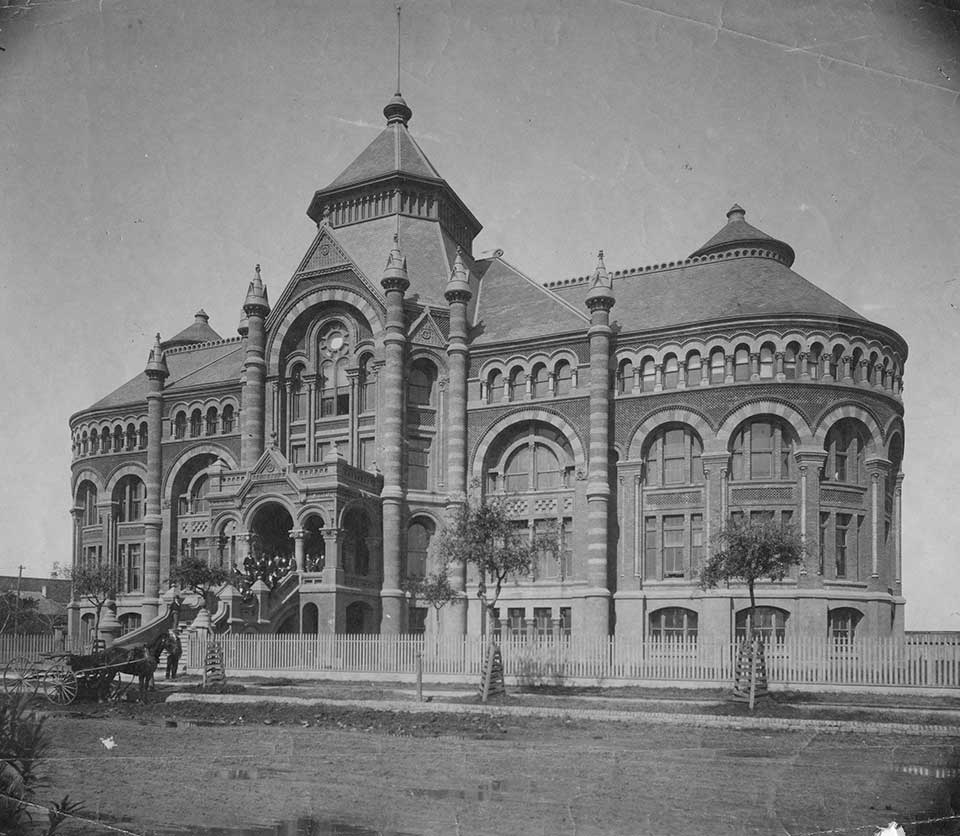 | | |
| --- | --- |
| Ashbel Smith Building "Old Red", 1900 | Image Courtesy, Rosenberg Library |
First Medical College, 1886
Inscription from the Historical Marker reads:
"First, and originally the only building of University of Texas Medical Branch. Master architect Nicholas J. Clayton designed the massive Romanesque structure. It was dedicated on October 5, 1891. Although rooms were almost devoid of equipment, the school boasted a young, vigorous staff. The enrollment in 1891 was 23. The building was named in 1949 for Ashbel Smith (1805-86), pioneer surgeon, diplomat, and "Father of the University of Texas."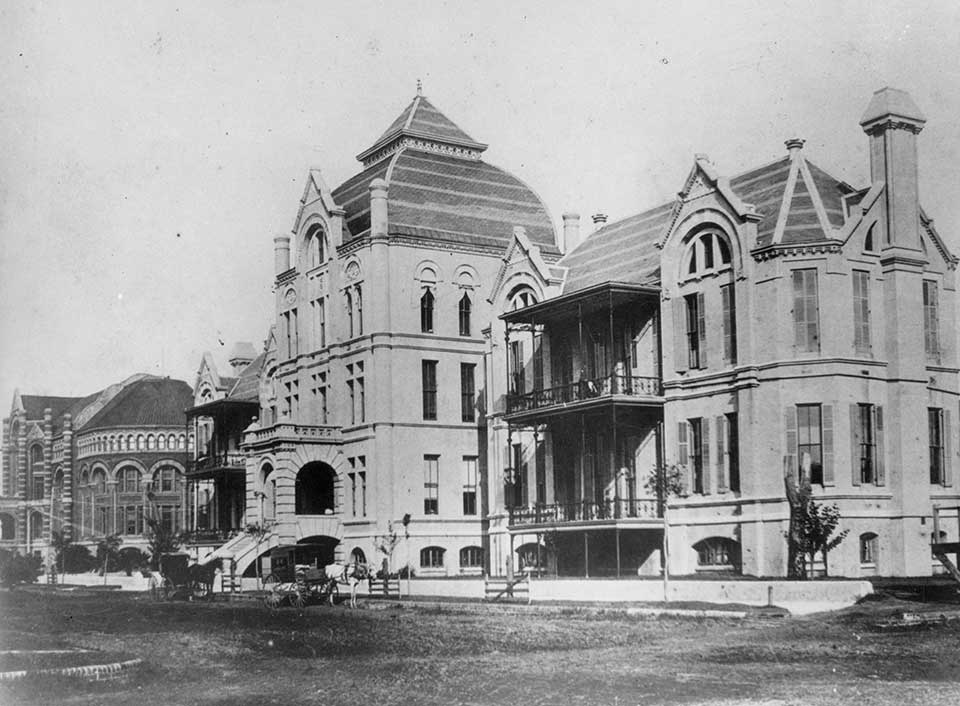 | | |
| --- | --- |
| John Sealy Hospital and Ashbel Smith Building, 1900 | Image Courtesy, Rosenberg Library |
First School for Nurses, 1890
The first formal school of nursing in Texas was established at John Sealy Hospital in Galveston in 1890, seventeen years after the founding of the first formalized nurse-training schools in the country. John Sealy Hospital, made possible by an endowment from Galveston businessman John Sealy , opened in January 1890. It was initially staffed with attendants to provide bedside care. A group of prominent local women, including Mrs. John Sealy, formed a "Board of Lady Managers," which assumed the responsibility for raising funds needed to establish and support the John Sealy Hospital Training School for Nurses. Largely through their efforts, the school opened on March 10, 1890, with eighteen students. As the financial burden of the school became greater for the managers, they petitioned the Board of Regents of the University of Texas to assume control, and in 1896 the school was made a regular department of the University of Texas Medical Branch. The financial dependence of nursing schools on hospitals or medical schools dominated nursing education for many years to come.
The John Sealy Hospital Training School for Nurses began as a two-year program that was extended to three years in 1907. Students at the school received lectures and demonstrations by the school superintendent on general principles of nursing: care of the ward or sickroom and care of the patient, including toilet, feeding, attention to excretions, application of lotions, stupes, poultices, and blisters, care and prevention of bedsores, baths, massages, cups, leeches, use of catheters, enemas, artificial feeding, disinfection, quarantine, and clinical observations and records. Faculty from the medical school lectured on anatomy, physiology, surgical nursing, elementary medicine, materia medica (dosage, poisons, and antidotes), obstetric and gynecologic nursing, fevers and respiratory diseases, diseases of children, nervous and mental diseases, and nursing in diseases of the eye, ear, nose, and throat. Classroom instruction was limited to less than six hours a week; most learning occurred in the wards. (Handbook of Texas Online, Poldi Tschirch and Eleanor L. M. Crowder, "Nursing," accessed February 17, 2020, Texas State Historical Association)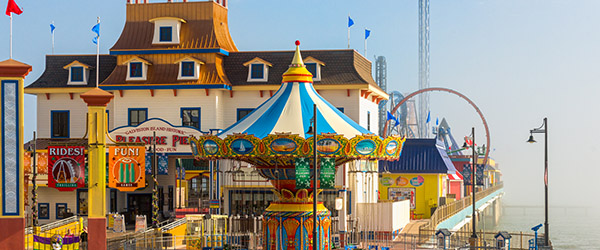 Historic Pleasure Pier
Three Parks – One Pass! Enjoy unlimited 3-day admission at the Kemah Boardwalk, Pleasure Pier and Downtown Aquarium Houston!
Visit Website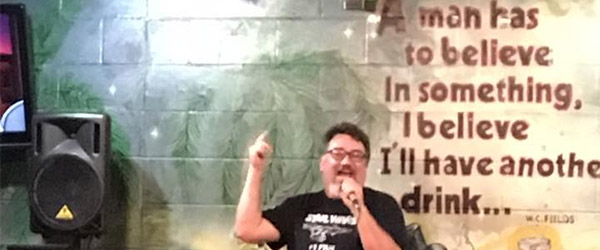 Lucky Lounge
---
| | |
| --- | --- |
| St. Mary's Infirmary, 1905 | Image Courtesy, Rosenberg Library |
First Roman Catholic Hospital, 1867
St. Mary's Hospital, Galveston, the first Catholic hospital in Texas, was opened as a charity hospital by Bishop Claude M. Dubuis, the second Catholic bishop of Galveston, in April 1867. At first, the sisters had few patients, but a virulent yellow fever epidemic that lasted from July until November 1867 filled both hospitals to overflowing. Among those who died at Charity Hospital was the young superior, Sister Blandine. In 1868 the hospital closed for a short period because of a dearth of patients. In July 1869, with help from Dr. C. H. Wilkinson, the sisters contracted with the United States government for the care of marine patients at the rate of a dollar a day each, and the hospital reopened as St. Mary's Infirmary. (It was renamed St. Mary's Hospital in 1965.) Within a few years, the hospital was able to contract for city and county patients as well, and additional sisters came from France to help the work. (Handbook of Texas Online, Sister M. Loyola Hegarty, C.C.V.I., "St. Mary's Hospital, Galveston," accessed February 17, 2020, Texas State Historical Association.)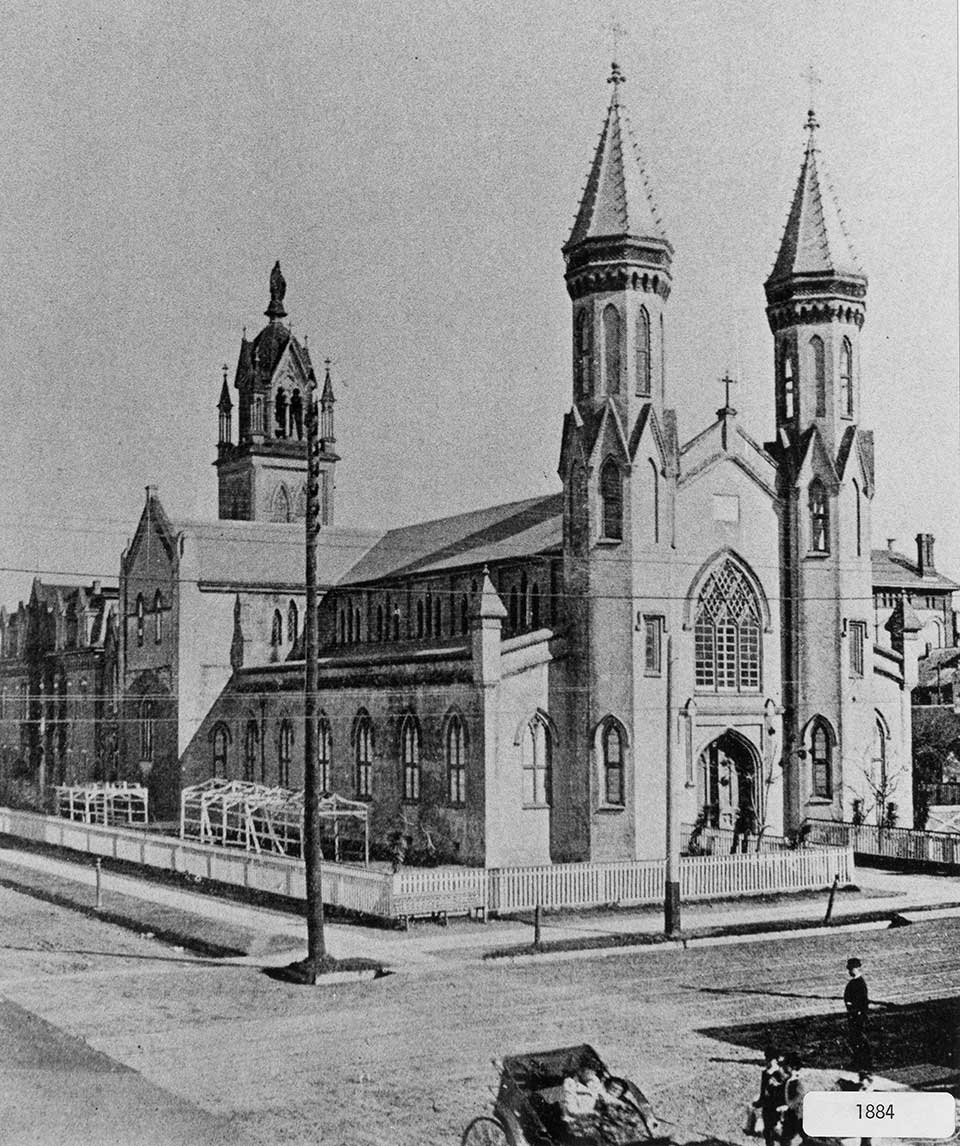 | | |
| --- | --- |
| St. Mary's Cathedral, 1884 | Image Courtesy, Rosenberg Library |
First Roman Catholic Cathedral, 1847
St. Mary Cathedral Basilica is one of two cathedrals of the Archdiocese of Galveston-Houston. Located in Galveston, TX, it is the mother church of the Catholic Church in Texas, as well as a minor basilica. On February 6, 1842, one month before his consecration as a bishop, Fr. Jean Marie Odin, C.M. dedicated a small wooden-framed church to the Blessed Virgin Mary. A small sacristy was later added, as well as the addition of thirty benches. In 1847, construction began on a larger, permanent church. On May 4, 1847, Pope Pius IX approved the establishment of the Diocese of Galveston and named Odin as its first bishop.
St. Mary Cathedral was dedicated on November 26, 1848. St. Mary Cathedral was named a Texas state historic landmark in 1968 and a national historic landmark in 1973. In 1979, in recognition of the Cathedral's importance to the community and the State of Texas, as well as the historical impact it had on Catholicism in the state of Texas, Pope St. John Paul II elevated St. Mary Cathedral to the status of a minor basilica. (The Archdiocese of Galveston Houston, "St. Mary Cathedral Basilica," accessed February 17, 2020, The Archdiocese of Galveston-Houston.)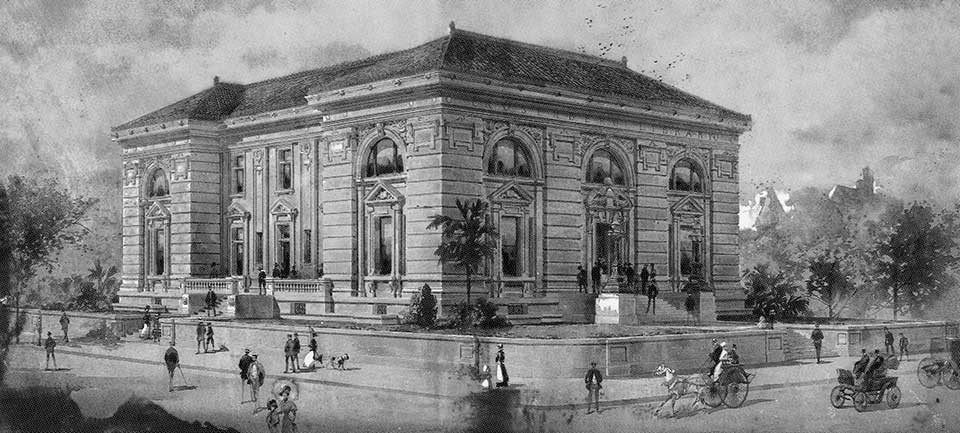 | | |
| --- | --- |
| Rosenberg Library Postcard, 1910 | Image Courtesy, Rosenberg Library |
First Public Library, 1871
The Rosenberg Library, successor to the Galveston Mercantile Library, which was founded in 1871, is the oldest public library in Texas in continuous operation. With funding provided through a bequest from Henry Rosenberg, the Rosenberg Library Association was organized in 1900 as a private corporation to give free library service to all Galvestonians. The Rosenberg Library opened in 1904. A year later it absorbed the collections of the Galveston Public Library, thus formalizing its new role as the public library for the city of Galveston. From the beginning, the Rosenberg Library has been more than a simple book repository. Its early history reflects its cultural importance. (Handbook of Texas Online, Jane A. Kenamore, "Rosenberg Library," accessed February 17, 2020, Texas State Historical Association.)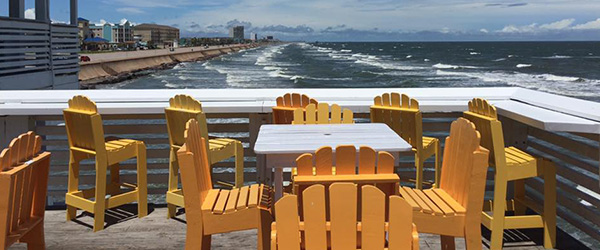 Galveston.com Experience Passports
Enjoy sipping an an ice-cold cocktail while enjoying views from a great patio. This self-guided passport highlights some of the best patios & spirits Galveston has to offer.
Visit Website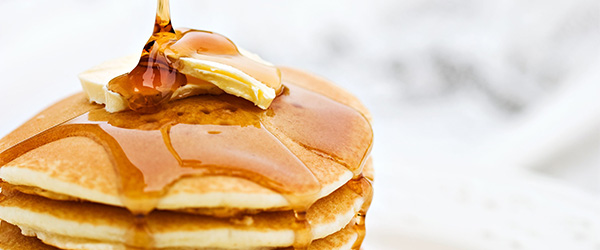 Gaido's Seaside Inn
No matter how much our guest rave about our award-winning pool, they like our from scratch complimentary breakfast even more!
Visit Website
---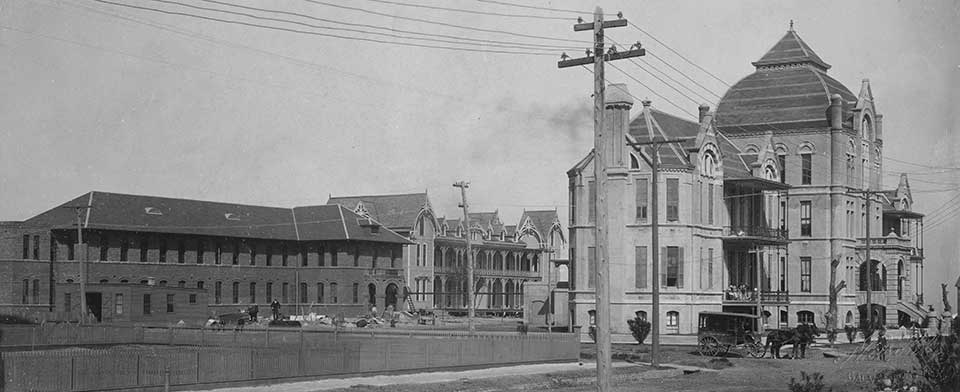 | | |
| --- | --- |
| Hospital for African Americans, 1902 | Image Courtesy, Rosenberg Library |
First African American Hospital, 1904
In 1901 an anonymous New York philanthropist donated $15,000 for the construction of a negro hospital, stipulating that the money was to be used only for the building of a new hospital and not for the repairs of the old City Hospital. UTMB's hospital board accepted the donation and its terms and immediately began planning the hospital's construction. They determined the $15,000 donation was not enough to complete the building, so an additional $3,000 was donated from the Galveston Storm Relief Fund. Near the completion of the hospital, a Galveston County Daily News article dated April 6, 1902, ran with the headline, "A Negro Hospital – One of the Finest in South." The article stated the building was well-ventilated and lighted and had a fine system of sanitary plumbing. "Nowhere in Texas will the sick black man, woman or child be offered such comfort. It will have all the conveniences and advantages of the white department," said the article.
The hospital was a two-story building made of pressed brick and could accommodate approximately 60 patients. It consisted of an administration building, two large charity wards for male and female patients and private rooms. After its opening, UTMB's Negro Hospital served as a refuge for many black Houstonians. Before 1919, Houston hospitals only employed white physicians and many of them refused to treat black patients. To accommodate Galveston's growing population, the hospital was demolished in 1937 to make room for a new three-story Negro Hospital to accommodate 92 patients. It was built for $285,000 and included an obstetrics and gynecological ward, a surgical ward and a ward for crippled children. Daily News articles from 1954 and 1957 show UTMB petitioned the state for funding to expand the Negro Hospital due to overcrowding. A 1957 article stated that funds were left out for the hospital in a House appropriations bill. By 1958 the Daily News reported the hospital was closed because of its "inadequacy," and African-American patients were moved to the main hospital. Integration wasn't new to the institution. In 1949, UTMB had already desegregated its medical school with the admittance of the first African-American student to a medical school in Texas. (The UTMB Newsroom, "UTMB opened first state-funded hospital for African-Americans in Texas," accessed February 17, 2020, UTMB.)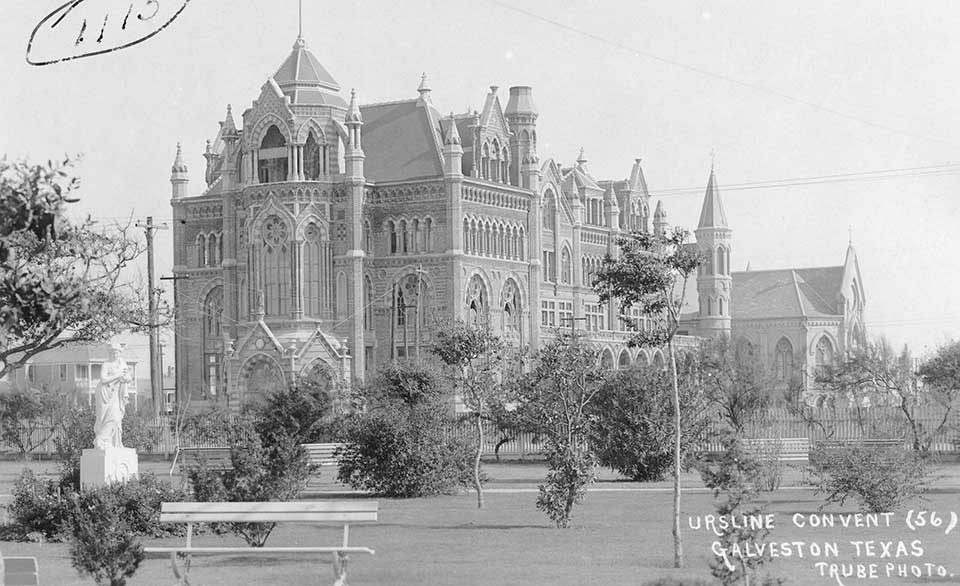 | | |
| --- | --- |
| Ursuline Convent, 1910 | Image Courtesy, Rosenberg Library |
First Parochial School, 1847
The Ursuline Academy at Galveston was established in February 1847 by Ursuline Sisters from New Orleans, who had arrived on January 16. The school, Galveston's first parochial school, was on a ten-acre campus. Attended by girls of all faiths, the academy opened in 1854, closed for a time in 1857 during a yellow fever epidemic, and was used as a hospital by both sides during the Civil War. The main Victorian Gothic building, constructed by Nicholas J. Clayton along with the convent in the mid-1890s, sheltered more than 1,000 refugees during the Galveston hurricane of 1900. (Handbook of Texas Online, Diana J. Kleiner, "Ursuline Academy, Galveston," accessed February 17, 2020, Texas State Historical Association.)
More Galveston Firsts include:
First cotton compress, 1842
First insurance company, 1854
First use of the telegraph to send news dispatches, 1854
First gas lights, 1856
First cotton exchange, 1872
First telephone, 1878
First country club and golf course, 1898
First ship through the Panama Canal came from Galveston, 1913
First naval base, 1836
First Jewish Reform congregation, 1868
First electric lights, 1883
Firs drug store, 1867
First real estate firm, 1857
First jewelry store, 1856
First electric lights, 1883
First electric street cars, 1893
First trade union, 1860 – Carpenters Local No. 7
First Bakery, 1837 – Fox's Steam Bakery
First Grocery Store 1854 – Peter Gengler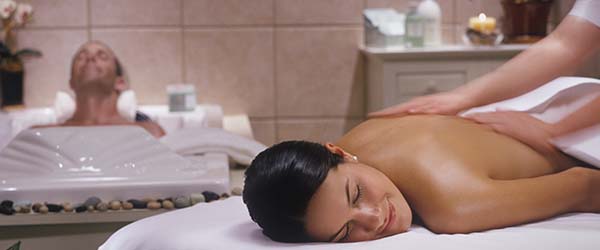 Moody Gardens Hotel
Escape from the everyday surrounded by tropical gardens. Enjoy a spa day or lounge by the pool.
Book Direct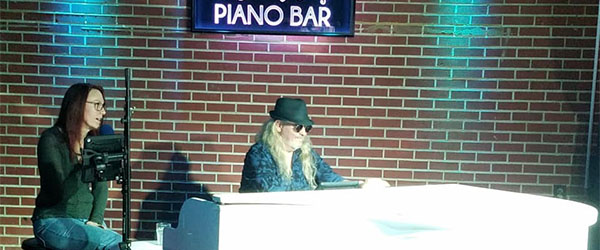 23rd Street Station
Good drinks, good people, and good times. Come as you are. Leave your worries at the door!
Visit Website
---
Lee Roane has worked on the Galveston.com website since 1994. He is interested in history and birding but will write about anything if he thinks it will help someone enjoy the island.