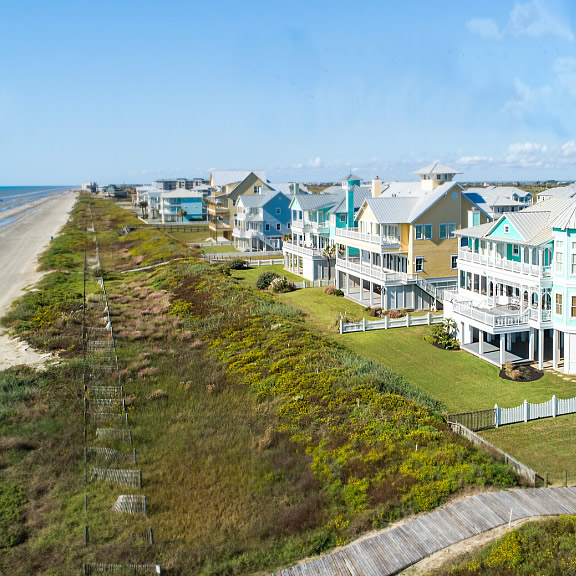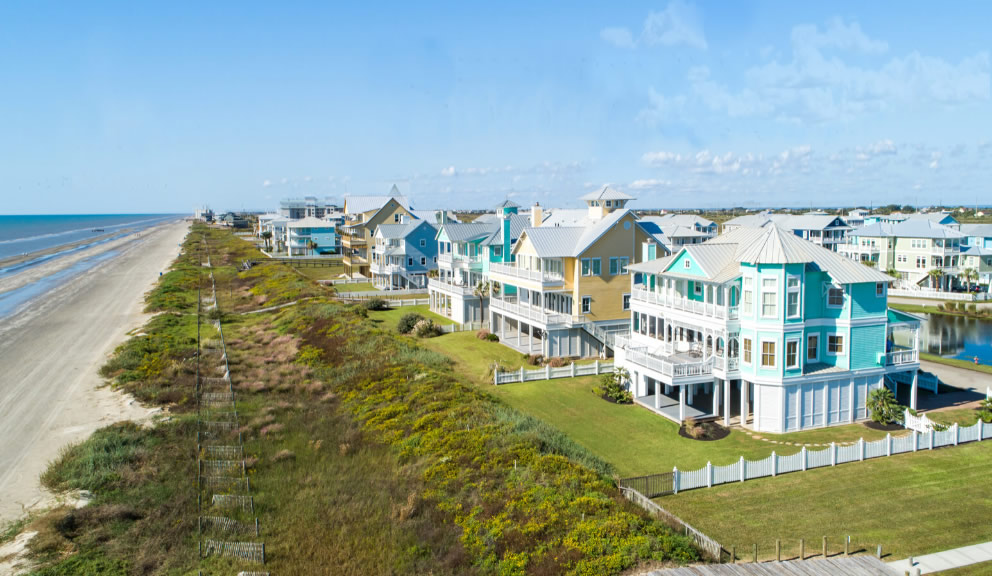 Choosing a Galveston Vacation Rental
---
Dreaming of an island getaway? Galveston vacation rentals are the perfect choice for family vacations, reunions, romantic getaways, girl's weekends, fishing & golfing retreats and more! They'll give you the space you want with the amenities you need – including fully equipped kitchens, large decks, private pools & more!
| | | |
| --- | --- | --- |
| Beachside Village, 3834 Sea Urchin | | |
More space = more fun! When you stay in a vacation rental, you can:
Invite family or friends along with you on your beach vacation
Prepare budget-friendly family-style meals
Plan movie or game nights in case of rain (or extreme sunburn)
Get 24/7 property service assistance (when booking with a professional management company)
Enjoy free wifi & off-street parking
Beach house amenities like washers, dryers, full kitchens & multiple living spaces make it easy to spend a full week away, without feeling cramped or inconvenienced. You'll love the privacy, convenience & value of vacationing in a home away from home!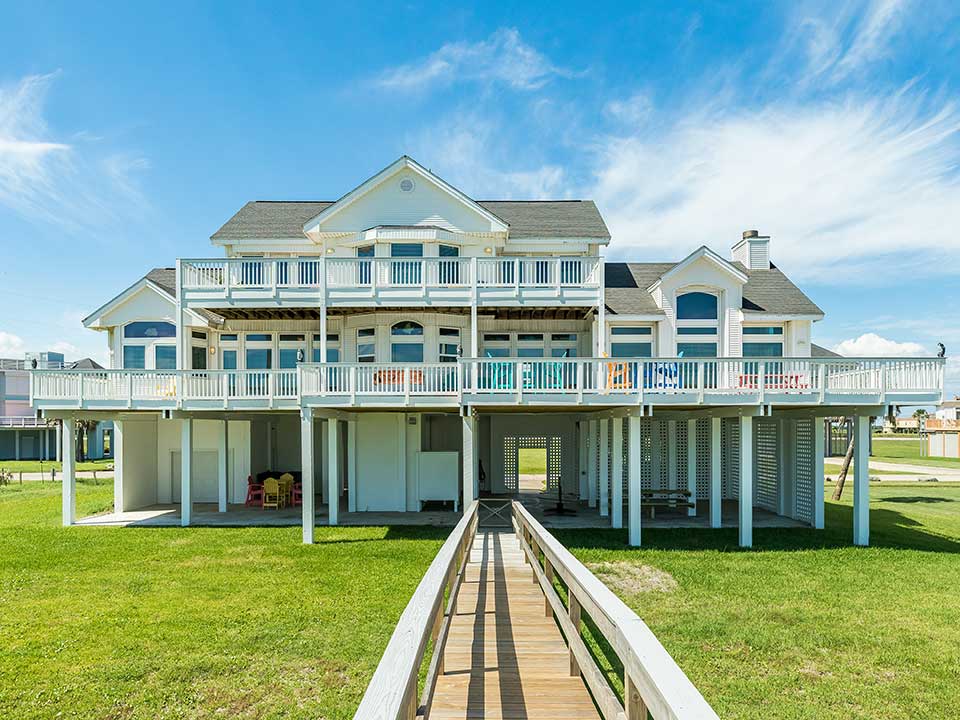 | | | |
| --- | --- | --- |
| Windsong, 18403 East De Vaca Lane | | |
Vacation Your Way
First, figure out what kind of island getaway you're looking for.
Need to unplug? West End vacation rentals are prime spots to watch the sunrise over the Gulf, float through agenda-free days, dine on casual home-cooked meals of fresh Gulf seafood, spend hours in the sun & surf, and relax on a private deck with your favorite beverage every evening.
Looking for a little more excitement? Book a home downtown for exciting nightlife and local restaurants. A wide variety of in-town locations put you close to attractions, shopping and the historic district. There's always something going on.
Not into crowds or sunbathing? Bay and canal homes are perfect for bringing your boat, SUP, fishing gear, kayak, binoculars and sense of adventure!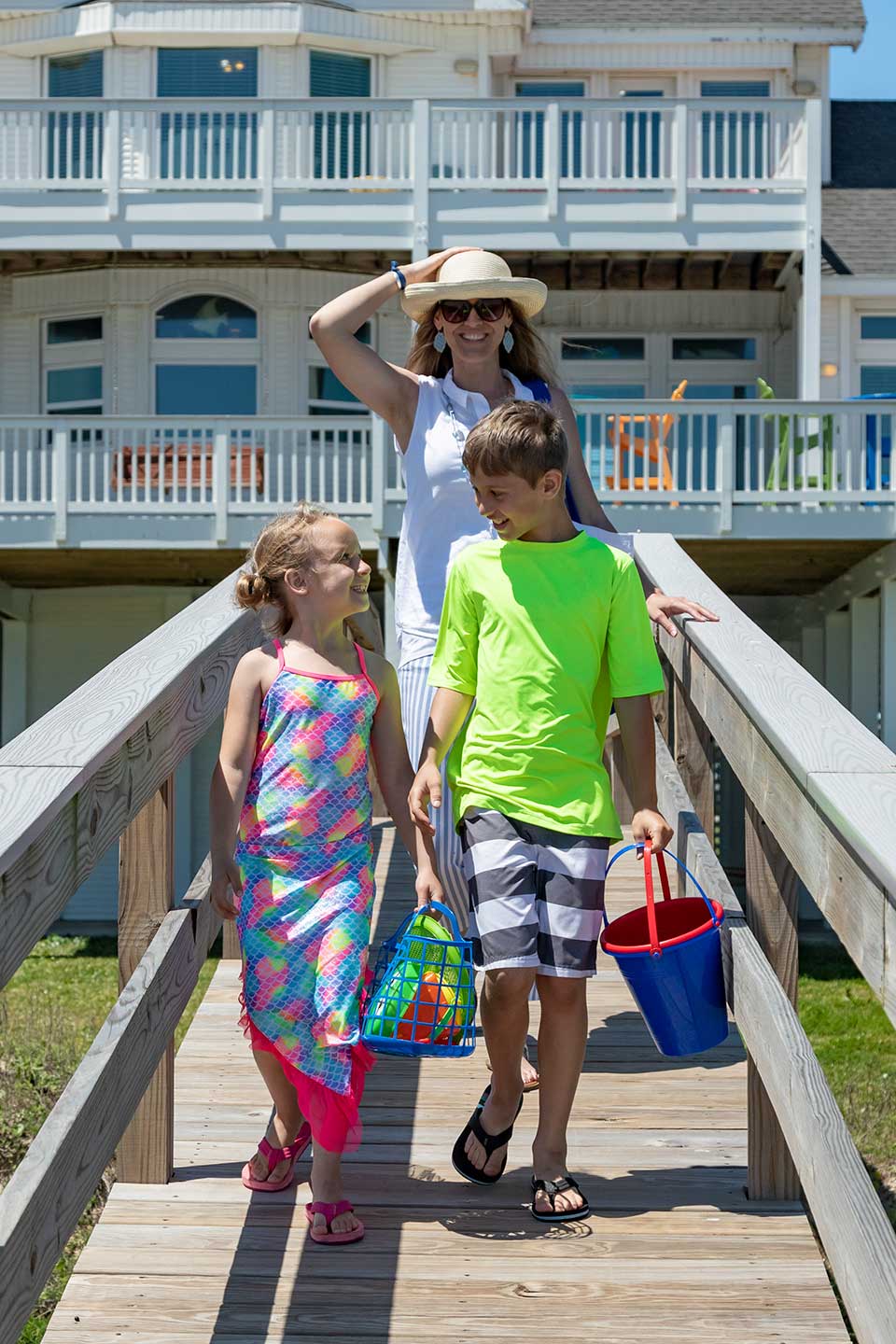 Types of Vacation Rentals

:

Galveston has over 2,000 vacation rentals. No matter how many guests are in your group, or what type of Gulf Coast escape you want to experience, your perfect beach house is waiting!

Condos & Townhomes are ideal for couples or smaller families. You'll enjoy pools, hot tubs and other resort amenities that are great for all ages. Most Galveston condo complexes aren't pet friendly, so be sure you double check before bringing Fido with you!

Private homes offer a variety of amenities and perks. Each home is as unique as its owner. Choices range from classic fishing camps with basic amenities to newly constructed luxury homes. West End vacation rentals boast decks with Gulf views and patio areas perfect for grilling. Homes in other areas offer balconies overlooking charming Downtown Galveston, refurbished historic lofts and more!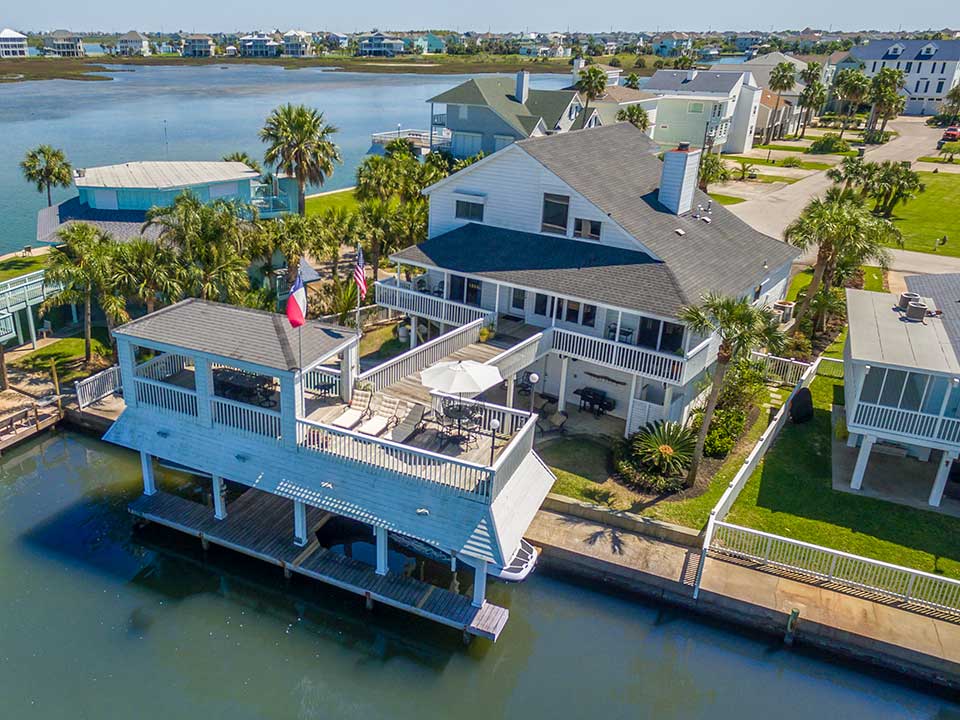 | | | |
| --- | --- | --- |
| Bay Escape, 13812 Musket Lane | | |
Beachfront & Beachside Homes
These homes are perfect for visitors looking for quality time in the surf or on the sand. It's important to note that beach access varies, depending on the neighborhood and specific home.
Many West End homes have private dune walkovers that make it quick & easy for guests of all ages & mobility levels to reach the sand. Large, beachfront homes boast plenty of space for several families, with open floor plans and multiple private bedrooms.These are the vacation homes that make memories!
Vacation homes in the East End or central island areas are typically located across Seawall Blvd. You'll have to walk a little further to feel the sand beneath your feet, but you're also closer to restaurants and popular attractions like the Galveston Island Historic Pleasure Pier.
Traveling on a budget? West End beachside options will usually cost less, and most are still within easy walking distance of the sand & surf. Bring a wagon or rent a golf cart from a local vendor to make it even easier to carry your beach equipment back and forth.
Bayfront & Canal Rentals
Great choices for visitors interested in boating, kayaking, or fishing, many West End canal rentals overlook birding hot spots. Cast a line right off the dock at your vacation home at any time of day, or take a luxurious tour of the bay in your boat.
Did you know? The majority of Galveston vacation homes with private pools are found on the bay or canal side of the island.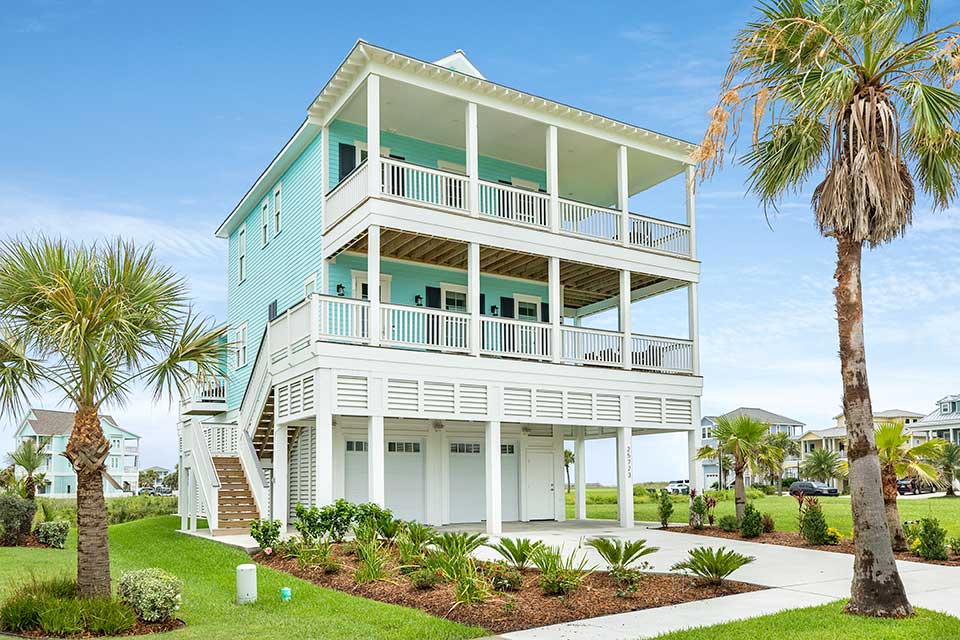 | | | |
| --- | --- | --- |
| Sapphire Skies, 25723 Spotted Sandpiper Drive | | |
Picking Your House
It's important to know what you'll see when you arrive at your vacation rental. There are a number of well-established, local rental managers who provide up-to-date photos, floor plans, amenity lists and more on their websites.
Amenities
Amenities found in Galveston vacation rentals can include: multiple decks, outdoor showers, elevators, full kitchens, washers & dryers, hot tubs, pools, free wifi, private fishing piers, multiple living spaces, boat docks, panoramic Gulf views and more!
Neighborhood amenities are also an important consideration. Pools, playgrounds, walking trails, boat launches and more are found throughout the island.
Reviews
Once you've found a house that appeals to you, check out the reviews from previous guests. Did they find the online information to be accurate? Look for a history of mostly positive reviews that include "real talk", not just 5-star reviews.
Don't forget to research the management company, too. Have they posted management responses to reviews of their business or properties? Do they seem attentive and fair? These are all great ways to get a feel for what you're getting into.
Maps
Look up the address on the online map of your choice. Is it close to a main road? Does the beach access look like you imagined? Google or Apple map satellite images can be very helpful, but it's important to remember that they aren't always updated frequently. This is especially true here on the coast, where storms can alter dune and beach access paths overnight. How do you know what you're getting, then? Book direct with a knowledgeable local manager!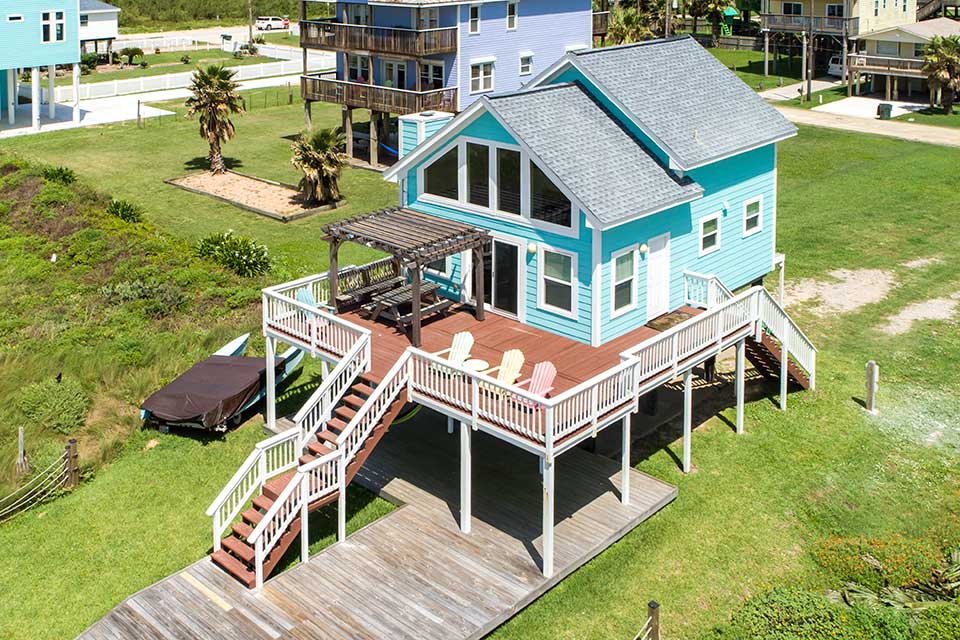 | | | |
| --- | --- | --- |
| Surfer Girl, 11215 Bernice Dr. | | |
Book Direct:
Booking directly with a local property manager is the ideal way to achieve peace of mind when it comes to choosing your rental. Reasons to book direct with Sand 'N Sea include:
Saves you from paying traveler fees (found on listing sites like Airbnb or Vrbo)
Stops you from arriving to unwelcome surprises
Can get you discounts or free nights at the beach
Team of locals who are invested in your vacation experience
Knowledge about the homes inside and out
Locals who can make informed recommendations about restaurants, museums & more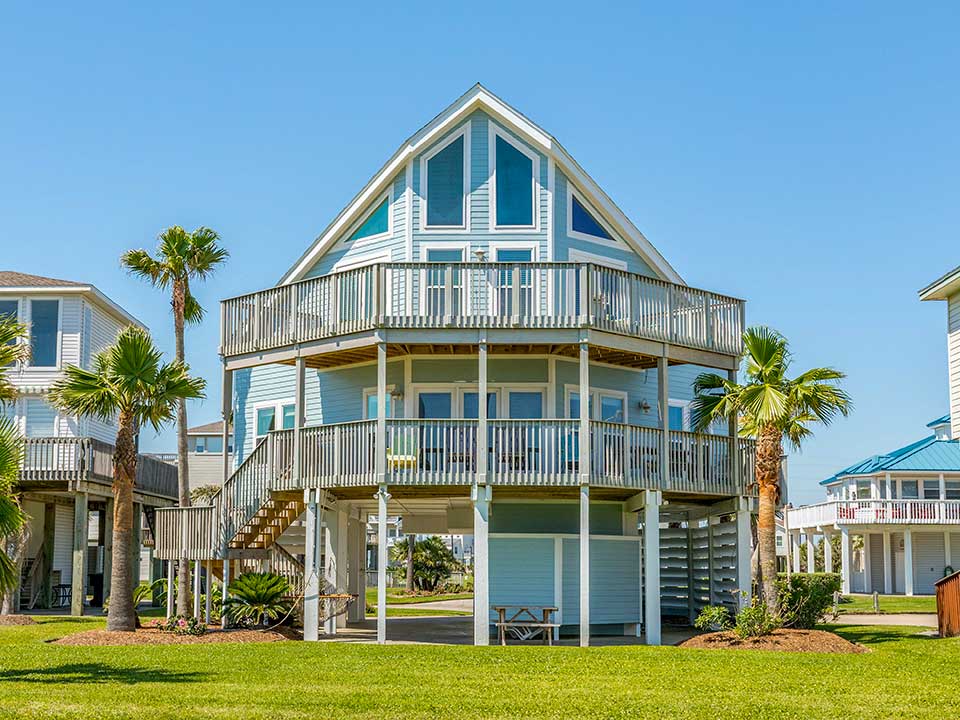 | | | |
| --- | --- | --- |
| Just Joy, 4130 Courageous Lane | | |
Book Your Stay Early

:

Galveston beaches are a hot drive-to vacation spot for guests from Houston, Dallas, Austin, Oklahoma, Louisiana and surrounding areas. Deeply held family traditions see multiple generations returning to our coast each year. Local property managers love welcoming the same smiling faces every summer. Galveston is a thriving beach town, and the early bird gets the best selection!

Galveston vacation rentals exist to fit every budget, family size and vacation style. Find your perfect home, book your beach trip, and get ready to explore Galveston's 32 miles of Gulf Coast paradise!
Sand `N Sea Properties was founded by a family of Galvestonians over 40 years ago, and today, the family is still at the helm. Over the years, Sand `N Sea has established itself as a leader in Galveston real estate sales and vacation rentals, and as a staunch supporter of the community. The Sand `N Sea "family" now includes a strong team of REALTORS® and a talented staff of long-term employees.