Texas Nail and Wire Company
Rosenberg Treasure of the Month
---
This month, Rosenberg Library will exhibit a souvenir box of the first nails produced in January 1928 by the Galveston-based manufacturing company Texas Nail and Wire. The nails will be displayed on the library's second floor near the east entrance.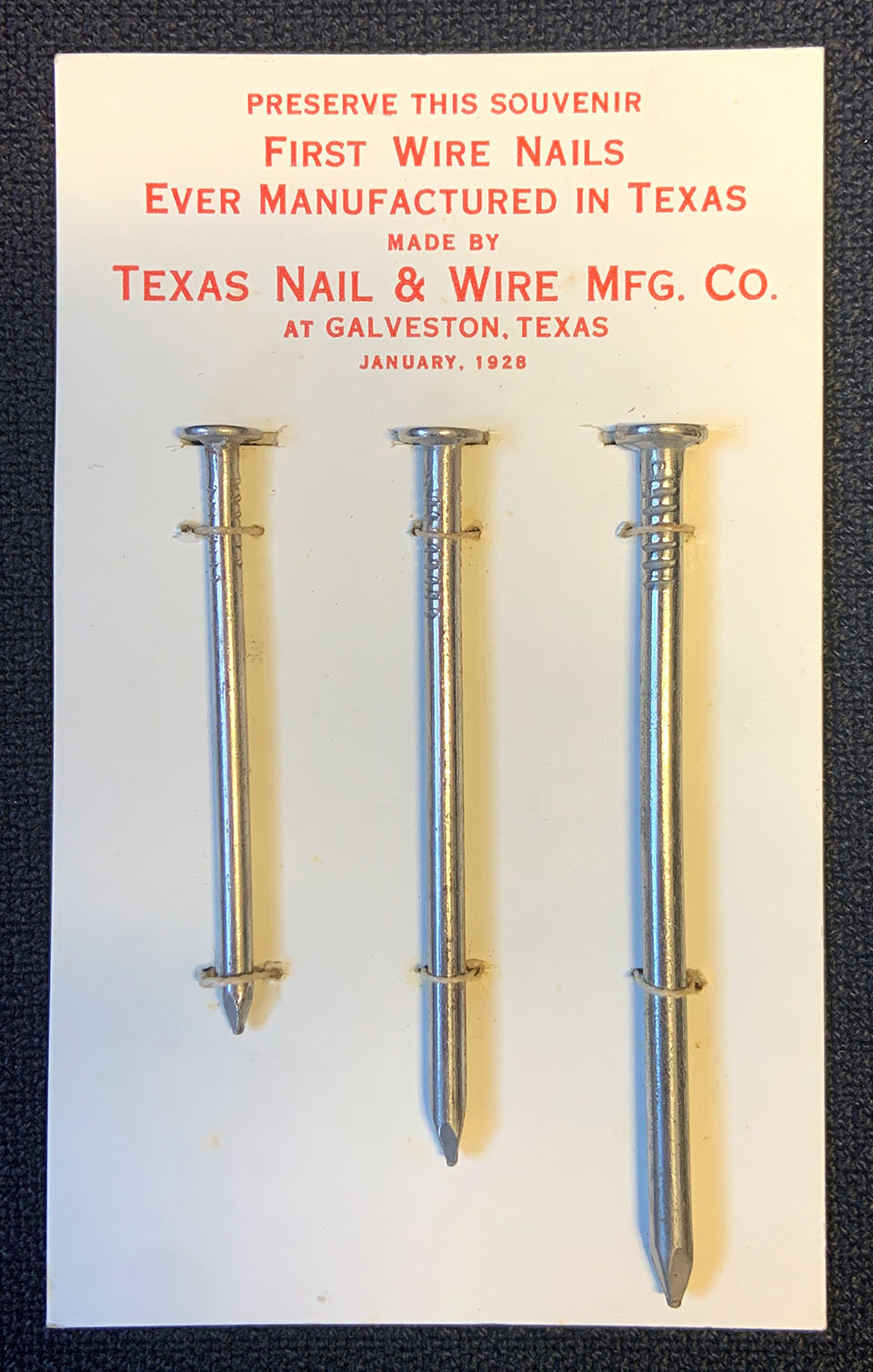 | | | |
| --- | --- | --- |
| Souvenir nails from the first batch produced in Texas by Texas Nail & Wire Manufacturing Co. of Galveston. | | Rosenberg Library |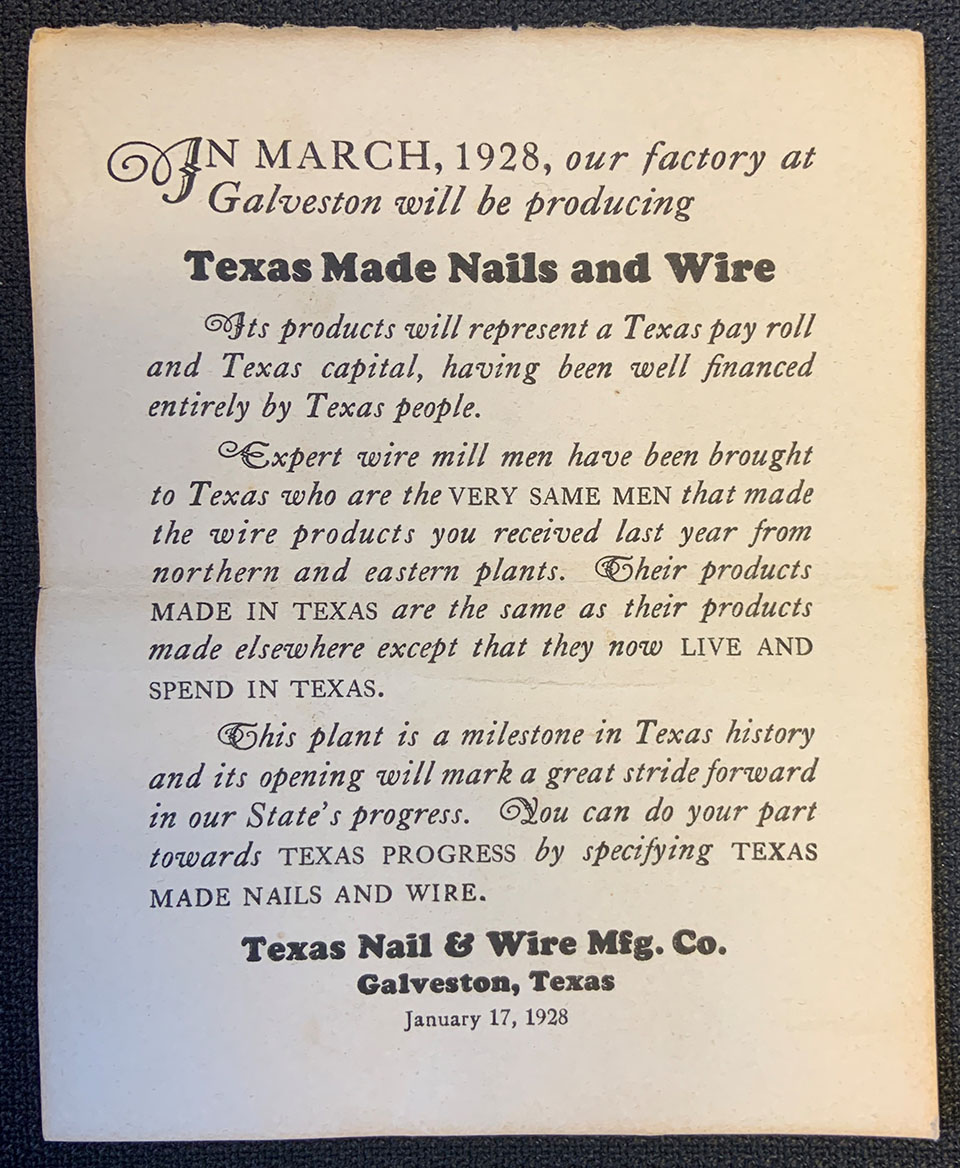 | | | |
| --- | --- | --- |
| Informational insert included with the souvenir box of nails from Texas Nail & Wire Manufacturing Company, January 17, 1928. | | Rosenberg Library |
Chartered in November 1927, Texas Nail and Wire Company operated a state-of-the-art factory adjacent to the Galveston port.  The sprawling plant was located along Harborside Drive between Piers 16 and 18, and the firm employed 60 workers.  Texas Nail and Wire was a subsidiary of Black Hardware (founded in 1910) and was managed by John L. Somers.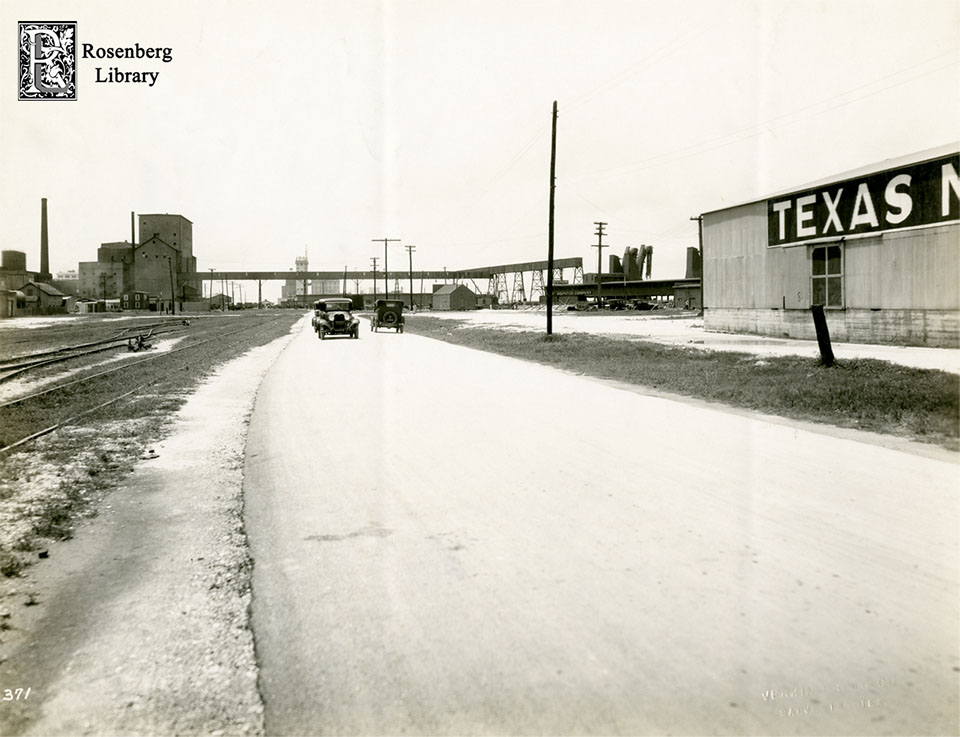 | | | |
| --- | --- | --- |
| A portion of the Texas Nail and Wire Company factory can be seen on the right side of this ca. 1930 photo of Harborside Drive. | | Galveston and Texas History Center, Rosenberg Library |
Between 1790 and 1810, various nail-making machines were introduced in the United States, and hand-forged nails were eventually replaced by machine-made types. Texas Nail and Wire produced nails using soft iron called "rod" made by Bethlehem Steel Company and shipped from Pennsylvania to Galveston. The plant was equipped with 60 nail-making machines, each of which could produce nails of various shapes and sizes. On average, each machine could generate several hundred nails per minute. In addition to nails, Texas Nail and Wire produced iron spikes for industrial use as well barbed wire for fencing.
Every week, several tons of nails were produced in Galveston. It was the only manufacturing plant of its type in the region, with the closest similar factory located approximately 700 miles away in Birmingham, AL.
In 1945, the Illinois-based Dickson Weatherproof Nail Company assumed ownership of Texas Nail and Wire. Dickson continued to produce nails in Galveston until its closure during the 1970s. The plant was razed in 1975.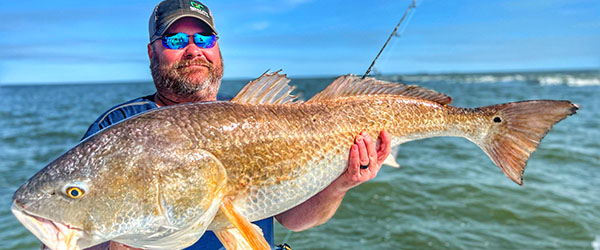 Out Cast Charters
Experience a fishing adventure of a LIFETIME! We are all about making memories while on the hunt for Monsta Fish! We're ready to get you HOOKED UP!
Book a Trip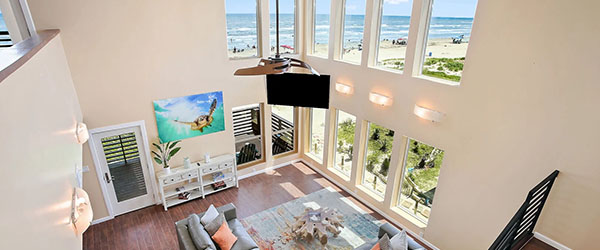 Soar Vacation Rental Services
Spanning east to west, Soar Vacation Rental Services is your local, award-winning rental company.
Visit Website
---
Rosenberg Library has offered over a century of community service to the Galveston area, and is the oldest public library in Texas in continuous operation. The building itself was dedicated on June 22, 1904, the birthday of its patron, Henry Rosenberg. The Moody Memorial Wing opened in 1971, more than doubling the floor space and allowing for a children's library, a history center, several galleries to showcase museum collections, and later, a computer lab. The Library accepted its first museum piece shortly after it opened in 1904. Since then, thousands of rare and interesting objects from around the world have been added to the collection. Each month they display a "Treasure of the Month". Learn more by visiting the
Rosenberg Library
page and the
Gifts of Henry Rosenberg
section.