Galveston Wharves Awarded $3.75 Million Grant
Road Improvements Between 14th and 53rd Streets
---
Galveston Wharves has been awarded a $3.75 million state grant for a new internal roadway to improve port access and traffic flow between 14th and 20th streets. The Texas Department of Transportation (TxDOT) awarded the Rider 38 Grant as part of the 2019-2020 Port Access Program.
Construction of the $5 million project is planned to begin in August 2021 and estimated to be complete in late 2022. It is one section of an internal roadway that will run through port property from 14th Street to 53rd Street. The balance of funds, $1.25 million will come from the port's operating revenue.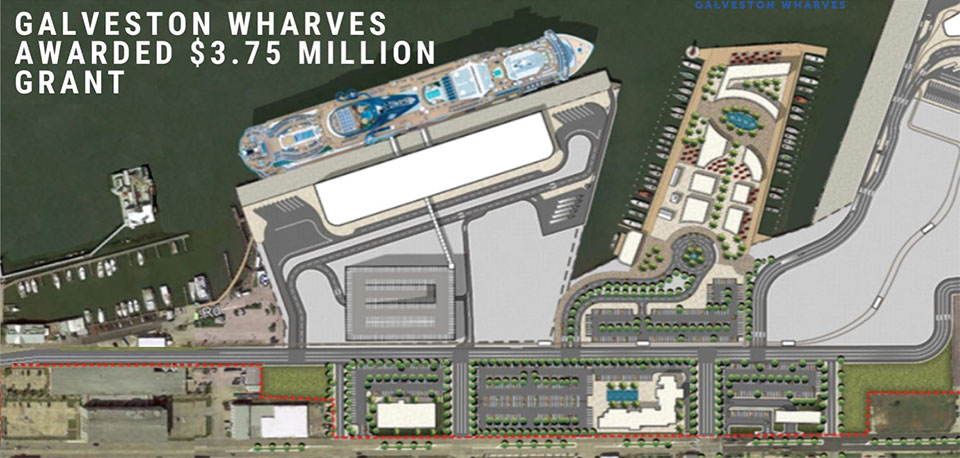 "This is a priority project identified in the port's 20-Year Strategic Master Plan to support our business growth," said Port Director and CEO Rodger Rees. "We are grateful to TxDot for awarding us this grant and acknowledging the importance of the Port Access Program."
For the past three sessions, the Texas Legislature's General Appropriations Act has included budget riders that authorize $100 million for projects to improve access to Texas maritime ports. These funds come from the Texas Mobility Fund or other eligible sources. Projects that receive funding are selected by the Port Authority Advisory Committee (PAAC) and approved by the Texas Transportation Commission.
This is the second Rider Grant the Galveston Wharves has received. In 2018, the port was awarded more than $1 million from Rider 48 to repave, widen and install drainage on Old Port Industrial Road (OPIR) between 29th and 33rd streets and to repave and install drainage on 33rd Street between OPIR and Harborside Drive.
Galveston Wharves
Perfectly situated at the entrance to Galveston Bay and the Houston Ship Channel, Galveston Wharves has been a thriving maritime commercial center since 1825. Just 30 minutes from open seas, the 720-acre port has infrastructure and assets to serve growing cruise, cargo and commercial businesses. As the fourth busiest U.S. cruise port, it welcomed over 1 million cruise passengers in 2019. Also one of the busiest in Texas, the port moved 4 million tons of cargo in 2019 and has an estimated annual state economic impact of $2.1 billion.