10 Things to Do in Downtown Galveston
---
As a local, it is not at all uncommon to be asked "What is there to do in Galveston?" To me, it seems like such an odd question. The question really should be more like "What ISN'T there to do in Galveston?"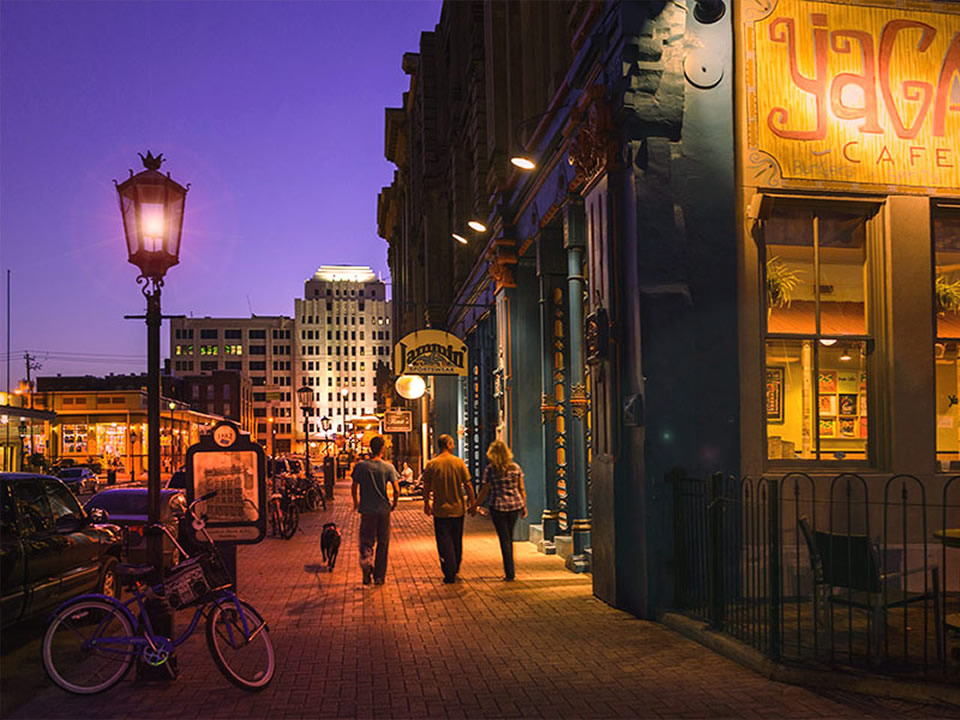 | | | |
| --- | --- | --- |
| An Evening Stroll on The Strand | | |
Galveston Island has a diversity of entertainment and leisure options that has made it one of the top beach destinations along the Gulf Coast. I think it's the fact that Galveston has so much more than just sand and water to lure people across The Causeway.
Let's look at just Downtown Galveston – the epicenter of entertainment, food, drink and social activity in the city. So if you're looking for something fun to do and need a little nudge for ideas, here's a quick list of the top 10 things to do in Downtown Galveston.
And I offer this one disclaimer – this is in no way intended to be inclusive. It is not the result of any survey. This is merely my list of top 10 things I recommend to folks based on living here 21 years and visiting the island city my entire life.
#1 Shop
If you're fond of unique and interesting items for yourself or gifts for others, downtown Galveston is where you need to spend some time with Hendley Market as your first stop. Be sure to check the store for current hours – they tend to change from time to time. But it is worth the effort for the spectacular collection of unusual items you'll find. Nativity scenes from around the globe. Artisan and crafts from Latin American nations. Toys for the most curious of children (and adults who happen to enjoy classic wind-up toys). Soaps, books, gifts.
You'll find more of the artisan soaps and gifts down the Strand at Gracie's. Staples of island shopping, they are your go-to place for all things beautiful – and monogrammed. If you can find a place to monogram or personalize your gift, Gracie's can get it done, at a reasonable price and in way-more-than-reasonable time.
The Strand Emporium offers an array of Go Texan products – food items made in Texas. On Postoffice Street, you'll find The Witchery, which is the place to be for all things mystical. From crystals to candles to books to psychic and Tarot card readings on weekends, you'll want to stop by The Witchery for curiosity alone.
There's plenty of cool jewelry and clothing shops on The Strand and Postoffice Street. And don't forget to venture down those side streets where you'll find Fit Tri Run, a full-service boutique running and triathlete store; or The Kitchen Chick for things kitcheny; or Nautical Antiques and Décor, which is like a museum for nautical salvage that you get to buy. If you can find it on a boat, you're likely to find it here repurposed for something wonderful in your house.
Cannot forget the Fiesta Ware at Yesterday's Best. If you are a FiestaWare enthusiast this is a must stop. Aisles of FiestaWare pieces – new and vintage – in all of the colors of that FiestaWare rainbow. It's a great place to go for the new piece for your collection, or to replace that one that slipped off the counter.
If you're not looking for anything in particular, I recommend just strolling up and down The Strand, side streets and Postoffice Street, taking in all the antique, clothing, art and unique boutiques Galveston offers.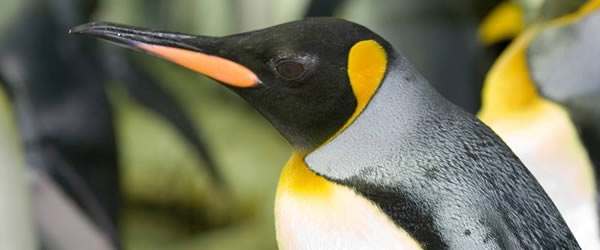 Moody Gardens Aquarium
Dive into the oceans of the world in a 1.5-million-gallon aquarium teeming with creatures from tuxedo-clad penguins to seals, stingrays, sharks and more!
Visit Website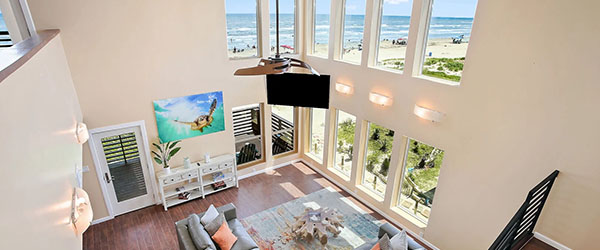 Soar Vacation Rental Services
Spanning east to west, Soar Vacation Rental Services is your local, award-winning rental company.
Visit Website
---
#2 See the Sights
So shopping might not be your thing. Or you have kids and family with you who would rather DO something. Downtown Galveston has plenty to see and do. It is home to the 1877 Tall Ship Elissa at the Texas Seaport Museum. Go aboard and see how 19th century sailors lived, and how commerce was transacted along the world's waterways.
And what port area would be complete without an exhibit about pirates. Check out the Pirates! Legends of the Gulf Coast attraction in Saengerfest Park for a glimpse into the lives of the pirates who profited on the high seas. Adjacent to Pirates! is the Haunted Mayfield Manor, a rather spooky house of an eccentric doctor. Both are family friendly attractions.
Learn about the primary industry of the Texas Gulf Coast at the Ocean Star Offshore Energy Center. Housed in a former jack-up oil rig, the Ocean Star details life aboard an offshore drilling rig, as well as the industry that supports the Gulf Coast economy.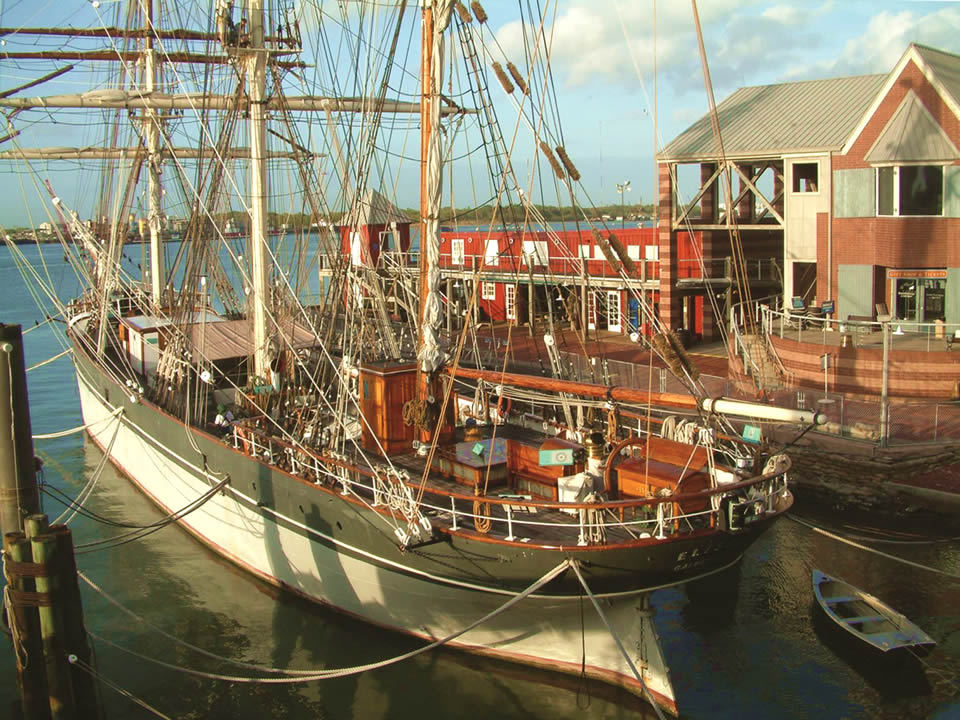 | | | |
| --- | --- | --- |
| 1877 Tall Ship Elissa and Texas Seaport Museum | | |
#3 Take a Tour
If you'd rather someone take you around and show you the sights, downtown is a great place to catch a few tours.
For those who want to walk, there's several ghost tours that will guide you through the haunted corners of downtown Galveston. A city that survived the country's deadliest natural disaster more than 100 years ago is bound to have a few ghosts.
Galveston Island Historic Tours is an excellent tour of Galveston's history. The proprietor is a part-time history professor who will share his knowledge of the Galveston area with the humor and insight that only a local with a graduate degree in history could. Oh, and he does it all in a multi-row golf cart.
If you'd like a slightly more colorful tour of the area, catch a horse-drawn carriage on The Strand. Get a narrated tour through downtown and the East End neighborhoods, accompanied by the clickety clack of horse hooves guiding you through.
| | | |
| --- | --- | --- |
| Local Galveston Craft Beers Served at Downtown Taverns | | |
#4 Grab a Drink
Shopping and touring is bound to make anyone thirsty, and fortunately downtown Galveston has amazing drink choices, especially drinking choices with a view.
The best sunset views will be found at Pier 21 which features a variety of attractions, museums, restaurants, the Tall Ship Elissa and the Harbor House Hotel and Marina. Fisherman's Wharf also offers a lovely view of the Galveston harbor. For a view of the entire downtown area though, and almost the entire island, go above for drinks and small bites at the Rooftop Bar. on the roof of the historic Tremont Hotel.
If weather isn't permitting drinks with a view, the Tremont bar on the first floor allows you to enjoy a variety of cocktails in a casually elegant lobby bar.
If beer if your drink of choice, you will want to check out Brews Brothers or Stuttgarden Tavern on The Strand. Both offers extensive collections of craft beer selections, and tasty above-average pub fare to accompany those beers.
Postoffice Street is the street of bars in Galveston, with local favorites being Molly's, O'Malley's, Old Cellar Door, and Murphy's's offering something for every taste and style.
Please remember though, if you are enjoying one of the downtown bars, any bartender can call you a cab if walking isn't an option to get home or to your hotel safely.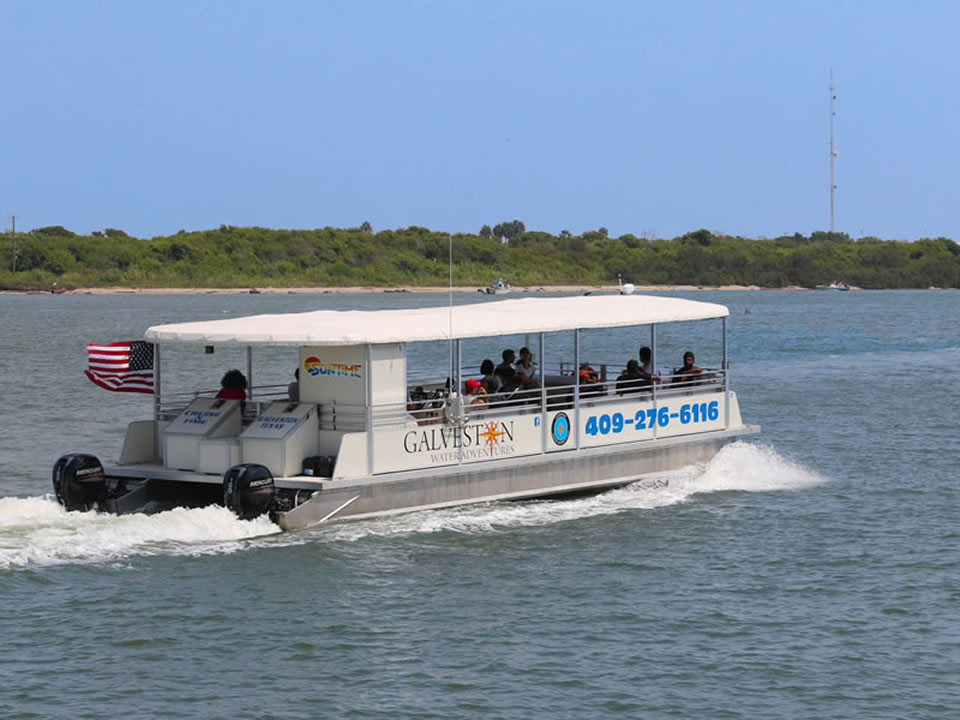 | | | |
| --- | --- | --- |
| Galveston Water Adventures Offers Daytime and Sunset Tours | | |
#5 Tour the Harbor
What's the point of being on the water if you're not going to BE on the water. The best way to do that is get out on one of the harbor tour boats. Galveston's harbor is the reason the island thrived in the early 19th century and why it still hosts a busy port and cruise terminal today. We've got three boat tours to choose from at Pier 21 – Galveston Historical Foundation Harbor Tours and Baywatch Dolphin Tours and Galveston Water Adventures You're likely to see dolphins on any one of the tours, and all offer a full glimpse of the bustle along the waterfront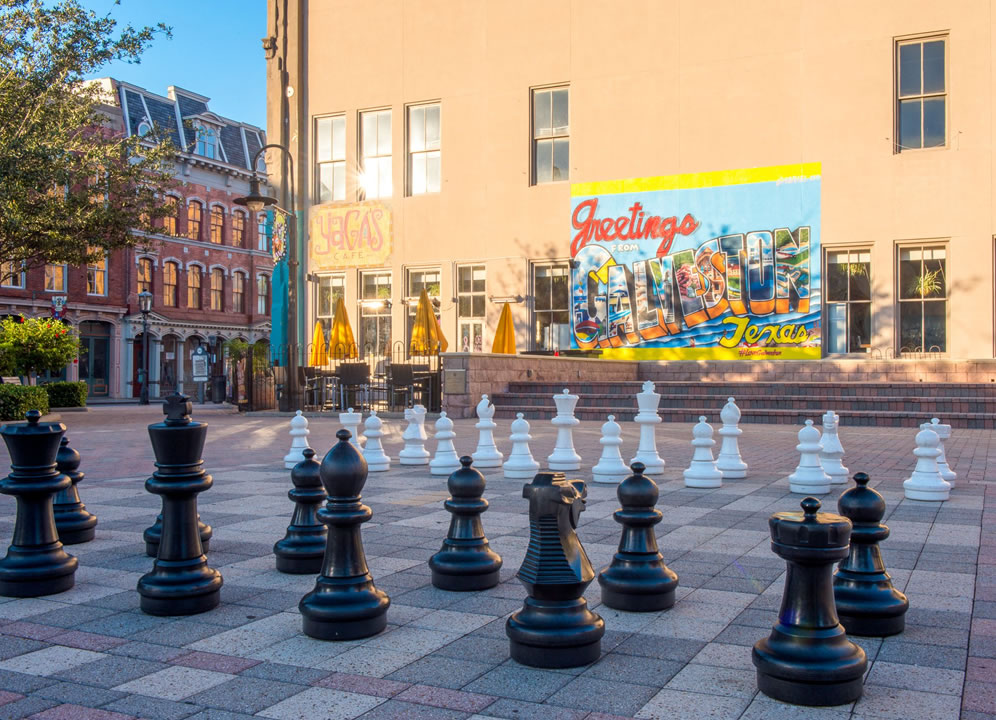 | | | |
| --- | --- | --- |
| Giant Chessboard at Saengerfest Park | | |
#6 Play a Game
Games are often some of the most fun a group of people can have. Be it friends or family or a combination, getting together for a little friendly competition almost always ends in laughs.
Check out the life-size chess board in Saengerfest Park. Or take your own games or lawn activities over to Hendley Green at 20th and Strand. It's a recently renovated green space park with plenty of places to sit and enjoy and play.
For the trivia buffs, several bars host pub trivia during the week. The most challenging, home-grown match will be found Wednesdays at 8 at Brews Brothers. Bar patrons share the trivia master responsibilities and write the questions. Monday night, you can find another home-grown trivia at Murphy's Pub. And on Tuesdays, it's at Stuttgarden Tavern. Check for times.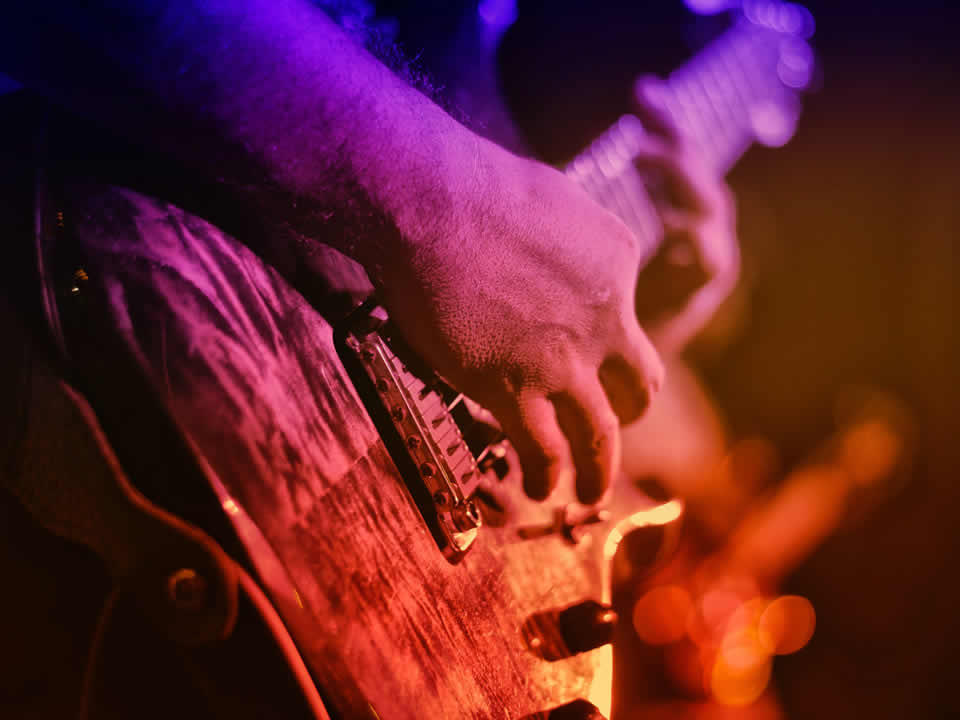 | | | |
| --- | --- | --- |
| Live Music at Saengerfest Park | | |
#7 Enjoy Live Music
Be sure to check the Galveston.com calendar for the latest music schedules. Various bars offer live entertainment multiple nights a week. Local favorites include Yaga's at 23rd and Strand, and of course, Old Quarter Acoustic Café.
The Old Quarter Acoustic Café is a premiere spot for live entertainment downtown, and hosts musicians who play original music. It's cash only and sometimes they sell out. You'll definitely want to contact them for upcoming shows and open mic nights.
During summer months, you can catch live music on the second Saturdays in Saengerfest Park. It's completely free and a great opportunity to bring a chair and relax, or kick up your heels and dance.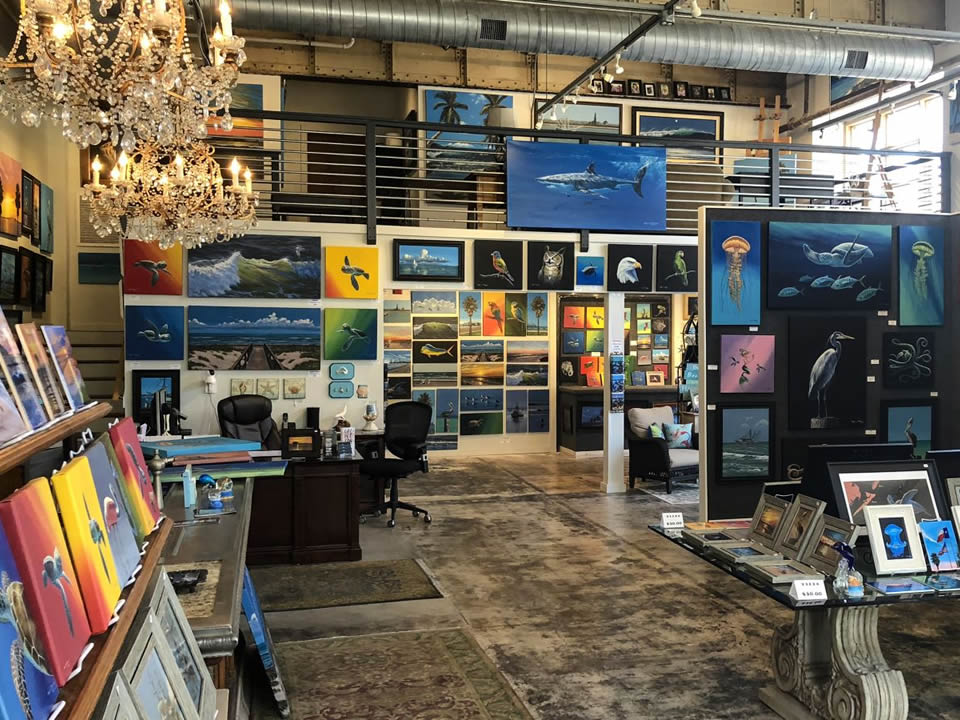 | | | |
| --- | --- | --- |
| Vacations On Canvas on Postoffice Street | | |
#8 Get a Little Artistic
Downtown Galveston has a lively art scene. The Proletariat Public House and Gallery is a combination craft beer and wine bar, and art house. It's on the first floor of the Artist Lofts building, a residence for artists downtown. Postoffice Street is where you will find most of the galleries to visit. And if you're downtown during one of the ArtWalks (every six weeks), you'll be able to stroll from gallery to gallery after hours in the cool of the evening. Street musicians often accompany the event and it's a chance to see and be seen, while enjoying art. The Galveston Arts Center on The Strand is definitely worth a stop.
If you want to try your hands at a little art yourself, several galleries offer workshops, and Clay Cup Studios bills itself as an art bar and a safe place to experiment with your artistic side. It offers paint your own pottery, canvas painting, mosaics and glass fusion. Stop by and let your creative juices run free.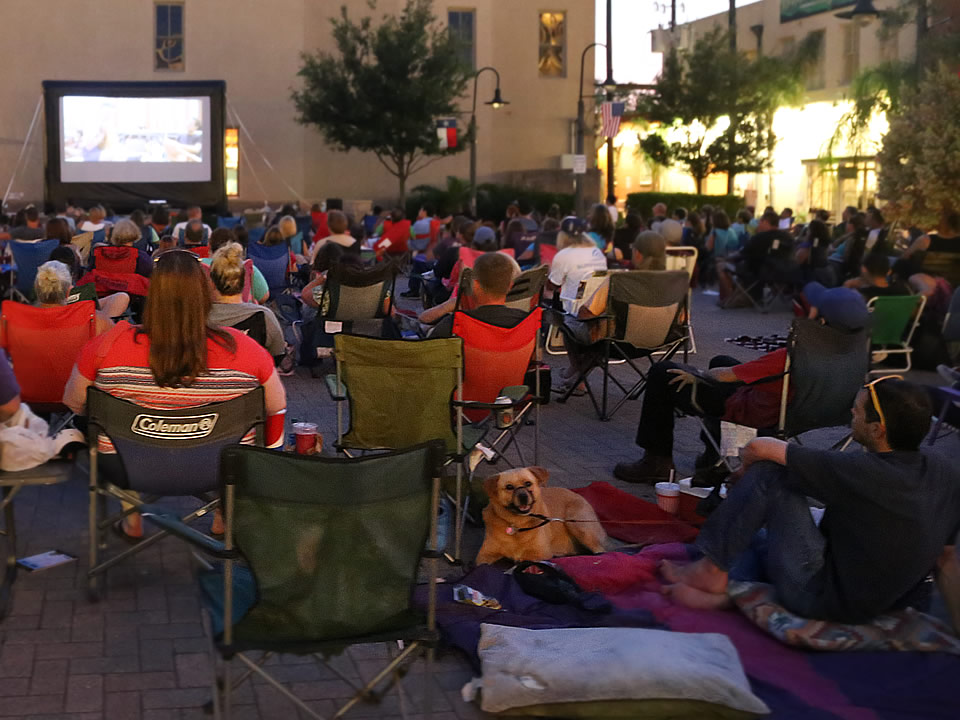 | | | |
| --- | --- | --- |
| Outdoor Movie Night at Saengerfest Park | | |
#9 Watch a Movie
Two prime opportunities to catch films downtown are the Pier 21 Theater and Saengerfest Park.
The Pier 21 Theater offers The Great Storm, a must-see for any visitor or new resident to Galveston (or long-time resident who's just never seen it). A beautiful and compelling exploration of the 1900 hurricane that has defined the island's character for more than a century. You'll see pictures and footage from that September, and the years that followed raising the city and building the seawall. Also showing is a story about Jean Lafitte, the notorious pirate who once inhabited Galveston.
On the first Saturday of the month during summer, you can bring a chair and picnic and catch a free movie in the park. Previous showings have included James Bond classics, children's classics and your classic cult classics like Breakfast Club. They typically start about 30 minutes after dusk (it does need to be dark enough to see the screen).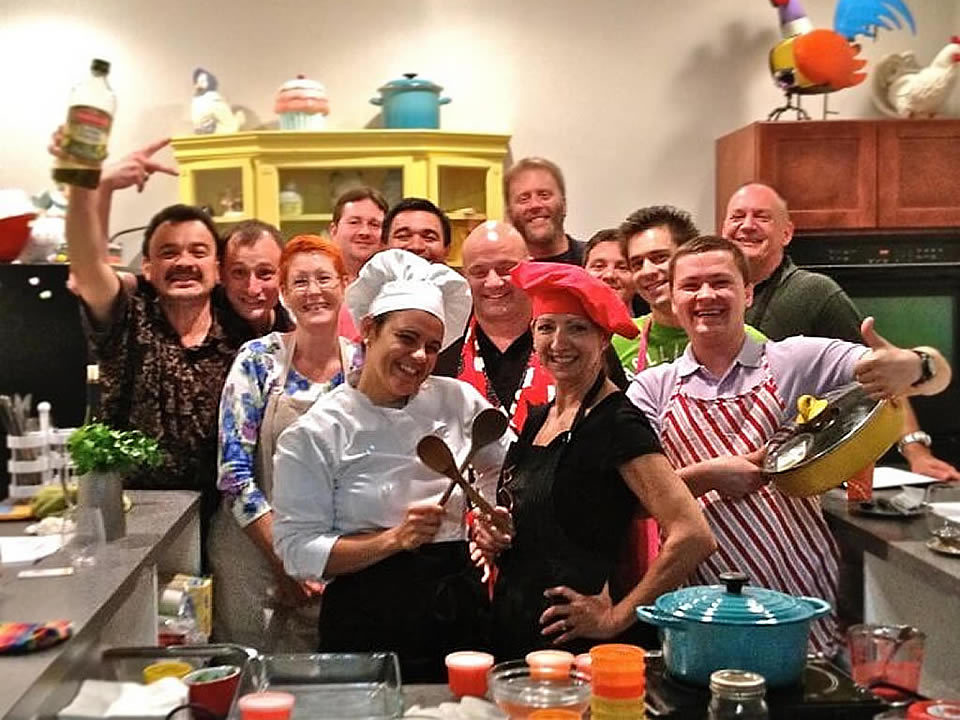 | | | |
| --- | --- | --- |
| A Fun Cooking Class at The Kitchen Chick | | |
10. Learn Something New
Finally, when all else fails, learn something new. The Yoga Haven is a traditional yoga studio that has walk-in classes, as well as subscription rates. Proprietor Kathleen DiNatale has been leading yoga in downtown Galveston for more than a decade, and offers something for everyone along the yoga spectrum, including the occasional free laughter yoga. Yeah, it just makes you want to check it out, doesn't it?
Galveston has a hot yoga studio as well at Island Salt Air Hot Yoga. Get your sweat on and follow it up with a cold lavender infused towel. You'll definitely learn just what your body is capable of at either spot.
And to stimulate the mind – and taste buds – learn the latest cooking techniques, or old-school favorites in one of the cooking classes at The Kitchen Chick. With a complete classroom kitchen in the shop, The Kitchen Chick hosts guest chefs who lead participants through preparing a specific themed menu. Before you ask, yes, you get to eat what you prepare.
As you can see, you could make a vacation out of just downtown Galveston, without ever leaving those few blocks. It's worth your while to venture beyond downtown, enjoy the neighborhoods and beaches and various attractions and restaurants. But, definitely plan to spend some time savoring the vast array of opportunity that awaits in Downtown Galveston.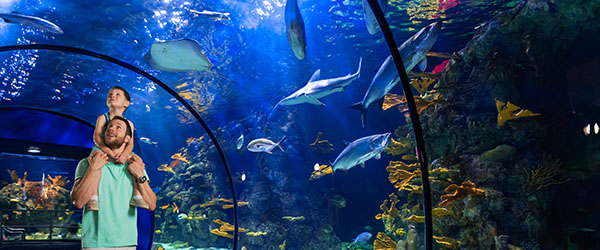 Moody Gardens Aquarium
From the secrets of the rainforests to the oceans' depths, a world of wonder awaits.
Visit Website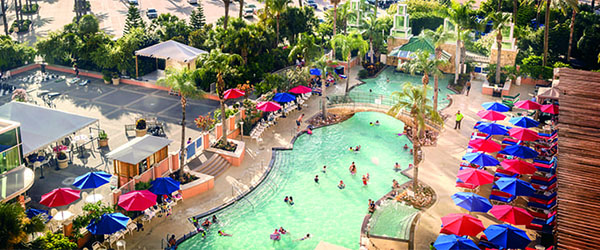 Moody Gardens Hotel
Relax, unwind, and enjoy our luxurious vacation destination surrounded by 242 acres of breathtaking tropical gardens.
Book Direct
---
Heidi Lutz
Heidi Lutz is an award-winning writer who, after getting the sand between her toes nearly two decades ago, calls Galveston Island home.