Glove Stretcher
Rosenberg Treasure of the Month
---
During the month of July, the Rosenberg Library Museum will display a glove stretcher and gloves commonly used during the 19th and 20th century.
During the 19th and early 20th century, women and men were expected to wear gloves when in "full dress," and it was considered especially inappropriate for women to go outside without wearing gloves. They were also an essential part of body language, as many people sent subtle messages to others through the way they wore, tugged at, or fidgeted with the gloves.
Gloves were made of fine leather that was soft and thin, typically derived from the skin of a young goat called a kid. For this reason, the gloves are often referred to as kid gloves. Because of the demands of fashion, glove stretchers were considered an essential item, and all fashionable shops and homes were expected to have one.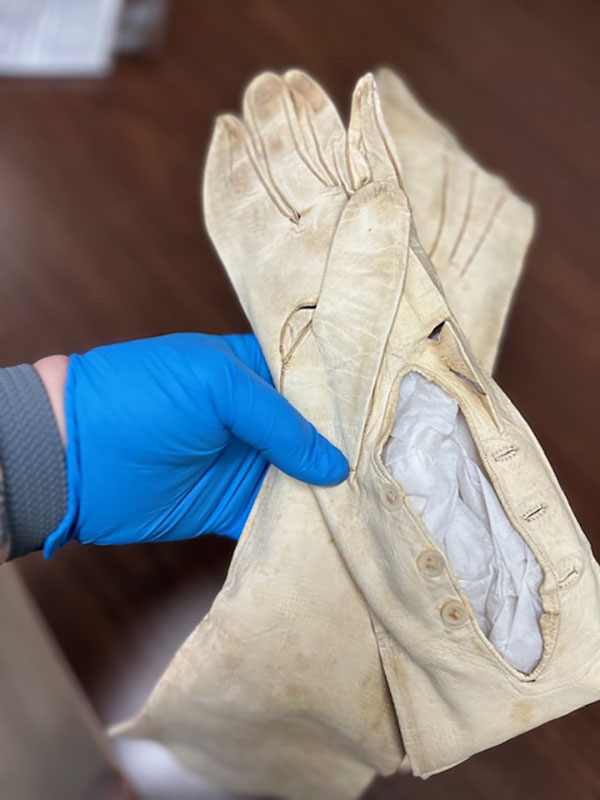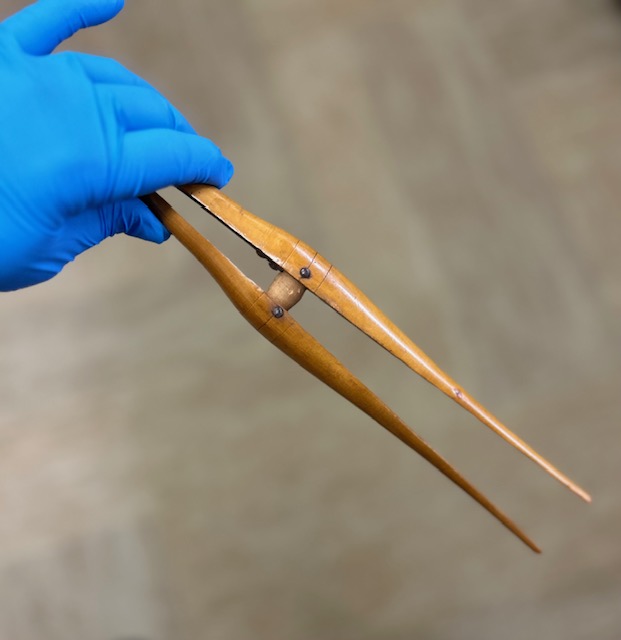 Glove stretchers helped to stretch kid gloves over the fingers. The stretcher's pointy end would be inserted into each glove finger and squeezed together; stretching or easing the leather so that the wearer could put them on more easily. Glove stretchers were also used to restore the fingers of the gloves after they became wrinkled and stiff from washing.
The estate of Mildred Robertson gifted the Rosenberg Library Museum with one such glove stretcher from the late 19th century (RL 2000.014.1). It is made of two pieces of varnished wood, tapered like a pair of long-nosed pliers. The two arms come together at the tip and are held together by a metal spring-loaded mechanism at the center.
Included in this display are gloves (RL 2000.07.03a,b), donated by Larry Janzen, that would have experienced the use of a glove stretcher. Luigia Danesi Vaiani wore these gloves when she married Remo J. Vaiani in Rome around 1938. The couple later moved to Galveston and owned a grocery store at the corner of 25th and Avenue L from 1947-1971 called R J Vaiani Grocers.
While gloves do not hold the same significance today as they once did, it's helpful to see how opinions on fashion have changed and evolved in such a short period of time.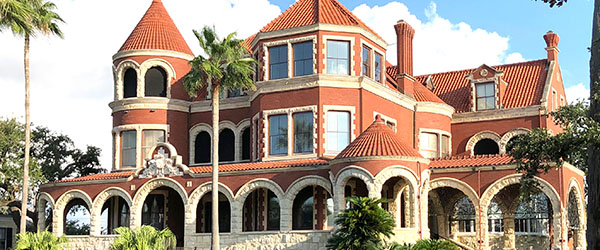 1895 Moody Mansion
Open for tours daily. Where Galveston history comes to life.
Visit Website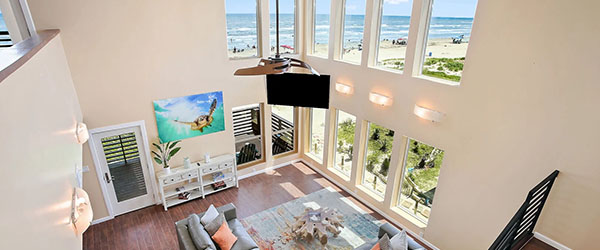 Soar Vacation Rental Services
Spanning east to west, Soar Vacation Rental Services is your local, award-winning rental company.
Visit Website
---
Rosenberg Library has offered over a century of community service to the Galveston area, and is the oldest public library in Texas in continuous operation. The building itself was dedicated on June 22, 1904, the birthday of its patron, Henry Rosenberg. The Moody Memorial Wing opened in 1971, more than doubling the floor space and allowing for a children's library, a history center, several galleries to showcase museum collections, and later, a computer lab. The Library accepted its first museum piece shortly after it opened in 1904. Since then, thousands of rare and interesting objects from around the world have been added to the collection. Each month they display a "Treasure of the Month". Learn more by visiting the
Rosenberg Library
page and the
Gifts of Henry Rosenberg
section.