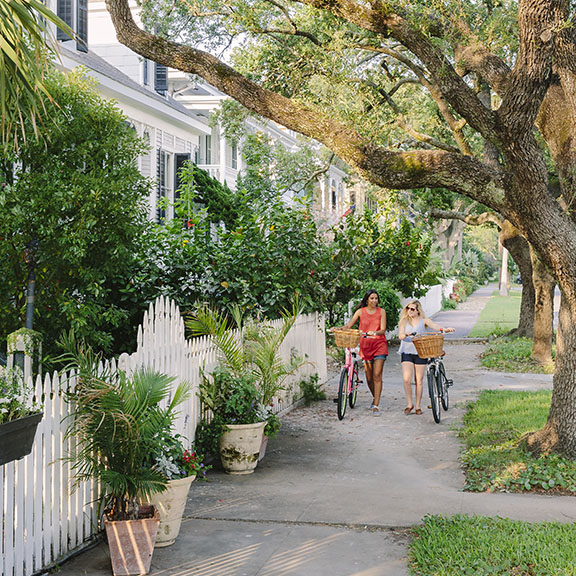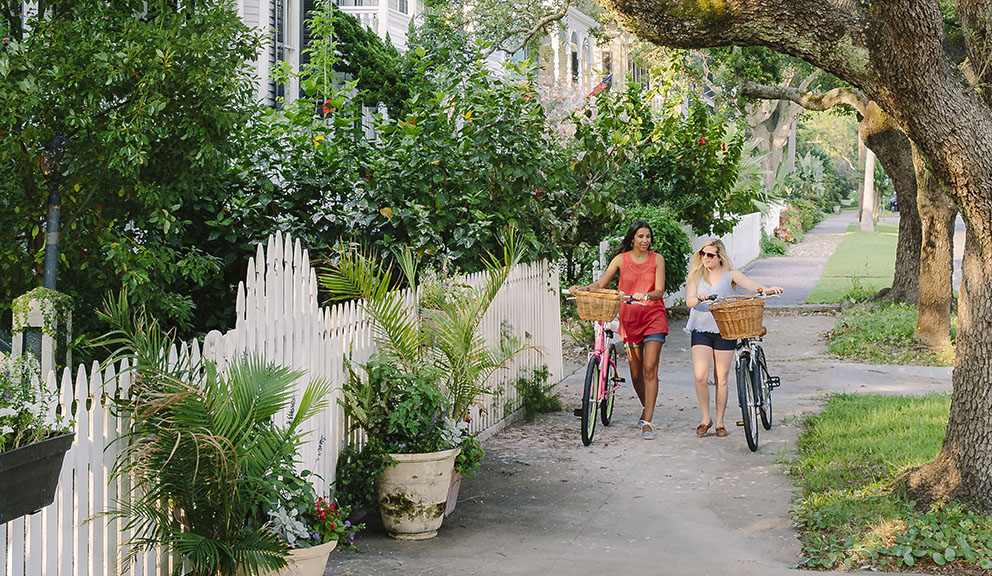 Galveston's East End consists of several historic neighborhoods, the University of Texas Medical Branch, the East End Lagoon Nature Preserve, Stewart Beach, East Beach, and many shops and restaurants.  The area is also home to several remarkable structures, including the 1838 Menard House, 1859 Ashton Villa, 1895 Moody Mansion and the 1892 Bishop's Palace, cited by the American Institute of Architects as one of the 100 most important buildings in America. Colorful historic homes adorn the streets, featuring Victorian, Greek Revival, Queen Anne and other architectural styles dating back to the mid-1800s to early 1900s. Meandering through these neighborhoods is a must on the island. Also tucked away in the East End is the world's largest collection of Southwestern artifacts at The Bryan Museum, including 70,000 items spanning 12,000 years. The museum even features original correspondence from the infamous pirate Jean Lafitte.

East End Neighborhoods
Beachtown
Beachtown is among the beachfront communities on the east end of Galveston Island, designed with a town center complete with dining and shopping.
Lindale Park
Lindale Park is part of the University Area Association and within walking/ biking distance to UTMB and the beaches. Mature trees line the streets and the nearby playground, ballpark, greenbelt area and dog park.
Fish Village
Fish Village features homes dating back to the 1960s, remodeled with hardwood floors and large backyards on quiet streets close to the University of Texas Medical Branch. All the streets are named for marine life.
East End Historical District
East End Historical District includes more than 50 city blocks bounded on the south by Broadway, the east by 10th Street, the north by Mechanic Avenue and the west by 19th Street. Designated a National Historic Landmark, the architecture features a variety of styles and periods, including Greek Revival style homes built in the 1850s. Structures range from small simple cottages to elaborate, large homes.
Lost Bayou
Lost Bayou Historic Neighborhood District takes its name from Hitchcock's Bayou, a bayou that was "lost" when the Island was raised after the 1900 Storm. A subset of the larger San Jacinto neighborhood, the Lost Bayou Historic District was created in 1994 and bounded by 16th and 21st streets on the east and west, and avenues K and M 1/2 on the north and south. There you'll find Greek Revival, Italianate, Arts & Crafts and Folk Victorian architecture preserved from the late 1800s and early 1900s.
Silk Stocking Historic District
The Silk Stocking Historic District was formed in 1975, and was listed in the National Register of Historic Places in 1996. You'll find some of Galveston's best examples of the Queen Anne style in this neighborhood. Bounded by 25th Street (west), 23rd Street (east), Avenue P (south), and Avenue K (north), the name of the district refers to the prosperous families who lived there.
Browse by Location or Name