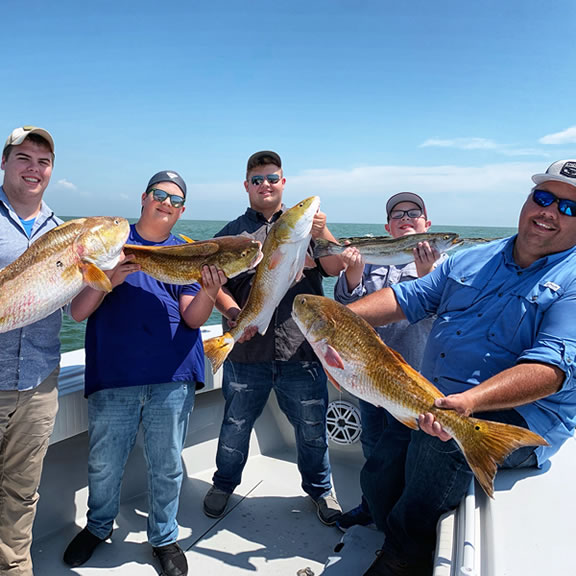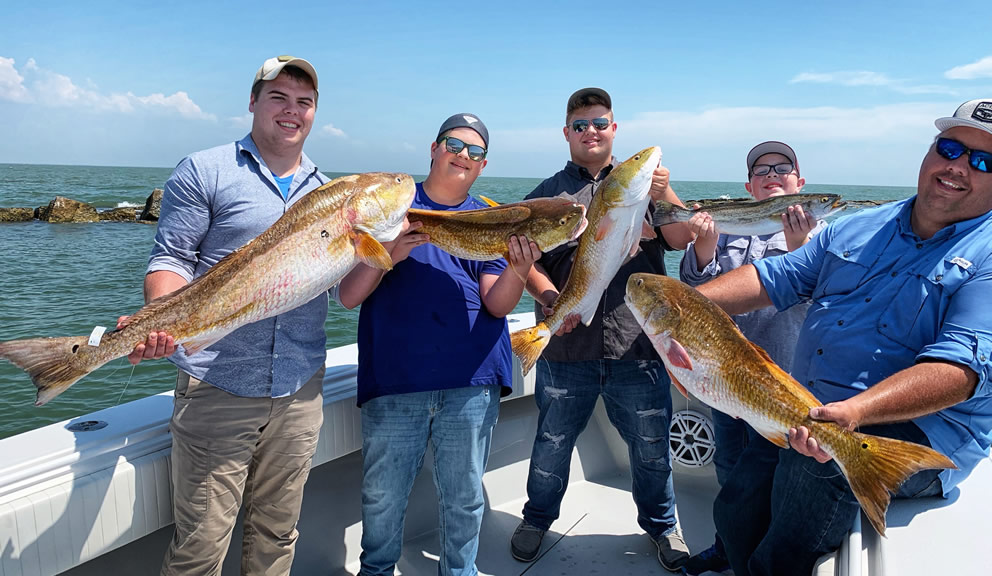 Out Cast Charters
715 North Holiday Drive, Galveston, TX (Directions) | Phone: (979)248-1529 | Website
About
Winner of best fishing charter company and best boat captain since 2016. Out Cast Charters is focused on makin' memories while on the hunt for MonstaFish. Customer service is high on the priority list along with qualified licensed captains who are dedicated to providing above par experiences. They guarantee your captain is family friendly, passionate, and will work hard to put you on the fish. Be sure to check out their recent catches on Facebook and Instagram.
Hours
Monday: 6:00 AM – 6:00 PM
Tuesday: 6:00 AM – 6:00 PM
Wednesday: 6:00 AM – 6:00 PM
Thursday: 6:00 AM – 6:00 PM
Friday: 6:00 AM – 6:00 PM
Saturday: 6:00 AM – 6:00 PM
Sunday: 6:00 AM – 6:00 PM
Hours are subject to change.
General
Voted Best Fishing Charter 2016, 2017, 2018, 2019 & 2020 BEST OF THE ISLAND
Voted Best Boat Captain 2016, 2017, 2018, 2019 & 2020 BEST OF THE ISLAND
Gas, Bait, Rods, Reels, Tackle and Complimentary Fish Fileting
Wide Variety of In & Off Shore Trip Options Available

 

Online Reservations Available or Call to Book
Valid Saltwater Fishing License Require
US Coast Guard-Licensed Captains
Bring: Drinks and Snacks
Gift Certificates Option
4 Full-Time Boats
Plan Your Trip
COMBO SPECIAL *POPULAR FAVORITE*
$700 Half | $900 Full
Want the best of both; great eating fish, AND a fight that you'll never forget? THIS LIGHT & HEAVY TACKLE COMBO IS FOR YOU! Combines the Bay & Jetty Trip with the Monsta Hunt. Year-round trips.
BAY & JETTY TRIP
$600 Half | $800 Full
Stock your freezers with our light tackle trip venturing out in the Channel and Jetties targeting Trout, Flounder, Slot Reds, Spanish Mackerel, Mangrove Snapper, Sheepshead, Black Drum, Pompano, and more. Year-round trips.
MONSTA HUNT
$650 Half | $850 Full
Amazing chance to catch some real MONSTAS on this heavy tackle trip! Join us on this ACTION-PACKED filled day targeting the biggest BullReds and Black Drum and more MONSTA FISH! Hold on tight and get ready for fun fishing fight! Year-round trips.
DEEP SEA ADVENTURE *Seasonal*
Includes 4 anglers, add $100 pp, max 6
Kingfish Attack – 6 hours: $1500
This is a quick meat haul styled trip! Travels to the State-water rigs and beyond, up to 20 miles offshore. We pursue Kingfish, Ling, Sharks, Spanish Mackerel, Jacks and more.
Offshore Slam – 8 hours: $1900
Get ready to experience the fight of your life! Venture up to 60 miles offshore hunting Mahi Mahi -Dorado, Kingfish, Ling, Triple Tail, Sharks and (Red Snapper during season June 1-Aug 1).
Deep Blue -12 hours: $2800
Strap in on this journey to target the biggest and baddest pelagic species in the sea. This adventure travels up to 100 miles offshore targeting Sailfish, Mako Sharks, Wahoo, King Mackerel, Mahi Mahi -Dorado-, Cobia-Ling, Grouper, and more. Amberjack (May 1-May 30, Oct 1-Oct 31), BIG Red Snapper (June 1-August 1).
FLOUNDER EXPEDITION *WINTER FAVORITE*
$600 Half | $800 Full
Grab your friends for some Flounder Fun! Saddle Blankets, UFO's and Big Flounder are what we target on this trip!
CLOSE OFF-SHORE EXCURSION *SUMMER FAVORITE*
$1100 Full
Big fish, big time FUN in State Waters (9 nautical miles)! Let's go for the Kings, Lings, Spanish Mackerel, Big Sharks, Jack Crevalles, and more. Don't miss out on this one!!
ITS A MONSTA SHARK HUNT *SUMMER FAVORITE*
$1000 Full
Looking for some Monsta Memories, let's make some while targeting 4′-8′ Sharks like Blacktips, Spinners, Sandbars, Hammerheads, Bulls, and more! #ItsaMonsta!
TEXAS TROPHY ADVENTURE *SEASONAL*
$650 Half | $850 Full
Set your sights on a Texas Grand Slam – Target the BIG THREE near-shore! Trout, Redfish, and Flounder!
Nearby Places of Interest