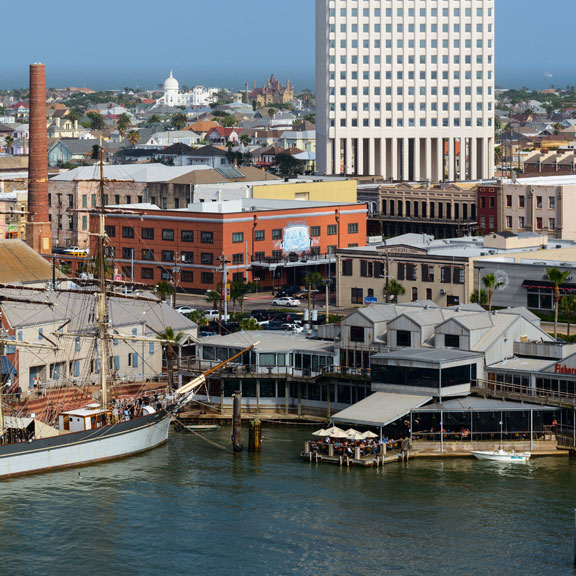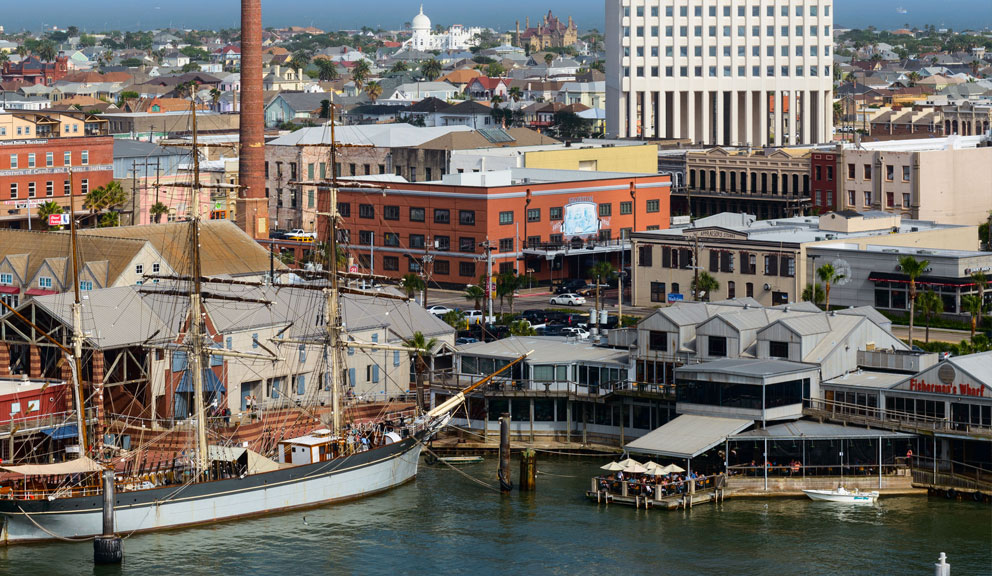 About
One of the best seafood restaurants in Galveston, Fisherman's Wharf is renowned for the freshest fish and seafood specialties. Ideally situated next to the Historic Strand District, the Tall Ship Elissa and Galveston Cruise Terminal, the restaurant's menu features the famous Shrimp Kisses (bacon-wrapped and stuffed with jalapeño Jack cheese) as well as an extensive selection of fresh fish daily, signature seafood combination platters, savory chicken dishes, pastas and perfectly prepared steaks.
Hours
Monday: 11:00AM – 9:00PM
Tuesday: 11:00AM – 9:00PM
Wednesday: 11:00AM – 9:00PM
Thursday: 11:00AM – 9:00PM
Friday: 11:00AM – 10:00PM
Saturday: 11:00AM – 10:00PM
Sunday: 11:00AM – 9:00PM
Hours are subject to change.
Book Reservation Online

General
Casual to Dressy
Harborside Dining
Fresh Seafood & Steaks in an Elegant Setting
Available for Private Events
Named One of the 10 Best Seafood Restaurants in Galveston by USA Today
Menus
Galveston Restaurant Week: Dinner
$39 Plus Tax
1st Course (Choose One)
GARDEN SALAD
CUP OF SHRIMP GUMBO
2nd Course (Choose One)
CRAB STUFFED TILAPIA
With our famous crab stuffing, baked in lobster cream sauce, served with braised spinach
WHARF FRIED SEAFOOD SAMPLER
Fried Whitefish, fried oysters, fried shrimp, mini crab cakes, (1) Shrimp Kiss, french fries
CHICKEN FETTUCCINE
Homemade Alfredo sauce, tomatoes, mushrooms, green onions
3rd Course (Choose One)
Add a small garden or Caesar salad to any entrée for 4.99
Cold Appetizers
OYSTERS ON THE HALF SHELL
Fresh from the Gulf (in season)
dozen 17.99 | half dozen 9.99
TRADITIONAL SHRIMP COCKTAIL
Cocktail sauce
14.99
PEEL & EAT SHRIMP
Cocktail sauce
dozen 13.99 | half dozen 9.99
SHRIMP CEVICHE
Lime juice, peppers, onions, cilantro, avocado
12.99
HOUSE MADE HUMMUS
Fresh vegetables and pita bread
8.99
Hot Appetizers
FRIED CALAMARI
Marinara sauce
11.99
ONION STRINGS & JALAPEÑOS
Deep fried, ranch
9.99
SHRIMP KISSES
Galveston's favorite! Stuffed with jalapeño jack cheese, wrapped in bacon, fried
13.99
Soups & Salads
SHRIMP GUMBO WITH ANDOUILLE SAUSAGE
Smoky dark seafood stock
cup 6.99 | bowl 9.99
LOBSTER BISQUE
With sherry
cup 7.99 | sourdough bread bowl 10.99
THE WHARF
Mixed greens, tomatoes, cucumbers, Kalamata olives, fried goat cheese, fried onion strings, house dressing
10.99
GREEK
Mixed greens, tomatoes, cucumbers, Kalamata olives, feta cheese, Greek dressing
11.99
add grilled chicken 7 | add grilled shrimp 8 | add grilled tuna 9
SEAFOOD MARKET
Crisp greens, shrimp, smoked salmon, jumbo lump crab, tomato, cucumber, avocado, caper onion vinaigrette
21.99
OLD FASHIONED SHRIMP
Mixed greens, tomato, eggs, creamy Cajun remoulade dressing
17.99
Sandwiches
Served with French Fries
SHRIMP PO-BOY
Fully dressed with lettuce, tomatoes & remoulade
13.99
THE WHARF BURGER
Two 4 oz. patties cooked smash style with cheese
12.99
FISHERMAN'S WHARF FAMOUS FRIED FLOUNDER SANDWICH
Lettuce, tomato, red onion, coleslaw, pickles, tartar sauce
14.99
House Specialties
MIXED GRILL
Tenderloin medallions, grilled shrimp, crab cake, char-grilled Salmon, Brussels sprouts, rice pilaf
32.99
CHAR-GRILLED SHRIMP (9)
Shrimp, vegetables, rice pilaf
19.99
FISH MARKET PLATTER
Two crab cakes, fish fillet, two Shrimp Kisses, broiled skewer of shrimp & vegetables, rice pilaf
27.99
CRAB STUFFED TILAPIA
Grilled shrimp, lobster cream sauce, spinach
19.99
Gulf Freshest Fried Seafood
Served with French fries & coleslaw
FRIED SHRIMP
(14) Shrimp
19.99
CATFISH DINNER
Fresh fillets of catfish
18.99
CAPTAIN'S CHOICE
Choose two: fried shrimp, stuffed shrimp, oysters or fish fillet
19.99
BEER BATTERED FISH & CHIPS
Beer battered white fish
17.99
FISHERMAN'S WHARF FRIED SEAFOOD PLATTER
Shrimp, oysters, fish fillet, mini crab cakes, Shrimp Kisses, stuffed shrimp
26.99
From the Grill
Add Grilled Shrimp to any Entrée For Only 5.99
CHICKEN ELISSA
Char-grilled chicken breast, sautéed artichoke hearts, tomatoes, capers, green onions, mushrooms, white wine butter sauce, sautéed new potatoes
17.99
TOP SIRLOIN
10 oz. top sirloin steak, baked potato, vegetables
27.99
STEAK & SHRIMP
10 oz. top sirloin steak, five large fried shrimp, baked potato, vegetables
29.99
Signature Entrees
SHRIMP OR CHICKEN FETTUCCINE
Homemade Alfredo sauce, tomatoes, mushrooms, green onions
18.99
PARMESAN REDFISH
Herb crusted, mushroom risotto
25.99
PANKO BREADED FLOUNDER
Angel hair pasta, tomatoes, garlic, fresh basil
24.99
Fresh Fish
GULF RED SNAPPER
Lightly seasoned & broiled
28.99
SALMON
Our finest center-cut fillet
25.99
MAHI MAHI
Lightly seasoned & char-grilled
25.99
GRILLED REDFISH
A Gulf Coast favorite
25.99
Favorite Toppings
Choose any of the following to make your entrée even better!
SAUTÉED JUMBO LUMP CRABMEAT
Light lemon butter sauce
8.99
ELISSA
Jumbo lump crab, artichoke hearts, Roma tomatoes, mushrooms, green onions, capers, wine butter sauce
7.99
PONTCHARTRAIN
Crawfish tails, mushrooms, onions, white wine sauce
7.99
Sides
FRENCH FRIES
3.99
FRENCH FRIED ONION STRINGS
3.99
VEGETABLE OF THE DAY
2.99
BAKED POTATO
3.99
SAUTÉED SPINACH
3.99
FETTUCCINE ALFREDO
4.99
BRUSSELS SPROUTS
4.99
MACARONI & CHEESE
4.99
Desserts
"OUR SIGNATURE DESSERT" ROOT BEER BREAD PUDDING
Served warm and topped with caramel rum sauce, and vanilla ice cream. Drizzled with chocolate sauce. Served with a chocolate plaque & mini mug of root beer.
8.99
KEY LIME PIE
Creamy lime filling layered on a graham cracker crust and topped with whipped cream
8.99
NEW YORK STYLE CHEESECAKE
Rich, and creamy cheesecake topped with strawberries and served with raspberry sauce.
CLASSIC ICE CREAM SUNDAE
Two scoops of vanilla ice cream with chocolate sauce, chopped pecans, whipped cream & topped with a cherry.
5.99
01.18.21
Nearby Places of Interest