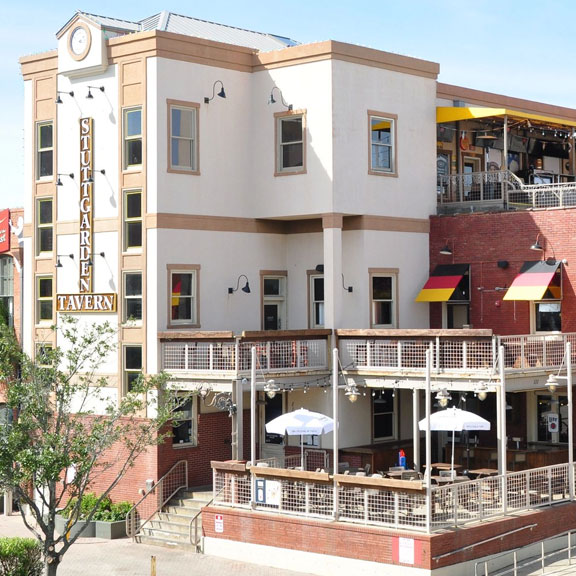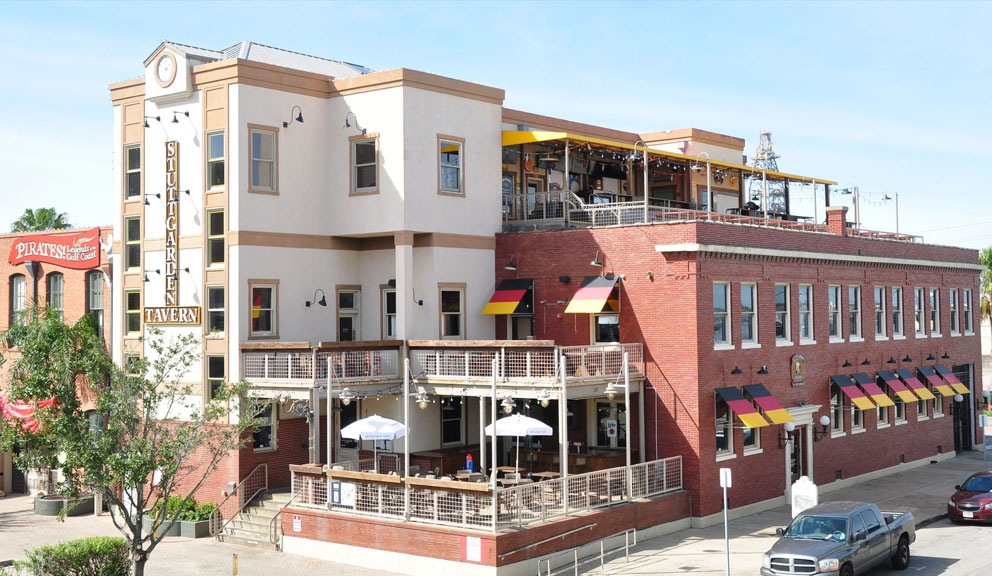 About
Stuttgarden Tavern features a rooftop terrace, and a large indoor beer garden with full liquor bar. Culinary favorites include bratwurst along with traditional German dishes, traditional pub fare, burgers, poboys, and more.
Hours
Monday: 11:00AM – 12:00AM
Tuesday: 11:00AM – 12:00AM
Wednesday: 11:00AM – 12:00AM
Thursday: 11:00AM – 12:00AM
Friday: 11:00AM – 2:00AM
Saturday: 11:00AM – 2:00AM
Sunday: 11:00AM – 12:00AM
Hours are subject to change.
General
Casual
Harborside Dining
Rooftop Bar & Patio
Large Indoor Beer Hall
Live Music on Weekends
Latest Tweets
Menus
Appetizers
FRIED PICKLES
sweet, house made, with ranch
6.5
ONION RINGS
house made & panko crusted
6
SAUERKRAUT BALLS
sauerkraut, cream cheese, hint of sausage, wrapped in panko bread crumbs, fried & served with house made mustard
7.75
SPICY MAC & CHEESE BALLS
pepperjack macaroni panko crusted
8
PUB STYLE PRETZEL
served with smoked gouda fondue
9
PORK CRACKLINS
housemade pork cracklins with French onion dip
8
SHRIMP KISSES
pepperjack stuffed bacon wrapped jalapeño shrimp
12
CHICKEN TENDERS
battered & lightly fried, served with french fries & ranch or blue cheese (buffalo style by request)
10
PULLED PORK & PEPPER JACK NACHOS
house made potato chips, BBQ sauce, green onions & pepper jack cheese
10
IRISH NACHOS
waffle fries, minced meat, American cheese sauce, bacon bits & sour cream
12.5
WINGS
10 wings (bone-in or boneless) with choice of sauce
13
SLIDERS (3 PER ORDER)
pulled pork, coleslaw, bbq sauce 8
buffalo chicken, blue cheese, pickle 8
prime rib with horseradish mayo 10
CHEESE STICKS
lightly breaded pepper jack cheese, house made, served with ranch
9
CHIEF'S FAMOUS CHILI
green onions, cheddar cheese, sour cream & pork cracklins
10
POUTINE
waffle fries and cheese curds topped with brown gravy
10
APPETIZER SAMPLER
fried pickles, sauerkraut balls, cheese sticks, pork cracklins
13
Salads
Add Chicken 6; Bratwurst 6; Shrimp 7; Salmon 9
HOUSE SALAD
romaine, spinach & kale, tomatoes, cucumbers, red onion, parmesan cheese, croutons, choice of dressing
6
CAESAR SALAD
romaine, croutons & caesar dressing
9
WEDGE SALAD
romaine heart, bacon, tomatoes, blue cheese, blue cheese dressing
9
BRAT SALAD
choice of original brat, baby spinach & kale, peppers, tomatoes, pickled vegetables, balsamic vinaigrette
13
GERMAN POTATO SALAD
enough for 2; served cold
6
PRIME RIB SALAD
Baby spinach & kale, avocado, pickled vegetables, pico de gallo, tequila lime vinaigrette
14
Brats
1. Choose a Brat for Your Bun
ORIGINAL BRATS
Jagerwurst (Mild); Smoked Gouda (Cheese); Serrano Chile Pork (Hot)
10
SPECIALTY BRATS
Whitewurst; Cranberry Venison; Smoked Brisket; Thai Chicken; Habanero Elk; Brat of the Month
12
2. Choose a Topping (Additional Charge Applies)
PLAIN JANE
brat and bun
ZE D-MAN
caramelized sauerkraut, relish, house mustard
add 1.50
FLAT TONY
pulled Pork, pepperjack mac & cheese, Tony's special bbq sauce
add 2.50
THE IRISHMAN
minced meat, American cheese, bacon bits, sour cream, green onions
add 3.50
THE RALPHIE
traditional shrimp roll salad shrimp, cucumber, carrot, tartar sauce
add 3.50
JOHN A TEN
mushrooms, onions, smoked gouda
add 2.50
ENORMOUS E
bell peppers, onions, pickled jalapenos, pepperjack cheese sauce
add 2.50
CHI TOWN
pickled jalapenos, spicy carrots, tomatoes, relish, mustard
add 2
SUPER DAN
melted blue cheese, bacon bits, buffalo sauce
add 2.50
THE ERNIE
fried pepperjack cheese sticks, marinara, basil
add 3
THE RUBEN
pastrami, sauerkraut, Russian dressing
add 2
WIDOW MAKER
green fire chili sauce, jalapenos, pickled spicy carrots, garlic
add 1.50
CHIEF'S FREEDOM PIE
chief's famous chili, pork cracklins, cheddar cheese, green onions, sour cream
add 2
HOT MEXI-KEN
pico de gallo, avocado, jalapeños, beans spicy salsa roja, pepperjack cheese
add 2.50
THE HANGOVER
fried egg, bacon, smoked gouda
add 4.50
Burgers & Sandwiches
Served with house made chips, house made fries, German cole slaw or German potato salad. Substitute waffle fries or onion rings $2.
STUTT BURGER
1⁄2 pound beef, lettuce, tomato, house made pickles & shaved onions
10
MUSHROOM SWISS BURGER
1⁄2 pound beef, grilled mushrooms, caramelized onions & Swiss cheese
12
BUFFALO CHICKEN SANDWICH
fried chicken breast, blue cheese crumbles, buffalo sauce & pickles
12.5
GRILLED CHICKEN SANDWICH
grilled chicken breast, lettuce, tomato, house made pickles, onions & avocado
11
BLT AVOCADO
apple wood smoked bacon, lettuce, tomato & avocado on Texas toast
12
RUBEN SANDWICH
pastrami, sauerkraut, Russian dressing on rye bread
14
PRIME RIB CHEESE STEAK
shaved prime rib, grilled onions, bell peppers & pepper jack cheese
13
GRILLED CHEESE
choice of smoked gouda fondue, pepper jack, or American on Texas toast
9
all 3 cheese 11
PRIME RIB FRENCH DIP
shaved prime rib, caramelized onions, mushrooms, horseradish mayo, Swiss cheese with au jus
13
Entrees
BRATWURST SAMPLER
choice of 3 original bratwurst, with spicy house made mustard, sauerkraut & German cole slaw
20
substitute specialty brats $2 each
BANGERS & MASH
choice of house made original bratwurst served over mashed potatoes, gravy & braised cabbage
12
specialty add $2
JAEGER PORK SCHNITZEL
crispy breaded pork cutlet, caramelized onions & mushroom gravy, served with warm potato salad
14
SHEPHERD'S PIE
minced meat, vegetables, topped with mashed potatoes
11
HERB MARINATED GRILLED CHICKEN
served with mixed vegetables & mashed potatoes
15
MAC & CHEESE
bacon crusted (choice of pepper jack, American or smoked gouda fondue)
10
14OZ RIB EYE
served with mixed vegetables & mashed potatoes
22
add sautéed mushrooms, onions or blue cheese crumbles $1.5
BEEF STROGANOFF
onions, mushroom, spiral pasta & sour cream
15
CHICKEN & BROCCOLI CASSEROLE
baked with smoked gouda fondue, bacon crusted
13.5
FISH & CHIPS
beer battered cod, french fries, tartar sauce & malt vinegar
13
BLACKENED SALMON
served with mixed vegetables & mashed potatoes
18
FISH TACOS
two blackened cod tacos served with pico de gallo & avocado sauce
10
Desserts
CINNAMON SUGAR PRETZEL
with pastry crème
9
CHOCOLATE MOUSSE
with Oreo cookie crust
6
BREAD PUDDING
with bourbon sauce
6
06.19.19
Appetizers
BBQ SHRIMP KISSES
Pepper jack stuffed bacon wrapped shrimp, flash fried with bbq glaze
11.99
OYSTER BAR TRASH
Lump crab meat, oysters, & shrimp sauteed in a lemon butter white sauce
14.99
OYSTERS ON THE HALF SHELL
1/2 shell raw: 8.99
dozen raw: 16
de Walsdorf: 21.99
Entrees
All platters are fried in Maceo spices and served with fries and side salad. Grilled items served with rice and veggies.
SEAFOOD PLATTER
Fried fish filet, fried shrimp, fried oysters, shrimp kisses
23.99
GRILLED SEAFOOD PLATTER
24.99
OYSTER DINNER
8 hand selected oysters battered and fried
18.99
SHRIMP DINNER
9 piece shrimp dinner: 13.99
12 piece shrimp dinner: 16.99
FISH DINNER
2 lightly battered fish filets
18.99
PICK 2 PLATTER
Fish, oysters, or shrimp
18.99
Po Boys
All po boys are fried in Maceo spices and served with on a fresh hoagie bun with fries.
OYSTER
13.99
COMBINATION OF TWO
13.99
06.19.19
Nearby Places of Interest