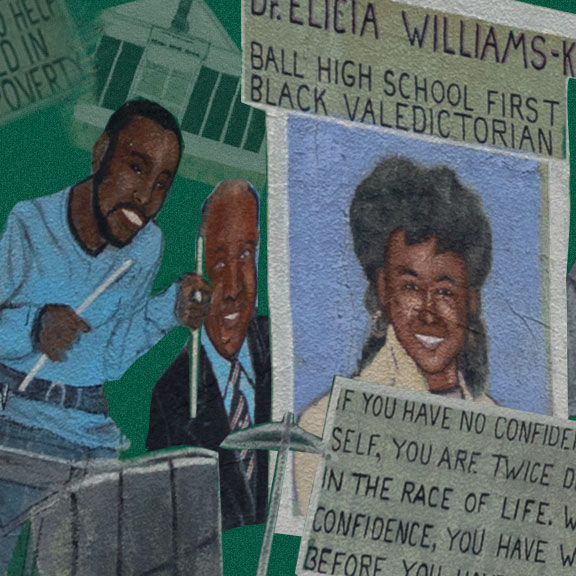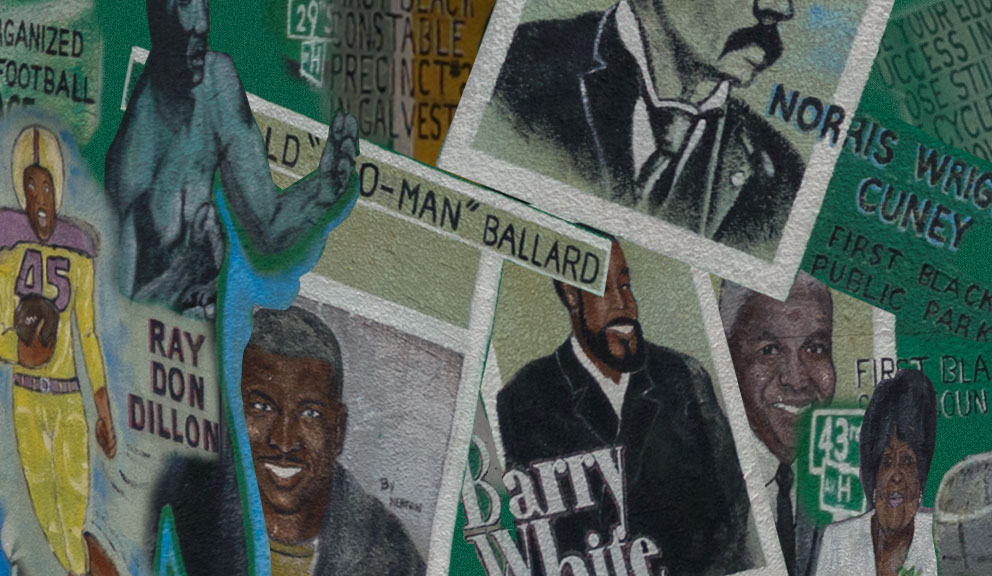 Holy Rosary Catholic Church
Galveston's African American Historic Places & Historical Marker
1420 31st St., Galveston, TX (Directions) | Phone: (409)762-2478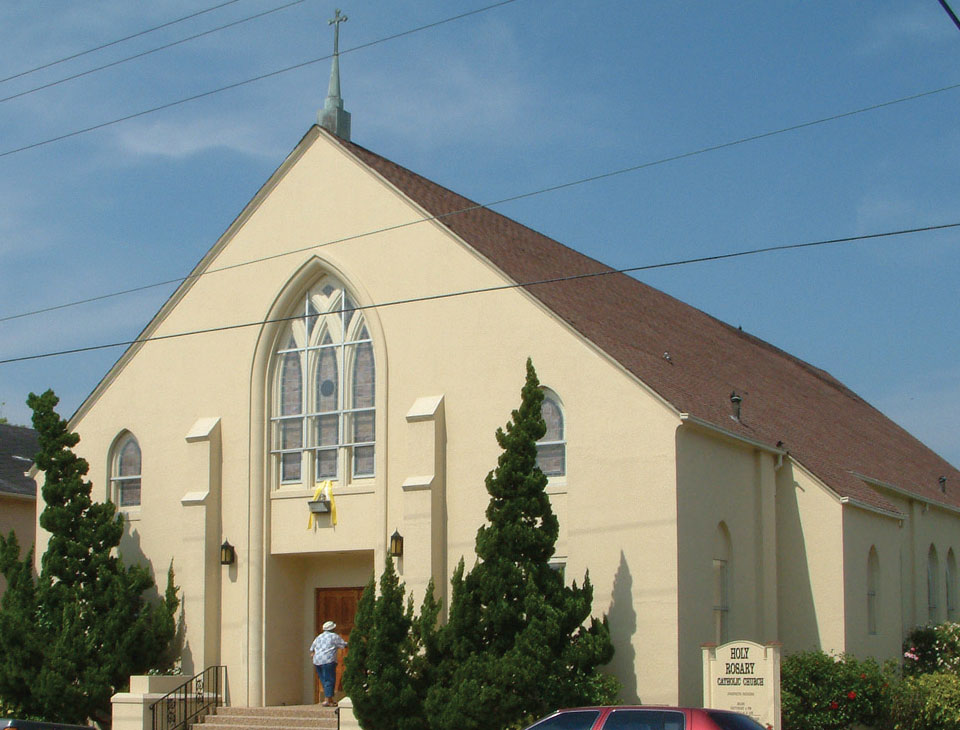 Texas's First African American Catholic Church
Bishop Nicholas A. Gallager started the first African American Catholic School in Texas in 1886. However, the church was not organized until December of 1889 when Father Phillip Keller, a native of Germany, was appointed the first resident pastor of Holy Rosary Parish. The original site for the church and other parish buildings was 25th and Avenue L. In 1914 they were all moved to the present location on Avenue N between 30th and 31st Street. The school was closed in 1979 after 81 years of service.
Historical Marker
One of over 200 historical markers on the island, this marker is located at the Holy Rosary Catholic Church one of the first African American Catholic Parishes in Texas. The marker was erected in 2017 by the Texas Historical Commission.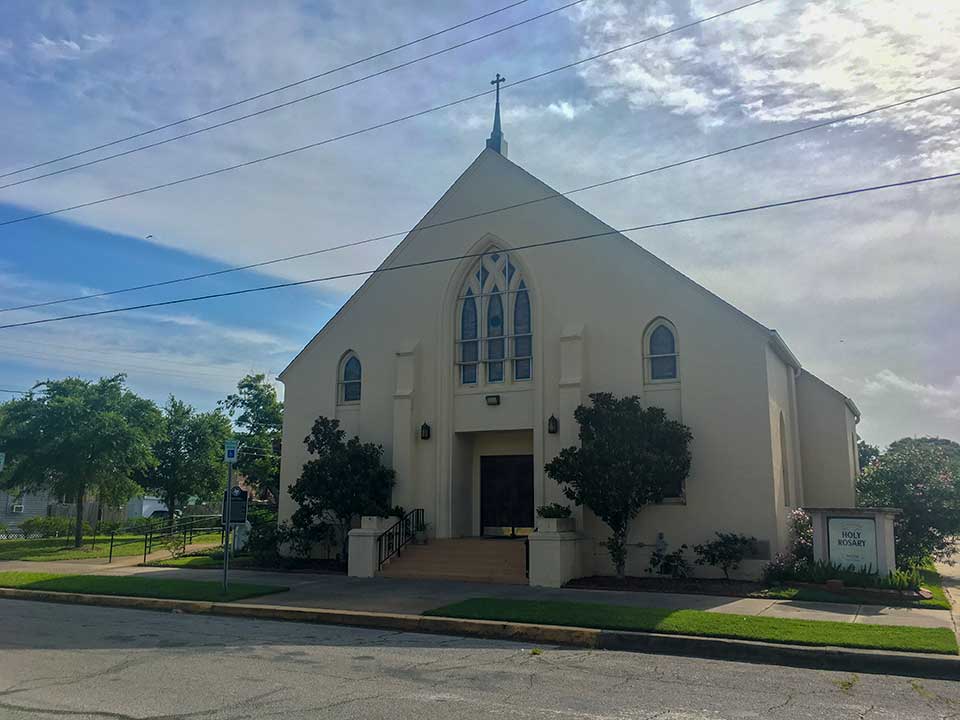 Marker Inscription
"Holy Rosary Church, one of the first African American Catholic Parishes in Texas, had its beginnings in a school. In 1886, Bishop Nicholas A. Gallagher opened an elementary school for African American children in a one-room cottage on 12th street and avenue K. The Dominican sisters were the first to staff the school. It grew so rapidly that a new and larger school opened just two years later. The Bishop celebrated mass at the school on Sundays, and the small congregation became the nucleus of a new Parish."
"As the church and school grew, Fr. Philip Keller was appointed the first Pastor in December of 1889. The sisters of the holy family took charge of the school in 1898. They were the first African American sisters to teach in Diocesan schools in Texas. Under the sisters, the school was incorporated as the Holy Rosary Industrial School and Orphans Home."
"More than 200 people found safe refuge at the Parish during the Great 1900 Storm, but the buildings were badly damaged. In 1913, the Josephite Fathers took over the administration of the Parish. One year later, the parish moved to this site on 31st street and avenue N. Here the first Catholic High School for African Americans opened in 1927 (closing in 1951). By 1958, the Parish had a new church, convent and elementary school."
"Due to damages sustained in Hurricane Ike in 2008, only the church could be restored. Today, Holy Rosary Church forms part of the Holy Family Parish in Galveston, uniting the Historic Catholic Churches in Galveston dating back to 1839.
(2017)"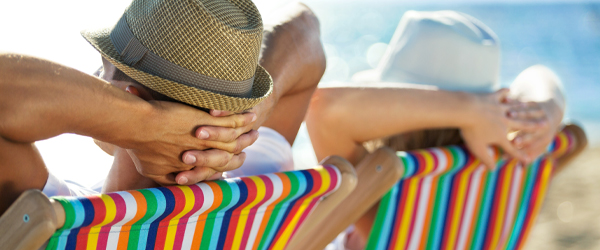 Casa del Mar Beachfront Suites
Looking for a change of scenery? A road trip away, come soak in the sea and sand at Galveston's #1 Condo Rental. All you need to relax, work or play, just steps from the beach.
Book Direct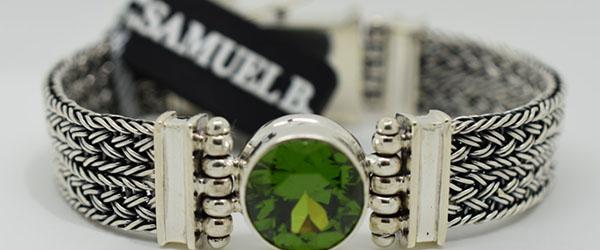 Island Silver
The Gulf Coast's Premier Sterling Silver Jewelry Store with thousand of .925 Sterling items in stock.
Visit Website
---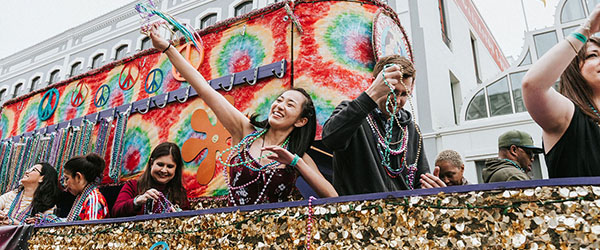 Mardi Gras! Galveston
Want to ride on an official Mardi Gras float? Build Your Own Krewe!
Visit Website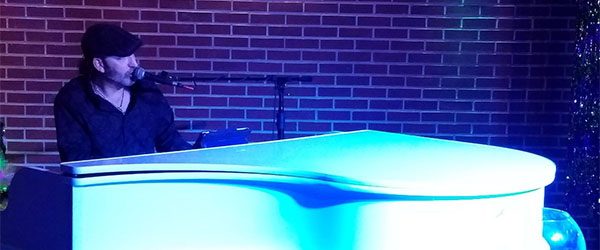 23rd Street Station
Good drinks, good people, and good times. Come as you are. Leave your worries at the door!
Visit Website
---
Nearby Places of Interest