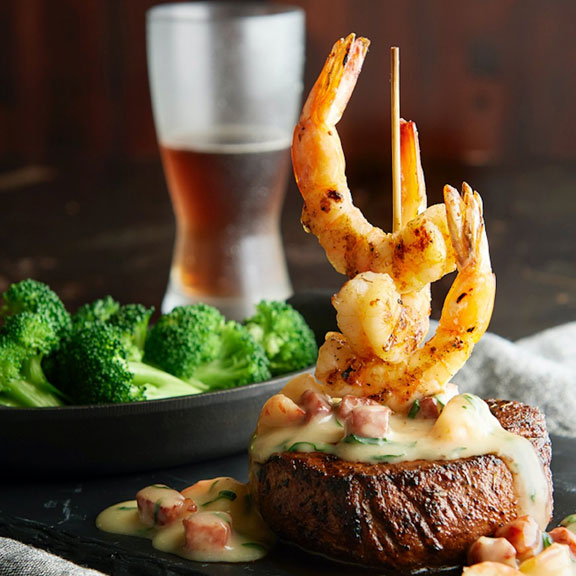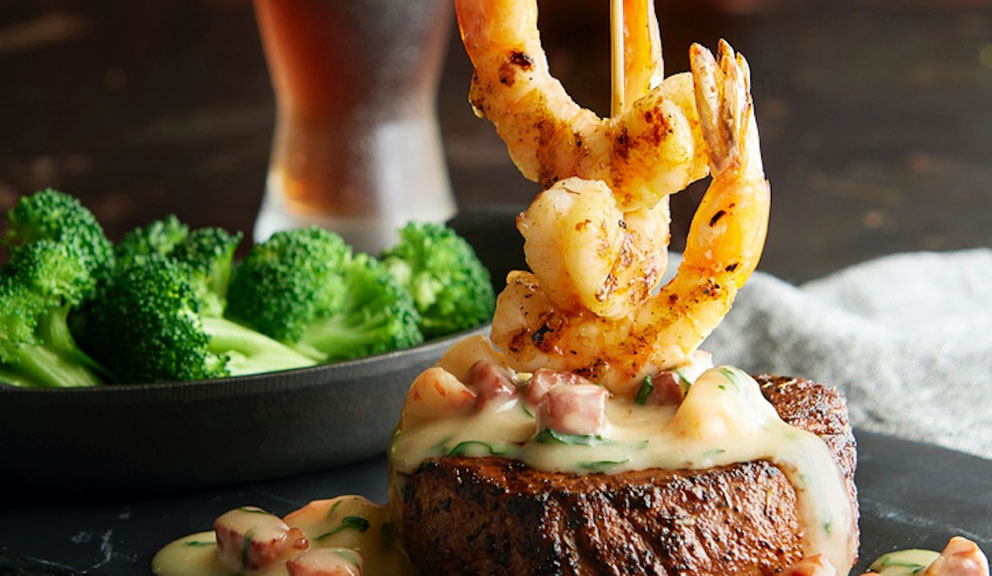 About
Famous for tender Certified Angus Beef® Steaks, Texans have satisfied their steak cravings for generations at Saltgrass Steak House. Each steak is topped with fresh garlic butter and seasoned with original Saltgrass-7 steak spice for mouthwatering flavor.
With an unmatched commitment to freshness, Saltgrass Steak House cooks and bakers make scratch-recipe soups, sauces, gravies, dressings, breads and desserts. As a result, everything that comes out of the kitchen and bakery has a delicious homemade taste to it!
Hours
Monday: 11:00AM – 9:00PM
Tuesday: 11:00AM – 9:00PM
Wednesday: 11:00AM – 9:00PM
Thursday: 11:00AM – 9:00PM
Friday: 11:00AM – 10:00PM
Saturday: 11:00AM – 10:00PM
Sunday: 11:00AM – 9:00PM
Hours are subject to change.
General
Casual
Gulf View Dining
Full Bar
Great for Groups & Private Events
Winner of "Best Steak" in Galveston.com's Best of the Island Awards
Latest Tweets
Menus
Monday thru Friday until 4pm
Lunch Entrees
All lunch entrées are served with your choice of a lunch side. Add Garden greens, Caesar salad, Spinach & Kale salad, Wedge salad, or Soup for 3.25.
SOUP & SANDWICH
A cup of chicken tortilla or baked potato soup & a 1⁄2 Texas Cheesesteak Sandwich
10.89
CHICKEN FRIED STEAK
Certified Angus Beef®, cream gravy
11.89
TENDERLOIN TIPS
Cognac pepper sauce, mushrooms, garlic mashed potatoes
12.49
CHICKEN FRIED CHICKEN
Cream gravy
11.49
MARINATED GRILLED CHICKEN BREAST
12.19
CHICKEN LAREDO
Jack cheese, avocado, grilled onions, tomatoes, poblano peppers, cilantro, feta cheese
13.49
CHICKEN TENDERS
Also available in Nashville Hot
10.99
FRIED SHRIMP
Cocktail sauce
12.49
COCONUT SHRIMP
Honey Sriracha pineapple sauce
12.49
BBQ BABY BACK RIBS
Slow-cooked & "fall-off-the-bone"
14.89
CHOPPED STEAK
Grated cheese, diced tomatoes
12.79
WESTERN CHOPPED STEAK
Melted cheddar, grilled onions, poblanos, tomatoes
12.79
CLASSIC CHOPPED STEAK
Grilled onions, sautéed mushrooms, cognac pepper sauce
12.79
VAQUERO TACOS
Slow-braised brisket, Sriracha mayo, chimichurri, red cabbage, pico de gallo, corn tortillas
11.79
Steak Platters
Served with Garden greens, Caesar salad, or cup of soup, plus your choice of a lunch side. Substitute a Spinach & Kale or Wedge salad for 3.25.
WAGON BOSS CENTER-CUT
6oz: 15.19 | 8oz.: 17.29
BACON-WRAPPED FILET
6oz: 19.99
PRIME RIB
Prime Rib, herb crusted & slow-roasted
8oz: 18.99
PAT'S RIBEYE
10oz.: 18.99
GULF COAST STEAK & SHRIMP
Center-Cut Top Sirloin, choice of shrimp
6oz: 18.49 | 8oz.: 20.49
TENDERLOIN MEDALLIONS
Tenderloin Filets, seared mushrooms, chimichurri
6oz: 18.99
Sides
Substitute Baked Potato or Sweet Potato for 2.49.
FRENCH FRIES
STEAK FRIES
GARLIC MASHED POTATOES
BRUSSELS SPROUTS
FRENCH FRIED ONIONS
SWEET POTATO FRIES
HERB RICE
SEASONAL VEGGIES
MACARONI & CHEESE
06.21.19
Appetizers
RANGE RATTLERS
Jumbo jalapeños, shrimp, Jack cheese, cilantro, ranch dressing
11.79
QUESO FRESCO
Queso blanco, braised brisket, pico de gallo, cilantro, scallions, tostada chips
10.19
SHRIMP & CHICKEN ENBROCHETTE
Wrapped in bacon, BBQ sauce, fried onions
10.49
SHRIMP COCKTAIL
Served cold, pico de gallo, cocktail sauce
8.99
ARTICHOKE & SPINACH DIP
Tostada chips, salsa
9.79
CHEESE FRIES
Jack & cheddar cheese, bacon, sour cream, scallions, ranch dressing
9.49
FRIED MUSHROOMS
Dusted with parmesan
8.29
CRAB CAKES
Jumbo lump crabmeat, lemon butter
16.99
BACON-WRAPPED QUAIL
Jalapeño cream cheese, Sriracha honey, Brussels sprouts
14.99
SEAFOOD FONDEAUX
Crawfish, shrimp, spinach, mushrooms, Jack cheese, garlic bread
11.19
SAUCE TRIO
Roasted tomato salsa, salsa verde, Queso Fresco, tostada chips
4.99
Soups & Salads
Our homemade salad dressings are honey-mustard, chunky blue cheese, ranch, Thousand Island, balsamic vinaigrette & low-cal vinaigrette.
GREAT SOUPS MADE DAILY
Chicken tortilla or Baked potato soup
cup: 5.29 | bowl: 7.89
SOUP & SALAD
Choice of soup with Caesar or Garden greens with bacon, eggs, croutons, grated cheese, tomatoes
10.49
HILL COUNTRY SALAD
Fried chicken, Garden greens, cheddar cheese, bacon, eggs, croutons, tomatoes
12.99
GRILLED CHICKEN SALAD
Garden greens, tortilla strips, bacon, eggs, croutons, tomatoes
12.99
SALMON CAESAR SALAD
Fried capers, garlic bread
14.49
STEAK SALAD
Certified Angus Beef® Center-Cut Top Sirloin, crisp romaine, red potatoes, eggs, green beans, black olives, onions, tomatoes, blue cheese, balsamic vinaigrette
16.39
Sandwiches & Burgers
Served with French Fries
CHEESEBURGER
Fresh 1⁄2 lb burger, American cheese, lettuce, tomato, onion, pickles, homemade bun
12.39
GRILLED CHICKEN SANDWICH
Jack cheese, bacon, honey mustard, lettuce, tomato, onion, pickles, homemade bun
12.39
NASHVILLE HOT SANDWICH
Spicy fried chicken, pickled slaw, homemade bun
10.99
BRISKET BURGER
Fresh 1⁄2 lb burger, cheddar, shredded braised brisket & BBQ sauce, onion, pickles, homemade bun
14.29
TEXAS CHEESESTEAK SANDWICH
Shaved Certified Angus Beef® Steak, grilled onions, poblano pepper, melted cheese, Sriracha mayo, homemade hoagie roll
13.29
Steaks & Chops
All served with a side & your choice of Soup, Garden greens or Caesar salad. Upgrade to a Wedge or Spinach & Kale Salad for 3.25.
WAGON BOSS CENTER-CUT TOP SIRLOIN
8oz: 18.99 | 10oz: 20.99
MAUDEEN'S CENTER-CUT FILET
6oz: 24.99 | 10oz: 29.49
TEXAS T-BONE
17oz: 28.99
PAT'S RIBEYE
12oz: 24.49 | 16oz: 28.99
NEW YORK STRIP
12oz: 26.99
SILVER STAR PORTERHOUSE
22oz: 33.99
BONE-IN RIBEYE
21oz: 38.99
DOUBLE-BONE SMOKED PORK CHOP
Pan-seared, savory bacon jam
14oz: 24.49
DOUBLE-BONE PORK CHOP
Simply grilled
14oz: 21.99
Paired for You
CAJUN TOP SIRLOIN
Seasoned blackened spice, topped with Andouille sausage, crawfish, grilled jumbo shrimp and Cajun cream sauce
8oz: 24.99
SMOTHERED FILET
Center-Cut Filet, homemade herb butter, sautéed mushrooms, caramelized onions
6oz: 26.99
SURF & TURF
Ribeye with BBQ or grilled shrimp
10oz: 28.49
TENDERLOIN MEDALLIONS
Tenderloin Filets, seared mushrooms, chimichurri
6oz: 24.49
GULF COAST STEAK & SHRIMP
Center-cut Top Sirloin, choice of shrimp
8oz: 24.49 | 10oz: 26.49
PRIME RIB
Herb crusted & slow-roasted for a minimum 10 hours, we take great care with this cut. Availability is limited.
8oz: 22.49 | 12oz: 25.49 | 16oz: 29.99 | 20oz: 35.99
Sauces, Toppings & More
SMOTHER YOUR STEAK
Sautéed mushrooms, caramelized onions, herb butter
2.99
SAUTÉED MUSHROOMS FOR SHARING
5.99
FRIED, GRILLED, COCONUT OR BBQ SHRIMP
7.49
MUSHROOMS & ONIONS FOR SHARING
5.99
Seafood
FRIED SHRIMP
Cocktail sauce
18.99
GRILLED SHRIMP
Herb rice
19.29
COCONUT SHRIMP
Honey Sriracha pineapple sauce
18.99
STUFFED BBQ SHRIMP ENBROCHETTE
Herb rice, grilled onions, tomatoes, poblano peppers
19.99
SHRIMP DUO
Pick 2: Fried, grilled, coconut or BBQ shrimp
19.29
SHRIMP TRIO
Pick 3: Fried, grilled, coconut or BBQ shrimp
21.99
GRILLED SALMON
19.99
SALMON OSCAR
Jumbo lump crabmeat, capers, lemon butter, fried asparagus
24.99
BLACKENED REDFISH
Shrimp, lump crabmeat, spinach, diced tomatoes, scallions, lemon butter
26.99
Favorites
CHICKEN FRIED STEAK
Certified Angus Beef®, cream gravy
16.29
CHICKEN LAREDO
Jack cheese, avocado, grilled onions, tomatoes, poblano peppers, cilantro, feta cheese
17.99
CHICKEN FRIED CHICKEN
Creamy gravy
15.99
CHOPPED STEAK
Grated cheese, diced tomatoes
16.19
CHICKEN TENDERS
Also available in Nashville Hot
14.99
SHRIMP & CHICKEN TENDERS
15.99
CLASSIC CHOPPED STEAK
Grilled onions, sautéed mushrooms, cognac pepper sauce
16.39
MARINATED GRILLED CHICKEN BREAST
16.89
WESTERN CHOPPED STEAK
Melted cheddar, grilled onions, poblanos, tomatoes
16.29
VAQUERO TACOS
Slow-braised brisket, Sriracha mayo, chimichurri, red cabbage, pico de gallo, corn tortillas
15.19
STEAK K-BOB
Grilled Center-Cut Top Sirloin medallions, grilled red bell peppers, poblano peppers, onions, zucchini
19.39
Ribs & Combinations
BBQ Baby Back Ribs
Slow-cooked & "fall-off-the-bone"
22.99
BBQ Baby Back Ribs & Shrimp (780-1000 cal)
"Fall-off-the-bone" ribs & choice of shrimp
22.99
BBQ Baby Back Ribs & Grilled Chicken
"Fall-off-the-bone" ribs & marinated grilled chicken breast
21.99
Grilled Chicken & Shrimp
Marinated grilled chicken breast & choice of shrimp
21.49
Sides
FRENCH FRIES
STEAK FRIES
GARLIC MASHED POTATOES
BRUSSELS SPROUTS
BAKED POTATO
BAKED SWEET POTATO
FRENCH FRIED ONIONS
SWEET POTATO FRIES
HERB RICE
SEASONAL VEGGIES
MACARONI & CHEESE
06.21.19
Nearby Places of Interest