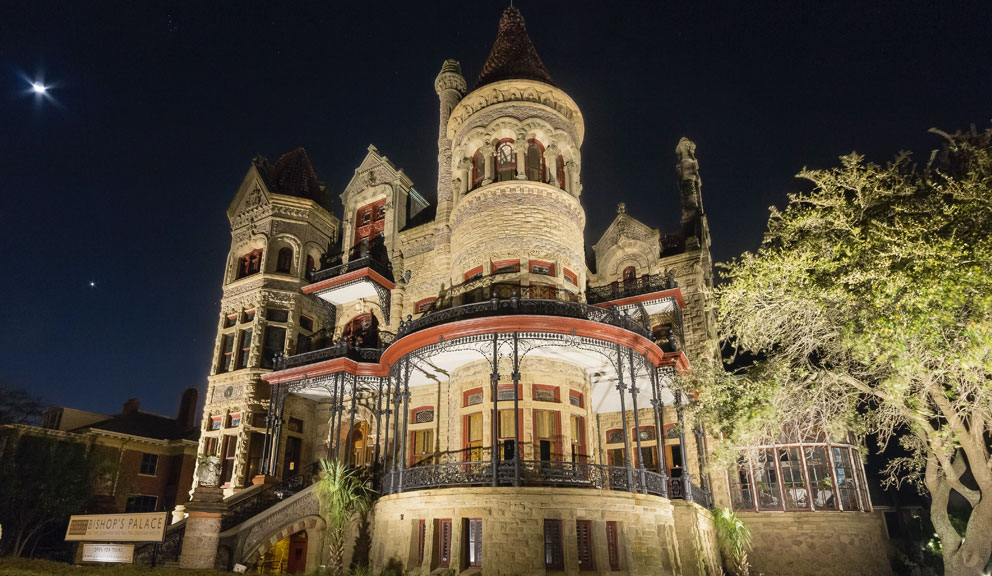 About
Galveston's grandest and best-known building, the Bishop's Palace is an ornate delight of colored stone, intricately carved ornaments, rare woods, stained-glass windows, bronze dragons and other sculptures, luxury materials and furnishings, and impressive fireplaces from around the world (including one lined with pure silver!).
Built by lawyer Colonel Walter Gresham and designed by Nicholas Clayton, Galveston's premier architect, this Victorian castle was cited by the American Institute of Architects as one of the 100 most important buildings in America. The home was built from 1886 to 1892.
If you can only visit one of Galveston's architectural treasures, the exquisite Bishop's Palace is the one to see.
Hours
Monday: 10:00AM – 5:00PM
Tuesday: Closed
Wednesday: 10:00AM – 5:00PM
Thursday: 10:00AM – 5:00PM
Friday: 10:00AM – 5:00PM
Saturday: 10:00AM – 5:00PM
Sunday: 10:00AM – 5:00PM
Hours are subject to change.
Admission
Adults: $14
Youth (age 6 thru 18): $9
Children (5 & Under): Free
General
Also Known as The Gresham House
Listed on the National Register of Historic Places
One of the Most Significant Victorian Residents in the Country
Special Events Scheduled Throughout the Year
Located Minutes from The Strand Historic District
Latest Tweets
History
The house was built from 1887 to 1892 for Colonel Walter Gresham and his wife Josephine, with whom he had nine children. An attorney and entrepreneur, Gresham came to Galveston from Virginia following his service in the Civil War. He was a founder of the Gulf, Colorado and Santa Fe Railroad, eventually working to bring about the merger of the Santa Fe with the Atchison and Topeka Railroad. He also served in the Texas Legislature.
Nicholas Clayton designed the house. The small lot and oversized house make it an anomaly among similar houses of its period and architectural style. It is Victorian; however, it is more specifically described as Chateausque given the intricate combination of materials, cast iron galleries and complex roof system. Chateausque is a derivative of the French Revival popularized in the latter part of the 19th century by Richard Morris Hunt. Nicholas Clayton, however, expanded on the style by using varicolored and irregularly shaped stone, round Romanesque and depressed Tudor arches with heavily articulated carvings of vegetation, animals, people, and imaginary creatures. Constructed of steel and stone (it survived the Great Storm of 1900 virtually unscathed), the Bishop's Palace soars three stories over a raised basement level, with steep roofs and long sculptural chimneys. Typical of Clayton, he used a combination of simple geometric forms in bold massing to create an additional dramatic effect. In Galveston's great period of mansion building – the 1870s, 80s and 90s – Gresham's commission of Nicholas Clayton, Galveston's premier architect, resulted in Clayton's most spectacular residential design and arguably the finest of the "Broadway beauties."
The interior spaces of this museum property are grand with exotic materials such as a pair of Sienna marble columns flanking the entrance hall. The first floor rooms have fourteen foot ceilings that are coved and coffered. An octagonal mahogany stairwell is forty feet tall with stained glass on five sides. The stair is lit by a large octagonal skylight. A massive fireplace in the front parlor is made of Santo Domingo mahogany. The house includes abundant stained glass, wood carvings, and decorative plaster ceilings and walls.
Nearby Places of Interest