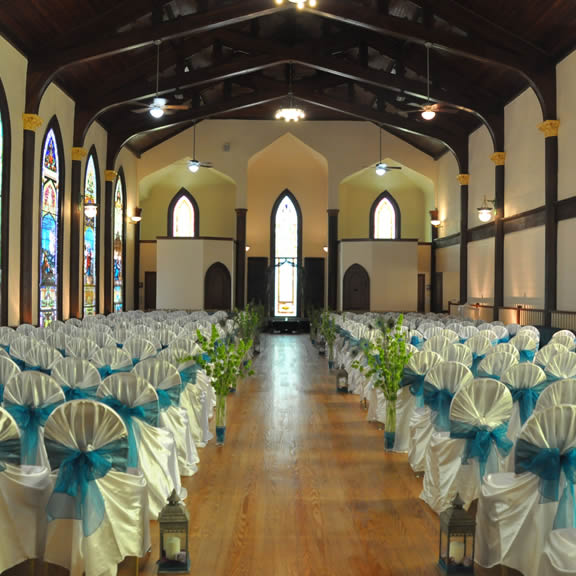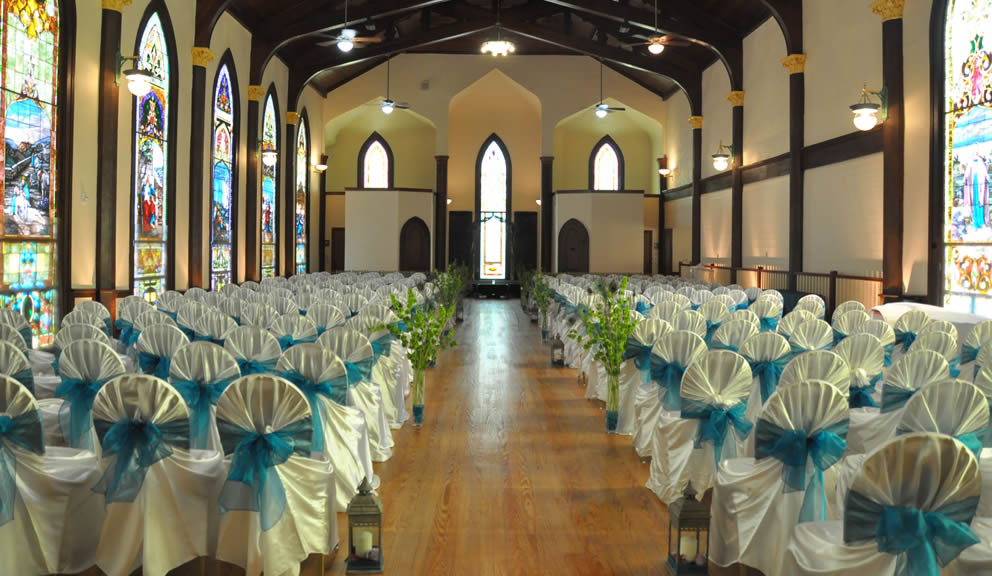 About
Nestled in historic downtown Galveston, Texas is The Lyceum of Galveston Island — an elegant, mid 19th century Victorian-style chapel and meeting hall that's a premier venue for weddings, receptions, meetings and events. Whatever the occasion, The Lyceum will be the perfect venue as the structure showcases a square tower with steeple and elegantly-restored double doors, hipped roofs, arched openings, and stunning floor-to-ceiling stained glass windows — the perfect backdrop for your very special event.
Hours
Available by appointment.
Meeting Space
300 Standing or Seated Assembly Style
200 Seated Banquet Style
Special Features:
A service kitchen is equipped with stainless steel prep table, ice machine and refrigeration to assist your chosen caterer
Handicapped accessible ramps and elevator are available
A 12-foot by 16-foot stage is available for powerpoint presentations, bandstand, etc.
Convenient, free parking adjacent to the venue
Facility available year-round
A former choir loft is ideal for vocalists, photographers and videographers
A beautiful courtyard area is just steps from The Lyceum. Surrounded and gated in wrought iron, the lush lawn and open air gazebo are available for outdoor functions
General
A Galveston Historic Landmark
Site of the First Public School in Galveston
Excellent Venue for Weddings, Receptions, Banquets, Parties, & Entertainment Events
Variety of Vendors Available
Located Steps from The Downtown Strand Historic District
Latest Tweets
History
Long recognized as a "center of culture" in Galveston, the Lyceum Hall — located at the corner of 24th and Winnie Street, was the original site for one of Texas's oldest German Lutheran Churches — First Evangelical Lutheran Church. The church was founded in the fall of 1850 by two Lutheran pastors that were sent to Galveston as a result of early colonists who wrote to their Swiss seminary of Saint Christchona and complained of a "lack of spiritual leadership on the Island." The Lyceum still sits on the church grounds and is adjacent to the present sanctuary — separated only by a beautifully-landscaped wrought iron-gated courtyard. The cornerstone of the Lyceum is still visible today and reads: "Knowledge is Power" which reminds us of the great scriptural truth "And the truth shall make you free."
In 1984, First Lutheran Church was entered in to the National Register of Historical Places as "the oldest Lutheran parish of German origin in Texas with a continuous ministry." There were seven families as charter members when the church was founded in 1850 by the Reverend G. Guebner, of the South Carolina Synod.
Nearby Places of Interest