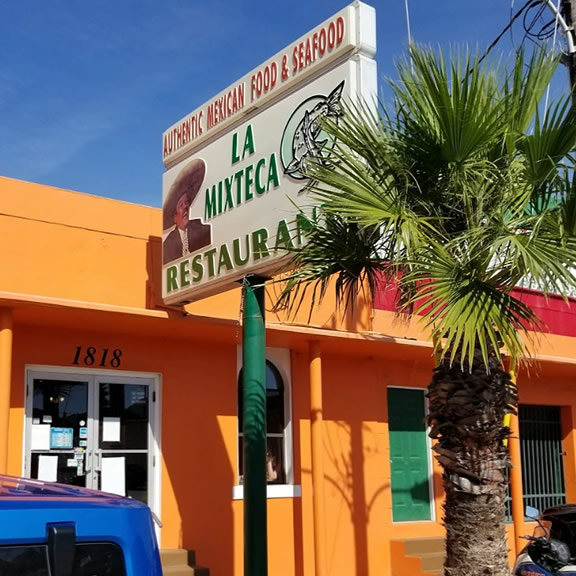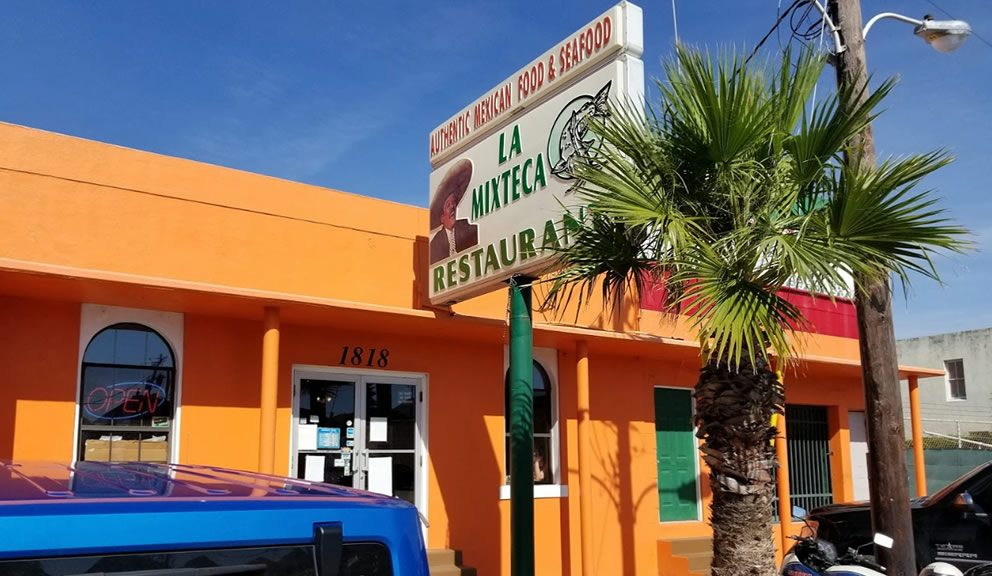 La Mixteca Mexican Restaurant & Seafood
1818 Mechanic St., Galveston, TX (Directions) | Phone: (409)762-2235
About
La Mixteca has been family-owned and operated for over 15 years, and offers genuine Mexican and seafood dishes in a cheerful, family atmosphere.
Breakfast is a favorite here at La Mixteca, with recipes ranging from delectable breakfast burritos, to zesty huevos rancheros, and to authentic migas a la Mexicana.
The robust lunch menu offers over 80 favorites you won't wanna miss. From appetizers like chile con queso, guacamole, flameado shrimp, and the Mexican vuelve a la vida cocktail; to delicious platters featuring Mexican combinations, fresh-from-the-Gulf seafood, and your favorite vegetarian dishes, La Mixteca truly delivers excellence with each and every recipe served.
Hours
Monday: 7:00 AM – 2:30 PM
Tuesday: 7:00 AM – 2:30 PM
Wednesday: 7:00 AM – 2:30 PM
Thursday: 7:00 AM – 2:30 PM
Friday: 7:00 AM – 2:30 PM
Saturday: 7:00 AM – 2:30 PM
Sunday: 7:00 AM – 2:30 PM
Hours are subject to change.
General
Locally Owned & Operated
Authentic Mexican Cuisine
A Locals Favorite
Serving Breakfast & Lunch
Menus
Served Monday thru Friday 7am – 11am; Saturday 7am – Noon; Sunday 8am – Noon. Chips before 11am .99 per basket.
Breakfast Burritos
BURRITO HUEVO Y FRIJOLES
Eggs and beans
3.55
BURRITO HUEVO Y CHORIZO
Eggs and Mexican sausage
3.55
BURRITO HUEVO Y TOCINO
Eggs and bacon
3.55
BURRITO HUEVO Y PAPAS
Eggs and potatoes
3.55
BURRITO SUPREME
Eggs, bean, potatoes, bacon, cheese
4.25
BURRITO SUPREME CON CHORIZO
Eggs, bean, potatoes, bacon, cheese, Mexican sausage
4.55
Burrito Extras
CHEESE
.50
BEANS
.50
POTATOES
.50
CHORIZO
.50
1 BACON
.95
A LA MEXICANA STYLE
.95
Breakfast Plates
All plates served with refried beans, potatoes, bacon, and tortillas
HUEVOS A LA MEXICANA
2 scrambled eggs with tomatoes, Serrano peppers, and onions
6.55
MIGAS PLANE
2 eggs mixed with diced corn tortillas. .75 extra for flour tortillas; .55 extra for corn tortillas.
6.25
MIGAS A LA MEXICANA
2 eggs mixed with diced corn tortillas, onions, tomatoes, Serrano peppers. .75 extra for flour tortillas; .55 extra for corn tortillas.
6.55
HUEVOS RANCHEROS
2 sunny side up eggs topped with our homemade ranchero sauce
6.55
HUEVOS REVUELTOS CON JAMON
2 scrambled eggs with ham
6.55
HUEVOS REVUELTOS CON CHORIZO
2 scrambled eggs with Mexican sausage
6.55
HUEVOS CON CHULETA
2 eggs scrambled or sunny side up with 1 pork chop
7.95
MENUDO
Saturday & Sunday
small: 8.75 | large: 10.75
A La Carte
CHEESE
1
CHORIZO
1
1 EGG
1.25
POTATOES
1.25
1 PORK CHOP
2.75
TORTILLAS
3 flour: .75 | 5 corn: .55
04.09.20
Appetizers
CHILE CON QUESO
small 5.55 | large 7.55
GUACAMOLE
small 5.55 | large 7.55
QUESO FLAMEADO
Chorizo or fajita meat. Melted Monterey Jack cheese with your choice of Mexican sausage, chicken, or beef fajita served with tortillas
9.55
FLAUTAS
6 small slices, chicken only. Fried crispy rolled corn tortillas served with sour cream, tomatoes, and guacamole.
8.55
QUESADILLA FAJITA
6 slices chicken or beef fajita. 2 large flour tortillas layered with cheddar and jack cheese, chopped tomatoes, chopped onions, cilantro then baked until crispy served with sour cream and guacamole.
10.75
NACHOS
with beans
7.75
NACHOS
ground beef or chicken
8.95
NACHOS
chicken or beef fajita
9.95
QUESO FLAMEADO SHRIMP
Melted Monterey Jack cheese with shrimp, onions, jalapeños, tomatoes served with tortillas
11.55
SHRIMP NACHOS
Melted Monterey Jack cheese with shrimp, beans, chopped tomatoes, chopped onions, jalapeños, sour cream, and guacamole
11.75
MEXICAN SHRIMP COCKTAIL
Shrimp, chopped onions, chopped tomatoes, cilantro in a special ketchup sauce with avocado slices on top
small 8.95 | large 10.95
MEXICAN VUELVE A LA VIDA COCKTAIL
Shrimp, octopus, fish, oyster, chopped onions, chopped tomatoes, cilantro in a special ketchup sauce with avocado slices on top
12.55
SHRIMP QUESADILLA
2 large flour tortillas layered with Monterey Jack cheese, shrimp, chopped tomatoes, chopped onions, cilantro then baked until crispy served with sour cream and guacamole
11.55
Antojitos
GORDITAS
with lettuce and cheese
pastor, chicken, beef fajita 3.95 | ground beef, chicken 3.75
TOSTADAS
with beans, lettuce, cheese, tomatoes, sour cream
chicken or beef fajita 3.95 | ground beef, chicken 3.55
BURRITO GRANDOTE
with beans, lettuce, tomatoes, cheese
carne guisada, pastor, chicken or beef fajita 6.95 | ground beef, chicken 5.95
TACOS
with lettuce and tomatoes or cilantro and onions
pastor, chicken, beef fajita 2.75 | ground beef, chicken 2.55
CRISPY TACOS
with lettuce, cheese, tomatoes. Choice of ground beef or chicken
1.95
TORTA
with beans, lettuce, tomatoes, cheese, guacamole, and jalapeños.
pastor, chicken, beef fajita 6.95 | ham, chicken 5.95
Side Orders
SOUR CREAM
.95
CHEDDAR CHEESE
.95
PICO DE GALLO
1.25
JALAPENOS
.95
SIDE SALAD
2.25
BAG OF CHIPS & SALSA
4
CHILES TOREADO
.75
FRENCH FRIES
2.55
REFRIED BEANS
1.55
CHARROS BEANS
2.55
RICE
1.55
CORN TORTILLAS (4)
.55
FLOUR TORTILLAS (3)
.85
HALF AVOCADO
3.55
Vegetarian Plates
TACOS CRISPY VEGETARIANOS
Filled with guacamole, lettuce, cheese, tomatoes served with rice and beans.
2: 7.95 | 3: 8.95
TACOS SALAD
On a bed of lettuce, cheese, tomatoes, guacamole served with or without a shell. Choice of chile con quest, ranch, or sour cream dressing.
7.95
NACHOS WITH LETTUCE
Served with beans, lettuce, chopped onions, chopped tomatoes, jalapeños peppers, Chile con queso, guacamole, and sour cream
8.95
HALF QUESADILLA VEGETARIANA
3 slices. Flour tortilla layered with cheddar and jack cheese, chopped tomatoes, cilantro, chopped onions then baked until crispy. Served with sour cream, guacamole, rice, and refried beans.
8.75
BURRITO VEGETARIANO
A large flour tortilla filled with refried beans, lettuce, tomatoes, cheddar cheese, and sour cream.
5.95
Child's Plates
Served with rice and refried beans
ENCHILADA PLATE
1 enchilada, beef, chicken or cheese
5.75
TACO CRISPY PLATE
1 taco crispy, beef or chicken
5.75
FAJITA TACO PLATE
1 taco, chicken or beef fajita
5.95
Special Selection
All platters served with rice and beans; .85 for charro beans
HALF QUESADILLA
3 slices. A large flour tortilla layered with cheddar and jack cheese, chopped tomatoes, chopped onions, cilantro then baked until crispy. Served with sour cream, guacamole. Choice of pasta, chicken or beef fajita.
9.75
SUPER BURRITO
A large flour tortilla rolled with meat inside covered with chili gravy and melted cheese.
shredded chicken or ground beef: 9.55 | pastor, chicken or beef fajita: 10.55
FLAUTAS
With chicken. Fried crispy rolled corn tortilla served with sour cream, guacamole.
(3)10.55 | (2)9.55
TACOS CRISPY
ground beef or shredded chicken. Crispy corn tortillas with lettuce, tomatoes, cheese.
(3)9.75 | (2)8.75
SOFT TACOS
On corn or flour tortillas with cilantro and onions or lettuce and tomatoes.
shredded chicken or ground beef: (3)9.95 (2)8.95 | pastor, chicken or beef fajita: (3)10.55 (2)9.55
ENCHILADAS WITH GRAVY
beef, chicken or cheese. Covered with our homemade chili gravy and melted cheese
(3)9.75 | (2)8.75
ENCHILADAS CHILE CON QUESO
beef, chicken or cheese. Covered with our homemade Chile con quest.
(3)10.25 | (2)9.25
ENCHILADAS VERDES
beef, chicken or cheese. Covered with our homemade green sauce, sour cream, and melted cheese.
(3)9.95 | (2)8.95
ENCHILADAS ROJAS
beef, chicken or cheese. Covered with our homemade red sauce and melted cheese.
(3)9.95 | (2)8.95
ENCHILADAS DE MOLE
beef, chicken or cheese. Covered with our homemade mole sauce and melted cheese.
(3)9.95 | (2)8.95
FAJITA ENCHILADAS GRAVY
chicken or beef fajita. On corn or flour tortillas covered with our homemade chili gravy and melted cheese
(3)10.55 | (2)9.55
REGULAR TACO SALAD
ground beef or shredded chicken. In a taco shell or without taco shell, a bed of lettuce with cheddar cheese, tomatoes, guacamole, and your choice of dressing. Each extra dressing .85.
8.95
GRILLED FAJITA SALAD
chicken or beef fajita. In a taco shell or without taco shell, a bed of lettuce with cheddar cheese, tomatoes, guacamole, and your choice of dressing. Each extra dressing .85.
9.95
BEEF SOUP
Served with a side order of rice and tortillas.
10.75
MENUDO
Served Saturday & Sunday.
small: 8.75 | large: 10.75
CHILE RELLENO
Stuffed poblano pepper with ground beef covered with tomato sauce, served with tortillas
10.75
CARNE GUISADA
Beef tips in tomato sauce served with tortillas
10.25
MIXED PLATTER
chicken or ground beef. 1 crispy taco, 1 tostada, 1 enchilada
10.25
COMBINATION PLATTER
chicken or ground beef. 2 tacos crispy, 1 enchilada
10.25
PLATO MIXTECO
1 gordita pastor, 1 chicken flauta, 1 beef enchilada with red sauce
11.75
PECHUGA DE POLLO A LA PARRILLA
Grilled chicken breast served with tortillas
10.75
PECHUGA DE POLLO EN SALSA VERGE O ROJA
Grilled chicken breast covered with our homemade green or red sauce served with tortillas
10.75
PECHUGA EN MOLE
Grilled chicken breast covered with our homemade mole sauce served with tortillas
10.75
PECHUGA EMPANIZADA
Breaded chicken breast served with tortillas
10.75
PECHUGA GRATINADA
Grilled chicken breast smothered with Monterey Jack cheese, grilled onions, bell pepper and mushrooms served with rice, salad, and tortillas. Extra for refried beans.
10.75
MILANEZA EMPANIZADA
Fried tender steak breaded with special seasoning served with tortillas
10.75
BISTEC RANCHERRO
Beef skirt steak marinated in our special sauce, covered with homemade ranchero sauce served with tortillas
10.75
T-BONE A LA MEXICANA
16 oz with grilled pico de Gallo on top served with rice, salad, and tortillas
15.75
FAJITA PLATE A LA MEXICANA
chicken or beef. Fajita meat mixed with grilled pico de Gallo served with tortillas.
12.25
FAJITA COMAL
chicken or beef. Served on a hot plate with grilled onions and bell peppers with guacamole, pico de Gallo, charros beans, rice, and tortillas.
for one: 13.25 | for two: 21.25
FAJITA COMAL CON QUESO
chicken or beef, with melted Monterey Jack. Served on a hot plate with grilled onions and bell peppers with guacamole, pico de Gallo, charros beans, rice, and tortillas.
for one: 14.25 | for two: 22.25
Seafood Platters
SHRIMP FAJITA COMAL
Shrimps grilled with bell pepper and onions served in a hot plate with guacamole, pico de Gallo, charros beans, rice and tortillas
for one: 14.95 | for two: 24
MIX FAJITAS TRIO COMAL
Grilled shrimps, fajita beef and chicken, grilled onions and bell peppers served in a hot plate with guacamole, pico de Gallo, charros beans, rice and tortillas
for one: 15.95 | for two: 25
CHILE RELLENO CON CAMARON
Stuffed poblano pepper with shrimp and Monterey Jack cheese covered with tomato sauce and served with rice, salad, or refried beans and tortillas
13.75
ENCHILADAS DE CAMARON
Covered with our homemade red sauce served with rice, salad, or refried beans
(2): 10.25 | (3)11.25
CAMARONES A LA DIABLA
Boiled shrimps in our special sauce served with rice, salad, bread, or tortillas
13.75
CAMARONES EMPANIZADOS
Grilled shrimps served with French fries, salad, and rice
13.75
CAMARONES A LA MEXICANA
Grilled shrimps sautéed in pico de Gallo served with French fries, salad, rice, bread, or tortillas
13.75
CAMARONES A LA PARRILLA
Grilled shrimps served with French fries, salad, rice, bread or tortillas
13.75
TILAPIA A LA PARRILLA O EMPANIZADA
1/2 lb. Tilapia fillet grilled or fried served with French fries, salad, rice, bread or tortillas
12.25
TILAPA A LA MEXICANA
1/2 lb. Tilapia fillet grilled with sautéed pico de Gallo on top served with French fries, salad, rice, bread or tortillas
12.25
TILAPIA EN SALSA VERDE O ROJA
1/2 lb. Tilapia fillet in special homemade green or red sauce served with French fries, salad, rice, bread or tortillas
12.25
TILAPIA AL MOJO DE AJO
1/2 lb. Tilapia fillet in olive oil with garlic and cilantro served with French fries, salad, rice, bread or tortillas
12.25
CALDO DE CAMARON
Soup made of shrimp, potatoes, corn slice, carrots and served with rice, bread or tortillas
13.55
CALDO DE MARISCOS
Soup made of shrimp, oysters, octopus, fish, squid, half crab, potatoes, carrots and served with rice, bread, or tortillas
15.95
04.09.20
Nearby Places of Interest