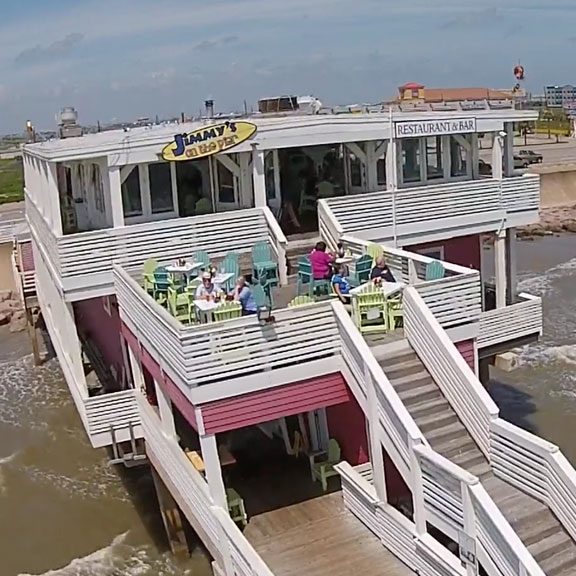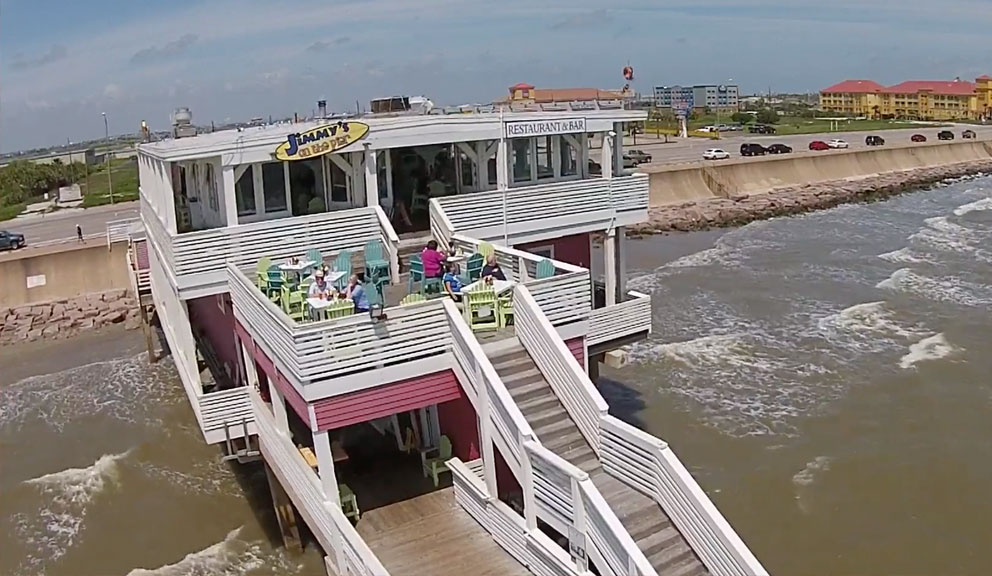 About
Every day is great day at Jimmy's on the Pier, whether it's to enjoy a beautiful sunset or storm watch over the Gulf. And each day the eatery's chef is creating a unique, mouthwatering special featuring fresh fish direct from the local fish market. Enjoy the taste of the Gulf and a casual dining experience at Galveston's premier over-the-water destination.
Hours
Monday: 11:00AM – 10:00PM
Tuesday: 11:00AM – 10:00PM
Wednesday: 11:00AM – 10:00PM
Thursday: 11:00AM – 10:00PM
Friday: 11:00AM – 11:00PM
Saturday: 11:00AM – 11:00PM
Sunday: 11:00AM – 10:00PM
Hours are subject to change.
General
Casual
Gulf View, Over-the-Water Dining
Fishing Pier
Bike & Board Rentals
24 Hour Coffee Shop
Great for Families & Groups
Latest Tweets
Menus
Starters
NACHOS
House fried tortillas with sharp cheddar cheese, pico de gallo, and house refried beans
w/shrimp 15
w/snapper 16
w/chicken 14
w/beef 17

HOT POPPERS
Seafood stuffed and bacon wrapped
14
​
SPICY CRAB BALLS
Bite-sized crab with big flavor and chipotle aoli
12
​
CRAWFISH QUESO
Our hearty crawfish queso served with tortilla chips
13
​
CALAMARI
Not your average calamari, with sweet and spicy tomato jam
12
FRIED PICKLES
Big, salty, crunchy delights served with ranch
10
​
VEGAN "CRACK BEAN" SALAD
Four bean salad with a sweet and light bite
12
​
CRAB CAKES
More crab than cake, served with our remoulade
14
​
CEVICHE WRAPS
Fresh gulf catch, 'cooked' with lime ready to wrap
13
Soups
DUCK X OYSTER GUMBO
Our unique take on gumbo
cup 6 | bowl 8
​
NEW ENGLAND CLAM CHOWDER
The classic done right
cup 6 | bowl 8
Sides
FRESH VEGETABLES
Chef curated seasonal produce
4
​
ROASTED POTATOES
Herb roasted russet potatoes
5
​
FRIES
Jimmy's fresh cut house fries
4
​
ONION RINGS
Hand-breaded freshly made onion rings
5
SIDE SALAD
Small house salad
5
​
FRUIT
Selected fresh fruits
5
​
CHIPS
House spiced, made fresh daily
4
​
CILANTRO LIME RICE
Long grain rice, cilantro, lime
4
Tacos
Available salsas include: chunky mango, pico de gallo, spicy avocado, salsa verde. Additional salsa carry a $1 charge.
DOS TACOS PLATE
Your way with slaw, cilantro lime rice, beans, salsa,
and crema (Latin sour cream)
w/fish 15
w/chicken 12
w/beef 12
w/ shrimp 14
​
JUST A TACO
w/fish 5
w/chicken 3
w/beef 3
w/shrimp 5
Entrees
FRIED SEAFOOD BASKET
Snapper, shrimp, and oysters with fries and slaw
18
​
STUFFED SNAPPER
Seafood stuffed snapper topped with "crack" beans, served with fresh vegetables and cilantro lime rice
19
​
​
ADOBO CHICKEN
Adobo marinated chicken served with herb roasted potatoes, fresh vegetables, and chipotle aoli
16
SNAPPER CREOLE
Snapper and crawfish meat with sauce creole,
cilantro lime rice, and fresh vegetables
18
Burgers
All burgers and sandwiches served with hand cut french fries unless otherwise requested.Substitute chicken breast 1.
THE O.G.
1/2 pound of beef on our house kaiser with lettuce,
tomato, onion and pickle
10
​
BACADO
Just like the O.G but with bacon and avocado
12
​
BIG CHORIZO
Half chorizo half amazing (O.G. beef) with lettuce, tomato, pickle, jalapeño, and ranch
13
BREAKFAST
The O.G. with bacon, egg, and hollandaise
12
​
TURKEY
A turkey patty dressed like an O.G. but with avocado and swiss
12
​
BLACK BEAN BURGER
Vegetarian black bean burger served with lettuce, tomato, onion, pickles, pepperjack, and avocado
12
Topping Add-Ons
FRIED ONIONS
1
FRIED JALAPENOS
1
GRILLED MUSHROOMS & ONIONS
1
FRIED PICKLES
1
Sandwiches
SNAPPER BLT
Gulf snapper, bacon, lettuce, tomato on a hoagie with our remoulade
17
​
PO BOY
Snapper, shrimp, or oysters on our slaw, and hoagie with onion and remoulade
17
​
RICH BOY
Snapper, shrimp, and oysters done your way just like the Po' Boy
20
CLUBBA LUBBA DUB DUB
A fun southwest-style chicken avocado club with cheddar
16
​
CRAB CAKE SANDWICH
Our more crab than cake done just like a burger with remoulade and all the fixings
17
Desserts
820 APPLE CRISP
One of America's oldest recipes brought back
5
​
LAVA CAKE
Gluten free chocolate cake with a molten ganache center
6
​
A LA MODE
Add one scoop of vanilla bean ice cream
4
06.25.19
For the Kids
Served with an entree, drink, and your choice of hand-cut sea salt French fries, fruit, or grilled vegetables. A small scoop of vanilla ice cream also included. $7.
KID'S SHRIMP
KID'S GRILLED CHICKEN
KID'S TEXAS BEEF HAMBURGER
KID'S HOT DOG
CHICKEN NUGGETS
FISH NUGGETS
CHEESE QUESADILLA
GRILLED CHEESE
Smoothies
Try one of our smooth and creamy smoothie choices
or create your own! $5
06.25.19
Nearby Places of Interest