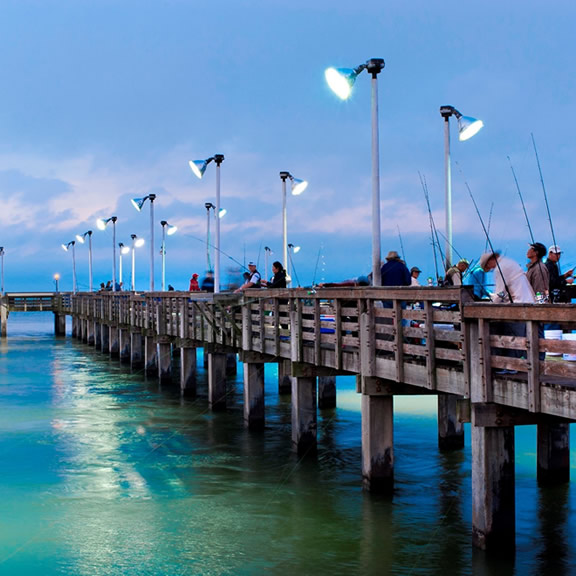 About
Seawolf Park is located on Galveston's Pelican Island on a former immigration station site. The park offers one of the island's most popular fishing piers, picnic sites and a playground. The park is also home to tourist attractions, including the WWII submarine the USS Cavalla and one of only three destroyer escorts in the world, the USS Stewart. The remains of the WWI tanker S.S. Selma, the largest concrete ship constructed, can be seen northwest of the park's fishing pier.
Hours
Monday: Open 24 hours
Tuesday: Open 24 hours
Wednesday: Open 24 hours
Thursday: Open 24 hours
Friday: Open 24 hours
Saturday: Open 24 hours
Sunday: Open 24 hours
Hours are subject to change.
General
One of the Island's Popular Fishing Piers
Picnic Sites
Home of USS Cavalla & USS Stewart
Latest Tweets
Fishing Pier: For the safety of our guests, the pier has been visibly marked to provide for social distancing of 6 feet between those fishing. Please be considerate of others and wear a face covering when unable to maintain a safe distance. Capacity on the pier may be limited or reduced at any time by park management or law enforcement to maintain safety.

For the health and safety of visitors and employees, the Galveston Park Board has adopted rigorous cleaning procedures at its parks. Among the procedures put in place are cleaning bathroom surfaces and high touchpoint areas on an hourly basis, increasing the frequency of trash removal, and sanitizing park equipment daily. In addition, measures have been taken to ensure proper social distancing in queues and at public gathering places.
Admission
Parking
One Time Entry Per Vehicle with Paid Entry
$6 per car
$10 per tour bus/RV
$5 per school bus
Fishing
Adults (12-64) Galveston Island Residents: $6.00, Non-Residents: $9.00
Seniors (65+) Galveston Island Residents: $3.00, Non-Residents: $4.00
Children (5 -11) Galveston Island Residents: $3.00 Non-Residents: $4.00
Kids 4 and younger:  Free
Fishing Season Pass (Jan.1 – Sep 30)
Adults $250
Seniors/Children $150
Galveston Naval Museum
$10 Adults (12 and older)
Kids (5-11): $5.00)
Kids under 5: Free
Seniors: $5.00
Military Discount with ID: $5.00
Group rate: $3 per person
Rules
Glass Prohibited
Alcohol Permitted
Pets Permitted on Leashes Excluding Military Displays
Clean Up After Your Pets
Camping Prohibited (RV's must exit park prior to 9PM)
Open Fires Prohibited (BBQ pits allowed )
No picnicking or fires after dark
Tents Prohibited
New Daily Fishing Bands Must be Purchased by 6AM When Fishing Overnight
(Permitted Seasonally)
After dark, all park visitors must purchase a fishing band, fishing or not.
Nearby Places of Interest