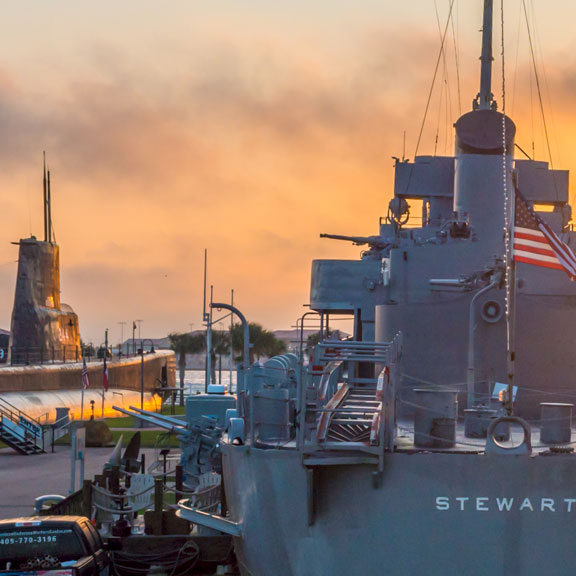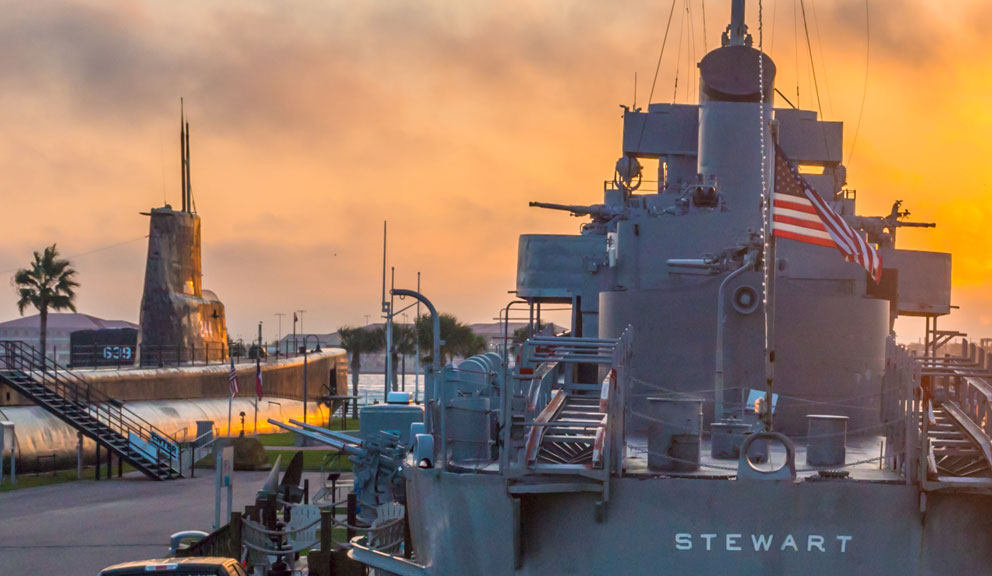 About
Visit the Galveston Naval Museum and immerse yourself in its National Heritage. Take your time exploring these historic WWII vessels on a self-guided tour or with one of the museum's tour guides. Capture the experience as a predator patrolling underwater in the Pacific or as the protector of Allied forces in the North Atlantic. Gain a unique memory of being on the USS Cavalla, a World War II submarine that sank a Japanese aircraft carrier involved in the Pearl Harbor attacks, or the USS Stewart, the only Edsall-class destroyer escort preserved in the United States.
You can experience the history, mystery, and sacrifices of the crews standing watch on these WWII fighting vessels.
Hours
Monday: 9:00AM – 5:00PM
Tuesday: 9:00AM – 5:00PM
Wednesday: 9:00AM – 5:00PM
Thursday: 9:00AM – 5:00PM
Friday: 9:00AM – 5:00PM
Saturday: 9:00AM – 5:00PM
Sunday: 9:00AM – 5:00PM
Open Thanksgiving, Christmas Eve, New Year's Eve, and New Year's Day. Hours are subject to change.
Admission
Adult: $13
Senior 65+: $10
Veteran (with valid ID): $7
Active Military (with valid ID): Free
Child (5-11): $8
Groups (15 or more with advanced reservation): $6
Parking
$6 per car. Seawolf Park staff can provide rates for other vehicle types. Free parking for Veterans with disabilities and City of Galveston Residents.
General
Group Sleepover Visits
Spring and Summer Camps
Birthday Parties / Day Camps
Military & Special Ceremonies
History
In 1971, USS Cavalla (SS-244) was transferred from the US Navy to the US Submarine Veterans of World War II, Texas (SubVets) and towed to its current berth at Seawolf Park. Seawolf Park was named for the submarine and crew of the USS Seawolf (SS-197) which was lost at sea during WWII. Three years later, the USS Stewart (DE-238) joined USS Cavalla to create a unique pair of warfighting vessels – Predator and Protector. Since 1998, the Cavalla Historical Foundation assumed oversight of the Galveston Naval Museum, formerly the American Undersea Warfare Center and its mission to restore, maintain and operate USS Cavalla, USS Stewart, the sail of the USS Tautog (SSN-639) and the conning tower of the USS Carp (SS-338). The American Undersea Warfare Center became known as the Galveston Naval Museum in 2018.
The USS Cavalla is best know as the "Avenger of Pearl Harbor" sinking the Japanese Aircraft Carrier, Shokaku, a veteran of the Pearl Harbor attack. This action earned the Cavalla the prestigious Presidential Unit Citation.
The Cavalla has been in Galveston for almost 50 years, serving as a museum ship on Seawolf Park since 1971. Long after her military service to her country, she continues to serve as an educational site for the young and young at heart to remember and learn about WWII and American Naval History.
The USS Stewart began her service operating out of Miami as a "school ship" training student officers.
She escorted President Roosevelt in the presidential yacht down the Potomac River to rendezvous with USS Iowa in the Chesapeake Bay for his mission to Casablanca and Tehran. In 1944, she commenced North Atlantic convoy operations.
Nearby Places of Interest