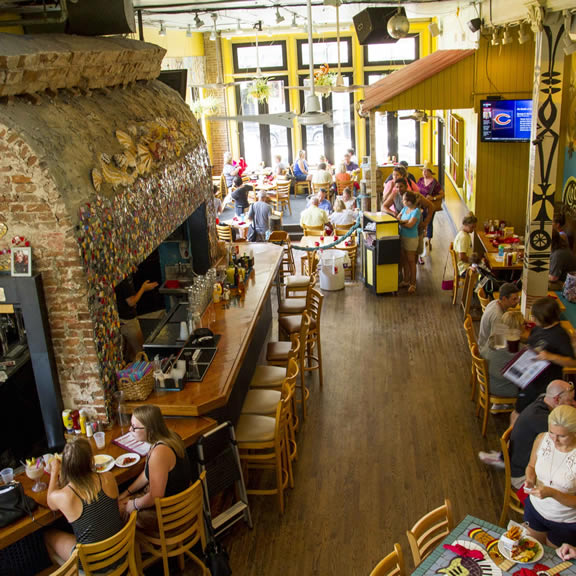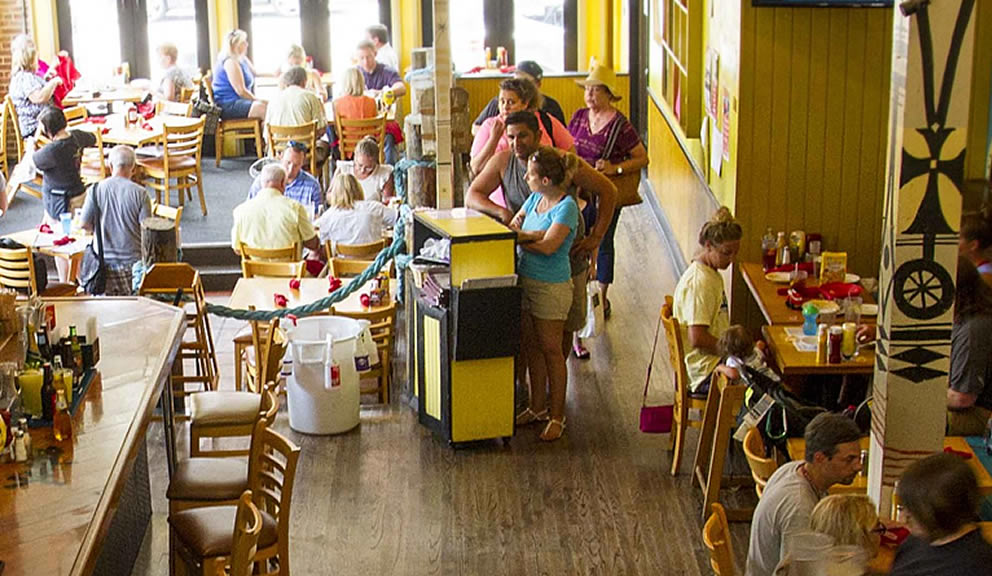 Yaga's Cafe and Bar
2314 Strand Street, Galveston, TX (Directions) | Phone: (409) 762-6676 | Website
About
From sandwiches to hot-from-the-oven pizzas to weekend live entertainment to the jammin' outdoor patio, Yaga's Cafe and Bar is the place to go when looking for Jamaican-style good times. Yaga's Cafe is conveniently located at the corner of 23rd and Strand, steps from Saengerfest Park, museums, art galleries, and The Texas Cruise Ship Terminal.
Hours
Monday: 11:00 AM – 8:00 PM
Tuesday: 11:00 AM – 8:00 PM
Wednesday: 11:00 AM – 8:00 PM
Thursday: 11:00 AM – 8:00 PM
Friday: 11:00 AM – 2:00 AM
Saturday: 11:00 AM – 2:00 AM
Sunday: 11:00 AM – 8:00 PM
Hours are subject to change.
General
Lunch & Dinner Daily
Casual
Music on Weekends
Full Bar
Outdoor Seating
Latest Tweets
Menus
Yagatizers
CRAB CAKES
crab with roasted red pepper cumin sauce & balsamic essence
9.99
CRAWFISH RISOTTO CROQUETTE
saffron risotto, crawfish, remoulade sauce
8.69
SEAFOOD FLAUTAS
shrimp, crab & crawfish rolled in a flour tortilla
9.49
FRIED ZUCHINNI
parmesan-crusted & lightly fried
5.99
CHIPS 'N QUESO
house-made queso served with tortilla chips
5.99
QUESO SUPREMO
house-made queso with fajita beef, guacamole, served with tortilla chips
9.99
JALAPEÑO BITES
sliced jalapeños fried to a golden-brown, served with ranch dressing
6.29
QUESADILLA
grilled chicken or beef and jack cheese between two flour tortillas
chicken 7.49 beef 9.50
MAUI WOWIE WINGS
fuego/caliente/niño/bbq/teriyaki
7.49 (10) 11.99 (16) 16.99 (25)
SHRIMP TEJAS
bacon-wrapped shrimp with jalapeño-cheese sauce, served over polenta with a bbq drizzle
14.99
Fresh Salads
MANGO CAJUN SALMON
mixed greens, blackened salmon, tomatoes, almonds & mango vinaigrette
9.99
FIESTA SALAD
black bean and corn salsa fresca served with rice
6.99
GRILLED CHICKEN
mixed greens, marinated and grilled chicken, tomato, carrot, celery, jack & cheddar cheeses
7.99
STRAWBERRY CIDER
mixed greens, grilled granny smith apples, strawberries, candied pecans, blue cheese & apple cider-brown sugar vinaigrette
7.99
CAESAR SALAD W/ CHICKEN
green-leaf with anchovies, croûtons & parmesan dressing
7.99
RASTA PASTA
greens, shrimp, crab, rotini pasta salad on mixed greens
7.99
TARRAGON CHICKEN
chicken salad with an avocado twist on mixed greens
7.99
THE GREEK
greens, black olives, red onion, cucumber, bell pepper, feta cheese & Greek vinaigrette
6.99
Soul Soups
TORTILLA SOUP
chicken, tortilla chips, jack cheese, pico de Gallo
4.25 – 7.59
TEXAN CHILI
Texas-raised ground chuck
4.25 – 7.59
TEXAS-BEST, AWARD WINNING GUMBO
Tasso Ham & Wild Texas gulf shrimp
4.25 – 7.59
Healthy Options
GREEK BURGER SALAD
turkey patty served on a bed of mixed greens
9.00
SKINNY TURKEY
turkey burger with special spices, served with broccoli
8.59
QUIN-WOW BOWL
quinoa, kale, zucchini, artichoke heart, grape tomato, kalamata olives, pecans & balsamic glaze
8.99
SALMON & BROCCOLI
super-food! grilled salmon & steamed broccoli
9.00
CHICKEN & BROCCOLI
power up! grilled chicken & steamed broccoli
9.00
BURRITO BOWL
grilled chicken mixed with our black bean and corn salsa fresca, rice vinegar
9.00
Burgers
Served with your choice of a side
YAGA BURGER
1/2 Ib patty with lettuce, tomato & pickle
7.99
DEATH BURGER
1/2 Ib patty, bacon, mushrooms, jalapeños, chili, cheese, lettuce, tomato, pickle
10.49
TURKEY BURGER
ground turkey, secret spices, pickle, lettuce & tomato
8.99
BREAKFAST BURGER
10.49
KELLI'S VEGGIE BURGER
eggplant patty served on a bun or over Spanish rice
7.99
SLIDERS (3)
100% Angus beef mini burgers, sweet n' spicy pickles, and honey bbq sauce
8.99
Sandwiches
Served with your choice of a side
SMOKED TURKEY
hickory-smoked turkey breast, lettuce & tomato
6.99
CLUB
ham, turkey, bacon, Swiss cheese, lettuce & tomato
7.49
FRIED CHICKEN CLUB
swiss cheese, bacon, lettuce, tomato, honey mustard sauce on the side
8.99
SHRIMP PO' BOY
medium, tailless fried Gulf shrimp, lettuce & tomato
9.99
CUBAN PANINI
fire-roasted pork , ham, Swiss cheese & sweet n' spicy pickles, dijon mustard aoili
8.49
BLACKENED MAHI TACOS (3)
corn tortillas, wild-caught mahi mahi, cilantro, cabbage, sambal creme fraiche, rice & beans
11.99
GRILLED SALMON
jalapeño bacon, dijon aoili, lettuce
10.99
SOUTHWEST BURRITO
chopped chicken, black bean and corn salsa fresca
9.99
Chef Specials
CHIPOTLE-CINNAMON SALMON
grilled mixed veggies, white rice, mango salsa
13.99
ZIGGY'S PEPPERED SHRIMP
8 Gulf shrimp sautéed in hot n' spicy butta, with your choice of two sides
14.99
CHICKEN PEPPERONI
served over conchigliette pasta with a tomato cream sauce
9.99
ROASTED JERK CHICKEN
white rice, pineapple, corn & black bean salsa
11.99
COCONUT SHRIMP
sweet coconut shrimp with teriyaki Asian vegetables, sticky rice, peanut-curry drizzle
11.99
SHRIMP BURGER
8 oz. shrimp patty on a bed of southwest polenta, topped with avocado, pico de gallo & queso
10.99
MOUNTAIN OF SHRIMP
10 grilled or fried gulf shrimp with your choice of two sides
15.99
FUNKY FAJITAS
served with barracho beans & rice
Chicken- 9.99 / Beef +2.50 / Shrimp +5.25
Hand Tossed Pizzas
PEPPERONI CLASSIC
pepperoni & mozzarella cheese
10.99 – 13.99
TOMATO BASIL
fresh basil, sliced tomato, olive oil, Italian seasoning & mozzarella
10.99 – 13.99
MEAT LOVERS
pepperoni, bacon, ham & sausage
11.99 – 14.99
BBQ CHICKEN
chicken, jalapeño, red onion, cilantro, monterey jack cheese & bbq sauce
10.99 – 13.99
OHANA SURFER'S PARADISE
ham, pineapple & mozzarella
10.99 – 13.99
ROASTED GARLIC
chicken, roasted garlic, olive oil & mozzarella
10.99-13.99
MEDITERRANEAN
pepperoncini, artichoke heart, red onion, tomato, feta, kalamata olives & mozzarella
11.99 – 14.99
WHITE PIZZA
fresh spinach, mozzarella, feta & alfredo sauce
10.99 – 13.99
Lil Rastas
For Kids Under 48 Inches Tall, All Plates Served With Your Choice of Mandarin Oranges or French Fries.
Grilled Cheese
4.75
Fried Shrimp
5.25
Corn Dog
4.75
Chicken Fingers
4.75
Kids Burger
2 mini-burgers
4.75
Sides
French Fries
Cajun Potatoes
Small Salad
Vegetable of the Decade
Sweet Potato Tots
06.01.19
Brunch is served Saturday & Sunday, 11am – 2pm
Entrees
BANANAS FOSTER FRENCH TOAST
bananas sautéed with butter and brown sugar + delgazed with rum and orange juice served over French Toast
8.99
BOUDIN BENEDICT
fried egg + boudin ball + potatoes + bacon + cajun hollandaise
8.99
HEARTY HASH BOWL
pan potatoes + spinach + monterey jack cheese + bacon +fried egg + avocado + tortilla chips + chipotle seasoning + pico de gallo + cilantro
7.99
THE CHUCKWAGON
charro beans + pulled pork + fried eggs + chipotle salsa + pico de gallo + avocado
7.99
SEAFOOD FRITTATA
shrimp + crab meat + crawfish
10.99
BEIGNETS
5 fluffy pastries topped with powdered sugar
5.99
Drinks
MIMOSA CARAFES
9
MIMOSAS
2
BLOODY MARYS
3
06.01.19
Meeting Space
Facility Buyout: Yes
Max Facility Reception: 350
Max Banquet: 88
Max Reception: 100
Max Facility Banquet: 250
Private Rooms: Yes
Nearby Places of Interest