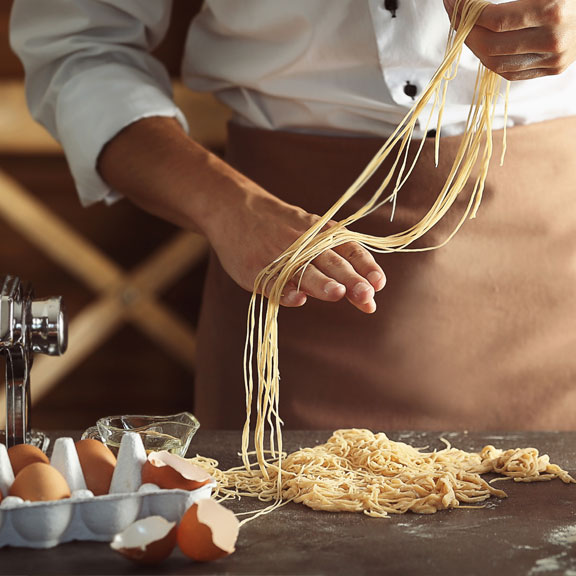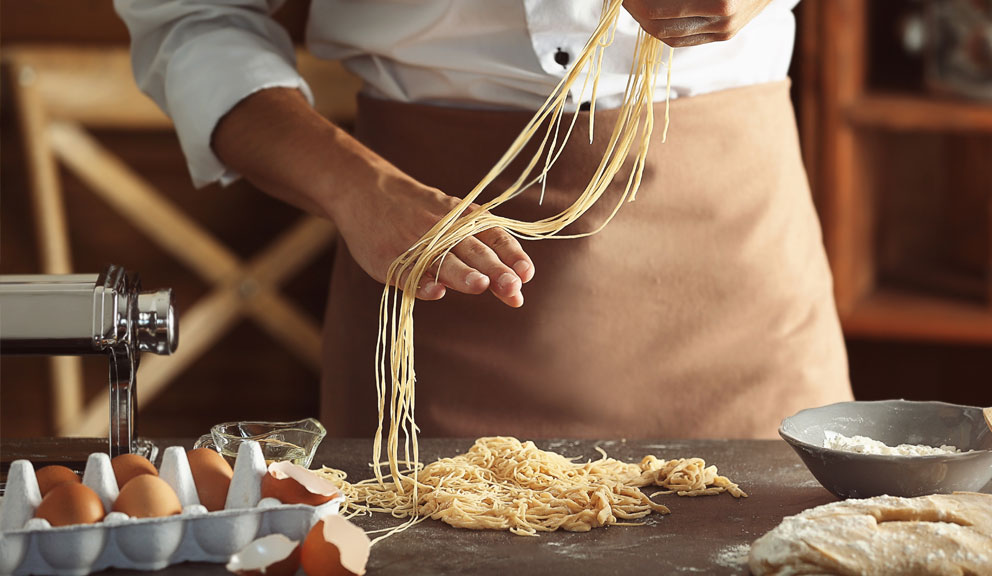 About
Trattoria La Vigna is your very own little slice of Italy in downtown Galveston. The eatery offers delicious lunch specials, fresh pasta made daily, homemade desserts, and much more! ​
Hours
Monday: 11:00 AM – 9:00 PM
Tuesday: 11:00 AM – 9:00 PM
Wednesday: 11:00 AM – 9:00 PM
Thursday: 11:00 AM – 9:00 PM
Friday: 11:00 AM – 10:00 PM
Saturday: 12:00 – 10:00 PM
Sunday: Closed
Hours are subject to change.
Book Reservation Online

General
Classic Italian Cuisine
Casual
Fresh Pasta Made Daily
Located Steps from The Grand 1894 Opera House
Winner of Open Table's Diners' Choice Award
Menus
Galveston Restaurant Week: Dinner
$35 Plus Tax
1st Course (Choose One)
SALMON CARPACCIO
Smoked salmon, arugula, capers, red onions
GRAPE TOMATO SALAD
Grape tomato, Red onions, Black and green olives, oregano, topped with our house made vinaigrette.
2nd Course (Choose One)
MUSHROOM RAVIOLI
Ravioli Stuffed with mushroom, spinach and parmigiana cheese, sauteed in a mushroom cream sauce
PORK OSSOBUCO
Baked Pork Ossobuco, topped with our sauce served on a bed of baby lentils
CHICKEN CAPRESE
Sautéed chicken topped with fresh tomato, mozzarella and basil served with a side of bacon roasted potatoes
3rd Course
Lunch Specials
Substitute Fresh pasta or gluten free pasta for 4; Substitute any sauce for 2; One Meatball 2; Side of Sausage 4
LEMON CHICKEN
Chicken breast in a lemon sauce with a side of pasta or vegetables
10.99
CHICKEN CACCIATORE
Chicken breast in marinara sauce with red bell peppers, onions, mushrooms and olives with a side of pasta
10.99
CHICKEN FETTUCINE ALFREDO
Fettucini​ topped with Alfredo sauce and grilled chicken
10.99
CHICKEN PARMESAN
Breaded chicken breast topped with marinara, mozzarella and parmesan cheese
10.99
PESCE FRITTO
Fried cod fish served with your choice of pasta or vegetables
10.99
PORK MILANESE
Breaded pork cutlet served with pasta and marinara sauce or vegetables
10.99
SPAGHETTI WITH HOMEMADE ITALIAN SAUSAGE
pasta with sausage in marinara sauce
10.99
SPAGHETTI WITH MEATBALLS
10.99
LASAGNA WITH MEAT SAUCE
10.99
VEGETARIAN LASAGNA
with eggplant
10.99
BEEF TORTELLINI
Sauteed with mushrooms and peas in a light cream sauce
10.99
MEATBALL PLATE
4 meatballs with marinara sauce and side of bread
10.99
PASTA PRIMAVERA
Pasta with broccoli, cauliflower, mushrooms, zucchini, red bell peppers and garlic and oil
10.99
EGGPLANT PARMESAN
Sliced eggplant with melted mozzarella, parmigiano cheese with a side of pasta in a marinara sauce
10.99
Salads
HOUSE SALAD
lettuce, tomato, onion, olives, topped with croutons and your choice of salmon, chicken or shrimp with homemade Italian Dressing
10.99
CAPRESE SALAD
Slice mozzarella, tomato, basil, balsamic vinegar and olive oil
10.99
06.17.19
Appetizers
CALAMARI FRITTI
Served with marinara sauce
9
MUSSELS ALLA MARINARA
Marinated in a light marinara sauce
12
ITALIAN ANTIPASTO
Assorted​ Italian cheese, meats, and olives
13
CAPRESE
Tomatoes and fresh mozzarella, topped with extra virgin olive oil, balsamic vinegar, and basil
11
MEDITERRANEAN STYLE OCTOPUS
Dressed with garlic, olive oil, and red peppers
11
Soups & Salads
SOUP OF THE DAY
7
GRILLED CHICKEN SALAD
Grilled chicken breast on a bed of lettuce, tomato, red onion, and olive
10
HOUSE SALAD
Lettuce, tomato, red onion, croutons, and olives
7
CAESAR SALAD
Romaine lettuce, Caesar dressing, croutons, topped with parmesan cheese
7
Primi
SPAGHETTI ALLA CONTADINA
Spaghetti with a sauce made with fresh tomatoes, garlic, and basil
9
LINGUINI AND CLAM SAUCE
Served with either white sauce (garlic, oil, and parsley) or red sauce (garlic, oil, parsley, and tomato)
18
VEGETARIAN LASAGNA
Home made layering noodles, eggplant, tomato sauce, and mozzarella
12
LASAGNA WITH MEAT SAUCE
Layered noodles, meat sauce, besciamella, mozzarella, and parmesan
14
RAVIOLI DI PESCE
Home made crab and cuttle fish stuffed ravioli with a light marinara sauce
18
TAGLIATELLE ALLA BOLOGNESE
Home made tagliatelle pasta made with a ragu of beef, carrots, and onion
15
SEAFOOD RISOTTO
Risotto​ with clams, mussels, and shrimp
18
RAVIOLI WITH A MUSHROOM CREAM SAUCE
Home made ricotta and spinach stuffed ravioli served with a mushroom cream sauce
18
Secondi
Beef
VEAL SCALOPPINI AI FUNGHI
Veal​ filet served in a mushroom sauce served with homemade pasta
16
RIBEYE STEAK
Served with your choice of spinach, asparagus, or mashed potato
25
OSSO BUCCO
Served with saffron risotto
28
LOIN OR COSTOLETTA DI VEAL 16OZ ALLA GRIGLIA
Veal grilled with a side of vegetables
36
PORK SAUSAGE AND POLENTA
18
PORK TENDERLOIN
Grilled in rosemary marinade and served with sauteed potatoes
18
Chicken
CHICKEN PARMESAN
Breaded chicken breast topped with tomato sauce, mozzarella, and parmesan cheese
15
POLLO ALLA GRIGLIA
Marinated chicken breast with grilled vegetables
15
Seafood
ZUPPA DI PESCE
Mussels, clams, and fish in marinara sauce served with homemade pasta
28
FRITTO MISTO
Fried shrimp, fish, and calamari served with fried vegetables
24
SPIEDINI DI GAMBERI ALLA GRIGLIA
Gulf shrimp marinated and grilled
24
GRILLED SALMON
Served with grilled zucchini and asparagus
24
SHRIMP SCAMPI
Shrimp in a light wine sauce served with seasonal vegetables
21
CHILEAN SEA BASS
Served​ with cherry tomato sauce and a side of homemade pasta
32
Desserts
TIRAMISU
6.50
CANNOLI
6.50
06.17.19
Nearby Places of Interest