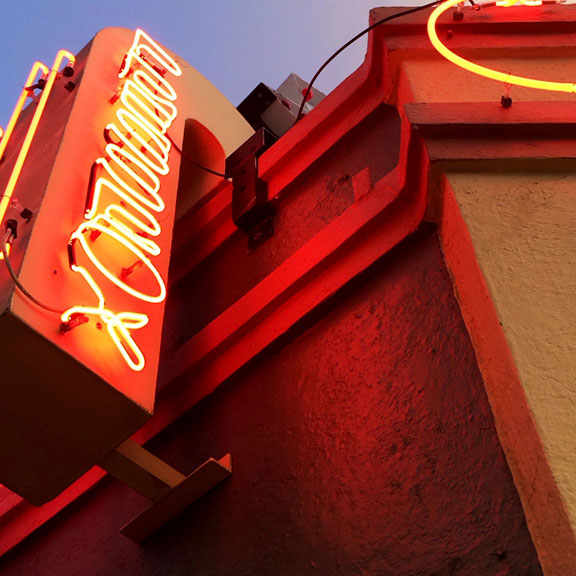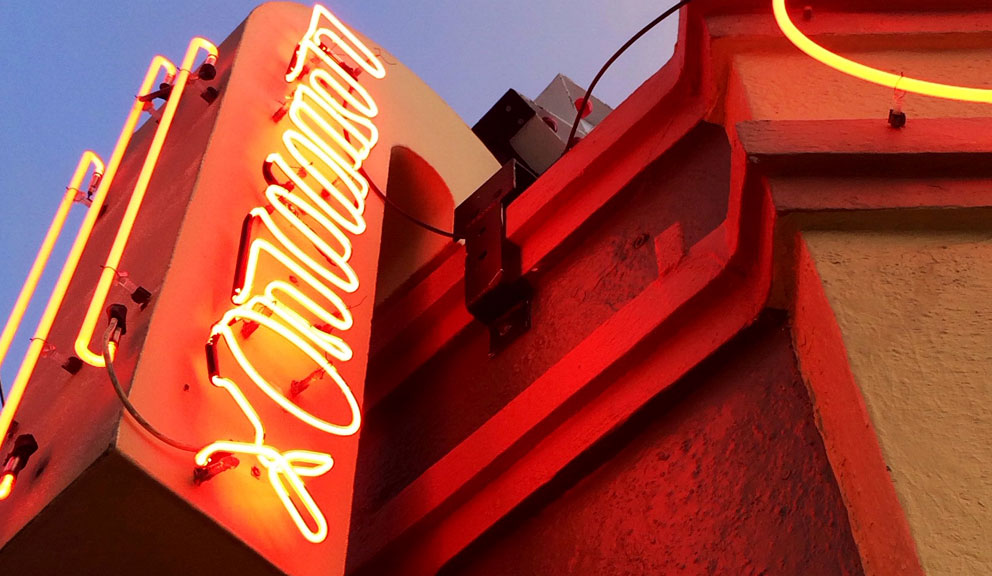 About
A favorite hangout among locals, The Press Box  is a sports bar & eatery known for its nachos, wings, burgers, sandwiches, specials, and ice-cold beer.  Lunch specials are offered weekdays.
Hours
Monday: 11:00AM – 12:00AM
Tuesday: 11:00AM – 12:00AM
Wednesday: 11:00AM – 12:00AM
Thursday: 11:00AM – 12:00AM
Friday: 11:00AM – 12:00AM
Saturday: 11:00AM – 12:00AM
Sunday: 12:00PM – 12:00AM
The kitchen closes each weekday, 3pm to 5pm.
Hours are subject to change.
General
Casual
Weekday Lunch Specials
Outdoor Dining Available
Located in Postoffice Arts & Entertainment District
Menus
Starting Lineup
MOZZARELLA CHEESE STICKS
Served with marinara sauce
7.95
PRESS BOX NACHOS
Crispy corn tortillas topped with retried beans, seasoned beef, cheddar cheese, and jalapenos. Sprinkled with diced tomatoes and onions
Half order 7.95 | Full order 9.95
ROLLIE'S CHICKEN FINGERS
Golden chicken breast filets with ranch dressing for dipping
9.50
With French fries 10.50
CORN DOGS
Two corn dogs with choice of French fries, tots or chips.
7.95
TONY JALAPENO
Jalapeno peppers stuffed with cheddar cheese and served with ranch dressing
8.95
WARREN'S WINGS
Spicy​ and delicious wings served with ranch dressing
10.95
SOUTHWESTERN EGGROLLS
4 stuffed tortillas with chicken, black bean, corn, spinach, red peppers & jalapeños, deep fried. Served with chipotle ranch.
10.95
BLOOMING ONION
Our own flowering onion: batter dipped & fried. Served w/ your choice of dip. Served from 5pm to 10pm.
9.95
PEP RALLY PLATTER
I blooming onion, a sampling of our wings, stuffed jalapeno, chicken fingers, cheese sticks, French fries & gator tots. Served from 5pm to 10pm.
23.95
Warm Up
LONGHORN CHILI
A Texas tradition
Cup 4.75 | Bowl 7.95
FRITO PIE
With the works
7.95
Off Sides
FLYER'S FRIES
A generous portion of our "skins on" fries
5.95
TATOR TOTS
6.95
BAKED POTATO
With the works
5.25
DINNER SALAD
4.25
Dallas Green
THE TOSS
A garden-fresh tossed salad
6.95
WEDGED SALAD
Topped with bleu cheese dressing, minced tomatoes, purple onion crumbles, bleu cheese, & bacon crumbles
9.95
​
GRAND SLAM
The home run king of salads featuring: ham, turkey, cheddar cheese, cucumbers, & tomatoes piled atop a moundful of greens
10.95
"SAN DIEGO CHICKEN SALAD"
Sliced grilled chicken breast laid atop our tossed salad
11.95
Specialty Sandwiches
MUFFALLATTA
New Orleans style sandwich
9.95
FRENCH DIP
Thin sliced roast beef sandwich with aujus sauce
9.95
GRILLED CHEESE
Home style grilled cheese sandwich
6.50
BLT
Bacon, lettuce and tomatoes
8.75
HOT ITALIAN
Ham, salami, pepperoni and mozzarella cheese served on a hoagie
9.95
PRESS BOX CLUB
Thinly sliced ham, smoked turkey, American cheese, bacon, lettuce & tomato
10.95
THE ROCKET
Thinly sliced strips of sirloin with grilled onions, bell peppers,& swiss cheese served on a hoagie roll
10.95
​
​
REUBEN
Thinly sliced corned beef, topped with sauerkraut, cheese & our own special sauce
9.50
TURKEY MELT
Thinly​ sliced turkey with swiss on a hoagie roll
9.50
TUNA CROISSANT
Tuna salad on a toasted croissant
9.95
DOME DOG
Two of the famous dogs and chips
8.95
Half order 7.95
CONEY ISLAND DOG
Two​ of our jumbo dogs w/chili, onions, & cheddar cheese makes even James jealous
10.95
Half order 8.95
THE LARRY BIRD
Marinated​ charbroilcd chicken breast sandwich served with fries
10.95
Burgers
All burgers are 1/2 pound served on a fresh sesame seed bun with fries or tots
BEAR BURGER
Just the basics
8.95
CHEESEBURGER
Your choice of American, cheddar or swiss cheese
9.50
CHILI CHEESEBURGER
Smothered with chili and cheddar cheese
10.95
RYNESAND BURGER
Swiss cheese with avocado
10.95
​
​
MUSHROOM BURGER
Swiss cheese with sauteed mushrooms
10.95
TEXAS RANGER BURGER
Swiss cheese and bacon, covered with BBQ sauce
10.95
PATTIE MELT
Our great burger with swiss cheese. Bacon and grilled onions served on rye bread
10.95
06.27.19
Served 5pm to 10pm Monday through Saturday
Specialty Dishes
All steak entrees are served with salad, and your choice of baked potato, French fries or tots.
For you mushroom lovers, we have additional sauteed mushrooms available for only 4.95.
CHICKEN QUESADILLAS
Served with sour cream and salsa
10.95
BLACKENED CHICKEN
Boneless chicken breast blackened and served on a bed of mixed greens
10.95
RIBEYE
12 oz. Chargrilled to perfection
20.95
RIBEYE
16 oz. Chargrilled to perfection
24.95
PRIME RIB
12 oz. U.S. Choice Angus slow roasted with herbs & spices. Served with horseradish sauce and au jus.
19.95
PRIME RIB
16​ oz. U.S. Choice Angus slow roasted with herbs & spices. Served with horseradish sauce and au jus.
24.95
CHICKEN FRIED STEAK
10 oz. Hand breaded steak with country gravy
12.95
PORK CHOPS
Thick center cut pork chop grilled to perfection
15.95
CHICKEN FRIED CHICKEN
8 oz. Chicken breast hand breaded with country gravy
12.95
FRIED CATFISH
10 oz. Catfish filet hand breaded
12.95
BLACKENED CATFISH
10 oz. Catfish filet blackened
12.95
Dessert
New York Style Cheesecake
5
​
06.28.19
Nearby Places of Interest