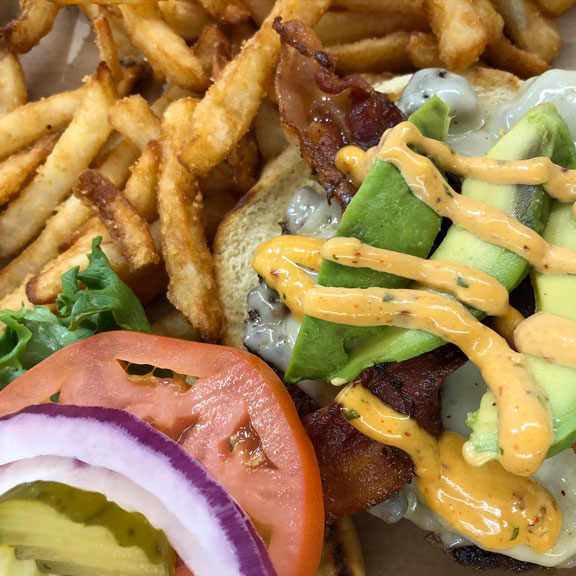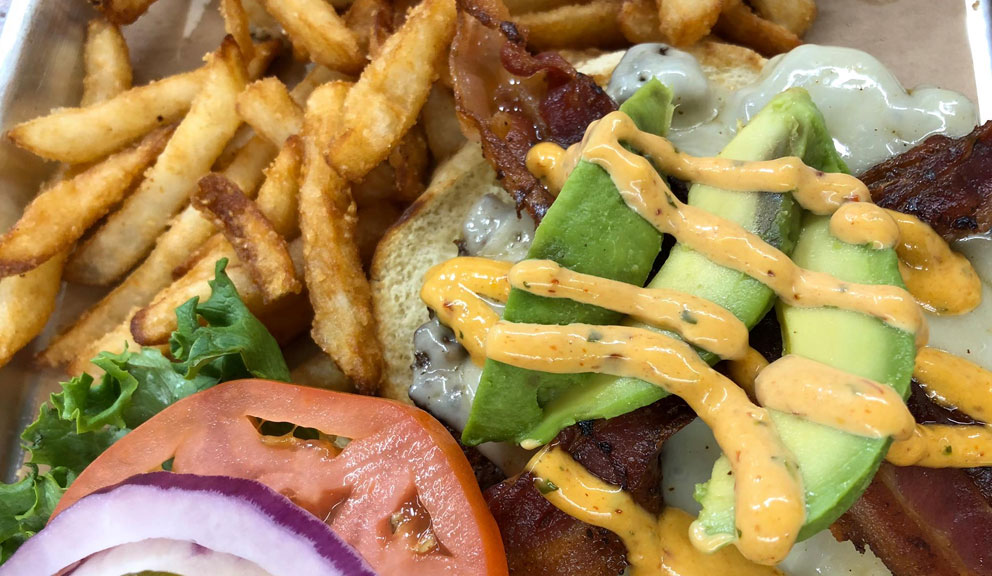 About
Shark Shack is wildly popular for its fresh seafood, delicious burgers & fun nightlife. Located just one block from the cruise terminals, Shark Shack offers daily deals on food and drinks, and is a local favorite for family fun and good times.
Hours
Monday: Closed
Tuesday: 11:00AM – 9:00PM
Wednesday: 11:00AM – 9:00PM
Thursday: 11:00AM – 9:00PM
Friday: 11:00AM – 10:00PM
Saturday: 11:00AM – 10:00PM
Sunday: 11:00AM – 9:00PM
Hours are subject to change.
General
Located on The Strand, Steps from the Cruise Terminals
Casual
Daily Specials
Full Bar
Great for Private Gatherings
Latest Tweets
Menus
Starters
KILLER QUESO DIP
w/ salsa & chips
7
FRIED GREEN BEANS
w/ ranch dressing
7
FRIED PICKLES
w/ ranch dressing
7
FRIED CHEESE
w/ marinara sauce
8
CAJUN SHRIMP FONDUE
sauteed shrimp in cheesy sauce w/ mushrooms, served w/ garlic bread
12
DEEP FRIED CALAMARI
w/ marinara & horseradish cream sauce
10
DRUNKEN BONELESS WINGS
Sriracha/sweet chili, buffalo or BBQ sauce
10
SHARK BITES
5 or 8 cheese-stuffed shrimp wrapped in bacon, fried & bbq brushed
5: 11 | 8: 17
Burgers, Hot Dogs, & Sandwiches
served w/ lettuce, tomato, onions, pickles & fries or chips. EXTRAS: avocado or bacon +$1.50;
swiss, cheddar, pepper jack or queso +$1.50;
jalapenos +$.75
BASIC SHACK BURGER
choice of mayo, mustard and/or ketchup
8.50
TEXAS BBQ BURGER
bbq sauce, cheddar, jalapenos & fried onion strings
10.50
CALI BEACH BURGER
w/ sliced acovado, bacon, swiss & chipotle mayo
11.50
TRUFFLE BURGER
truffle aioli with balsamic-glazed mushrooms
13
BIG KAHUNA HOT DOG
loaded w/ chilli, cheddar, relish, onions, pickled jalapenos & chips
9.50
GRILLED CHICKEN SANDWICH
w/ bacon, pepper jack & sriracha mayo
10
BLT TRIPLE DECKER SANDWICH
triple-decker sandwich, served with applewood-smoked bacon, lettuce, tomatoes & chipotle mayo
10
SHRIMP OR FISH PO-BOY
lettuce, tomato w/tartar or cocktail sauce
12
Seafood Specialties
Add 4 grilled or fried shrimp to any entree +$6
BAJA FISH OR SHRIMP TACOS
broiled, blackened or fried tilapia or shrimp topped w/ red cabbage, jicama, cilantro, baja sauce, grilled veggies & poblano rice
11.50
TEXAS RED FISH TACOS
broiled or blackened, topped w/ chipotle coleslaw & jack cheese
14
ENGLISH FISH & CHIPS
beer battered cod served w/ fries, tartar & malt vinegar
15
COCONUT ENCRUSTED SHRIMP
w/ Hawaiian pineapple plum sauce & fries
15
8 OR 12 FRIED SHRIMP (GRILLED)
8 or 12 shrimp w/ choice of cocktail sauce or tartar & fries
8: 14 | 12: 21
STUFFED SHRIMP
4 fried or grilled stuffed shrimp w/ coleslaw & fries or grilled veggies and poblano rice
17
FISH & SHRIMP COMBO
broiled or blackened Tilapia w/ 6 grilled shrimp, veggies & poblano rice
17
MAMBO PARTY COMBO
bacon-wrapped shrimp, popcorn shrimp, fried cheese sticks, cajun shrimp fondue & toasted garlic bread
18.50
FRENCH QUARTER RED FISH
broiled or blackened, topped w/ shrimp in a spicy cream sauce, w/ veggies & poblano rice
22
SEAFOOD PLATTER
(fried or grilled) fresh fish of the day, shrimp & crab cake w/ coleslaw & fries or grilled veggies & poblano rice
28
Chicken / Steak / Pasta
TEXAS STYLE CHICKEN TENDERS
w/ Texas toast, applewood cream gravy or bbq sauce & fries
11
MARINATED GRILLED CHICKEN
chicken breast w/ white wine lemon-butter sauce, served w/ grilled veggies & garlic mashed potatoes
12.50
SHRIMP OR CHICKEN FETTUCCINE ALFREDO
blackened over pasta w/ mushrooms, tomatoes & green onions w/ garlic bread
13.50
CHICKEN IBIZA
Parmesan crusted chicken breast topped with artichoke hearts, spinach & mushrooms
14.50
NEW ORLEANS PASTA JAMBALAYA
penne pasta w/ spicy cajun cream sauce, shrimp, chicken, andouille sausage & bell peppers, served w/ garlic bread
15
GRILLED TOP SIRLOIN STEAK
8 oz. Angus beef topped w/ chipotle mushrooms & caramelized onions.
17
ADD 4 grilled or fried shrimp +$6
Salads
THE WEDGE
wedge of iceberg topped w/ Applewood smoked bacon, tomatoes, bleu cheese crumbles, bleu cheese dressing & balsamic drizzle
9
SHACK SALAD (GRILLED OR BLACKENED)
Chicken or Shrimp
mixed greens w/ diced tomatoes, cucumber, feta, candied walnuts & choice of dressings
13
SEAFOOD COBB SALAD
grilled shrimp & blue crab meat over mixed greens, bacon, tomatoes, avocado, boiled egg, bleu cheese crumbles & bleu cheese dressing
14
Soups & Sides
TRADITIONAL GUMBO
shrimp, seafood or chicken & sausage w/ poblano rice
small: 5.50 | big: 9
SOUL SHACK GUMBO
andouille sausage, poultry & Cajun seasonings w/ poblano rice
small: 6 | big: 9.50
GARLIC MASHED POTATOES OR SWEET POTATO FRIES
3.50
POBLANO RICE, GRILLED VEGGIES OR FRIES
3
CHILLI-CHEESE FRIES
6
SIDE SALAD
mixed greens, tomatoes, cucumbers w/ choice of dressing: raspberry vinaigrette, balsamic vinaigrette, bleu cheese or ranch
small: 4 | big: 8
06.21.19
Monday thru Friday 11am – 2pm. Always $10 or Less!
Lunch Choices
BIG KAHUNA HOT DOG
loaded w/ chili, cheddar, relish, onions, pickled jalapenos & chips
9.50
SHACK CHEESEBURGER
choice of mayo, mustard and/or ketchup, w/ fries
10
BROILED CHICKEN
Lunch Chicken breast topped with jack cheese, tomatoes, onions & bacon strips
9.50
SHRIMP OR CHICKEN ALFREDO LUNCH
Lunch portion of broiled or blackened chicken breast or shrimp, served over fettuccine with garlic bread
10
SHACK LUNCH SALAD W/ GRILLED CHICKEN
Mixed greens, tomatoes, cucumber, feta, candied walnuts & choice of dressings: raspberry vinaigrette, balsamic vinaigrette, bleu cheese or ranch
10
SHRIMP QUESADILLAS
Shrimp smothered in fondue sauce, cheddar, jack cheese, peppers w/ sour cream
10
LUNCH SHRIMP PLATTER
Lunch portion of seafood stuffed shrimp, grilled shrimp, fried shrimp w/ rice and & veggies
10
TORTILLA CRUSTED TILAPIA & GRILLED SHRIMP LUNCH
Broiled tilapia w/ grilled shrimp, lemon butter, poblano rice & veggies
10
Dessert
NEW YORK CHEESECAKE
topped w/ blueberry or strawberry sauce $8
06.21.19
Nearby Places of Interest