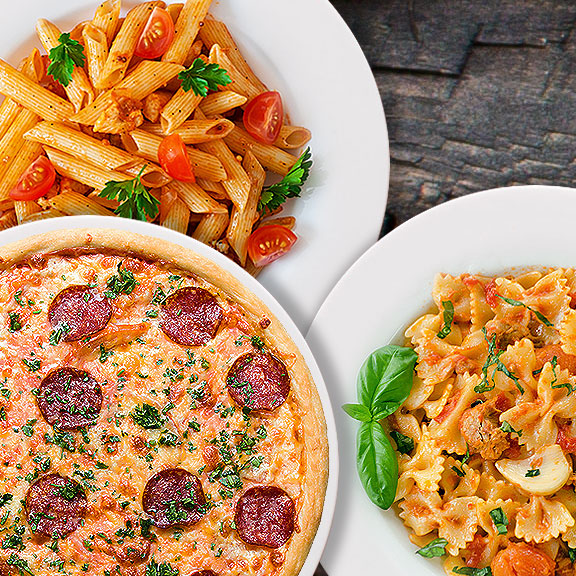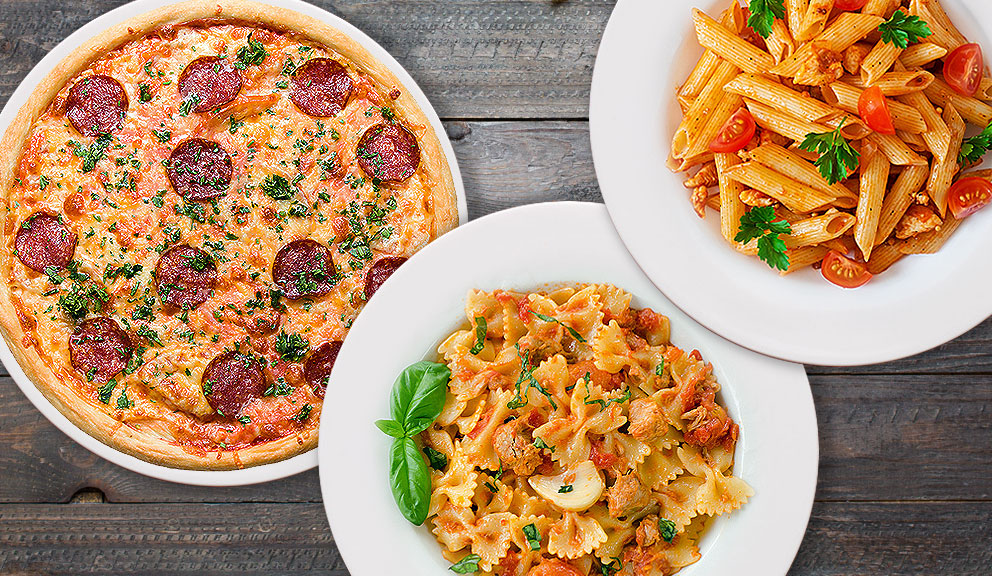 Gino's Italian Restaurant & Pizzeria
6124 Stewart Rd., Galveston, TX (Directions) | Phone: (409)762-6481
About
Family-owned and operated for over 30 years, Gino's offers a full menu of fine Italian cuisine and pizza, and is perfect for dine-in, take-out, or free delivery.
The vast menu features delicious pizzas, calzones, spaghetti dishes, piping-hot and cold sandwiches, homemade pasta dishes, and a host of chicken, veal, and shrimp dinners.
Full menu available for free delivery. Lunch served weekdays.
Monday: 11:00AM – 10:00PM
Tuesday: Closed
Wednesday: 11:00AM – 10:00PM
Thursday: 11:00AM – 10:00PM
Friday: 11:00AM – 11:00PM
Saturday: 11:00AM – 10:00PM
Sunday: 11:00AM – 10:00PM
Hours are subject to change.
General
Free Delivery
Catering for All Occasions
Menus
Lunch Menu Served Monday thru Friday 11am – 3pm
Entrees
NO. 1
SPAGHETTI WITH TOMATO SAUCE WITH GARLIC BREAD
6.75
NO. 2
SPAGHETTI WITH MEAT SAUCE WITH GARLIC BREAD
7.25
NO. 3
SPAGHETTI WITH MEATBALL
with garlic bread
7.75
NO. 4
SPAGHETTI WITH SAUSAGE
with garlic bread
7.75
NO. 5
HAM AND CHEESE SANDWICH
with French Fries
7.25
NO. 6
COMBINATION SANDWICH
with French Fries
7.55
NO. 7
MEATBALL SANDWICH
with French Fries
7.75
NO. 8
SAUSAGE SANDWICH
with French Fries
7.75
NO. 9
MEAT OR CHEESE RAVIOLI
with garlic bread
7.255
NO. 10
LASAGNA
with garlic bread
7.85
NO. 11
CHICKEN PARMIGIANA DINNER
with garlic bread
8.25
NO. 12
VEAL PARMIGIANA DINNER
with garlic bread
8.25
NO. 13
MANICOTTI
with garlic bread
7.29
NO. 14
BEEF CANNELLONI
with garlic bread
7.29
NO. 15
PHILLY CHEESE STEAK
with French Fries
8.55
NO. 16
FETTUCCINE ALFREDO
with garlic bread
8.05
NO. 17
CHICKEN FETTUCCINE ALFREDO
with garlic bread
9380
NO. 18
EGGPLANT DINNER
with garlic bread
9.05
NO. 19
BAKED ZITI
with garlic bread
7.75
11.29.19
Appetizers
FRIED ZUCCHINI
7.49
FRENCH FRIES
3.24
MINESTRONE SOUP
6.24
FRIED MUSHROOMS
7.49
FRIED MOZZARELLA CHEESE
7.49
FRIED CALAMARI
9.20
MUSSELS OF SICILY
10.49
SOUP, SALAD AND GARLIC BREAD
10.24
CHICKEN & RICE SOUP
6.24
LENTIL SOUP
6.24
LENTIL SOUP WITH PASTA
6.49
COMBO CHOICE OF 2
cheese, mushroom, zucchini, or calamari only
9.49
COMBO CHOICE OF 3
cheese, mushroom, zucchini, or calamari only
11.24
FRIED RAVIOLI
8.99
Salads
Salad Dressings include Thousand Island, Caesar, Blue Cheese, Ranch, French, Italian, & Creamy Italian
DINNER SALAD
3.25
CHEF SALAD
7.25
ANTIPASTO SALAD
9.25
CHICKEN SALAD
Breaded Chicken
10.50
CAESAR SALAD
9.99
Garlic Bread
SMALL
3 piece
1.99
LARGE
6 piece
3.25
SMALL
w/Cheese and Marinara Sauce
3.99
LARGE
w/Cheese and Marinara Sauce
4.99
Sandwiches
MEATBALLS W/CHEESE
8.75
Extra Cheese: 2.24
SAUSAGE W/CHEESE
8.75
Extra Cheese: 2.24
SAUSAGE W/CHEESE & BELL PEPPERS
9.49
SAUSAGE W/BELL PEPPERS ONLY
9.24
EGGPLANT PARMIGIANA
9.75
CHICKEN PARMIGIANA
9.75
VEAL PARMIGIANA
9.75
PHILLY CHEESE STEAK
Your choice: Bell Pepper & Onion or Mushroom & Onion
10.24
COMBINATION
8.24
HAM & CHEESE
7.49
SHRIMP PO-BOY WITH FRIES
10.24
Home Made Pasta
LASAGNA
13.25
BAKED ZITI
12.00
BAKED ZITI ALLA SICILIANA
13.25
CHEESE RAVIOLI
12.25
MEAT RAVIOLI
12.25
MANICOTTI
12.75
BEEF CANNELLONI
12.75
TORTELLINI ALLA PANNA
Meat or Cheese
13.25
TORTELLINI AL ZANO
Meat or Cheese
14.25
TORTELLINI AL RAGU
Meat or Cheese
13.25
TORTELLINI ALLA MICHELANGELO
14.25
TORTELLINI IN RED
Meat or Cheese
13.25
FETTUCCINE ALFREDO
13.25
CHICKEN FETTUCCINE ALFREDO
15.25
FETTUCCINE W/WHITE CLAM SAUCE
14.25
w/ Red Clam Sauce: 14.75
FETTUCCINE ALFREDO W/ SHRIMP
17.25
FETTUCCINE ALFREDO W/ CRAB MEAT
17.25
FETTUCCINE ALFREDO AL ROSSO
13.75
FETTUCCINE PORTO MIO
18.25
Spaghetti Dishes
All dishes come with garlic bread
SPAGHETTI W/TOMATO SAUCE
9.99
SPAGHETTI W/MEAT SAUCE
11.25
spaghetti w/ meatballs
12.25
Extra Meatballs (each): 1.99
SPAGHETTI MAMMA MIA
Chicken, mushrooms, sausage, meat ball, fresh garlic, red wine, and tomato sauce
15.99
SPAGHETTI W/MUSHROOM
12.25
SPAGHETTI W/SAUSAGE
12.49
SPAGHETTI W/GARLIC & OLIVE OIL
11.49
SPAGHETTI ALLA EMANUELE
14.25
SPAGHETTI CARBONARA
12.99
SPAGHETTI ALLA PESCATORA
19.75
Veal Dinners
All Dishes come with Spaghetti and Garlic Bread, add $1.50 with Salad
VEAL PICATA
16.99
VEAL PARMIGIANA
14.99
VEAL MARSALA
17.25
VEAL SCALOPPINI AL LIMONE
16.99
VEAL ROLLANTINI MARSALA
18.25
VEAL MILANESE
15.25
Chicken Dinners
All Dishes come with Spaghetti and Garlic Bread, add $1.50 with Salad
CHICKEN PARMIGIANA
14.99
CHICKEN ALL PANNA
16.75
CHICKEN MARSALA
17.25
CHICKEN ROLLATINI MARSALA
18.25
CHICKEN ALLA CACCIATORA
17.25
CHICKEN MILANESE
14.75
CHICKEN SCAMPI AL POMODORO
17.50
CHICKEN PICATA
16.99
CHICKEN SCALOPPINI AL LIMONE
16.50
Shrimp Dinners
All Dishes come with Spaghetti and Garlic Bread, add $1.50 with Salad
FRIED SHRIMP WITH FRENCH FRIES
18.50
SHRIMP ALL PANNA
17.99
SHRIMP SCALOPPINI AL LIMONE
17.99
SHRIMP SCAMPI AL POMODORO
18.99
SHRIMP PARMIGIANA
18.50
Combo Plates
Includes Garlic Bread. Add Salad to combinations for only $1.99
COMBO I
Lasagna, Eggplant Parmigiana, Spaghetti with Tomato Sauce
15.99
COMBO II
Lasagna, Beef Cannelloni, Meat Ravioli
16.25
COMBO III
Baked Zitti, Chicken Parmigiana, Cheese Ravioli
15.99
COMBO IV
Lasagna, Beef Cannelloni, Manicotti
16.25
COMBO V
Lasagna, Chicken Parmigiana, Fettuccine Alfredo
17.25
COMBO VI CUSTOMERS CHOICE
Any three of the above
18.2
Eggplant
EGGPLANT PARMIGIANA DINNER
16.25
Pizza
Available in 12″, 14″ 16″. Special ingredients: Pineapple, Garlic, Fresh Tomato, Eggplant, Ham, Ricotta
CHEESE
PEPPERONI
MUSHROOM
BLACK OLIVE
BELL PEPPER
BACON
ONION
HAMBURGER
SAUSAGE
CANADIAN BACON
GREEN OLIVE
JALAPENO
ANCHOVIES
EXTRA CHEESE
ALL MEAT
SPECIAL
VEGETARIAN
Calzone
CALZONE
Cheese & Sauce
9.49
additional toppings: 1.99
Desserts
AMARETTO CHEESECAKE
4.75
BLACK FOREST CAKE
5.50
BLACK FOREST CHEESECAKE
5.25
CANNOLI
4.25
CHOCOLATE CHEESECAKE
4.75
ITALIAN CREAM CAKE
5.50
LIMONCELLO MASCARPONE CAKE
5.50
NEW YORK PLAIN CHEESECAKE
4.75
NUTELLA CHEESECAKE
5.50
RUM CAKE
5.50
SPUMONI CAKE
4.75
STRAWBERRY CHEESECAKE
5.25
TIRAMISU
6.25
TRES LECHE CAKE
5.50
11.29.19
Nearby Places of Interest