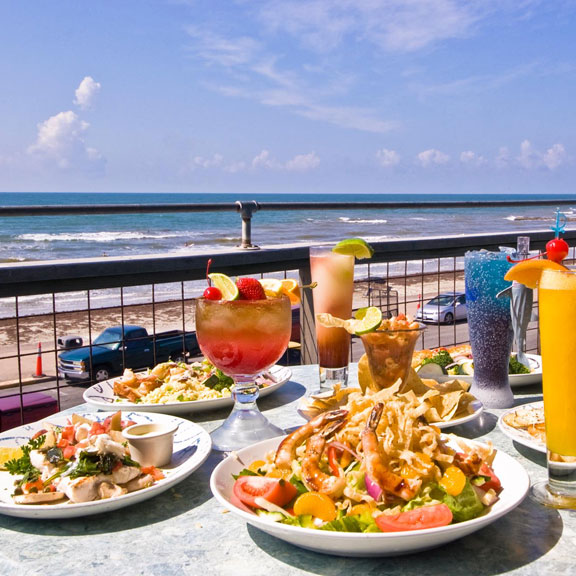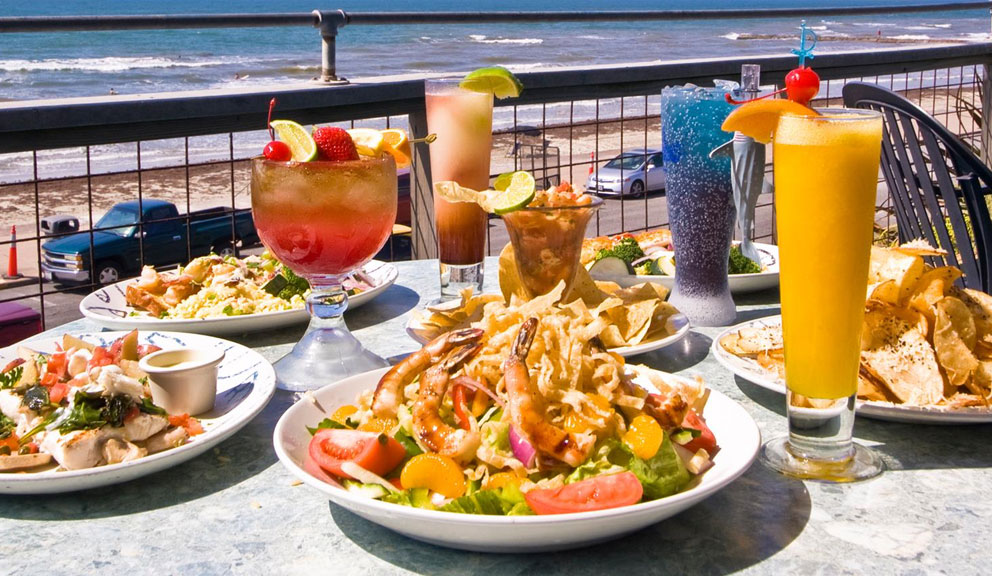 About
Fish Tales specializes in seafood straight from the Gulf of Mexico, as well as pastas, steaks, salads and more.
Hours
Monday: 11:00AM – 9:00PM
Tuesday: 11:00AM – 9:00PM
Wednesday: 11:00AM – 9:00PM
Thursday: 11:00AM – 9:00PM
Friday: 11:00AM – 10:00PM
Saturday: 11:00AM – 10:00PM
Sunday: 11:00AM – 9:00PM
Hours are subject to change.
Book Reservation Online

General
Casual
Gulf View Dining
Available for Private Events
Located Across the Street from Galveston Island Historic Pleasure Pier
Menus
Hot Bait
SHRIMP KISSES
Stuffed with pepper jack cheese,wrapped with bacon & fried
12.99
CHIPS & QUESO
Tortilla chips
8.99
SEAFOOD STUFFED JALAPEÑOS
Onion strings, ranch dressing
10.99
CALAMARI
Fried the right way… tender inside, crispy outside
10.99
SPINACH & ARTICHOKE DIP
Artichoke hearts, chopped spinach, poblano sauce, Parmesan & mozzarella cheese, tortilla chips
11.99
CRAB BALLS
Blue crabmeat & pepper jack cheese, deep fried
11.99
HOT TRIO
Crab Balls, Shrimp Kisses & Seafood
Stuffed Jalapeños, fried onions
19.99
Cold Bait
OYSTERS ON THE HALF SHELL
Available when in season (Not available for take-out)
1/2 Doz. 9.99 | Doz. 16.99
PEEL & EAT SHRIMP
A dozen big'uns, cocktail sauce
12.99
SEAFOOD CAMPECHANA
Shrimp, fish, calamari, pico de gallo, avocado, lime, clamato juice
11.99
SHRIMP COCKTAIL
10 large boiled shrimp, cocktail sauce
13.99
GRILLED RARE TUNA
Blackened, thinly sliced, cilantro slaw, soy sauce, pickled ginger
14.99
AVOCADO & SHRIMP DIP
Shrimp, avocado, pico de gallo, ranch dressing, tortilla chips
13.99
COLD TRIO
Seafood Campechana, Grilled Rare Tuna, Avocado & Shrimp Dip
24.99
Signature Salads
Add chicken or shrimp 5.99
GARDEN
Mixed greens, tomatoes, cucumbers, carrots, red cabbage
7.99
CLASSIC CAESAR
Romaine lettuce, Parmigiano-Reggiano, croutons
9.99
POSEIDON'S GREEK
Mixed greens, tomatoes, cucumbers, Kalamata olives, feta cheese, Greek dressing
11.99
GREAT BIG TUNA
Blackened & seared, mixed greens, Oriental vegetables, spicy Thai dressing
16.99
MARKET COBB
Mixed greens, tomatoes, bacon, avocado, hard boiled egg, blue cheese crumbles, tangy blue cheese dressing
16.99
Seawall Soups
SEAFOOD GUMBO
Fish, shrimp, oysters, andouille sausage
Cup 6.99 | Bowl 9.99
CLAM CHOWDER
Rich & hearty, clams, potatoes & bacon
Cup 6.99 | Bowl 9.99
Sandcastle Sandwiches & Stuff
Served with french fries. Add a cup of soup to any sandwich for just 4.99
CRISPY CHICKEN BLT
Fried chicken breast, pepper jack cheese, bacon, mayo
12.99
GILLIGAN'S GRILLED CHICKEN SANDWICH
Grilled chicken breast, cheddar cheese
11.99
FISH TALES BURGER
Two 4oz. patties cooked smash style with cheese
13.99
FISH TALES FAMOUS PO' BOYS
Choice of shrimp, fish, oysters or crawfish "tales," coleslaw
13.99
FISH TACOS
Grilled tilapia, chimichurri sauce, cilantro-lemon slaw, chipotle aioli, black beans, white rice. Fries not included.
17.99
FRIED FLOUNDER SANDWICH
Lettuce, tomato, red onion, coleslaw, tartar sauce
15.99
Fried Specialties
served with french fries & coleslaw
FISH-N-CHIPS
English style! Beer battered fish
18.99
GALVESTON BAY FRIED OYSTERS
Buttermilk cornmeal batter
19.99
CATFISH
Lightly fried
19.99
FISHERMAN'S CHOICE
Choice of two… shrimp, oysters or fish fillet
20.99
FLOUNDER STRIPS
Fried in crushed crackers, hushpuppies, tartar sauce
19.99
Simply Shrimp
FRIED
French fries, coleslaw
19.99
GRILLED OR BLACKENED
Rice pilaf, seasonal vegetables
18.99
COCONUT
Pineapple-plum dipping sauce, French fries, coleslaw
19.99
SCAMPI
Sautéed in garlic lemon butter, rice pilaf, seasonal vegetables
19.99
STOW-A-WAY STUFFED
Crabmeat stuffing, crawfish étouffée
19.99
NEW ORLEANS
Blackened with sausage, red bell peppers, mushrooms, Cajun sauce, white rice
19.99
STUFFED & CRISPY
Fried golden brown, French fries, coleslaw
18.99
Fresh Fish Your Way
Choose your favorite & have it your way: Blackened, broiled or pan sauteed. Served with rice pilaf & sauteed vegetables.
ATLANTIC SALMON
24.99
BAYOU CATFISH
19.99
TILAPIA
20.99
REDFISH
24.99
MAHI MAHI
24.99
RED SNAPPER
27.99
YELLOWFIN TUNA
24.99
Fresh Fish Our Way
BLACKENED CATFISH ÉTOUFFÉE
Rice pilaf, sautéed vegetables
23.99
RED SNAPPER PONTCHARTRAIN
Crawfish tails, white wine mushroom sauce, rice pilaf
29.99
GRILLED SALMON ROCKEFELLER
Shrimp & spinach cream sauce, penne pasta
27.99
REDFISH MARDI GRAS
Creole chipotle cream sauce, andouille sausage, shrimp, crawfish, poblanos, corn pico de gallo, white rice, sautéed vegetables
27.99
MAHI MAHI MATAGORDA
Crawfish, lemon butter wine sauce, capers, rice pilaf, vegetables
27.99
CARIBBEAN TUNA
Blackened with grilled shrimp, pineapple salsa, black beans, white rice
27.99
TILAPIA & CRAB STUFFED POBLANO
Shrimp & creamy poblano sauce, black beans, white rice
24.99
Hot Off the Grill
ROD-N-REEL RIBEYE
12 oz., served with a baked potato
33.99
CAPTAIN'S CHOICE TOP SIRLOIN
10 oz., served with a baked potato
25.99
STEAK-N-SHRIMP
10 oz. top sirloin steak, 5 jumbo shrimp (grilled or fried), baked potato
29.99
GILLIGAN'S GRILLED CHICKEN
Lemon butter, mashed potatoes
19.99
BUCCANEER BBQ RIBS
1 1/2 pounds, tangy BBQ sauce, French fries, coleslaw
23.99
RIBS & KISSES
1 pound of BBQ ribs, 3 Shrimp Kisses, French fries, coleslaw
23.99
CRAWDADDYS CRAWFISH ÉTOUFFÉE
A New Orleans favorite
17.99
BOILED CRAWFISH
Available when in season. By the pound.
Market
CRAWFISH 1/2 & 1/2
Fried & etouffee, white rice
20.99
ALASKAN SNOW CRAB
1 1/2 pounds of crab legs served with a baked potato
28.99 | BBQ style 30.99
Try One of Our Delicious Toppings
PONTCHARTRAIN
Sautéed crawfish tails, creamy white wine mushroom sauce
7.99
SHRIMP & CRAB
Grilled shrimp, lump crabmeat, lemon butter
7.99
ETOUFFEE
Jumbo crawfish tails
6.99
Plenty O' Pasta
PLEASURE PIER
Blackened shrimp, fettuccine Alfredo, mushrooms, green onions, tomatoes
18.99
MARDI GRAS
BBQ-grilled, bacon-wrapped shrimp, penne pasta, roasted poblano peppers, corn pico de gallo, chipotle sauce
19.99
PIRATES COVE
Blackened chicken, fettuccine, marinara, mushrooms, green onions
18.99
BOURBON STREET
Blackened shrimp, crab, andouille sausage, crawfish, Cajun cream sauce
19.99
Pick a Platter
BROILED TRIO
Jumbo shrimp, salmon, crab cake, lump crab sautéed in lemon butter, rice pilaf, sautéed vegetables
27.99
ULTIMATE SHRIMP
3 Kisses, 3 Coconut, 3 Luau, 3 Fried Shrimp, rice pilaf, French fries
26.99
FRIED SEAFOOd
Shrimp, oysters, fish fillet, crab balls, 2 Shrimp Kisses, one stuffed shrimp
26.99
Sides & Stuff
BAKED POTATO
Loaded 4.99 | Substitute 3.99
SAUTÉED VEGETABLES
2.99
FRENCH FRIES
2.99
RICE PILAF
2.99
COLESLAW
1.99
MASHED POTATOES
2.99
HUSHPUPPIES
4.99
SHRIMP KISSES (4)
7.99
SNOW CRAB
12.99
RIBS
9.99
SHRIMP SKEWER
Grilled or Fried
6.99
07.19.21
Nearby Places of Interest