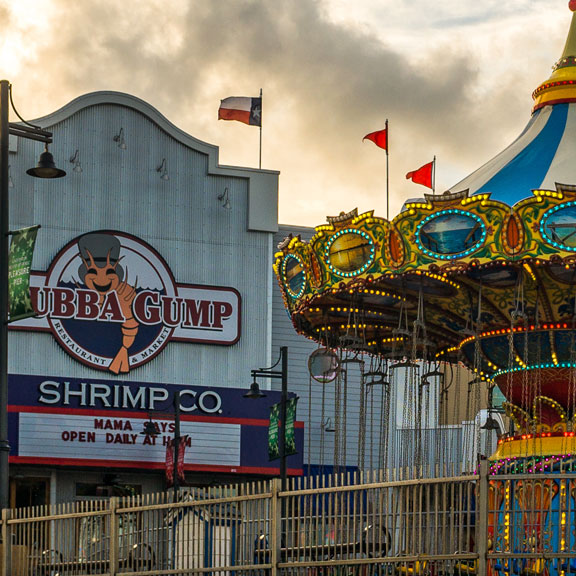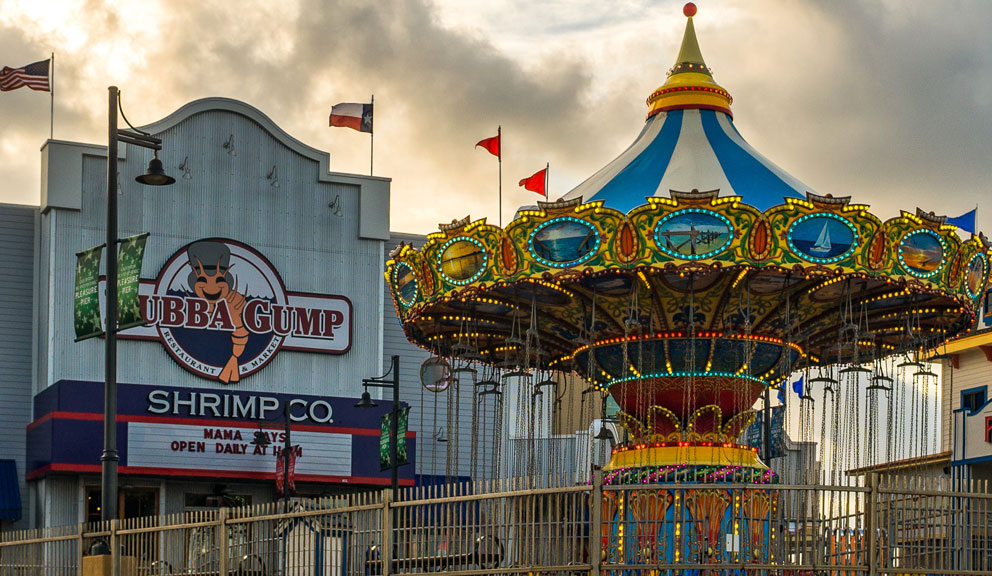 About
Bubba Gump's menu features shrimp, of course. But the company has won awards for its dixie-style baby back ribs and drink menu as well. Once you've had one of Bubba Gump's margaritas hand-shaken at your table, you're sure to be a fan.
Hours
Monday: 11:30 AM – 9:00 PM
Tuesday: 11:30 AM – 9:00 PM
Wednesday: 11:30 AM – 9:00 PM
Thursday: 11:30 AM – 9:00 PM
Friday: 11:00 AM – 10:00 PM
Saturday: 11:00 AM – 10:00 PM
Sunday: 11:00 AM – 9:00 PM
Hours are subject to change.
General
Casual
Gulf View Dining
Great for Groups & Families
Located on The Galveston Island Historic Pleasure Pier
Latest Tweets
Menus
Appetizers
MAMA GUMP'S GARLIC BREAD BASKET
Fresh baguette.
5.99
SHRIMP SHACK MAC & CHEESE
Shrimp, Cheddar and Monterey Jack Cheese, Elbow Pasta, Parmesan Topping.
11.99
SHRIMPER'S NET CATCH
Peel 'n' Eat Shrimp steamed in Beer.
Garlic or Cajun: 14.99 | Larger Portion Garlic or Cajun: 26.98
CHICKEN TENDERS
Choice of Ranch or Maker's Mark Bourbon Sauce.
10.99 | Snack Size: 7.99
CALAMARI
Fried Calamari, Roasted Red Bell Peppers, Pepperoncini, Cocktail Sauce, Tartar Sauce.
10.79
BUBBA'S FAR OUT DIP
Spinach, Artichokes, Monterey Jack Cheese, Tortilla Chips.
10.49 | Make it a Shrimp Dip 11.99 | Snack Size: 6.99
RUN ACROSS AMERICA SAMPLER
Fried Shrimp, Seafood Hush Pups, Chicken Tenders, Bubba's Far out Dip, Tortilla Chips.
17.99
Soups & Salads
CLASSIC CAESAR SALAD
Parmesan, Baked Croutons. 12.49
Add Grilled Chicken 3.00 | Add Cajun Shrimp 4.00
STRAWBERRY SUMMER SALAD
Mixed Greens, Grilled Chicken, Strawberries, Apples, Raspberry Vinaigrette, Feta Cheese, Glazed Pecans.
15.99
Substitute Shrimp 17.49
OLD FASHIONED NEW ENGLAND CLAM CHOWDER
Clams, Potatoes.
Cup 5.99 | Bowl 7.99
Handhelds
SHRIMP PO BOY
Shrimp, Lettuce, Tomato, Pickle, Mayo, Toasted Bun, Fries.
14.99
TEXAS CHICKEN SANDWICH
Grilled or Fried Chicken Breast, Bacon, Pepper Jack Cheese, Avocado, Toasted Bun, Fries. Cajun Grilled or Fried
13.99
1/2 LB. ALL-AMERICAN CHEESEBURGER
Served with fries.
13.99
Make it a BBQ Cheeseburger with Onion Rings for 1.00
BEYOND BURGER
Beyond Patty, Spring Mix, Tomato, Red Onion, Avocado, Fries.
16.49
$13 Lunch Menu
Available Monday thru Friday 11am – 3pm
ACCIDENTAL FISH AND SHRIMP
Pan-seared Flounder, steamed rice, grilled shrimp, lobster butter sauce.
SOUTHERN CHARMED FRIED SHRIMP
Fries and slaw served with cocktail and tartar sauce.
FRIED CHICKEN
Mashed potatoes, corn on the cob.
CHICKEN TENDERS
Fries and ranch dressing.
SOUP & SALAD COMBO
Caesar or House Salad, Cup of Chowder.
CAPTAIN'S FISH & CHIPS
Fries and slaw served with tartar sauce.
JENNY'S CATCH
Pan-seared Tilapia, mashed potatoes, spinach, lobster butter sauce.
From the Sea
MAKER'S MARK GLAZED SALMON
Flame-Grilled Salmon, Maker's Mark Bourbon Sauce, Sautéed Spinach, Steamed Rice.
21.99
CAPTAIN'S FISH & CHIPS
Fries, Tartar Sauce, Coleslaw.
22.49
SHRIMP NEW ORLEANS
Grilled Shrimp, Spicy New Orleans Sauce, Garlic Bread, Steamed Rice.
19.99
BOURBON ST. MAHI MAHI
Charbroiled Cajun Spiced Mahi Mahi, Bourbon Sauce, Grilled Shrimp, Mashed Potatoes.
21.99
20 FOR 20
20 Fried Shrimp, Cocktail, Tartar Sauce, Coleslaw.
20.00
DUMB LUCK COCONUT SHRIMP
Coconut Shrimp, Fries, Coleslaw, Cajun Marmalade.
19.99
FORREST'S SEAFOOD FEAST
Fish & Chips, Fried Shrimp, Seafood Hush Pups, Tartar and Cocktail Sauce.
22.99
SHRIMPER'S HEAVEN
Fried Shrimp, Coconut Shrimp, Tempura Shrimp.
22.99
"OF COURSE WE HAVE SCAMPI!"
Shrimp, Linguine, Lobster Butter Sauce, Parmesan Cheese, Garlic Bread.
19.99
GRILLED SEAFOOD TRIO
Shrimp New Orleans, Bourbon Flounder, Lobster Butter Shrimp, Steamed Rice, Broccoli.
22.99
SNOW CRAB BOIL
Snow Crab, Corn on the Cob, Red Potatoes. Garlic or Cajun:
28.99
From the Farm
LT. DAN'S SURF & TURF
Baby Back Ribs, Grilled Shrimp, Fries.
25.49
FORREST'S SURF & TURF
Boneless Ribeye, Grilled Shrimp, Mashed Potatoes, Onion Rings.
32.99
MAMA'S FRIED CHICKEN
Boneless Chicken Breast, Corn on the Cob, Mashed Potatoes and Gravy.
18.49
RIBEYE
12oz Boneless Ribeye, Mashed Potatoes, Broccoli.
29.99
DIXIE STYLE BABY BACK RIBS
Baby Back Ribs, BBQ Sauce, Coleslaw, Fries.
24.99 | Half Rack: 19.99
PING PONG CHICKEN PASTA
Sautéed Chicken Breast, Cream Sauce, Spinach, Grape Tomatoes, Parmesan Cheese, Linguine.
18.99
Sides
FRENCH FRIES
4.99
STEAMED RICE
3.29
MAC & CHEESE
6.99
ONION RINGS
5.99
MASHED POTATOES
3.99
STEAMED BROCCOLI
3.99
Desserts
CHOCOLATE CHIP COOKIE SUNDAE
Vanilla Ice Cream, Chocolate and Caramel Sauce, Peanuts, Whipped Cream.
10.49
CHEESECAKE
New York Style Cheesecake with fresh Strawberry Sauce.
9.49
01.18.21
Nearby Places of Interest