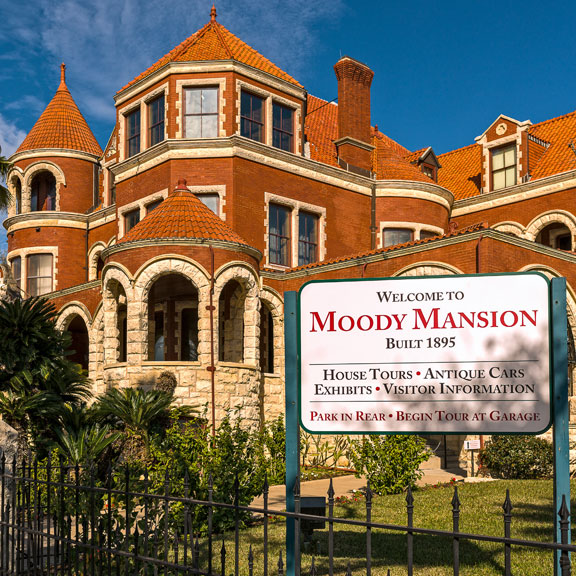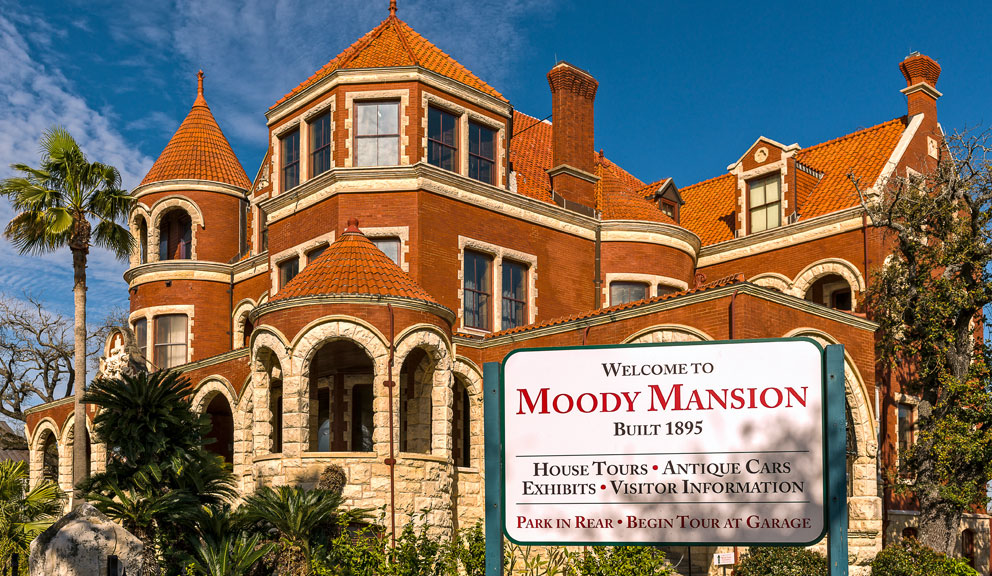 About
Restored to its turn of the century splendor, the 28,000 square-foot, four-story Moody Mansion was completed in 1895. Today, guests of the home visit 20 rooms on a tour that depicts the home life of a powerful Texas family. The Moodys established one of the great American financial empires. Based on cotton, it grew to include banking, ranching, insurance and hotels.
Hours
Monday: 10:00AM – 5:00PM
Tuesday: 10:00AM – 5:00PM
Wednesday: 10:00AM – 5:00PM
Thursday: 10:00AM – 5:00PM
Friday: 10:00AM – 5:00PM
Saturday: 10:00AM – 5:00PM
Sunday: 10:00AM – 5:00PM
Hours are subject to change.
Self-Guided Audio Tour Admission
Adults: $15
Students (age 6 thru 18): $7
Children (5 & Under): Free
Guided All-Access Tour
Take an exclusive behind-the-scenes tour with a knowledgeable docent guiding you through areas not normally open to the public, describing Mary Moody Northen's vision for preserving her home and sharing her collections. These tours are conducted at 4 p.m. on Fridays, Saturdays and Sundays. Tour size is limited to 10 people; reservations are highly recommended. Call (409) 762-7668.
General
Restored to Its Turn-of-the-Century Splendor
Listed as One of the Nation's Most Famous Houses by The Travel Channel
Self-Guided and Guided Tours Available
Located Minutes from The Strand Historic District
Available for Group Events & Weddings
Rental
Moody Mansion is available for events like weddings, reunions, anniversaries, and meetings. The formal ballroom is a memorable venue, and less formal space is available in the garage area, with easy access to free parking. There is ample room outside for tables and tents, and the mansion is a popular setting for bridal photos.
Rent the elegant dining room at Moody Mansion for an evening meal for up to 14 people. You are free to arranged for your own caterer or bring your own food. Call for details.
Call (409)762-7668 for rental information.
History
W.L Moody Jr. bought the home from the heirs of the original owners soon after the great hurricane of 1900. Mr. and Mrs. Moody and their four children celebrated the first of more than eighty Christmas seasons in the house in December of that year. The house remained home for Moody family members until 1986. Today, its rooms are filled with the furnishings and personal effects of the family.
The philanthropic legacy of the Moody family of Galveston is carried on today by the Moody Foundation and the Mary Moody Northen Endowment. Both charitable foundations are major forces in health care, education, historic preservation, and the arts.
Nearby Places of Interest