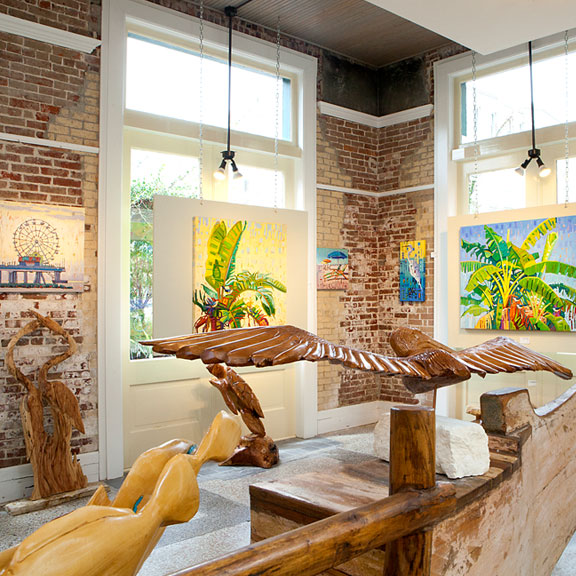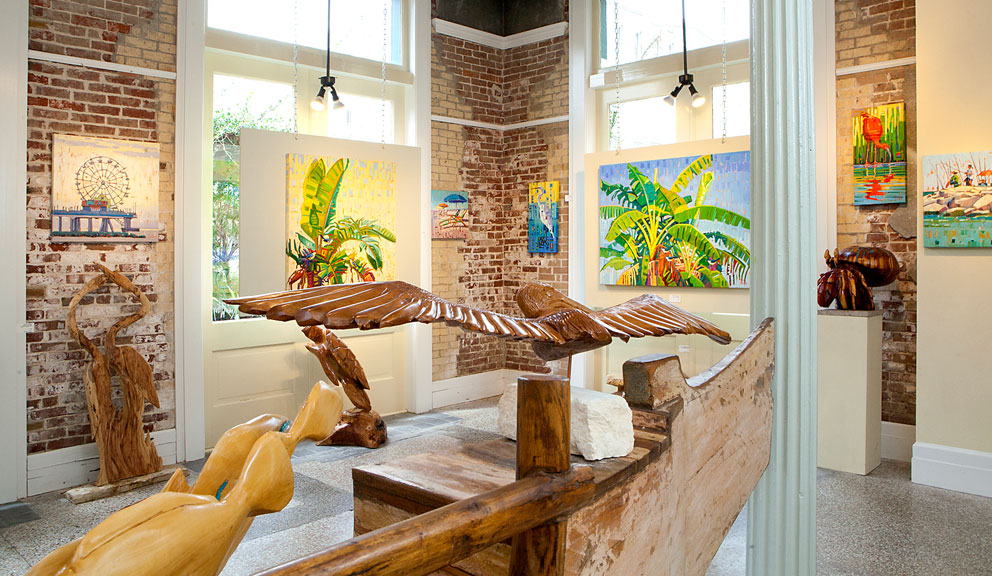 About
The René Wiley Gallery is a family owned and operated art gallery, representing award winning oil painters René Wiley, her daughters Rachel Wiley-Janota and Samantha Wiley, and six other accomplished Texas artists.
René Wiley Gallery represents a collection of fine art from local artists in a beautiful, historic downtown building on Galveston Island, Texas. Artworks include the exclusive representation of René Wiley's oil paintings, and a variety of original paintings, giclée prints, wood sculpture, textiles and glass work. Wiley's work uniquely depicts the warm Gulf Coast light on the architecture of the historic East End Galveston, its harbors and wetlands, as well as the local sea-life. She is well known for her signature style, using bold colors and thick brushstrokes in geometric patterns of oil paint.
René Wiley Gallery also represents a selected few artists. Popular wood sculptor James D. Phillips, known for his striking tree carvings found throughout Galveston's historical neighborhoods, has reclaimed wood sculptures on display in the gallery, depicting local marine life such as Pelicans, Cranes, Redfish, and Rays. Nationally recognized textile artist Brenda Bunten-Schloesser has several hand-dyed, textile mosaic works of Galveston's downtown architecture. Beautiful laminated wood bowls by artist Dale Hooks are turned from the "Iked" Galveston trees and other reclaimed wood. Glass artist Bill Meek's gorgeous hammered glass bowls and sculptures are on display. Other paintings in the gallery include a collection of tonal landscape paintings of Galveston wetlands by Texas oil painter Darlene Wall and mixed media landscape paintings by Rene's daughter, Rachel Wiley-Janota, who has been consecutively named as a Hunting Art Prize finalist for her works in 2012 and 2013. Portraits and commissions by award winning oil painter, daughter, Samantha Wiley.
Hours
Monday: 11:00AM – 5:00PM
Tuesday: 11:00AM – 5:00PM
Wednesday: 11:00AM – 5:00PM
Thursday: 11:00AM – 5:00PM
Friday: 11:00AM – 5:00PM
Saturday: 11:00AM – 5:00PM
Sunday: 11:00AM – 5:00PM
Hours are subject to change.
General
Located in the Postoffice Street Arts & Entertainment District
Open Daily
Gallery Artists Include René Wiley and daughters Rachel Wiley-Janota & Samantha Wiley
Originals & Fine Art Prints Available
Nearby Places of Interest