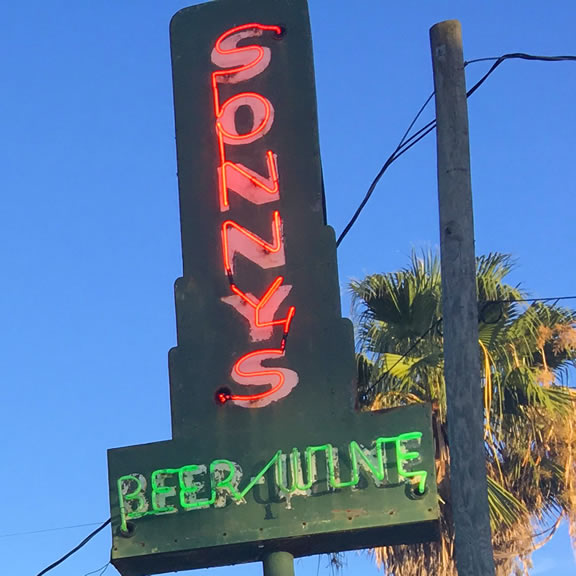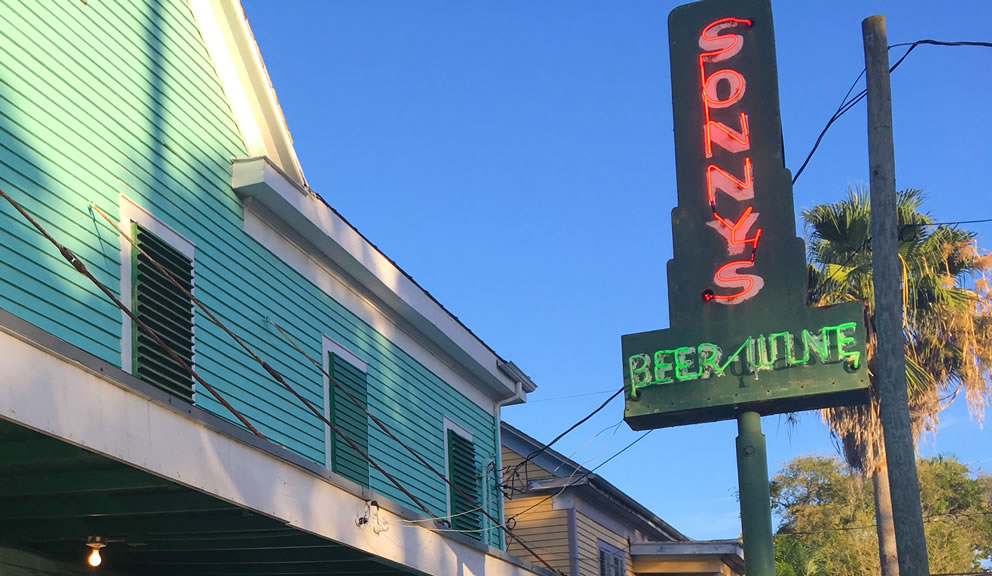 About
Galveston locals can't get enough of the burgers, the shrimp buns, the gumbo, spaghetti and 'take it or leave it' ambience at this favorite old bar and grill, which run by the Puccetti family, who opened the place in 1944.
Sonny's is a medical student hangout, yes, but the place also virtually wreaks of Galveston lore, and is one of the Island's venerable institutions.
For sandwich lovers, you simply must start with the cheeseburger, then work your way down to the artery clogging chicken fried steak sandwich, the mouth-watering muffuletta, or the dressed shrimp bun. Of course, for those blue plate types, the shrimp platter, Tex-mex pasta, or Grandma Theresa's spaghetti and meat sauce will render you immobile.
Get ready. Sonny's may not look like much; it certainly isn't fancy. But that's the charm. And that's why you'll soon be falling in love, guaranteed.
Hours
Monday: Closed
Tuesday: 11:00AM – 1:30PM
5:00 – 9:30PM
Wednesday: 11:00AM – 1:30PM
5:00 – 9:30PM
Thursday: 11:00AM – 1:30PM
5:00 – 9:30PM
Friday: 11:00AM – 1:30PM
5:00 – 11:00PM
Saturday: 11:00AM – 1:30PM
5:00 – 11:00PM
Sunday: Closed
Hours are subject to change.
General
Casual
Family Owned Since 1944
One of Galveston's Venerable Institutions
Menus
Appetizers & Salads
SMALL DINNER SALAD
Lettuce, tomatoes, pickles, and onions
3.45
FRENCH FRIES
regular 2.25 | large 4.40
NACHOS
Cheese & jalapeño
1/2 4.45 | full 6.75
SUPER NACHOS
Cheese, jalapeños, chili, onions, and tomato
1/2 6.50 | full 11
NACHO FRIES
1/2 6 | full 10
SUPER NACHO FRIES
1/2 6.95 | full 11.95
CHILI CHEESE FRIES
1/2 7.25 | full 11.50
CHEESE FRIES
1/2 6 | full 10
GARLIC BREAD
1/2 3.25 | full 4.25
Burgers, Sandwiches & More
HAMBURGER
Mayo,​ mustard, onions, lettuce, tomato, pickles, salt, and pepper
3.65
CHEESE BURGER
3.95
DOUBLE MEAT CHEESE BURGER
5.85
TRIPLE MEAT CHEESE BURGER
8
JALAPENO CHEESE BURGER
4.80
BACON SWISS BURGER
6.10
DOUBLE MEAT BACON SWISS BURGER
7.95
CHILI CHEESE BURGER
Chili, cheese, onions, lettuce, and tomato
5.75
WESTERN BURGER
BBQ sauce, bacon, jalapeños, onions, and cheese
6.95
substitute shrimp or chicken 8.95
PATTI MELT
4.50
BACON SWISS PATTI MELT
5.95
GRILLED CHEESE
2.50
GRILLED HAM AND CHEESE
5.75
ROAST BEEF SANDWICH
6.50
BBQ SANDWICH
5.95
with cheese 6.75
GRILLED CHICKEN SANDWICH
Mayo, lettuce, tomato, and pickles
6.95
with cheese 7.85
ARTERY CLOGGER
Chicken​ fried steak sandwich with bacon, American & Swiss cheese, ranch dressing, mustard, onions, lettuce, tomato, and pickles
7.85
substitute fried shrimp or grilled chicken 8.95
CHICKEN STRIPS
(3) 6.75 | (5) 8
HOT DOG
comes with mustard
2.50
CONEY ISLAND
chili, cheese and onion
3.95
JALAPENO CONEY
4.80
FRITO PIE
Fritos, chili, and cheese
6.15
Shrimp
When in season, you may substitute shrimp item for oysters
SHRIMP BUN
Fried shrimp sandwich with homemade tartar sauce
6.75
DRESSED SHRIMP BUN
Fried shrimp sandwich with homemade tartar sauce, lettuce, and tomato
7.25
SHRIMP PLATTER
6 large fried shrimp, small salad, and French fries
12.75
LARGE SHRIMP PLATTER (12)
19.95
JUMBO SHRIMP PLATTER (18)
26.50
New Orleans Style Muffuletta
Created in New Orleans by Central Grocery, a Muffuletta is an Italian sandwich made on Vienna Bread with ham, salami, mortadella, Swiss cheese, provolone cheese, and topped off with our Grandma Theresa's olive salad which is an old family recipe passed down for many generations.
MUFFULETTA
1/4 5.80 | 1/2 7.80 | whole 12
​
GRILLED MUFFULETTA
Takes longer, costs more, but it's really tasty!
1/4 7 | 1/2 9 | whole 13
Soups & Chili
HOMEMADE CHICKEN SOUP
cup (8 oz) 2.75 | regular (12 oz) 3.99 | large (16 oz) 4.99
​
HOMEMADE CHILI
with or without beans
cup (8 oz) 4.50 | regular (12 oz) 5.95 | large (16 oz) 6.95
Pastas
GRANDMA THERESA'S SPAGHETTI AND MEAT SAUCE
Our family's sicilian recipe, handed down from one generation to the next.
full 13.99 | 1/2 11.99
TEX-MEX PASTA
Pasta​ smothered in chili, cheese, onions, jalapenos, tomatoes, and nacho chips
full 14.50 | 1/2 12.50
​
​
5 CHEESE PASTA
Swiss,​ American, Cheddar, Provolone, & Parmesan
full 12.99 | 1/2 10.99
PARMESAN PASTA
Lemon, butter, garlic, parmesan
full 11.99 | 1/2 9.99
Friday Only Gumbo
SHRIMP, CRAWFISH, OR MIX
cup (8 oz) 4.75 | regular (12 oz) 6.75 | large (16 oz) 7.50
​
​
12.05.19
Nearby Places of Interest