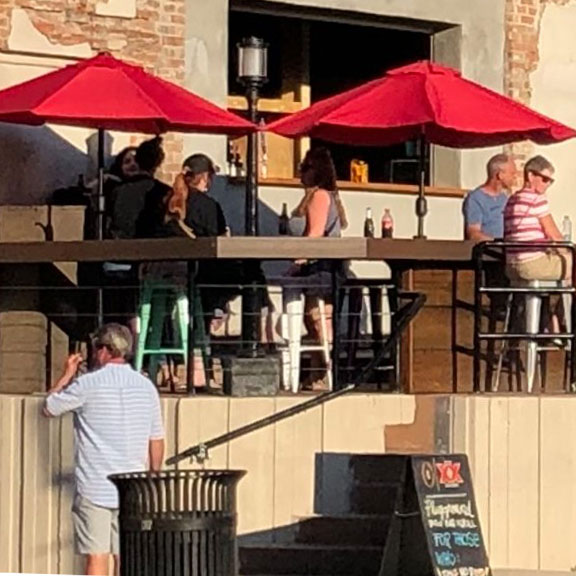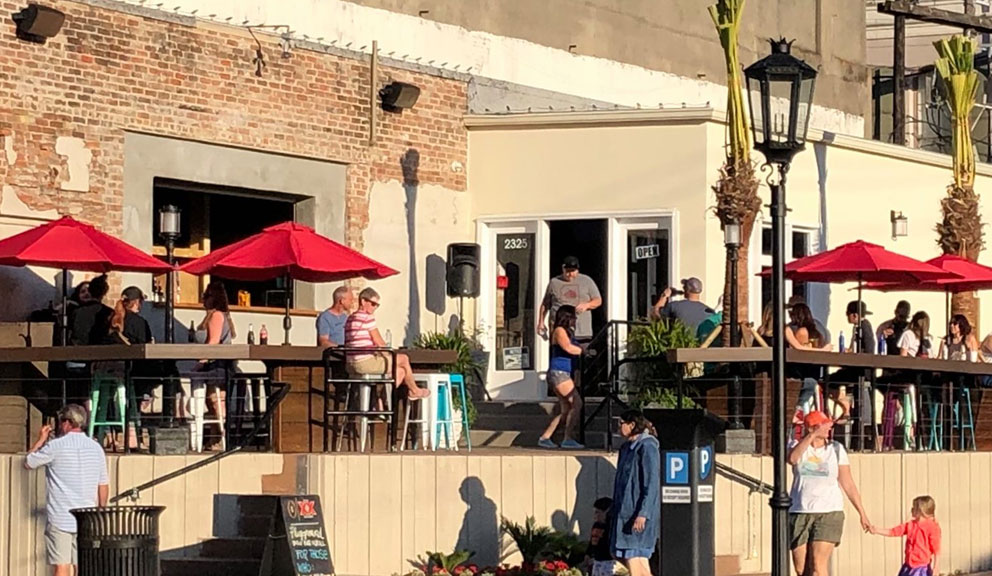 About
Located one block from the cruise ship terminal, Playground Patio Bar & Grill  offers delicious food, family fun and live bands. Equipped with a covered outdoor bar, Playground is a hip, artsy design that makes for a cool hangout to eat, drink, watch sports and have some fun! With a variety of beer options to enjoy and games to play, Playground lives up to its name. The restaurant features pizza, hot dogs, nachos, BBQ sandwiches and more.
Hours
Monday: 12:00 – 8:00 PM
Tuesday: Closed
Wednesday: 3:00 PM – 1:00 AM
Thursday: 3:00 PM – 1:00 AM
Friday: 12:00 PM – 2:00 AM
Saturday: 11:00 AM – 2:00 AM
Sunday: 11:00 AM – 12:00 AM
Hours are subject to change.
General
Located on the Historic Strand 1 Block from the Cruise Terminal
Casual
Family Friendly
Live Music
Menus
Starters
CHEESE FRIES
3.50
Add Chili +.50
Add Pickled Jalapeños +.50
TRUFFLE MAC & CHEESE
4
PULLED PORK QUESO
Pulled pork stirred into queso
7
JUMBO PRETZEL
w/ mustard & queso
8.50
Street Dogs
Combo With Fries +2
HEBREW NATIONAL KOSHER BEEF
4.5
Add Cheese +.50 | Add Chili +.50 | Add Pickled Jalapeños +.50
CHILI CHEESE DOG
chili & melted cheese
5.50
HOLY CHIPOTLE
chipotle mayo sauce, melted cheese & bacon bits
6
SLAW DOG MILLIONAIRE
chili, coleslaw & bacon bits
6
MAC'N CHEEZ DOG
max & cheese topped w/bacon bits
6
CHICO DOG
sliced tomatoes, chopped onions, bright green sweet relish, banana peppers, zesty dill, mustard & poppy seeds
6.50
TEXAS ROCKSTAR (SAUSAGE)
cheddar infused smoked sausage, chili, queso, fritos & pickled jalapenños
7
ATOMIC DOG (SAUSAGE)
cheddar infused smoked sausage, w/chili, queso, sriracha, flamin' hot cheetos, peppers & jalapeños
7
SNOOP DOG (SAUSAGE)
cheddar infused smoked sausage, pulled pork, baked beans, bbq sauce & chili-cheese fritos
7.50
Burgers & BBQ
Combo With Fries +2
BACKYARD BURGER
lettuce, tomatoes, onions
9
Add Cheese +1 | Add Bacon +1.5 | Extra Patty +5
THE PLAYGROUND BURGER
lettuce, tomatoes, onions, topped w/playground sauce
9
Add Cheese +.50 | Add Bacon +1.5
CHILI CHEESE BURGER
topped w/chili & cheddar
10.50BBQ Pulled Pork Sandwich
w/onions & pickles
7.50
BBQ SLICED BRISKET SANDWICH
w/onions & pickles
8.50
Pizzas & Wings
FOUR-CHEESE PIZZA
personal size
10
PEPPERONI PIZZA
personal size
10
8 BONELESS WINGS
tossed in: sriracha-sweet chili, buffalo bbq or double dog dare you sauce
9
add 8 +$8
8 BONE-IN WINGS
tossed in: sriracha-sweet chili, buffalo bbq or double dog dare you sauce
11
add 8 +$9
Messy Nachos
QUESO NACHOS
tortilla chips
4.50
Add chili +.50 | Add jalapeños +.50
FRITO PIE
chili & cheese on fritos
4.50
Add jalapeños +.50
MAC DADDY NACHOS
tortilla chips topped w/chili, queso, & mac n' cheese
7
Add jalapeños +.50
CHILI NACHOS SUPREME
tortilla chips topped w/chili, queso, lettuce, tomatoes, jalapeños & sour cream
8
PULLED PORK BBQ NACHOS
tortilla chips, queso, bbq pork w/bbq sauce
8.50
09.03.19
Nearby Places of Interest