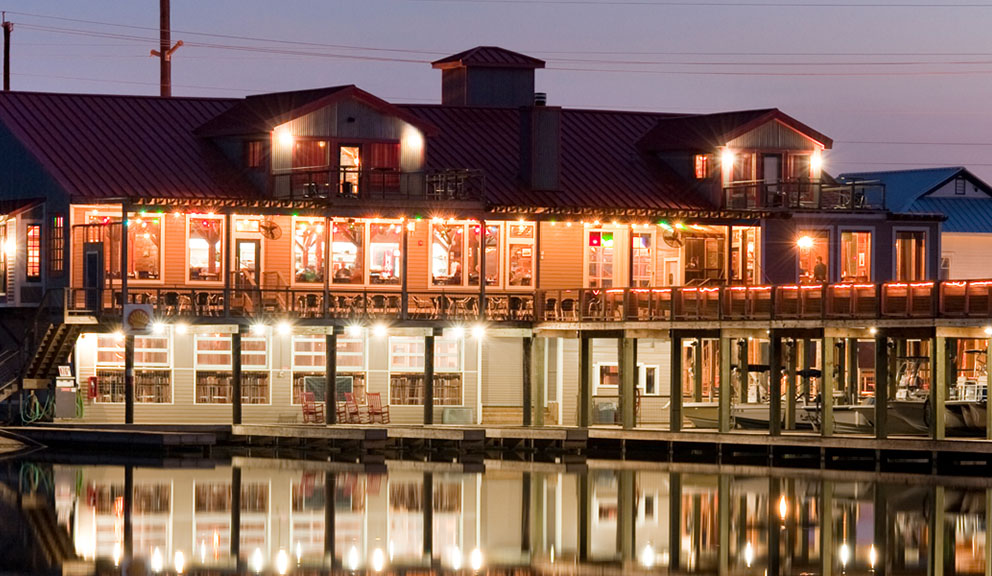 About
With a spectacular sunset view, the Waterman Restaurant offers everything needed for that special get away dining experience. The beautiful casual lodge feeling is created by the 10,000 square feet of antique long leaf pine. This fine warm wood was salvaged from the 100 year old cotton warehouses that were a big part of the Galveston "Glory Days".
Waterman's Restaurant is located adjacent to the Waterman's Marina making the restaurant a perfect sunset cruise stop, and a great place to stop in for lunch while out on the water.
Hours
Monday: 4:00 – 9:00 PM
Tuesday: 4:00 – 9:00 PM
Wednesday: 4:00 – 9:00 PM
Thursday: 4:00 – 9:00 PM
Friday: 11:00 AM – 10:00 PM
Saturday: 11:00 AM – 10:00 PM
Sunday: 11:00 AM – 9:00 PM
Hours are subject to change.
General
Sunset View
Casual Lodge Feeling
Expansive Outdoor Decks
Menus
Galveston Restaurant Week: Lunch
$20 Plus Tax
1st Course (Choose One)
SHRIMP CEVICHE
Traditionally cooked ceviche topped with avocado and cilantro served with our homemade tortilla chips
CAESAR SALAD
Fresh romaine lettuce, croutons, and parmesan cheese with are homemade Caesar dressing and anchovies
CRAWFISH AND SAUSAGE GUMBO
2nd Course
FISH N CHIPS
Shiner bock beer battered fish served with fries
BLACKENED FLOUNDER
Served with mashed potatoes and mixed vegetables
FRIED CHICKEN CUTLETS
Served with mashed potatoes, mixed vegetables and a chicken velouté sauce
Galveston Restaurant Week: Dinner
$45 Plus Tax
1st Course (Choose One)
LOBSTER BISQUE
Topped with lobster meat
SPRING SALAD
Frisee and Mixed Greens salad with Dried Apricots, Pine Nuts, Blueberry Goat Cheese and a Passion Fruit Vinaigrette
SALMON LUX
With cucumber salsa and a lemon caper spread
2nd Course (Choose One)
SHRIMP AND GRITS
Served with a crawfish etouffee
SOUTHWEST MANGO MAHI-MAHI
Mango bell pepper cream sauce and cilantro rice
BEEF TIPS
Served with mashed potatoes and a demi sauce
FRIED CHICKEN CUTLETS
Served with mashed potatoes, mixed vegetables, and a chicken velouté sauce
3rd Course (Choose One)
CHOCOLATE MOUSSE
BREAD PUDDING
Nearby Places of Interest