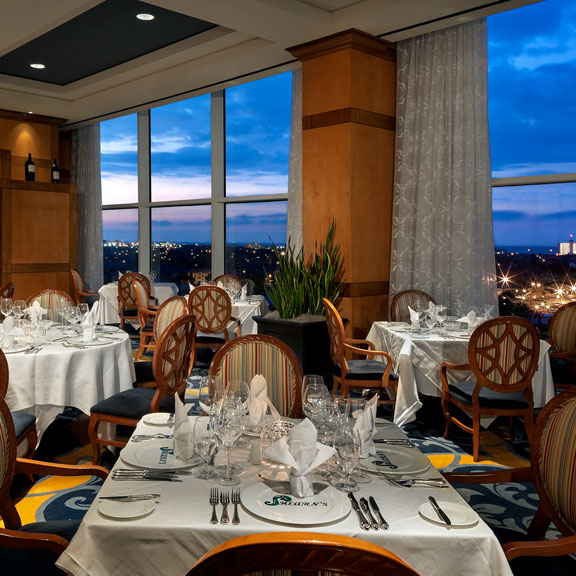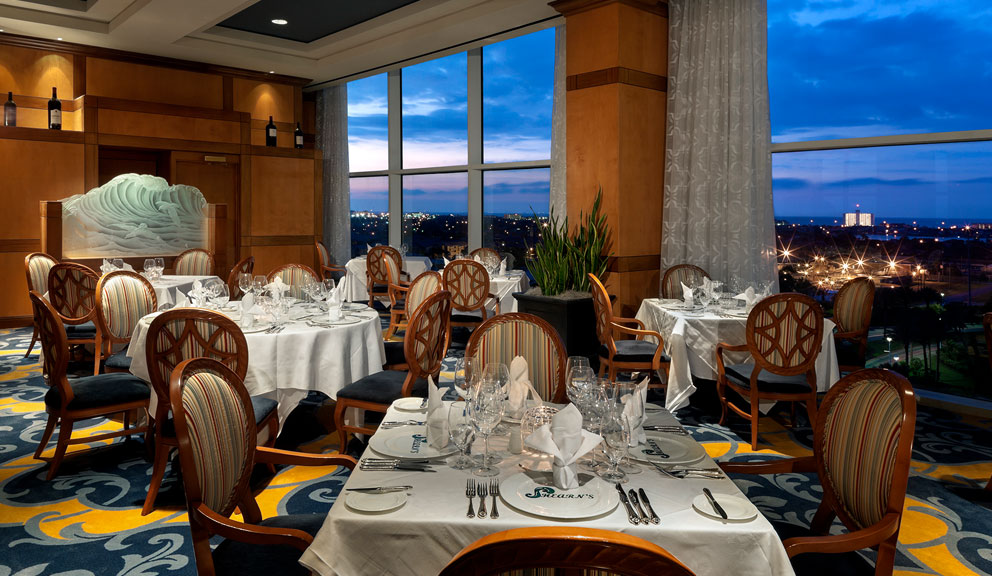 Shearn's Seafood and Prime Steaks
7 Hope Blvd., Galveston, TX (Directions) | Phone: (409)683-4554 | Website
About
Located at Moody Gardens Hotel, Shearn's Seafood and Prime Steaks is a premier destination for fine dining in Galveston. The restaurant features floor-to-ceiling views of the Gulf, and is one of only 11 Houston / Galveston area restaurants to receive AAA's Four Diamond Award of Excellence – and it has won it each year since 2004. Executive Chef Felipe Gonzalez crafts his signature Gulf dishes, including his Shrimp Dejong and Lobster Bisque.
Shearn's Lounge, the bar outside the restaurant, has spectacular views of the Moody Gardens Pyramids and sunsets over Galveston Bay.
Hours
Monday: Closed
Tuesday: 5:30 – 10:00PM
Wednesday: 5:30 – 10:00PM
Thursday: 5:30 – 10:00PM
Friday: 5:30 – 10:00PM
Saturday: 5:30 – 10:00PM
Sunday: Closed
Hours are subject to change.
Book Reservation Online

General
Quintessential Fine Dining
Private and Semi-Private Dining
Full Bar
Array of Domestic & International Wine Varieties
Reservations Recommended
Menus
Cold Hors D'Oeuvres
GULF SHRIMP COCKTAIL
Chilled Jumbo Shrimp presented in a Martini Glass and served with Shearn's Special Cocktail and Rémoulade Sauces
15
AHI TUNA POKE & AVOCADO
Sweet Pea Sprouts, Sesame Tuile
16
JUMBO LUMP CRAB COCKTAIL
Served with Diced Avocado, Cocktail & Rémoulade Sauce
15
PRIME BEEF CARPACCIO
Baby Arugula, Black Olive Tapenade, Country Bread
15
IMPORTED & HOUSE MADE CHARCUTERIE BOARD
Artisan Bread, House Made Pickled Giardiniera, Pommery Mustard
15
Hot Hors D'Oeuvres
SHRIMP DEJONGE
Three Jumbo Shrimp Baked in Light Marsala Sauce & Topped with Herb Butter. A Shearn's Signature Dish
15
HATCH PEPPER CRAB CAKE
Jumbo Lump Crab, Sweet Pepper, Corn Coulis
18
DIVER SCALLOP & SHORT RIB RAVIOLI
Rosemary-Truffle Essence
15
ESCARGOTS BOURGUIGNONNE
One Half Dozen Escargots Prepared in Classic Burgundian Style & Served in Garlic Herb Butter
15
Soups
SEASONAL SOUP
Your Server has this Evening's Offering
10
FRENCH ONION
A Classic Onion Soup Topped with Baguette Croutons & Gruyére Cheese
10
LOBSTER BISQUE
This Creamy Bisque is Made with Fresh Maine Lobster Delicately Seasoned & Garnished with Jumbo Lump Crabmeat & a Touch of Sherry. A Moody Gardens Hotel Favorite!
12
Salads
BABY ICEBERG WEDGE SALAD
With Balsamic & Blue Cheese Dressing Heirloom Tomatoes & Crispy Bacon
9
ROASTED FORELL PEAR SALAD
Onion Marmalade, Stilton Cheese, Frisee & Sherry Honey
10
SEASONAL HOUSE SALAD
The​ Freshest Seasonal Greens & Garnishes. Your Choice of Dressings
8
CLASSIC Caesar salad
Romaine Heart, Spanish White Anchovies, "Everything Bagel" Parmesan Crisp
9
ROASTED BABY BEET SALAD
Beet Vinaigrette, Citrus, Arugula & Shaved Ricotta Salata
10
WARM SPINACH SALAD
Crispy Pork Belly, Five Minute Egg, Caramelized Onions & Crimini Mushrooms
8
Steaks and Chops
Enhance Your Steak with Peppercorn Sauce or Red Wine Reduction Sauce $5; Stilton
Cheese Gratiné, Sautéed Mushrooms $5; Three Grilled Shrimp or Jumbo Lump Crabmeat $10; Oscar Topping $12
8 OZ. PETIT FILET
42
CHATEAUBRIAND FOR TWO
100
16 OZ. PRIME NEW YORK STRIP
48
16 OZ. PRIME RIB EYE
46
14 OZ. VEAL CHOP
Cipollini Onions with Wild Mushrooms
48
COLORADO LAMB CHOPS
Vegetable Gratin, Rosemary Lamb Jus
48
DRY AGED PORTERHOUSE PORK CHOP
Herb Roasted Baby Root Vegetables, Sauteed Spinach, Sour Cherry Sauce
30
YOUNG CHICKEN BREAST CHOP
Buttermilk Potato Puree, Asparagus, Thyme Jus
28
Daily Fresh Seafood
SEARED GULF SNAPPER
Topped with Sautéed Lump Crab Served on a Bed of Asparagus & Saffron Sauce
36
SAUTEED LOCAL GULF GROUPER
Steamed Baby Bok Choy, Thai Green Curry, Jasmine Rice Pilaf
34
PAN ROASTED DIVER SCALLOPS
Cauliflower-Black Truffle Purée, Crispy Leeks
34
SEARED AHI TUNA STEAK
Grilled Asparagus, Shishito Peppers, Spring Onions, Soy Ginger
36
SAUTEED JUMBO SHRIMP
Crispy Risotto Cake, Jumbo Asparagus, Spicy Cognac Sauce
34
Sides Big Enough For Two
BUTTERMILK POTATO PURÉE
10
HERB ROASTED BABY ROOT VEGETABLES
10
WHITE CHEDDAR MAC & CHEESE WITH CRISPY PANCETTA
10
CREAMED SPINACH
10
SAUTÉED MUSHROOMS
10
SAUTEED SPINACH WITH CARAMELIZED ONIONS
10
QUINOA & JASMINE RICE
10
JUMBO ASPARAGUS
10
LOBSTER MASHED POTATOES
16
LOBSTER CORN RISOTTO
16
More Than Meat
GRILLED VEGETABLE STACK
Fresh Mozzarella Spicy Marinara Sauce
21
STEAMED VEGETABLE MEDLEY
Jasmine Rice, Quinoa & Lentils Steamed Vegetables, Soy-Ginger
21
PASTA LEGUMBRE
Linguine with Assorted Seasonal Vegetables, Charred Tomato Sauce
21
Add Chicken or Shrimp: 31
01.17.21
Nearby Places of Interest