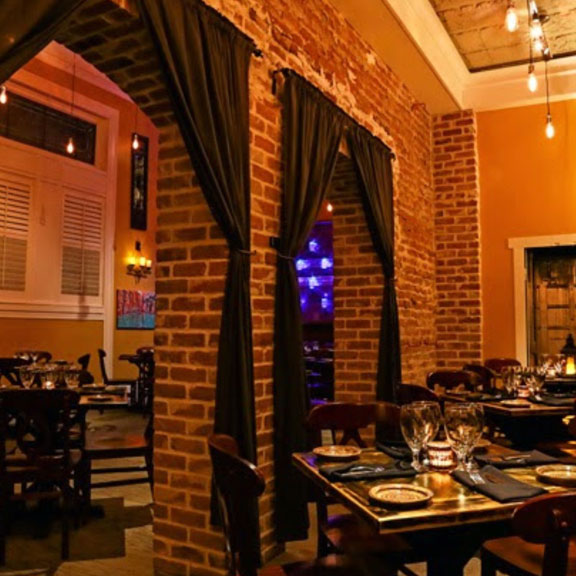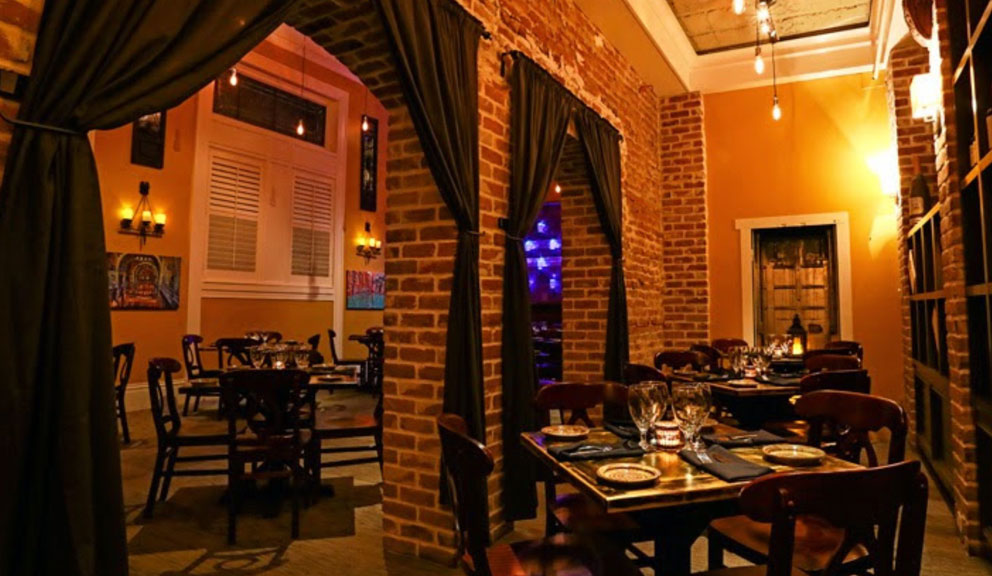 About
From "farm to fork" and "sea to table," the owners of Riondo's Ristorante are proud to offer the best and freshest of meat, vegetables, and seafood. Riondo's is Island casual with comfortable favorites of a notable influence from Italy. You're invited to relax in the artful setting, savor the best of local ingredients, and enjoy exceptional Italian food complemented by Island favorites.
Hours
Monday: Closed
Tuesday: Closed
Wednesday: 11:00AM – 9:00PM
Thursday: 11:00AM – 9:00PM
Friday: 11:00AM – 10:00PM
Saturday: 11:00AM – 10:00PM
Sunday: 10:00AM – 9:00PM
Hours are subject to change.
General
Classic Northern Italian Cuisine
Casual to Dressy
Extensive Collection of Imported & Domestic Wines
Full Bar
Located in The Strand Historic District
Menus
Soups & Salads
CHEF'S CHOICE SOUP OF THE DAY
5
INSALATA DI CASA
Mixed Lettuces, Roma Tomatoes, Cucumbers, Onions, Asiago Cheese w/ House Vinaigrette
5
CAESAR SALAD
Romaine Lettuce, Parmigiano Reggiano, Housemade Croutons & Talatta Anchovy Dressing
6
BABY STRAND CAPRESE
Fresh "Riondo Mozz", Beefsteak Tomatoes, Grilled Eggplant, Fresh Basil, EVOO & Balsamic Reduction
8
Sandwiches
Your choice of House Salad or Parmesan Fries
CHICKEN PARMESAN
Lightly Breaded Chicken, Housemade Hoagie Bun & Rosso Sauce
9
CAPRESE PANINI
"Riondo Mozz", Fresh Basil, Tomatoes, EVOO, Pesto Sauce & Housemade Focaccia Bread
9
RIONDO'S MEATBALLS SUB
Housemade Meatballs, Bolognese, Parmesan & a Housemade Hoagie Bun
12
PANINI SALCICCIA
"Riondo Mozz", Homemade Sausage, Bell Peppers, Onions, Pomodoro Sauce & a Housemade Hoagie Bun
10
Lunch Entrees
Add Chicken $5 or Add Shrimp $6
CHICKEN PARMESAN
Lightly Breaded Chicken Breast, Pomodoro Sauce, Parmigiano Reggiano, "Riondo Mozz" & Linguine
12
GRILLED CHICKEN BREAST
Garlic, EVOO, Pesto & Butternut Squash Risotto
12
TUSCAN PORK
Slow Oven Roasted Pork Tenderloin, Fresh Herbs, Grand Marnier Reduction & Butternut Squash Risotto
12
EGGPLANT PARMESAN
Breaded Eggplant, "Riondo Mozz", Rosso Sauce & Linguine
11
GNOCCHI DI SPINACHI A LA PANNA
Housemade Spinach Potato Gnocchi, Prosciutto, Green Peas, Parmigiano Reggiano & Bianco Sauce
11
THREE LAYER LASAGNA BOLOGNESE
Three-layer Gluten Free Pasta, 44 Farms Beef, Bechamel, Parmigiano Reggiano & "Riondo Mozz"
15
Artisan Pizzas
All Day, Every Day. Gluten Free Pizza Dough Available, ask your server
24TH ST FORMAGGIO
"Riondo Mozz", Parmigiano Reggiano & Chef Rico's Pizza Sauce
15
THE PROSCIUTTO
Prosciutto di Parma, Arugula, EVOO, Fresh Basil, Garlic & Shaved Parmigiano Reggiano
15
THE TUSCAN
Marinated Grilled Chicken, Baby Spinach, EVOO & Artichoke Hearts
15
MARGHERITA
"Riondo Mozz", Fresh Basil, EVOO, Sliced Roma Tomatoes & Chef Rico's Pizza Sauce
15
PIZZA DI AL FICHERA
Housemade Sausage, Wagyu Meatballs, Pancetta, Baby Bellas, "Riondo Mozz" & Chef Rico's Pizza Sauce
15
THE GARDEN
Baby Bellas, Eggplant, Red Onions, Spinach, Roasted Red Bell Pepper, "Riondo Mozz" & Chef Rico's Pizza Sauce
15
06.12.19
Appetizers
FRESH GARLIC BREAD
Housemade Ciabatta, Garlic, EVOO
5
RIONDO'S PLATTER
Calamari, Crab Bellas, 44 Farms Beef Meatballs, Bruschetta & Fried "Riondo Mozz"
20
HOUSEMADE BRUSCHETTA OLIVE TAPENADE
Three Stone Oven Toasted Crostini's, Sliced Roma Tomatoes, Anchovies, Fresh Basil, EVOO & "Riondo Mozz"
8
SEARED SEA SCALLOPS & ENGLISH PEA PUREE
3 Pan Seared Sea Scallops, English Peas, Mint w/ Lemon Butter
16
CALAMARI FRITTI
Squid, Parmesan Crust & Pomodoro Sauce
10
ITALIAN COUNTRY TABLE
Prosciutto di Parma, Sopresata, Parmigiano Reggiano, Asiago, Olives, Artichokes, Fresh Melon, Roasted Red Bell Pepper & EVOO
15
CRAB STUFFED BABY BELLAS
Gulf Crab, Sautéed Spinach, Ricotta & Bianco Sauce
10
HOUSEMADE MEATBALLS
Freshly Ground 44 Farms Beef, Parmesan, Fresh Herbs & Bolognese Sauce
11
PROSCIUTTO DI PARMA BREAD
Housemade Bread filled w/ Prosciutto di Parma, EVOO & "Riondo Mozz"
10
Soups & Salads
CHEF'S CHOICE SOUP OF THE DAY
7
THE STRAND CAPRESE
Fresh "Riondo Mozz", Beefsteak Tomatoes, Grilled Eggplant, Fresh Basil, EVOO & Balsamic Reduction
11
ROASTED BEET SALAD
Beets, Spinach, Arugula, Red Onion, Oranges, Strawberries, Dried Apricot, Gorgonzola & Grapefruit Vinaigrette
12
INSALATA DI CASA
Mixed Lettuces, Roma Tomatoes, Cucumbers, Onions, Asiago Cheese w/ House Vinaigrette
7
CAESAR SALAD
Romaine Lettuce, Parmigiano Reggiano, Housemade Croutons & Talatta Anchovy Dressing
8
Main
THREE LAYER LASAGNA BOLOGNESE
Three-layer Housemade Gluten Free Pasta, 44 Farms Beef, Bechamel, Parmigiano Reggiano & "Riondo Mozz"
22
PRIME FILET MIGNON A LA MELISSA
Sautéed 8oz. Prime Filet, Baby Bellas, Prosciutto di Parma, Grand Marnier Peppercorn Sauce & Gruyere Scalloped Potatoes
48
GRILLED RIBEYE
Prime Cut, Chimichurri Sauce & Gruyere Scalloped Potatoes
45
PAPPARDELLE & DUCK RAGU
Roasted Duck, Housemade Pasta, San Marzano Tomatoes, Parsley, Thyme & Parmigiano Reggiano
38
CHEF RICO'S FAMOUS LAMB & CHOCOLATE CHIP RAVIOLIS
Braised Lamb, Housemade Pasta, Chocolate Chips, Ricotta cheese & Vodka sauce
38
POLLO A LA ROSA
Grilled Chicken Breast, Butternut Squash Risotto, Sautéed Baby Spinach, Sun-dried Tomatoes, Cremini's & Garlic Butter Sauce
26
SEAFOOD RAVIOLI PILLOWS
Chef's Rico's Island Favorite Housemade Raviolis w/ Gulf Coast Shrimp & Fresh Catch
32
VEAL PICATTA
Sautéed Gourmet Ranch Veal, Capers, Lemon Butter Sauce, Asparagus & Gruyere Scalloped Potatoes
29
ANGRY LOBSTER PASTA & LINGUINE
Atlantic Lobster Meat, San Marzano Tomatoes, Cherry Tomatoes, EVOO, Red Chili Flakes, Fresh Basil & Linguine
42
CIOPPINO
Clams, Mussels, Fresh Catch, Sea Scallops, Gulf Coast Shrimp, Pomodoro Stew & Housemade Fettuccine
28
GULF SHRIMP SPAGHETTI CARBONARA
Fresh Gulf Shrimp, Pancetta, EVOO, Free-Range Egg Yolks & Parmesan
28
GAMBERI SCAMPI
Sautéed Gulf Coast Shrimp, Lemon Garlic Butter & Linguine
28
GNOCCHI DI SPINACHI A LA PANNA
Housemade Spinach Potato Gnocchi, Prosciutto, Green Peas, Parmigiano Reggiano & Bianco Sauce
20
BLACKENED SEA SCALLOPS W/ BUTTERNUT SQUASH & SAGE RISOTTO
4 Pan Seared Sea Scallops, Diced Seedless Red Chilis, Sage & Butternut Squash Risotto
35
ZUCCHINI SPIRALS
Fresh Zucchini Pasta, Tomatoes, Fresh Basil, Parmesan, Garlic & EVOO
16
SICILIAN EGGPLANT TOWER
Baked Eggplant Stacked w/ "Riondo Mozz", Fresh Basil, Parsley, Pomodoro Sauce & Fresh Zucchini Pasta
20
Artisan Pizzas
All Day, Every Day. Gluten Free Pizza Dough Available, ask your server
24TH ST FORMAGGIO
"Riondo Mozz", Parmigiano Reggiano & Chef Rico's Pizza Sauce
15
THE PROSCIUTTO
Prosciutto di Parma, Arugula, EVOO, Fresh Basil, Garlic & Shaved Parmigiano Reggiano
15
THE TUSCAN
Marinated Grilled Chicken, Baby Spinach, EVOO & Artichoke Hearts
15
MARGHERITA
"Riondo Mozz", Fresh Basil, EVOO, Sliced Roma Tomatoes & Chef Rico's Pizza Sauce
15
PIZZA DI AL FICHERA
Housemade Sausage, Wagyu Meatballs, Pancetta, Baby Bellas, "Riondo Mozz" & Chef Rico's Pizza Sauce
15
THE GARDEN
Baby Bellas, Eggplant, Red Onions, Spinach, Roasted Red Bell Pepper, "Riondo Mozz" & Chef Rico's Pizza Sauce
15
Kids Menu
Spaghetti & Meatball
8
Spaghetti Pomodoro
6
Gnocchi di Spinachi
9
Fettuccine & Bianco Sauce
8
Lasagna Bolognese
8
Pizzetta
7
Add Sausage or Pepperoni: 1
06.12.19
Breakfast Fare
OMELETTE W/ ASIAGO CHEESE
9
with Colossal Crabmeat: add 10
with Prosciutto di Parma: add 6
with Garden Vegetables: add 4
RIONDO'S BASIC PLATE
Three Eggs Your Way, Served w/ Crostini's, Housemade Italian Sausage & Applewood Bacon
12
COLOSSAL CRAB EGGS SARDU
Toasted English Muffin, Canadian Bacon, Creamed Spinach, Colossal Gulf Crabmeat & Poached Eggs
16
EGGS BENEDICT
Toasted English Muffin, Canadian Bacon, Roma Tomatoes & Poached Eggs Topped w/ Jalapeno Hollandaise
14
PANCAKES YOUR WAY
Choice of Fresh Blueberries, Chocolate Chips or Bananas served w/ Housemade Italian Sausage & Applewood Bacon
14
GRAND MARNIER FRENCH TOAST & FRESH STRAWBERRIES
Ciabatta French Toast w/ Strawberries, Whipped Cream served w/ Housemade Italian Sausage & Applewood Bacon
16
ITALIAN STRATTA
Egg, Potatoes, Ciabatta Croutons, Pancetta, Red Bell Pepper, Green Onions, Riondo Mozz & Tomatoes
14
R & B BOWL
Breakfast Potatoes, Black Beans, Spinach, Goat Cheese, Crema, Housemade Italian Sausage & 2 Poached Eggs
16
Lunch Fare
SALMON FOCACCIA & GOAT CHEESE
Housemade Focaccia, Salmon Lox, Goat Cheese, Cucumbers, Fresh Basil, Capers w/ Arugula & Grapefruit Vinaigrette
18
CHICKEN PARMESAN SANDWICH
Baked Chicken Breast w/ San Marzano Tomato Sauce, Riondo Mozz on Housemade Bread w/ Sweet Potato Fries
13
GRILLED CHICKEN
Marinated Chicken Breast w/ Garlic, EVOO, Sun-Dried Tomatoes & Butternut Squash Risotto
15
TUSCAN PORK
Roasted Pork Tenderloin w/ Grand Marnier & Rosemary Over Butternut Squash Risotto
15
CHICKEN PARMESAN
Baked Chicken Breast w/ San Marzano Tomato Sauce, Parmesan, Riondo Mozz & Linguine
14
GNOCCHI DI SPINACHI A LA PANNA
Housemade Spinach Gnocchi, Prosciutto, Green Peas, Bianco Sauce & Parmigiano Reggiano
11
44 FARMS MEATBALL SANDWICH
100% Freshly Ground 44 Farms Beef, Bolognese Sauce, Housemade Bread & Sweet Potato Fries
14
ATLANTIC SALMON W/ SHRIMP PESTO & LINGUINE
Grilled or Blackened Salmon w/ Fresh Basil, Gulf Coast Shrimp, Pesto Cream Sauce & Linguine
28
THE GLENN SALAD
Arugula, Romaine, Fresh Berries, Goat Cheese, Black Olives, Fresh Basil, EVOO & Housemade Pear Vinaigrette.
14
with Atlantic Salmon: add 9
with Gulf Coast Shrimp: add 9
with Colossal Crab: add 9
with Grilled Chicken: add 6
with 44 Farms 6oz. Steak: add 15
LASAGNA W/ 44 FARMS BOLOGNESE
Housemade Pasta, 100% Freshly Ground 44 Farms Beef, Bechamel, Riondo Mozz, & Parmigiano Reggiano
20
CHEF'S CHOICE HOUSEMADE RAVIOLIS
Housemade Pasta, Chef's Fresh Catch, Gulf Shrimp, Tomatoes & Bianco Sauce
32
06.12.19
Nearby Places of Interest