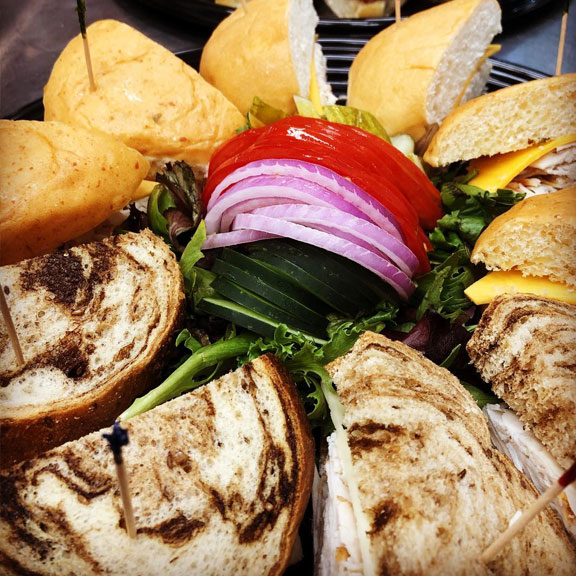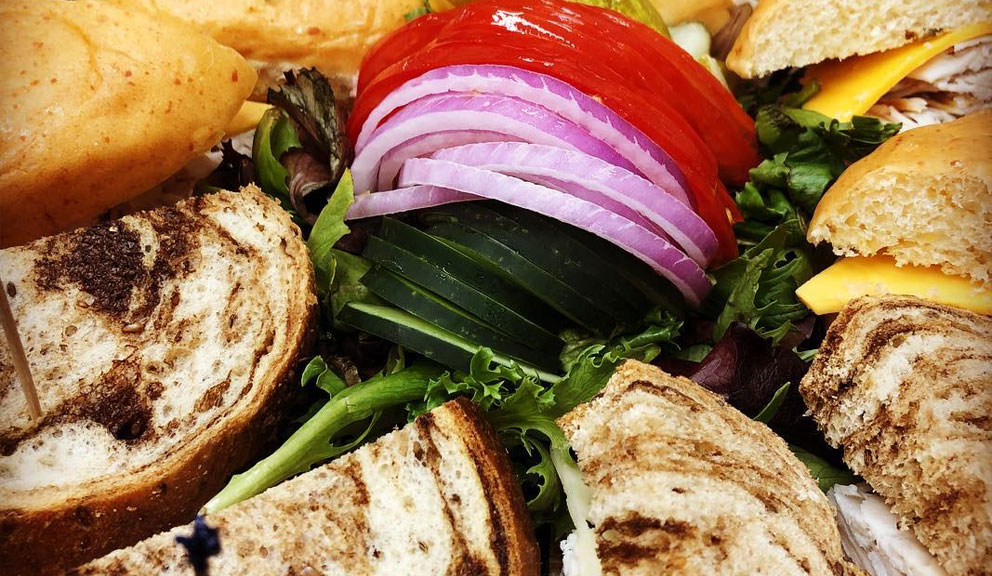 About
Old Moon Deli & Pie features an amazing selection classic and contemporary sandwiches, pies, and sides. From reuben, to Monte Christo, to the signature Island Time, Old Moon's sandwiches are sure to leave a smile on your face. But save room – cause the decadent pies are of legend. Vegan and gluten-free options available.
Hours
Monday: 11:00 AM – 3:00 PM
Tuesday: 11:00 AM – 3:00 PM
Wednesday: 11:00 AM – 3:00 PM
Thursday: 11:00 AM – 3:00 PM
Friday: 11:00 AM – 7:00 PM
Saturday: 11:00 AM – 7:00 PM
Sunday: 11:00 AM – 4:00 PM
Hours are subject to change.
General
Casual
Gourmet Sandwiches & Desserts
Vegan & Gluten-Free Options
Space Available for Special Events
Catering Available
Menus
Panini-Pressed Sandwiches
PASTRAMI SANDWICH
Naval Pastrami, Monterey Jack, Red Onion, Pickles, and Spicy Mustard.
8.25
TUNA MELT
Tuna with Pecans, Jalapeño Jack, Red Onions, Pickles, Mayo.
8.25
REUBEN SANDWICH
Corned beef, Swiss cheese, sauerkraut, and Russian dressing.
8.25
CUBAN SANDWICH
Ham, Salami, Swiss cheese, Pickles, Yellow Mustard.
8.25
MONTE CRISTO SANDWICH
French Toast, Turkey, Ham, Gouda, Powdered Sugar, Island Honey, and a side of Raspberry Jam.
8.25
TURKEY CLUB SANDWICH
Turkey, Bacon, Monterey Jack, Spring Mix, and Fig Spread.
8.25
ISLAND TIME SANDWICH
Jerk Chicken, Avocado, Gouda, Red Onion, and Roasted Pineapple.
8.25
MEL'S BACON BBQ SANDWICH
Roast Beef, Jalapeño Jack, Jalapeños, Red Onion, Pickles, and BBQ Sauce.
8.25
SOUTHERN LADY SANDWICH
Applewood Smoked Ham, Brie, Spinach, and Green Apples.
8.55
B. MAJOR
Roast Beef, Cheddar, Swiss, Red Onion, Tomato, Mayo, Horseradish.
8.25
DIANNA RAY SANDWICH
Garden veggie burger, tomato, Swiss cheese, spring mix, oil and vinegar.
8.25
PIMENTO CHEESE MELT
Homemade pimento cheese, bacon, and tomato.
8.25
GREEK SANDWICH
Hummus, smoked provolone, black olives, cucumber, and oil and vinegar.
8.25
Salad
BUILD YOUR OWN SALAD
8.25
For Kids
KID'S PB&J SANDWICH
Peanut butter and raspberry jam on your choice of bread. For ages 12 and under.
5.95
KID'S GRILLED CHEESE
Served on your choice of bread. For ages 12 and under.
5.95
Desserts
We sell pie by the slice from a daily selection of fruit and cream filled flavors as well as desserts from local Galveston bakers. Vegan and Gluten Free pies also available!
PIE BY THE SLICE
4.25
VEGAN PIE BY THE SLICE
4.95
WHOLE PIE
20
WHOLE VEGAN PIE
25
BROWNIE
2.25
LEMON BAR
2.25
BLONDIE
2.25
VEGAN BLONDIE
2.95
Sides
POTATO SALAD
2.25
KALE SALAD
2.25
SEASONAL FRUIT
2.25
KETTLE COOKED CHIPS
1.95
Beverages
HOMEMADE LEMONADE
2.50
KOMBUCHA ON TAP
5
TOPO CHICO
2.50
MEXICAN COKE
2.50
BOTTLED SODA
2.50
07.18.19
Nearby Places of Interest