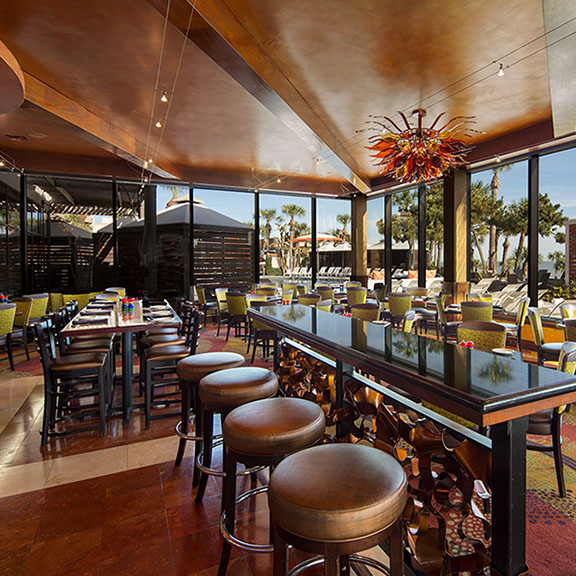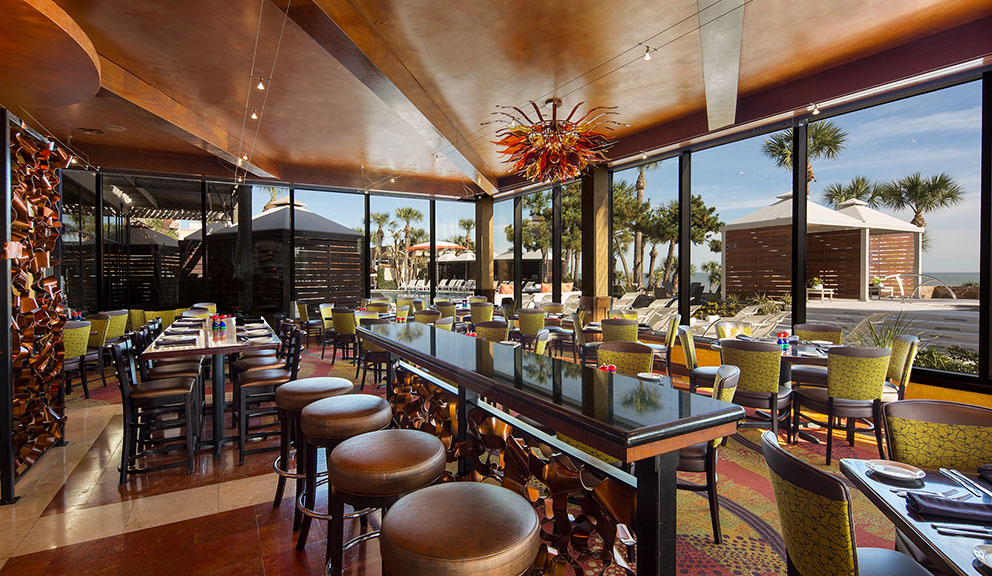 Grotto Ristorante at the San Luis Resort
5222 Seawall Blvd, Galveston, TX (Directions) | Phone: (409)740-8605 | Website
About
Enjoy authentic Italian cuisine in a warm, entertaining atmosphere that will transport you to the cozy setting of a trattoria in the Old Country. With Grotto's winning combination of impeccable service, superb cuisine and unsurpassed passion for detail, it's the perfect location for friends and family to enjoy a fabulous meal and have a great time.
Hours
Monday: 4:00 – 9:00 PM
Tuesday: Closed
Wednesday: 4:00 – 9:00 PM
Thursday: 4:00 – 9:00 PM
Friday: 4:00 – 10:00 PM
Saturday: 4:00 – 10:00 PM
Sunday: 4:00 – 9:00 PM
Hours are subject to change.
Book Reservation Online

General
Classic Southern Italian Cuisine
Casual to Dressy
Extensive Collection of Italian & Domestic Wines
Full Bar
Curbside Service
Latest Tweets
Menus
The tenth annual Galveston Restaurant Week brings Galveston Island's vibrant food scene to life for four full weeks of delicious dining, February 1 – 28.  Find out more…
Galveston Restaurant Week
$35 Plus Tax & Gratuity
1st Course (Choose One)
BEEF MINESTRONE SOUP
Potato, Ground Beef, Black Beans, Carrots, Ditalini Pasta
SHRIMP BRUSCHETTA
Avocado Mousse, Wild Arugula, Serrano
2nd Course (Choose One)
SNAPPER FRANCESE
Breaded Snapper, Artichokes, Capers, Red Peppers, Bianco, Bacon & Corn Risotto
BRAISED SHORT RIB GNOCCHI
Short Rib, Wild Mushrooms, Caramelized Shallots, Veal Jus, Fennel Microgreen Salad
CAPRA
Penne Pasta, Chicken, Diablo Sugarosa, Mushrooms, Arugula, Goat Cheese
3rd Course (Choose One)
TIRAMISU MARTINI
Chocolate Biscotti
CHOCOLATE MEZZANOTE TRIFLE
Chocolate Espresso Mousse, Chantily Cream, Cinnamon Creme Anglaise.
Piccoli Piatti
ITALIAN FRIED ARTICHOKES
Marinara
10.25
MEATBALLS
Homemade with Marinara
12.50
CALAMARI TOTO
Marinara
14.25
ANTIPASTI
Cured Italian meats, imported cheeses & marinated vegetables
18.95
BRUSCHETTA
Grilled Tuscan bread with marinated Roma tomatoes & fresh basil
8.95
MOZZARELLA IN PADELLA
Mozzarella, tomatoes, garlic, basil
10.95
SHRIMP SCAMPI GROTTO
Lightly-breaded jumbo shrimp, savory beurre blanc
14.50
LOBSTER & CRAB STUFFED SHELLS
Spicy pomarola sauce, Alfredo
20.95
Soups
ZUPPA MARITATA
Traditional "weddings soup"
8.25
TOMATO BASIL
San Marzano tomatoes & fresh basil
8.50
Salads
GROTTO
Italian home-style salad
9.95
TOMATO CAPRESE
Sliced tomatoes & fresh homemade Mozzarella
11.95
CAESAR
Parmigiano-Reggiano & garlic croutons
10.95
Chicken 14.95 Shrimp 17.95
PEAR GARDEN SALAD
Sangria tomatoes, cucumber, spring mix, Bocconcini Mozzarella, creamy Italian vinaigrette
10.95
POLLO MILANESE
Breaded chicken breast, mixed greens, fennel, pear tomatoes, Parmesan, balsamic glaze, sherry-thyme vinaigrette
15.95
ITALIAN CHOPPED
Grilled chicken, prosciutto, bacon, egg, provolone, Gorgonzola, celery, tomato, iceberg lettuce
15.95
Pasta
Gluten Sensitive Pasta Available Upon Request
LASAGNA AL FORNO
Meat sauce, Mozzarella & ricotta
18.50
PAGLIA E FIENO CON POLLO
Egg & spinach fettucine, chicken, prosciutto, peas, mushrooms & Alfredo
18.95
RAVIOLI ALLA VODKA
Four-cheese ravioli, sugo rosa, vodka
18.95
SHRIMP & CRAB CAPELLINI
Five jumbo shrimp, jumbo lump crab, capellini, bianco sauce
27.50
LINGUINE PESCATORE
Shrimp, scallops, calamari, mussels, white wine tomato sauce
25.95
RIGATONI DELLA SANSONI
Homemade meatballs & meat sauce
20.95
SPAGHETTI POLLO E RUCOLA
Chicken, peppers, oven-dried tomatoes, broccolini, arugula & crispy artichokes
20.95
SHRIMP PENNE AL LIMONE
Jumbo shrimp, asparagus, garlic, citrus wine sauce
21.95
SPAGHETTI BOLOGNESE
Homemade meat sauce, marinara
18.95
TRIO TOMATO PAPPARDELLE
Cherry tomatoes, sundried tomatoes, oven roasted tomatoes, Bocconcini Mozzarella, basil pesto cream sauce
20.95
Chicken 22.95 Shrimp 26.95
Entrees
CIOPPINO
Italian seafood stew with fresh Gulf snapper, jumbo lump crab, shrimp, mussels, clams & calamari
27.95
POLLO FRANCESE
Lightly-breaded chicken breast, artichokes, mushrooms, lemon, white wine, penne bosco
20.95
SHRIMP PAILLARD
Jumbo shrimp pounded thin, jumbo lump crab, roasted bell peppers, lemon sauce
25.95
SNAPPER ROMANO
Parmesan-crusted Gulf snapper, jumbo lump crab, penne all'Amatriciana
33.95
VEAL SAN PIETRO
Scaloppine, artichoke hearts, mushrooms, Frescati wine sauce
26.95
SNAPPER SICILIANO
Capellini-crusted, jumbo lump crab, Roma tomatoes & shrimp sauce
32.95
SALMON BRIOSO
Baby tomatoes, crabmeat, caper bianco, shrimp & asparagus risotto
29.95
POLLO POSITANO
Chicken breast stuffed with Mozzarella, sweet peppers, Italian sausage & spinach, Marsala
25.95
VEAL LUIS
Parmesan-crusted scaloppine, mushrooms, fettucine Alfredo, lemon
26.95
VEAL PARMIGIANA
Breaded veal scaloppine, marinara & melted Mozzarella
Veal 26.95 Chicken 20.95 Shrimp 25.95
Pizza
MARGHERITA
Roma tomatoes, Mozzarella, basil
16.50
ROASTED HERB CHICKEN
Caramelized onions, roasted tomatoes, Mozzarella, goat cheese
18.50
"MEATZZA"
Our Signature Pizza – pepperoni, homemade meatballs, Italian sausage & prosciutto, ground beef
19.25
ITALIAN GARDEN
Pesto, artichokes, red bell peppers, red onions, Roma tomatoes & Kalamata olives, goat cheese
18.25
PEPPERONI
San Marzano tomato purée & Mozzarella
17.50
THE PRIMO
Pepperoni, meatballs, ground beef, Italian sausage, prosciutto, red bell peppers, red onions, mushrooms & artichokes
20.95
06.04.19
Nearby Places of Interest