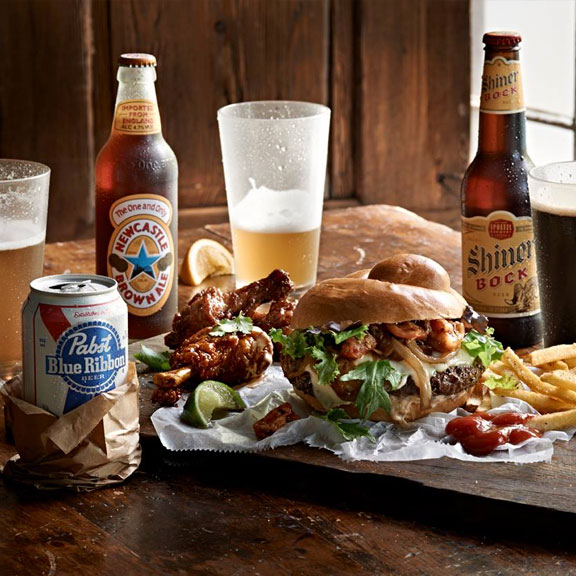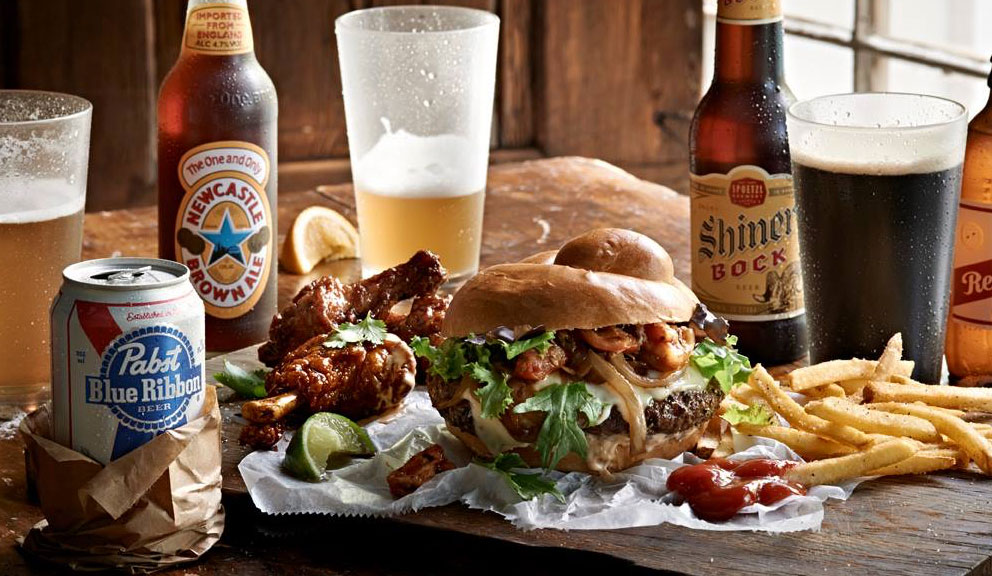 About
With a relaxed, sports centric atmosphere, a seemingly endless assortment of local, craft and import beers, and an inventive menu of American tavern fare, Brick House Tavern + Tap offers guests a truly next generation "gastro pub" experience.
Hours
Monday: 12:00 – 11:00 PM
Tuesday: 12:00 – 9:00 PM
Wednesday: 12:00 – 9:00 PM
Thursday: 12:00 – 11:00 PM
Friday: 12:00 – 10:00 PM
Saturday: 12:00 – 10:00 PM
Sunday: 12:00 – 11:00 PM
Hours are subject to change.
General
Casual
Gulf View & Patio Dining
Full Bar
Great for Groups
Latest Tweets
Menus
Snacks
SHISHITO PEPPERS
Blistered Shishito peppers served with sriracha mayo.
"I'M HANGRY" SLIDERS
Tender fried chicken breast on toasted slider buns, slathered with mashed potatoes, apple slaw and chipotle mayo. Served with fries.
HOUSE BAKED SOFT PRETZELS
Salted pretzels with white queso, yellow mustard & sriracha ranch
BLEU & WHITE CHIPS
House made potato chips, bleu cheese crumbles & white queso.
TAVERN WINGS
A full pound with buffalo or brick sauce served with ranch, bleu cheese, or sriracha ranch.
ZUCCHINI CURLS
Panko parmesan, fresh cut zucchini ribbons & sriracha ranch.
DEVILED EGGS
Hard boiled eggs, smoky bacon, hint of jalapeño & paprika.
SPIKED CALAMARI
Tossed with cherry peppers & a side of spicy marinara.
BUFFALO CHICKEN MEATBALLS
Tossed in Frank's® hot sauce with bleu cheese, carrots & celery
CLASSIC MEATBALLS
Ground beef & pork, spicy marinara, grated parmesan cheese & a Mozzarella Brick.
KNOCKOUT SHRIMP
Lightly fried shrimp with our sweet & spicy knockout sauce laid on a bed of Asian slaw
WHITE MEAT CHICKEN BITES
Crispy fried, with honey mustard, ranch dressing, BBQ sauce & fries.
DUCK WINGS
Crispy duck wings, brick sauce & cilantro with sriracha ranch.
BUTCHER'S BOARD
An assortment of cheeses & hand sliced cured meats.
MOZZARELLA BRICKS
Hand cut, panko parmesan crusted mozzarella & spicy marinara.
Favorites
SHRIMP & CHIPS
Hand battered butterflied shrimp, tartar sauce, hard cider apple slaw & fries.
CHICKEN & WAFFLES
Homemade Belgian waffles, crisp fried chicken tenders & syrup
CHICKEN TENDERS
Hand battered crispy tenders with honey mustard & fries.
BBQ RIBS
Pork loin back ribs, beer braised and slow cooked with our housemade tavern's sauce and a side of hard cider apple slaw
FISH & CHIPS
Beer battered wild caught white fish served with malt vinegar, tartar sauce & fries.
CHICKEN POT PIE
Pulled chicken, red potatoes, peas & thyme topped with flaky puff pastry. Baked daily.
FILET MIGNON
Tender 6 oz. filet with garlic butter, chardonnay & thyme roasted red potatoes & choice of side
Plates
Served with your choice of one side
SEARED ATLANTIC SALMON
Seared Atlantic Salmon, jasmine rice & choice of side
DRUNKEN CHOPS
Two brined center cut pork chops with whiskey BBQ glaze, crispy shallots
BONE-IN RIBEYE
16 oz. Bone-In Certified Angus Ribeye steak, wild mushroom gravy, choice of side.
PAN SEARED CHILEAN SEA BASS
Wild mushroom risotto, green beans, topped with a lobster buerre blanc sauce.
SIRLOIN STEAK TIPS
Sirloin marinated for 24 hours, with mushrooms & onion gravy, crispy shallots & choice of side.
MAHI MAHI
Grilled or blackened wild caught Mahi, roasted garlic butter, jasmine rice & choice of side.
LAMB CHOPS
Cheddar mashed poatoes, green beans, topped with wild mushroom gravy.
Pizza
PEPPERONI
Hand cut pepperoni, mozzarella & brick cheese.
BISON BRICK
Bison beef, brick cheese, caramelized onions, oven roasted tomatoes, bacon & arugula
WILD MUSHROOM
Wild mushrooms, mozzarella, brick cheese, baby arugula & goat cheese cream.
Sandwiches
Served with your choice of fries or tots
SOUTHERN FRIED CHICKEN SANDWICH
Spicy buttermilk marinated fried chicken, fresh arugula & bacon ranch.
PHILLY CHEESE STEAK
Sliced sirloin & white queso, with onions & peppers
TURKEY CLUB
Roasted turkey breast, bacon, lettuce, tomato & mayo with deviled eggs.
PORK BELLY CUBAN SANDWICH
Braised pork belly, sliced ham, Swiss cheese, Dijon mustard, mayo, pickles on a toasted hoagie bun.
GRILLED CHICKEN SANDWICH
Cajun spiced, bacon, provolone, lettuce, tomato, onion, pickles & sriracha mayo.
Burgers
PORK BELLY BBQ BURGER
Our famous house burger with braised pork belly, cheddar cheese, housemade tavern sauce, mayo and crispy shallots.
FARMHOUSE BURGER
Topped with a fried egg & signature mustard sauce.
BBQ BACON BURGER
BBQ, smoky bacon & cheddar cheese.
LAMB BURGER
Ground lamb & beef patty, goat cheese, pesto, red pepper aioli, pickled red onions, tomato & arugula.
HOUSE CHEESEBURGER
Choice of cheddar, Swiss, smoked provolone or American cheese.
BLACK & BLEU BURGER
Cajun spiced burger, melted bleu cheese & caramelized onions
BRICK MUSHROOM VEGGIE BURGER
Chargrilled hearty mushroom burger with provolone cheese & jalapeño cilantro mayo
BISON BURGER
Chargrilled, jalapeño cilantro mayo, candied thick bacon, cheddar, lettuce, tomato & onion.
Salads
THAI CHICKEN SALAD
Chicken, red bell peppers, napa cabbage, cilantro, wontons, peanut sauce & honey lime vinaigrette.
FILET MIGNON SALAD
Seared filet, arugula, kale, croutons, roasted tomatoes, candied bacon & creamy green peppercorn dressing.
CHOPPED CHICKEN SALAD
Fried chicken, bacon, candied walnuts, cheddar, tomato, onion, eggs, bleu cheese & creamy balsamic vinaigrette.
Sides
SIDE SALAD OR CAESAR SALAD
TOTS
CHEDDAR MASHED POTATOES
HARD CIDER APPLE SLAW
SOUTHERN GREEN BEANS
ASPARAGUS
FRIES
SWEET POTATO TOTS
TWICE BAKED POTATO
JASMINE RICE
BROCCOLI
THYME POTATOES
Desserts
CHOCOLATE BOURBON CAKE
House baked Woodford Bourbon soaked chocolate cake, vanilla ice cream & caramel sauce.
ULTIMATE BROWNIE
Warm chocolate walnut brownie & vanilla ice cream.
APPLE CRUMBLE | 1280 CAL
Granny Smith apples, foster sauce & vanilla ice cream.
06.21.19
Brunch Served Saturday & Sunday Until 2pm
Brunch Favorites
SOUTHERN FRIED CHICKEN BENEDICT
spicy buttermilk marinated fried chicken, poached eggs, toasted brioche & sriracha bacon hollandaise served with cheddar potato hash
CHICKEN & WAFFLES
two homemade belgian waffles, crisp fried chicken tenders, syrup & strawberries
THE BACON BENEDICT
thick cut hickory smoked bacon, poached eggs & classic hollandaise on toasted brioche served with cheddar potato hash
FARMHOUSE BURGER
topped with a fried egg & signature mustard sauce
GRAND MARNIER FRENCH TOAST
hand cut brioche, Grand Marnier macerated apples & crispy potatoes
STEAK & EGGS
filet mignon, two eggs any style, cheddar potato hash & buttered toast
THE BREAKFAST PLATE
scratch made breakfast sausage, slab cut hickory smoked bacon, two eggs any style, cheddar potato hash & belgian waffle
BISON BENEDICT
bison & beef patties, poached eggs, toasted brioche, charred queso fresco & green chile hollandaise served with cheddar potato hash
Extras
HOUSE MADE BREAKFAST SAUSAGE
with sage, fresh garlic, & crushed red pepper
CHEDDAR POTATO HASH
crispy shredded potato stack
HICKORY SMOKED BACON
hand cut daily
06.21.19
Nearby Places of Interest