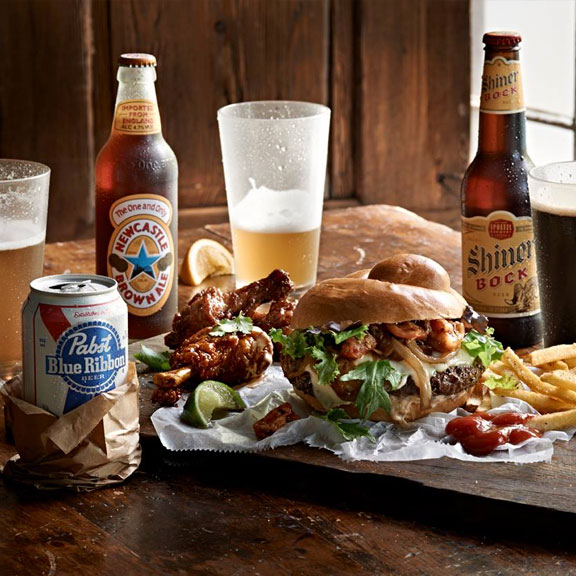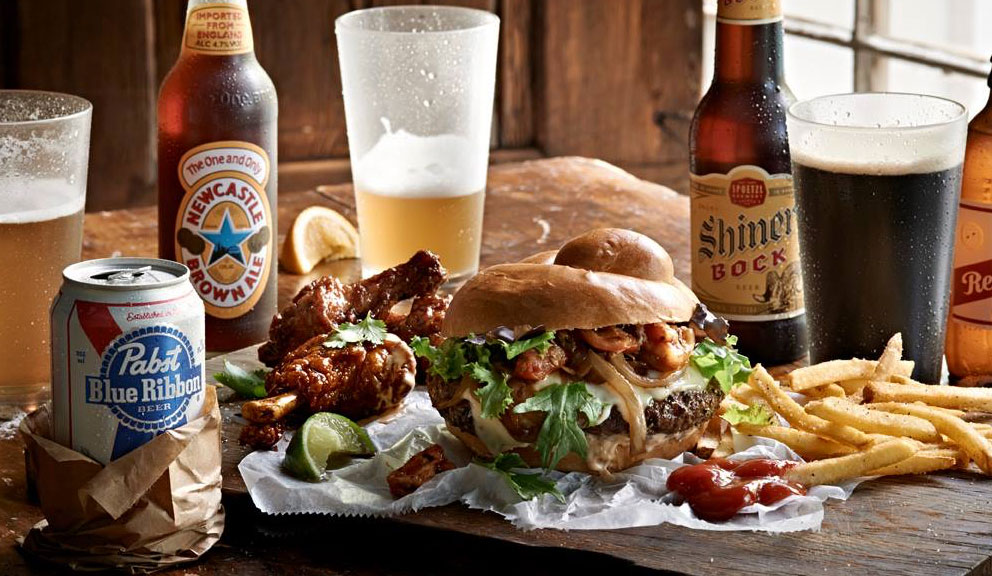 About
With a relaxed, sports centric atmosphere, a seemingly endless assortment of local, craft and import beers, and an inventive menu of American tavern fare, Brick House Tavern + Tap offers guests a truly next generation "gastro pub" experience.
Hours
Monday: 11:00AM – 12:00AM
Tuesday: 11:00AM – 12:00AM
Wednesday: 11:00AM – 12:00AM
Thursday: 11:00AM – 12:00AM
Friday: 11:00AM – 12:00AM
Saturday: 11:00AM – 12:00AM
Sunday: 11:00AM – 12:00AM
Hours are subject to change.
General
Casual
Gulf View & Patio Dining
Full Bar
Great for Groups
Latest Tweets
Menus
Snacks
MOZZARELLA BRICKS
Hand cut, panko parmesan crusted mozzarella & spicy marinara.
10
TAVERN WINGS
A full pound with buffalo or brick sauce served with ranch, bleu cheese or sriracha ranch.
13.50
DUCK WINGS
Crispy duck wings, brick sauce & cilantro with sriracha ranch.
13.50
SPIKED CALAMARI
Tossed with cherry peppers & a side of spicy marinara.
11
HOUSE BAKED SOFT PRETZELS
Salted pretzels with white queso & sriracha ranch.
9.50
KNOCKOUT SHRIMP
Lightly fried shrimp with our sweet & spicy knockout sauce laid on a bed of napa cabbage.
12
CHICKEN BITES
Crispy fried with ranch dressing & fries.
9.50
DEVILED EGGS
Hard boiled eggs, smoky bacon, hint of jalapeño & paprika.
7
Salads
SHRIMP SALAD
Choice of grilled or Cajun spiced shrimp, mesclun mix, croutons, tomatoes, candied bacon & creamy green peppercorn dressing.
16
Substitute grilled or Cajun Salmon +3.50 | Substitute Sirloin Steak for +5
THAI CHICKEN SALAD
Chicken, red bell peppers, napa cabbage, cilantro, wontons, peanut sauce & honey lime vinaigrette.
15
SIDE HOUSE SALAD
3
SIDE Caesar salad
3
Sandwiches
Served with your choice of fries or tots
SOUTHERN FRIED CHICKEN SANDWICH
Spicy buttermilk marinated fried chicken, fresh arugula, tomato, red onion, pickles & bacon ranch.
13
PHILLY CHEESESTEAK
Ribeye & white queso, with onions & peppers.
13.50
GRILLED CHICKEN SANDWICH
Cajun spiced, bacon, provolone, lettuce, tomato, onion, pickles & sriracha mayo.
13
Burgers
Try double stacked +3 or triple stacked +6/. Served with choice of fries or tots.
HOUSE CHEESEBURGER
Choice of cheddar, Swiss, smoked provolone or American cheese. Served with lettuce, tomato, red onion & pickles.
12.50
FARMHOUSE BURGER
Topped with a fried egg & signature mustard sauce. Served with lettuce, tomato, red onion & pickles.
13
BLACK & BLEU
Cajun spiced burger, melted bleu cheese & caramelized onions. Served with lettuce, tomato, red onion & pickles.
13
BBQ BACON BURGER
BBQ, smoky bacon & cheddar cheese. Served with lettuce, tomato, red onion & pickles.
13.50
Plates
SEARED ATLANTIC SALMON
Seared Atlantic Salmon, jasmine rice & choice of side.
17
DRUNKEN CHOPS
Two brined center cut pork chops with whiskey glaze, crispy shallots & choice of side.
24
single drunken chop plate: 17
SIRLOIN STEAK
Sirloin steak marinated for 24 hours, wild mushroom gravy, crispy shallots & choice of side.
17.50
MAHI MAHI
Grilled or blackened wild caught Mahi Mahi, roasted garlic butter, jasmine rice & choice of side.
18
Favorites
FISH & CHIPS
Beer battered wild caught white fish served with malt vinegar, tartar sauce & fries.
15
CHICKEN & WAFFLES
Homemade Belgian waffles, crisp fried chicken tenders topped with butter, powdered sugar & served with syrup.
15
CHICKEN TENDERS
Hand battered crispy tenders with honey mustard & fries.
14
CHICKEN POT PIE
Pulled chicken, red potatoes, peas, & thyme, topped with a flaky puff pastry. Baked daily.
14.50
SHRIMP & CHIPS
Hand battered butterflied shrimp, tartar sauce & fries.
15
FILET MIGNON
Tender 6 oz. filet with garlic butter, chardonnay & cheddar mashed potatoes & choice of side.
25
Pizza
PEPPERONI
Hand cut pepperoni, mozzarella & brick cheese.
11.50
WILD MUSHROOM
Wild mushrooms, mozzarella, brick cheese, arugula, tossed in balsamic vinaigrette & goat cheese cream.
12.50
Sides
FRIES / TOTS
4
BROCCOLI
4
SWEET POTATO TOTS
4
CHEDDAR MASHED POTATOES
4
JASMINE RICE
4
SOUTHERN GREN BEANS
4
Desserts
CHOCOLATE BOURBON CAKE
House baked Woodford Bourbon soaked chocolate cake, vanilla ice cream & caramel sauce.
7.50
ULTIMATE BROWNIE
Warm chocolate walnut brownie & vanilla ice cream.
7
APPLE CRUMBLE
Granny Smith apples, foster sauce & vanilla ice cream.
7.50
01.17.21
Nearby Places of Interest