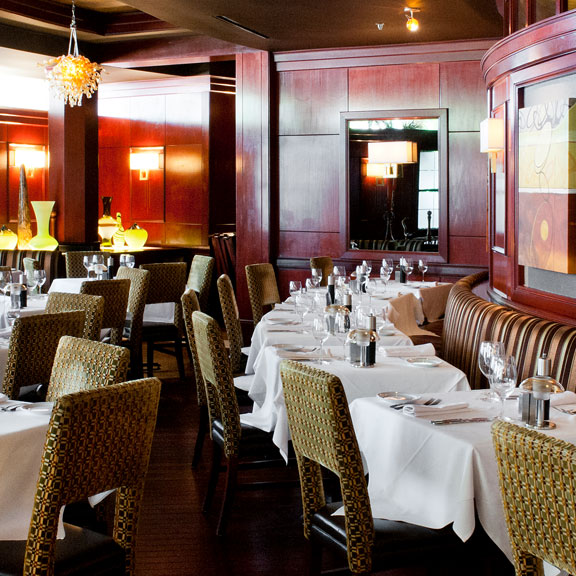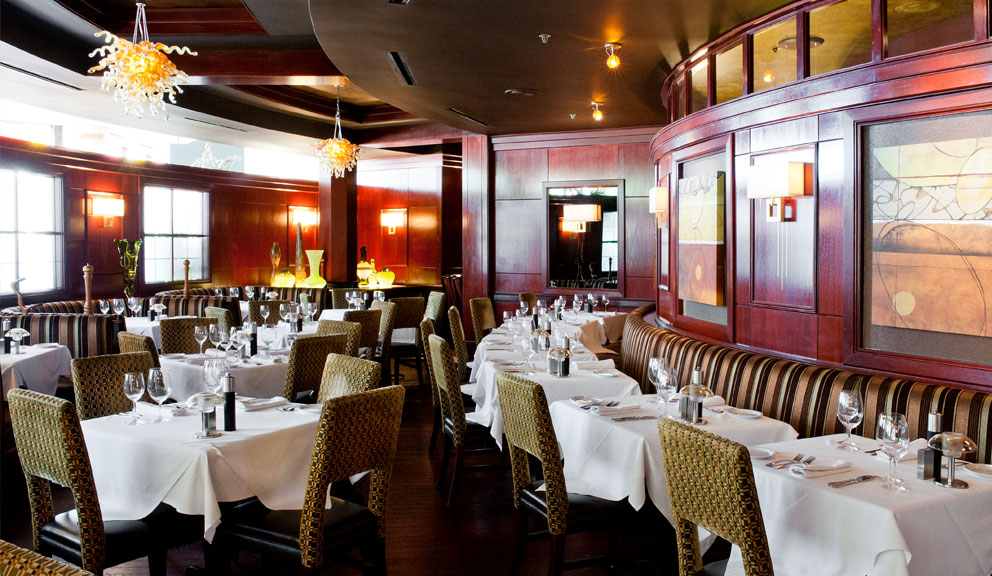 About
Indulge in some of the Island's finest, award-winning cuisine at The Steakhouse, featuring USDA Midwest grain-fed beef, live Maine lobster and an award-winning wine list.
Recipient of the prestigious AAA Four Diamond Award® since 2004 and selected as one of the "Top Ten Texas Steakhouses" by food critic Tom Horan, The Steakhouse is an extraordinary dining experience for any connoisseur.
Hours
Monday: Closed
Tuesday: 6:00 – 9:30PM
Wednesday: 6:00 – 9:30PM
Thursday: 6:00 – 9:30PM
Friday: 6:00 – 10:00PM
Saturday: 6:00 – 10:00PM
Sunday: Closed
Hours are subject to change.
General
Resort Casual Attire Appropriate
AAA Four Diamond Award Winner Since 2004
Selected One of the "Top Ten Texas Steakhouses"
Full Bar
Reservations Recommended
Latest Tweets
Menus
Appetizers
SHRIMP COCKTAIL
Remoulade, Cocktail sauce
21
BROWN SUGAR CURED HOT SMOKED SALMON
Traditional Condiments, Dill Creme Fraiche, Toasted Bread Points
15
SHRIMP AND CRAB CHEESECAKE
Mascarpone Custard, Basil Pesto Sauce
16
CLASSIC ESCARGOT
Garlic Butter, Country Bread
17
PAN SEARED SCALLOPS
Saffron Risotto, Spicy Tomato Lump Crab Broth
18
CRABMEAT COCKTAIL
Remoulade or Cocktail Sauce
21
BAROLO BRAISED SHORT RIB CANNELLONI
Woodland Mushrooms, Sundried Tomato, Spinach Ricotta, Butternut Squash Puree
16
CARPACCIÓ OF PRIME BEEF
Capers, Cracked Pepper, Shaved Parmesan, Micro-Greens
18
VIC & ANTHONY'S® SIGNATURE JUMBO LUMP CRAB CAKE
Citrus Beurre Blanc
21
FRESH MOZZARELLA BRUSCHETTA
Reggiano Crostini, Fresh Basil, Balsamic Reduction
11
LUMP CRAB, AVOCADO AND MANGO TOWER
Emerald Basil Oil
18
TUNA POKE
Avocado, Sesame Seeds, Pickled Onions, Ponzu Sause, Crispy Lotus Chips
21
Salads
BOSC PEAR, STILTON AND SPICED WALNUT SALAD
Hydroponic Bibb Lettuce, Honey Balsamic Emulsion
14
STEAKHOUSE SALAD
Tossed Baby Greens, Cucumbers, Sangria Tomatoes, Roasted Rainbow Baby Carrots, Shaved Watermelon Radish, Sherry Shallot Vinaigrette
12
BLUE BONNET FARM LIVE BABY ROMAINE CAESAR SALAD
Crispy Reggiano Parmesan Tuile, Marinated Spanish White Anchovy
14
ROASTED HEIRLOOM BEET AND QUINOA SALAD
Baby Greens, Roasted Sweet Carrots, Pomegranate Seeds, Crumbled Goat Cheese, Toasted Hazelnuts
15
BEEFSTEAK TOMATO AND ROQUEFORT SALAD
Purple Onions, Cilantro Ranch, Balsamic Vinaigrette
13
SPINACH SALAD
Crimini Mushrooms, Artichoke, Three Minute Soft Egg, Warm Bacon Vinaigrette
13
RADICCHIO, BUTTER BIBB AND ARTICHOKE SALAD
Chestnuts, Spanish Olives, Balsamic Vinegar, EVOO, Shaved Parmesan Cheese
15
WEDGE SALAD
Baby Iceberg Lettuce, Oven Dried Plum Tomatoes,Candied Pepper Bacon, Pickled Yellow Beets, Shaved Red Onion, Herb Vinaigrette, Roquefort Dressing
14
Soups
FRENCH ONION SOUP
Melted Gruyére Cheese
11
USDA Prime from the Grill
Featuring USDA Prime Midwest Grain-Fed Beef
NEW YORK STRIP
(16 ounce)
51
RIBEYE
(16 ounce)
49
FILET MIGNON
(8 ounce) Béarnaise Sauce
45
FILET MIGNON
(12 ounce) Béarnaise Sauce
52
TEXAS BONE-IN RIBEYE
(20 ounce) Horseradish Mustard Crust
78
PRIME TOMAHAWK
(40 ounce) Shallot Demi, Béarnaise Sauce, Creamed Horseradish
Market
HOUSE SMOKED DOUBLE CUT PORK CHOP
(16 ounce) Roasted Pear Agrodolce
34
COLORADO CHARBROILED LAMB CHOPS
Roasted Eggplant, Tomatoes, Fresh Mint, Honey Lamb Jus
45
OUR SIGNATURE OSCAR STEAK TOPPING
Premium Lump Crab, Asparagus Tips, Sauce Choron
13
*STEAKS CAN BE PREPARED AU POIVRE, BLACKENED
6
Chef's Specialties
MAINE COLD WATER LOBSTER TAIL
Market
FEATURED FISH OF THE EVENING
Market
CHARBROILED SCOTTISH SALMON FILLET
Sauteed Kale, Quinoa, Grilled Asparagus, Cherry Tomato Vinaigrette
36
PAN SEARED AHI TUNA NICOISE
Seared Ahi Tuna, French Beans, Warm Fingerling Potatoes, Tomatoes, Soft Farm Egg, Kalamata Olives, Champagne Vinaigrette
35
SAUTÉED GULF SNAPPER WITH PREMIUM LUMP CRAB
Beurre Blanc, Chive Oil
38
BROWN RICE AND QUINOA MEDLEY
Steamed Asparagus, Broccolini, Roasted Tomatoes, Grilled Portobello
25
CHICKEN SAN LUIS
Rice Pilaf, Citrus Beurre Blanc
29
Accompaniments
LOBSTER AND LUMP CRAB RISOTTO
17
SAUTÉED WILD MUSHROOMS AND ONIONS
11
STEAMED ASPARAGUS SPEARS
12
CREAMED SPINACH WITH PARMESAN
11
HARICOTS VERTS WITH SHALLOTS
11
JUMBO BAKED IDAHO POTATO
11
ROASTED BRUSSEL SPROUTS
11
BRAISED SHORT RIB MAC & CHEESE
13
SAUTÉED BROCCOLINI
11
HOMESTYLE MASHED POTATOES
11
POTATOES AU GRATIN
11
SAUTÉED SUGAR SNAP PEAS
11
LYONNAISE POTATOES
11
ROASTED POBLANO CREAMED CORN
11
HAND CUT STEAK FRIES
10
LOBSTER MAC & CHEESE
13
06.12.19
Nearby Places of Interest