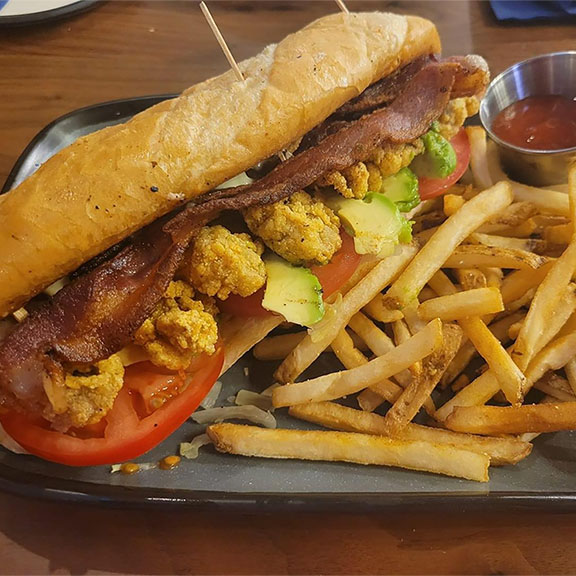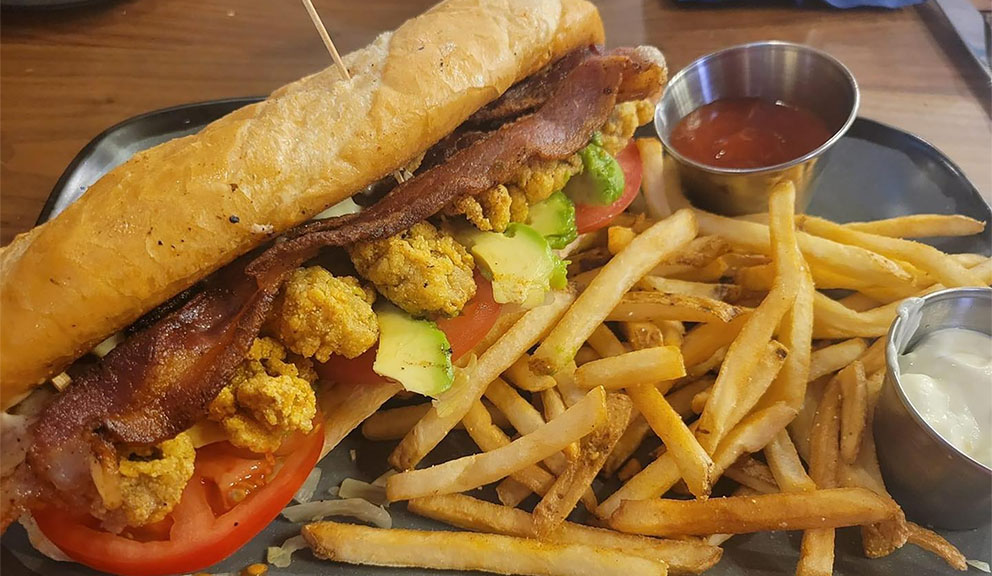 About
While oysters are their love language at Shucks Tavern & Oyster Bar, their menu has something for everyone!  They serve oysters year round from the East Coast and Gulf Coast when in season.  The menu boasts soup, salad, seafood options, prime chuck steak, chicken, and Galveston famous Walt Burgers.  If you like to wine while you dine, the full service cocktail bar has many wonderful wines & spirits stocked.
Hours
Monday: Closed
Tuesday: 11:00AM – 9:00PM
Wednesday: 11:00AM – 9:00PM
Thursday: 11:00AM – 9:00PM
Friday: 11:00AM – 10:00PM
Saturday: 11:00AM – 10:00PM
Sunday: 12:00 – 9:00PM
Hours are subject to change.
General
Casual
Salads, Soups, Seafood, Burgers and Poboys
Full Bar & Wine List
Menus
Galveston Restaurant Week: Lunch
$21 Plus Tax
(Includes $1 Dine Out for Charity Donation)
Served 11am-3pm
1st Course
SHUCK'S HOUSE SALAD
Spring mix, dried cranberries, walnuts, mandarin orange slices, house vinaigrette
2nd Course (Choose One)
STUFFED BELL PEPPERS
Served with mashed potatoes
CHICKEN FRIED CHICKEN & CREAM GRAVY
Served with mashed potatoes
Galveston Restaurant Week: Dinner
$41 Plus Tax
(Includes $1 Dine Out for Charity Donation)
Served 4pm to Close
1st Course (Choose One)
SHUCK'S HOUSE SALAD
Spring mix, dried cranberries, walnuts, mandarin orange slices, house vinaigrette
2nd Course (Choose One)
ENTRÉES SERVED WITH MASHED POTATOES & GREEN BEANS
GRILLED BEEF CROSS RIBS
Glazed with bbq sauce
PAN SEARED SCALLOPS
W/ lump crab scampi butter
3rd Course (Choose One)
PETITE CHOCOLATE CHEESECAKE
Nearby Places of Interest