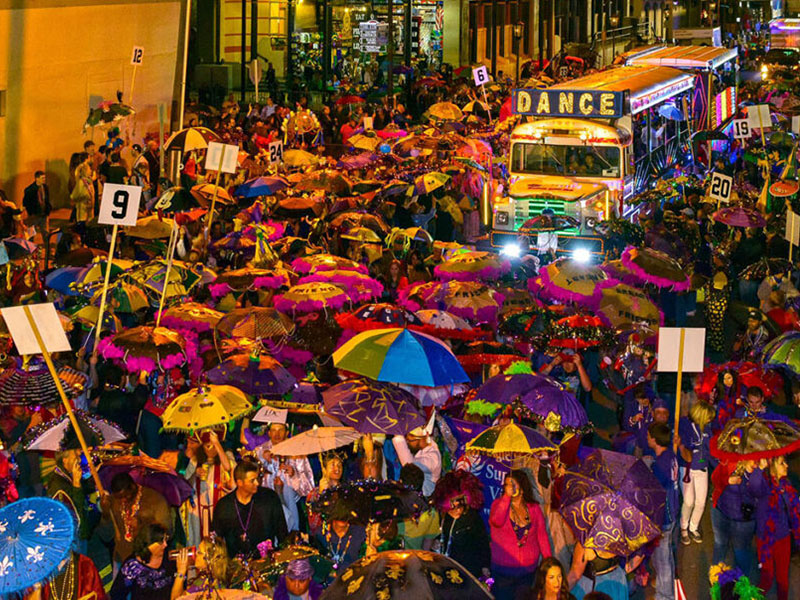 Mardi Gras Parade: The Funky Uptown Umbrella Brigade
Downtown Galveston | 2300 Strand (Directions)Website
One of over 20 parades to enjoy during Mardi Gras! Galveston, The Funky Uptown Umbrella Brigade takes place in the Downtown Entertainment District on Friday, Feb. 10. at 8:30pm.
The Funky Uptown Umbrella Brigade has been breaking World Records for having the most decorated umbrellas in a single parade since 2011. Returning in 2019 with an impressive 1,980 participants, paraders danced along on their route, stopping to perform the "Hokey Pokey" under the iconic Mardi Gras Arch next to The Tremont House. Over the years, fans from all around Texas have traveled to Mardi Gras! Galveston to claim a spot in the Funky Uptown Umbrella Brigade. This lively, bedazzled parade continues to gain momentum and an even bigger turn-out is predicted for 2022.
Want to join in the fun?  Register your group to participate in the parade, here.
For tickets to the Mardi Gras! Galveston Downtown Entertainment District, featuring parades, concerts and balcony parties, click here.