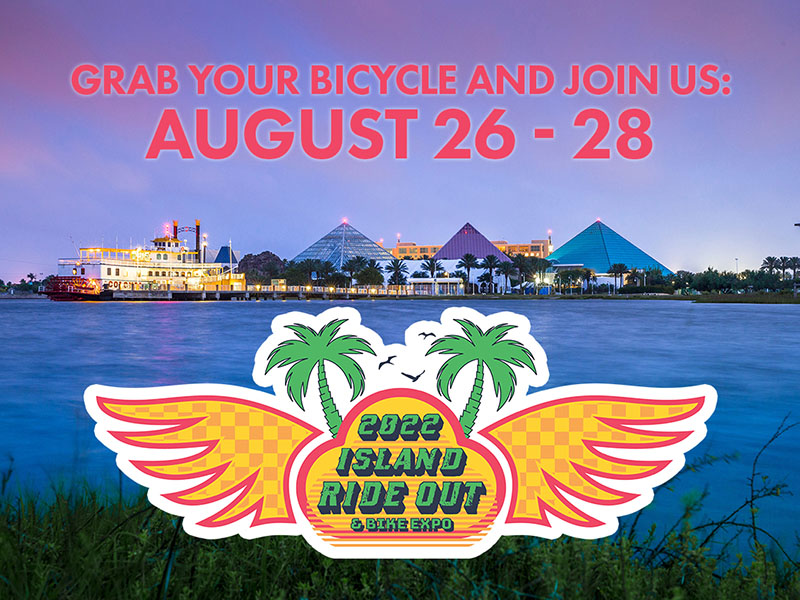 Island Rideout and Bike Expo
Moody Gardens | 1 Hope Blvd., Galveston, TX (Directions)Phone: (409)744-4673 | Website
Moody Gardens transforms into a bicycle enthusiast's dream. An 18-mile Rideout on beautiful Galveston Island is the main event paired up a Bike Expo and featuring the latest gear and presentations by pros. Choose from several of the Explore On Your Own Island Bike Rides> you can also check out the Bike Pub Crawl, Reserved Back Alley Bicycler Zone and a Saturday Night Palm Beach Party with fireworks for Rideout participants and hotel guests. Hotel guests will also enjoy Breakfast with the Pros on Sunday morning. Discount packages are available through the Moody Gardens Hotel.
Hourly Schedule
Friday, Aug. 26
7pm

-

?pm

Friday Night Pub Crawl

Meet at Island Bicycle Company for an 8 - 12 Mile Bike Ride
Saturday, Aug. 27
10am

-

5pm

Bike Expo

At Moody Gardens: See the latest gear and hear presentations by the pros.
10an

-

5pm

Bike Show

At Moody Gardens: Bikes of all kinds will be on view, and classes awarded 1st - 3rd place. Show off your Bike, It's FREE!
6:30pm

Island Ride Out

Meet at Moody Gardens for a 20 Mile Bike Ride
8pm

-

11pm

VIP Party

At Moody Gardens Palm Beach: Includes DJ and Fireworks Show!
Sunday, Aug. 28
8am

Breakfast with the SE Bikes Pros

Moody Gardens Hotel Ballroom: Includes breakfast in the Hotel Ballroom with the SE Bikes Pros.
All Day

Explore the Island by Bike

7 Different Routes: 7 - 43 Miles