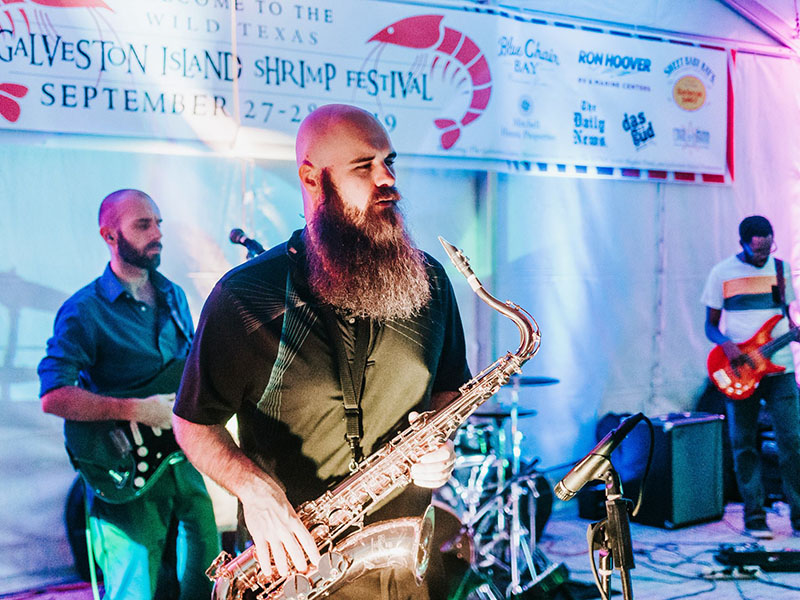 The 13th Annual Galveston Island Shrimp Festival
Pier 21 | 21st & Harborside Dr., Galveston, TX (Directions)Visit Website
The fan favorite Galveston Island Shrimp Festival presented by Galveston Shrimp Company returns to the Strand this September for its 13th consecutive year. This event is hosted by Yaga's Entertainment Inc., and is a celebration of Galveston's great wild seafood and island lifestyle. Guests can enjoy shrimp gumbo tasting, 5K fun run, Kid Fish, and more.
Commencing in Saengerfest Park on Friday, September 23 at 7:30 pm, Yaga's Entertainment, Inc. will host a Friday Kick-Off Party with a Texas-sized fried shrimp dinner to over 800 guests. Complete with free-flowing beverages and live entertainment, there's no better way to launch into the weekend's festivities. Friday Kick-Off Party tickets are available to the public for purchase at $65 a ticket.
On Saturday, Sept. 24 the fun begins at 9:00 am with the official Shrimp Scamper 5K Fun Run/Walk, presented by Moody National Bank. All fitness levels and ages are invited to join on 28th and Seawall to begin the race. Each participant will receive an event t-shirt, libations, plus the opportunity to upgrade their registration to include a Gumbo Sampling Cup or Shrimp Dinner Plate as entry into the Galveston Island Shrimp Festival.
The Shrimp Gumbo Cook-Off, boat show, vendor exhibits, and live music performed by locals' favorite, The Examiners, will be held in the Historic Strand District on Saturday, September 24th beginning at 10:00 am. Visitors to the festival will be able to purchase a Gumbo Sampling Cup in advance at $13 for a limited time only. This cup will allow guests to sample gumbo from over 50 cook-off teams from 12:00 pm- 4:00 pm. Festival Attendees are also able to purchase Shrimp Dinner Plate tickets at $20, which includes fried shrimp, a cup of shrimp gumbo, and a cold 16 oz beer or bottled water. Professional teams from some of Galveston Island's famous restaurants will also be selling various dishes for public purchase.
Check-in for Kid Fish will start at 9:30 am on Saturday, with weigh-in times ranging from 10 am- noon. Participation in this event is free, and kids must supply their own rods, tackle, and bait. All participants are exempt from Texas fishing licenses. Prizes will be given throughout the day, as well as awards for 1st-10th place per division. This event is presented by the Texas Game Warden Association.
Other events on Saturday include the Lil' Shrimps Parade at 3:00 pm sponsored by the Galveston Shrimp Company with festive floats, marching bands and bead tossing. The Strand Merchant Walkabout takes place from 12:00 pm- 4:00 pm where contestants will visit participating Strand Merchants for a chance to win over $300.00 in gift cards.
For tickets and additional information visit www.galvestonislandshrimpfestival.com
Beneficiaries: The Galveston Island Shrimp Festival will be donating a portion of proceeds to The Justin David Hughes Fund at University of Texas Medical Branch, to aid and raise awareness of the mental and emotional wellness of UTMB students.; Resource and Crisis Center of Galveston County, "promoting the safety, well-being and best interest of victims of family violence, sexual assault, and child abuse; and to advocate for the prevention of such crimes."
Yaga's Entertainment, Inc.: Yaga's Entertainment, Inc. is a special events and marketing company that was created to produce events that would be beneficial to the Strand Area and Downtown District of Galveston drawing traffic during historically slow off-season weekends. These events are produced by a coalition of hoteliers, restaurateurs, and retailers, along with coordinated community assets.