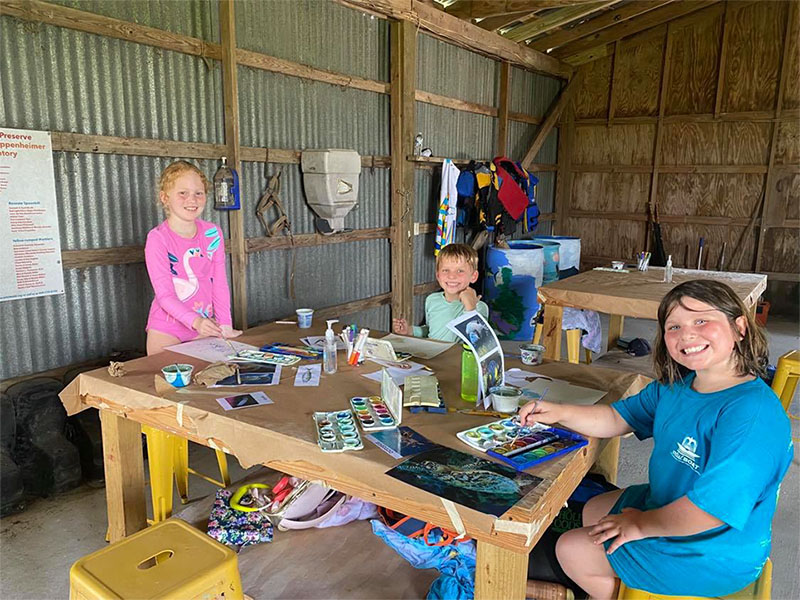 Winter Break Eco-Art Camp: Fun Fishing Adventure
Coastal Heritage Preserve | 13117 Settegast Rd, Galveston, TX, USA (Directions)Phone: (409)632-0388 | Website
Fun Fishing Adventure
Spend the day fishing with us! We will learn how to seine, throw a cast net, and go crabbing!
Art meets science in Artist Boat's 2022 Winter Break day camp sessions! Campers will experience true science and art enrichment with the creation of Eco-Art and exploration of Artist Boat's Coastal Heritage Preserve. Each camper will create high quality art projects and explore like a young naturalist. Each day is a different theme. Come for one or come for all!
Sessions limited to 12 campers
Camp sessions are $80 for a one-day session
Registration is open! To register, please visit www.artistboat.org/winter-eco-art-camps/
WINTER BREAK ECO-ART DAY CAMP DATES
9:00 am – 4:00 pm daily
Monday, December 26th: Paint Like Van Gogh
Van Gogh was famous for his plein air landscape paintings. Students will get to learn more about the famous artist, and experience the joys of painting landscapes outdoors, and making nature journals.
Tuesday, December 27th: Watch it Bloom!
There are so many bright colorful blooms to discover on land and sea! Students will learn about flowers on the prairie, corals in the ocean and bring home a colorful, blooming projects of their own!
Wednesday, December 28th: Keep Our Seas Plastic Free
Marine Debris is one of the biggest problems our world's oceans are facing today! Students will beautify a bucket for Galveston beaches and participate in a marine debris art contest.
Thursday, December 29th: Shark Mania
Chomp! We love to learn about sharks! We will get familiar with the common sharks of the Gulf of Mexico. Students will make a shark head plaster sculpture, watercolor paint, and dissect a shark.
Friday, December 30th: Fun Fishing Adventure
Spend the day fishing with us! We will learn how to seine, throw a cast net, and go crabbing!